One of my biggest pet peeves since starting this journey into making household products is putting deliciously nontoxic cleaners into empty plastic spray bottles.
It just seems so wrong on so many levels. If we're trying to stay away from the leaching of bad stuff into our cleaning supplies, shouldn't we be doing our best to avoid plastics as much as possible? Shouldn't we?
Now, you can buy glass spray bottles, but they're not cheap. They've actually been SO cost-prohibitive, I've had a hard time justifying buying one when I have so danged many glass jars in my house already.
And, make no mistake about it, it was a long, drawn-out thinking process to figure out how this would work. A year of thinking, at least.
And then I saw these homemade soap dispensers created from mason jars and a light started to flicker. A little. Like when a fluorescent bulb just starts to warm up and almost induces a seizure. That kind of flickering.
See, the homemade mason jar soap dispensers use glue to hold everything together. But that wouldn't work for a spray bottle, because you have to be able to hold it by its sprayer without the sprayer falling off. I know of no glue strong enough to offer that kind of insurance. Also, I wanted to be able to replace the sprayer if it ever broke (because they're always freaking breaking).
Thus began a three-hour stare-down earlier this week with a mason jar and an empty Method cleaner bottle. I knew the two things would fit together. Somehow.
And then, suddenly, the lightbulb exploded into a thousand sparkling diamonds. And the glass jar spray bottle was born.
How to Turn a Glass Jar into a Spray Bottle
Before we get started, I want to make something crystal-loving-clear.
I am not handy.
Most of the time, I forget which way to turn the faucet to make the water hot. I cannot, for the life of me, put a nail into the wall that stands straight. Bendy straws baffle me.
So the fact that I was able to figure this out – and do it all by myself – should convince you of its elementary level.
Convinced? Here's a picture of what you need for this: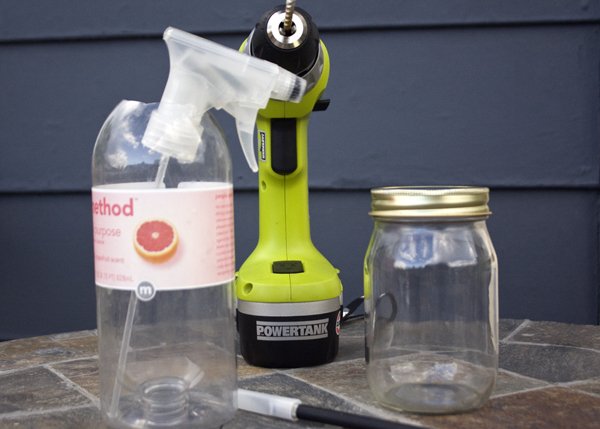 What You Need To Make Your Glass Jar Spray Bottle
A handheld drill or a hammer and nail
A glass jar with a metal lid
An empty spray bottle (the Method bottles seem to be an excellent "mouth" size) with a working sprayer
X-acto knife or similar
A Sharpie or other pen that will trace on metal
Step 1: Cut the top of the bottle into a circle with your knife, so you're left with a circular piece of plastic that extends about an inch from the "mouth."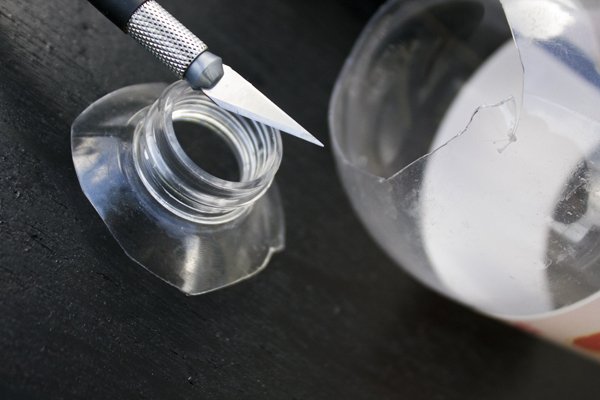 Your bottle will now look something like this (and you can now figure out something else crafty to do with the leftover bottle – have fun!):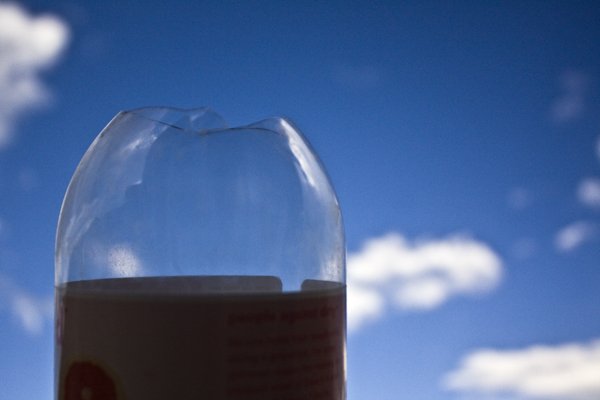 Step 2: Trace around the mouth of your bottle on the middle of your jar lid.
It'll be a tight squeeze to get your pen in there, but be sure to get as close to a perfect circle outline as you can. This is how you'll know where to put holes.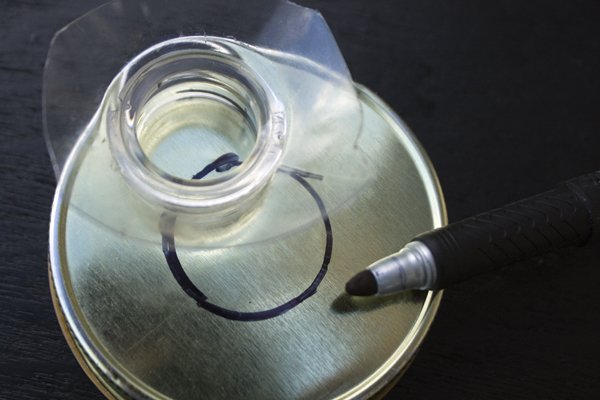 Step 3: Poke holes around the outline of your circle using your drill or a hammer and nail.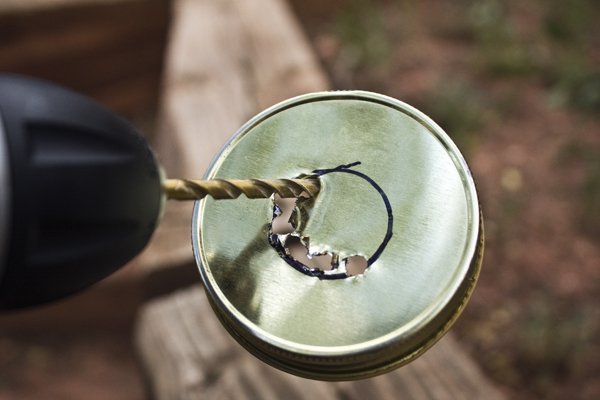 Absolutely try to stick to your "circle" as much as humanly possible while you're doing this.
It's important to keep your hole as close to the size of your bottle mouth as possible, to prevent leakage through the top when you're finished.
Once you've poked enough holes around your circle outline, you should be able to just push and twist all the metal out from the middle: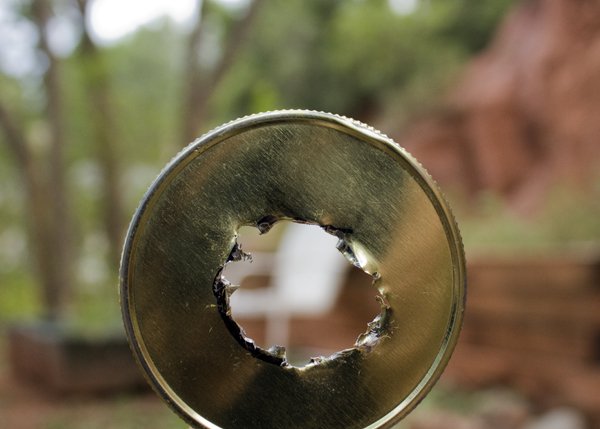 You're almost done!
Step 4: Push the mouth of your plastic bottle through the hole, so the top of the mouth is pushing up through the top of the lid.
It's a tight squeeze to get this through, but if you twist and push a little, it should slide through handily.
And what you're left with looks like this:

And now what do you do?
You screw the lid on the jar and the spray nozzle onto the bottle mouth. You may need to trim the "hose" part a little with scissors to fit into your jar – but one of my favorite parts about this is that your hose can be long enough to catch ALL the liquid. Nothing is more frustrating than using a spray bottle that you have to tilt in one direction only to get that last half cup of liquid to come out the top.
And you're done! (Unless you want to paint the lid, or cover it with scrapbook paper like I did.)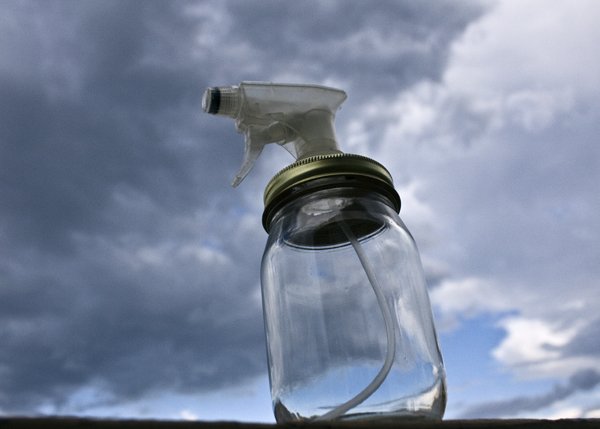 Some Questions You Might Have
Does the spray lever hit the jar lid? It looks like it would.
It does not. At all, actually. It sprays perfectly all the way down and the lid doesn't hinder the spray motion at all.
There's still plastic in it; doesn't that defeat the purpose?
Yes, the hose part is still plastic, but I figure this remedy is a lot less icky than letting our beautifully natural cleaners fester away in a big plastic bottle for months at a time. If you come across a glass hose that would work, I'd love to see it.
Won't it leak out the top?
First, I recommend leaving at least an inch of this bottle empty, so the chances of sloshing out the top are significantly minimized. As mentioned, if you measure and cut your hole properly, the screw-on part of the spray nozzle should cover your hole nicely (and you can screw it down super tight if need be).
Also, once the liquid level is under the level of your "plastic mouth" bottom, the mouth bottom helps prevent any slopping over the top.
This, however, won't make up for a leaky/defective spray nozzle head. There's nothing you can do about that except change out the spray nozzle.
What about the metal edges around the holes? Won't they cut you?
Actually, the top of the spray nozzle perfectly encased the tiny metal edges around the hole in the jar lid. Perfectly. That's why it's important to keep your jar lid hole as close to the size of the plastic mouth as possible. Once you get that baby screwed in and over the metal hole, there are no pokey pieces left to nick you.
How did you get to be such a genius?
I KNEW you'd ask that!
I owe everything I am to Nancy Drew and Iggy Pop.
Here It Is, One More Time In Action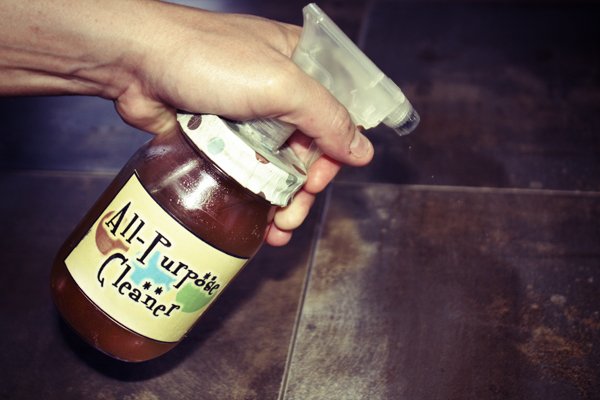 DIY glass jar spray bottle.
Any questions?