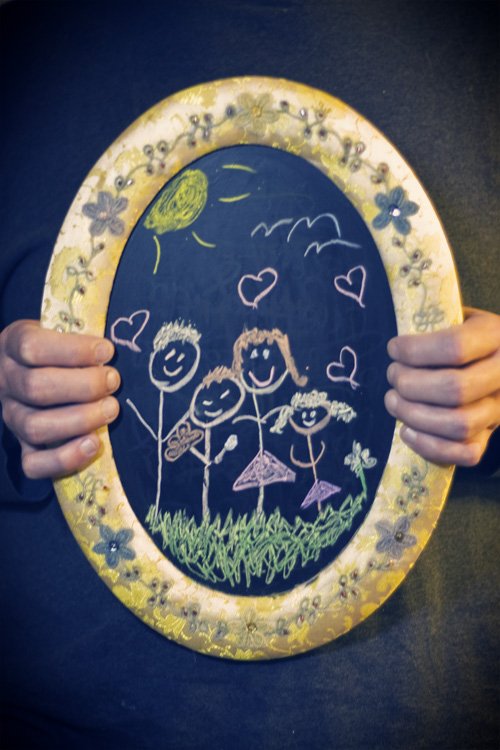 "My family thinks I'm crazy!"
"My husband's threatening mutiny if I replace the fabric softener!"
"I've been locked out of the house with unshampooed hair, waving a bottle of lavender essential oil and a jar full of baking soda like a crazy lady at pointing passers-by!"
All of a sudden, this is a common theme around here.
The family just doesn't understand. We want to be healthier, we want to be more frugal, and we want to be more in touch with the products we use on our bodies, our children's bodies, and our household in general.
They just think we're nutso, following a new "fad" that's overtaken the estrogen side of the internet. They love their brand names. The Speed Stick is comfortable, and the Lysol bathroom cleaner smells like what a clean bathroom should smell like.
Until you learn that it's not.
I mean, it has been – for 50-some-odd years. Ever since Dow Chemicals introduced their infamous slogan: Better living through chemistry.
After that moment, as fast as the scientific world could scramble, they took apart natural ingredients, down to their tiny individual particles, and reassembled things in a new way. Then, they just started making stuff up as they went along. And then we just started putting that stuff all over our homes and bodies, because, well, it was there, and they told us it worked.
Some of it does work. Some of it is dangerous – in ways we're still just beginning to understand. And some of it … well, some of it's not so bad at all.
That being said, how do you convince your family to take the journey with you into this "new" (and mostly old) realm? How do you get them to believe that, maybe, the way people did things 200 years ago – at least some of it – is not only healthier, but just as effective as the stuff on the supermarket shelves?
Here's where I suggest you start.
Get Insanely, Uncomfortably Honest With Yourself
Your family will not understand you until you understand yourself.
Why are you doing this? What's your motivation?
Here are three questions you should think about for a few days. Really think about them. Get honest. Even if it's a little uncomfortable.
Why do I want to replace the store-bought products that I have with homemade ones or natural organic brands?
Is my decision based in fear? Or is it based in something more positive – like understanding what I'm using and having personal control over what's being put on my body?
What do I hope to gain from going the crunchy, natural route to approaching beauty and household items?
Those will get you started on your way to understanding yourself a little better. And when you understand your own motivations, it's far easier to pull other people along with you into this wild, messy ride.
If it helps, I've gone through about 50 different motivations for doing this over the past couple of years.
First, it was simple curiosity. Then, it just seemed like so much fun! After that, I really started questioning the ingredients in most of the store-bought products I was using, and eventually it became fear when I learned more about those ingredients.
The fear time? That was the worst. That no longer is a factor.
Eventually, I came to understand that there was always something deeper in it for me. A connection to the things I put on my skin (and that includes household cleaning products). I understand what's going on it; I have control over these things. I'm personally responsible if something goes wrong. And I LIKE THAT.
One of the questions above mentions fear, and I think that's really important. There's a big difference between saying to your family, "I don't want you to get cancer!" and saying, "I want us to be healthier and more responsible with the products we use."
The first step to change is always, always, always acknowledging that change is possible. That doesn't mean you do it immediately. It just means that you understand that you have options.
Make Your To-Try List
My saving grace has been this blog, believe it or not. If it hadn't have been for this, I would have just gone wild and made 10 things a day for a week, and then burned myself out. With the blog, I have to go slowly.
It's easy to get very excited and then very overwhelmed very quickly.
Not only that, but your family probably balks at all your great new ideas because you're overloading THEM immediately with all these new changes. And, let's face it, husbands and children sometimes have a hard time adjusting to change. It's encoded in their DNA. Until the girl children grow up. Thank goodness for that.
And this is where your list will come in handy.
Write down the top 3 things you want to try/changes you'd like to make in the next 30 days. (Three might even be excessive – if you just make ONE change in the next month, you're doing great.)
Write them down. Research them. Understand the best ways to approach them.
And then …
Sneak It In, and THEN Have a Conversation
Depending on whether or not you think there will be full-blown mutiny (or angry parents, if you're the teen readers here), sneak one of the things on your list into your household routine. Don't tell a single soul about it.
What do they care, anyway? They're not doing the laundry. Or cleaning the bathroom. Or brushing YOUR teeth.
Find something that'll be difficult for them to tell a difference between (like homemade laundry detergent, homemade glass cleaner, or homemade bathroom cleaner). Use it. See if they mention a difference.
After a week, ask them how they like their laundry/the windows/the bathtub. Odds are, they won't have any idea anything has changed. And that's when you can tell them what you've done.
And that it works.
This is when you whip out your list and talk to them. Seriously.
Talk to them about everything you've decided, everything you've felt about making these changes, and show them the next two things on your list.
Tell them it's important to you, and that – as a family – you'd like to try these things for a while and see what happens. And that you're open to a new discussion about them after giving them a go for a couple of months.
But that, until then, you'd like their understanding, their sense of adventure, and their respect in all of this.
And if that fails, you send 'em to me.
And I'll handle it.
Crunch-style.
What Has Worked For You?
I know some of you have strong-armed your families into trying – and eventually loving – the homemade products. And some of you are still learning what works and what doesn't.
Do you have any tips or ideas to share with other people who are struggling with "Crunchophobes" in their families?
This is a great time to share.
And if you're one of the strugglers – let us know what your family's main hang-ups are, and maybe we can put our heads together and figure something extremely healthy, happy, and persuasive out for you!