In this super-fast connected incredibly high-tech day and age, we all know that dryer sheets are bad, right?
I mean, really bad. For you, for your kids, and for the environment.
But they make for soft, cuddly-teddy smelling, mushy clothes.
Except they have dozens of cancer-causing chemicals in them. Chemicals that touch your skin and get inhaled through your nose and probably set up tents on your buttocks and throw wild, skin-trashing parties.
I haven't bought dryer sheets in years, nor have I used fabric softener. In fact, I do everything under the sun to stay away from synthetic fragrance as much as possible these days.
Why? Here's an article from Natural News about some of the untoward effects of synthetic fragrance. And here's one from Scientific American about why and how you should avoid dryer sheets/fabric softener. Sorry, wild laundry chemicals. Party's over.
Anymore, synthetic fragrance just bugs me. Hurts my head. Assaults my nose. Makes me nauseous. Increases my tendencies to hypochondria.
I'm at war, though.
War with Skip. Sort of. By war, I mean, I do laundry the way I want to do it, and he passive-aggressively sits stoically when I say it's better this way. He misses the super-soft smelly mess we all grew up with.
Soapnuts, though, were a different story. He loved them; they made the laundry super soft, and we never had a problem with static. I'm about to order more from Mountain Rose Herbs this week, but until then, I still want soft clothes.
And sometimes, even with the soap nuts, the clothes didn't smell 100% fresh. It's part and parcel with doing the greasy, oily laundry of a man who works in a kitchen, this unfresh smell.
Homemade Laundry Detergent with Washing Soda Needs Help
So, before soap nuts (and after until I get more), I was washing my laundry with this recipe for homemade laundry detergent.
Basically, it's 2 cups of finely grated soap (like Ivory, Zote, or Fels Naptha), 1 cup washing soda, and 1 cup borax all mixed together and stirred until clumps are broken up.
My laundry's super clean with this concoction, but it's not very soft if I don't use something to help it along.
(I'd like to pause for a moment to point out another obvious: The best way to dry your clothes – for yourself, your family, and the environment – is line drying. Until a week ago, I had no line-drying option. I may rethink that this summer.)
Okay, where were we?
So I had this jar full of old, cut-up pieces of cotton pillowcase that I'd leave soaking in vinegar and an essential oil. I'd just throw one or two of them in the dryer with the wet clothes and pretend they were reusable dryer sheets.
Then they got lost. Or stuck in the sock drawer. Or they ran away to a better home. I have no idea.
Either way, when we were moving last week, I realized I hadn't used them in months. Because they were hard to keep track of. Not a good solution for the disorganized.
Like me.
As I was spraying out the oven last week, the freakin' da Vinci stroke of genius hit me. Why not put the vinegar in the spray bottle? And spray the wet laundry? WHY NOT?
So I did.
Simple, Nontoxic Fabric Softener/Freshener
I've done 5 loads of laundry since then, and our clothes have never smelled … nothinger. I LOVE it. They just smell like clean clothes.
They're really soft, and only once have I noticed any amount of static cling on any of them. And that was a pair of CuddleDuds. I shook 'em out, and the static was gone.
Is it perfect? I guess that depends on your definition. Our clothes don't have that slight "soft" residue feeling that commercial dryer sheets give; and there's no real smell to them. I'd like to improve on it a little, just because I'd love to have clothes that smelled like lemons or something.
But I have yet to EVER do laundry with any amount of essential oil and have the smell "stick around" after a tumble through the dryer. Even a sock full of dried lavender buds with lavender essential oil drizzled on it didn't work.
But, I added eucalyptus essential oil to this mixture, and I honestly think that – while our clothes don't smell like eucalyptus – it adds a fantastic amount of freshness to the dried clothing. No more oily/greasy smells left on the work jeans.
Here are the ingredients you need. The MYRIAD OVERWHELMING INCREDIBLY NUMEROUS INGREDIENTS: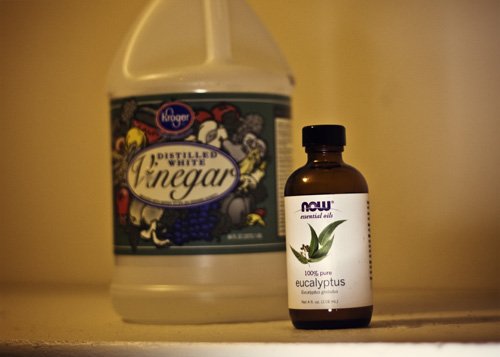 Easy Homemade Fabric Softener
2 c. white vinegar
3 tsp eucalyptus essential oil
spray bottle
Combine oil and vinegar in the spray bottle and shake well. Shake well before using. Spray 10-15 squirts of the mixture into the dryer (on wet clothes) before drying. Dry clothes completely to avoid any leftover vinegar smell.
One Note: More is not better here. The first load I did, I went crazy and sprayed over 30 squirts into the machine. The heavier clothes still carried a bit of vinegar smell when I was done.
More Things to Do With Eucalyptus Oil
It's become clear that eucalyptus oil is on my list of 5 must-have essential oils. It's disinfecting, antimicrobial, deodorizing and really uplifting in the scent department. While I think you could get the softening effects of vinegar without it, I do think the freshness it lends to this fabric softener idea is essential. For me, anyway.
If this isn't enough to convince you to buy some eucalyptus oil, here are a couple more reasons to do so.
You can also add it to bathroom cleaners, kitchen cleaners, a pot of boiling water to help lift your spirits (or relieve sinus pressure).
I could do this for hours.
Anyway, I did some research for you guys and found some of the better deals on eucalyptus oil. It seems like it may have gone up a tiny bit in price recently, as I bought a 16-oz bottle two months ago (on sale) for around $14.
NOW Foods is selling it on Amazon (on SALE right now) for $16.78 for 16 oz. This is the best price I could find. Plus, it ships Prime (if you have it). (Edit: I guess it's no longer on sale – less than 12 hours after I wrote this. It's back up to over $21. Sorry!)
Alternatively, you could buy it from iHerb.com using code OZE706 to get $5 off your first order – the price right now on the 16 oz is $21.40. While it's not as inexpensive, when you use that code, you also support CrunchyBetty (I get a tiny kickback when the code is used).
Or, if you really want to support CrunchyBetty, you could pick up organic eucalyptus oil right now from Mountain Rose Herbs (use the affiliate link here if you order). They only sell organic there, which I would buy if I had the money to do so. But I go through a fair amount of eucalyptus oil, and it's just not as feasible. Right now, anyway.
Maybe when I'm rich.
And I'll have my own reality TV show. The Crunchy and the Famous.
I digress.
What do you people think of all this?
Have any of your own laundry tips to share?