This seems like a most excellent time to revisit a post from almost two years ago – one of my favorite tips that didn't get enough attention the first time around. And it's even MORE important today, given everything we know about the harmfulness of the ingredients in almost all store-bought air fresheners: Including phthalates that affect hormones, formaldehyde and petroleum distillates, and other VOCs that can trigger asthma and other respiratory problems.
So don't just cover stinky poo with even MORE stinky toxins. Pick up eucalyptus oil (my favorite) or peppermint essential oil and use teensy-tinsy amounts that pack a huge poo-fighting punch instead. You can pick these up at just about any local natural foods store – it's not hard to find!
Some of you have tried this (at least, according to notes you've left me on Pinterest … and even really hilarious emails where you describe, in detail, just how it works. Weirdos. So share your success with the people who haven't seen this yet, way down there at the bottom of the post!
(Speaking of using the loo, have you seen the Squatty Potty? I never would've thought a toilet stool would make a comfort and timing difference while doing my business… but, It. Is. AMAZING! Plus, their commercials are fall-on-the-ground hilarious.)
The Oil Magic Trick that Hides #2
How many of you work with other people? Raise your hands.
How many of you live in close quarters with other people? Raise your hands.
How many of you find yourself in a public place now and then? Raise your hands.
Okay. You should all have raised hands at this point, which means you can't scroll down anymore. So put your hands down.
Thank you.
Since we had the no 'poo uproar the last couple of days, it seemed only fitting that we talk about the other kind of poo.
The real kind.
The stinky kind.
The kind you don't want anyone to know about.
I have exciting news. I have something you can do to get rid of evidence of #2!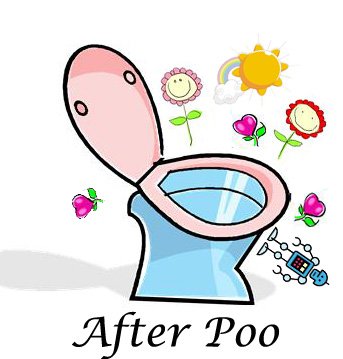 It works, people. It really, really works. It doesn't just halfheartedly mask odors (or toxic up the quality of your air) like bathroom sprays do. It traps them before they can even become an issue. It's fresh and clean as the morning breeze.
And nontoxic, so you're not putting anything (but your own, um, issues) into the water supply.
AND it'll only cost you – at most – $5 for a bottle that'll last months.
What the crap am I talking about?
Eucalyptus Oil For Preventative Bathroom Measures
That's right. Eucalyptus oil.
Two to three drops in your toilet water, before doing your business, will nearly completely eliminate any odorous evidence that you've done anything.
How to Use Essential Oil to Cover Your Tracks
Before sitting on the toilet, place 2-3 drops of oil into the water in the bowl
Do, you know, it
Flush
Walk out of the bathroom, confident that you've left no evidence of what you did in there
Now, of course sometimes you (or your husband, who I'm very certain is probably going to be encouraged to use this the most) will overpower the abilities of the oil to some degree. But those times will probably only be after Taco Bell – and you'll feel so terrible anyway, it's not like you'll be in public. (Shame on you.)
And – you don't HAVE to use eucalyptus. Peppermint, lemon, wintergreen … any relatively fresh and clean scented essential oil will do the trick. Heck, you could even mix some to tailor to your preferred scent.
I use eucalyptus oil as the example because a) it's the strongest-smelling essential oil I know, b) it smells to me like a bathroom SHOULD smell, c) I like to spell out the word eucalyptus and d) it's one of the least expensive essential oils.
Why This Is the Coolest Weird Trick Ever
These bottles are SO small, you can hide them anywhere:
Tuck a bottle in your purse for on-the-go emergencies
Keep a bottle in your desk drawer for unfortunate workday calls
Tape a bottle to your husband so he doesn't forget
Tuck a bottle on the back of your toilet or bathroom cabinet – it takes up SO little room
Or, you could make a giant sign like I did, for guests
Seriously. I can't get enough of this stuff. It almost makes you excited to go now, doesn't it?
(PS – Eucalyptus oil should never be ingested, so keep out of the reach of your little ones.)
Giving Credit Where Credit Is Due
I did not come up with this idea all by myself.
My aunt, who didn't want to be identified due to the delicate nature of this issue and will probably freak out just by my saying that much, gave me this genius idea last week.
It seems there's a company who makes oil blends just for this occasion (and I would name them by name, if they'd have responded to my email inquiries – so there). She had seen some in True Value a few months ago and thought, "Jeez. That's expensive. I bet I can do better." So she did.
Thus, this magic was born.
So, everybody say thank you to my aunt for solving this very complicated and emotionally tricky problem for VERY little money and ecohappy results.
She is a true poo trailblazer.
Also, if you spotted the robot in the first picture, you get 10 points.
Admit it. It was funny.