Gotta admit, this is a new one for me. I live in an area where mosquitoes dare not tread, and ants basically mind their manners. Buncha moths, but I'm not afraid of them biting me much – the cat takes care of them before they get that far.
However, I'm off to the muggy depths of Kansas City all next week, where mosquitoes drain humans like renegade Nazi werewolves drain gentleman vampires (Sorry. I can't think of a metaphor that doesn't reference True Blood. Little obsessed here.)
I'm also going to see my two absolutely adorable, sweet, and perfectly behaved (right, sister?) nephews. If you want, you can see them here and here. They are precious. I want to give them fun things, like aunts are wont to do.
So in thinking about the Crunchy Kids this week, I went through a litany of options of cool, exciting gifts to bring and ended up with … bug spray. They are going to love their Aunt Betty this time. What a dumb boring let's go play with trains FANTASTIC present!
Because I procrastinated in my decision, I'm going to give the recipe for the insect repellent I made them. You may not, however, want to make this. You may decide it's not worth it to buy the essential oils. I could spend 1000 words trying to convince you otherwise; instead, I'll just direct you to the link on the left to Mountain Rose Herbs and let you decide for yourself.
This does use three different essential oils that you might not just have lying around, so I'm going to end this post with a few other less intensive tips that might work for you instead.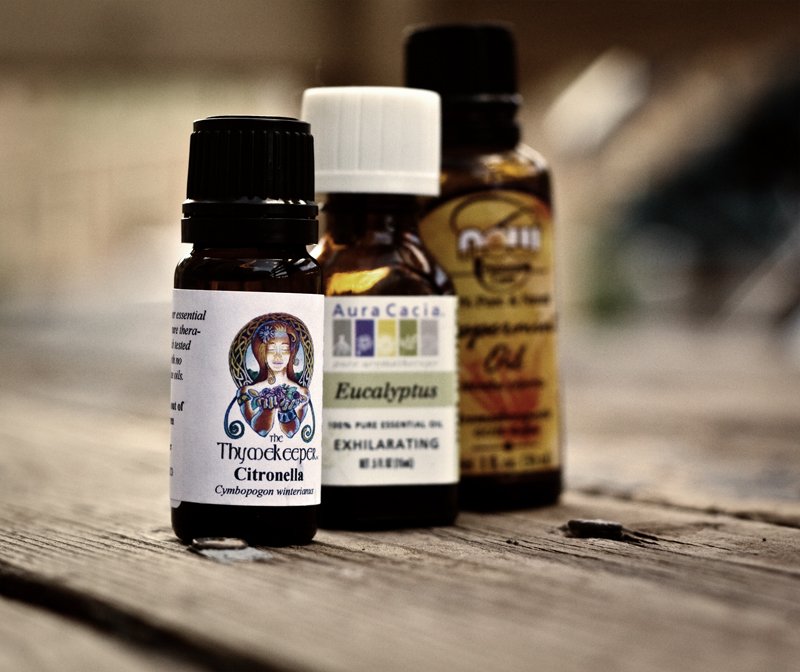 Shoo! Spray Insect Repellent
1/8 c. apple cider vinegar
1/8 c. rubbing alcohol or (yes, I'm going there) vodka
1/8 c. distilled water
25 drops eucalyptus essential oil (1/4 tsp.)

25 drops citronella essential oil (1/4 tsp.)

50 drops peppermint essential oil (1/2 tsp.)
Smallish spray bottle
Not a lot of directions here. Pour everything in your spray bottle and shake well. Shake well, again, before spritzing. This doesn't need to be refrigerated, though it may feel good if you do. It should keep well for several months in a cool, dark place.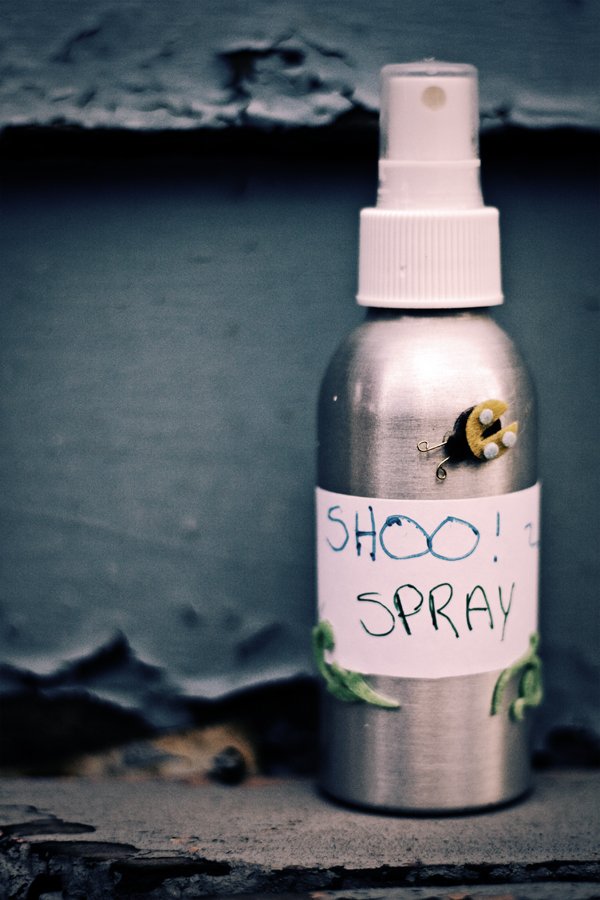 Notes: This isn't just for kids. Go ahead. You can use it, too. However, after reading several recipes on the web (and ultimately adapting this A LOT from the Mother Earth News recipe), I decided that because I was making it for small children, I was going to go a little easier on the citronella and eucalyptus oils, mainly because sensitivities can happen to both of these, and I wanted to make sure I didn't overkill at all. If they're not sensitive to it, they can always spray more. If you're making this just for grown-ups or older kids, you can go a little heavier on all of the oils.
But this is VERY IMPORTANT: Eucalyptus oil, in particular, should not be swallowed. It's known, in high quantities (and it would take quite a bit to cause major issues) to cause toxicity. If you get some, keep it out of the reach of your children.
Lastly, peppermint oil is known to be very effective against mosquitoes and other winged critters. As a bonus, kids love the smell – and it offers a distinct cooling sensation, perfect for hot, sweaty weather.
—-
Other Natural Insect Repellent Options
Before I list of some of these, maybe we should talk about DEET for a second. That's the biggest reason I'm doing this. Although my sister is a very crunchy mom, and likely doesn't use anything with DEET on her kids already, I figured this was a great option. Why? Because DEET is very bad. Very, very bad. (Bad like Maryann the maenad last season on True Blood. Toldya.)
Instead of going on a tirade here (which would include pointing out that it may cause brain cancer, should never be used on infants, and is a potential cause of migraines), I'll direct you to this informative article at Quantum Health if you want to read more and be appalled.
So that is why you may not want to use a conventional insect repellent. Good news is, there are plenty of alternatives.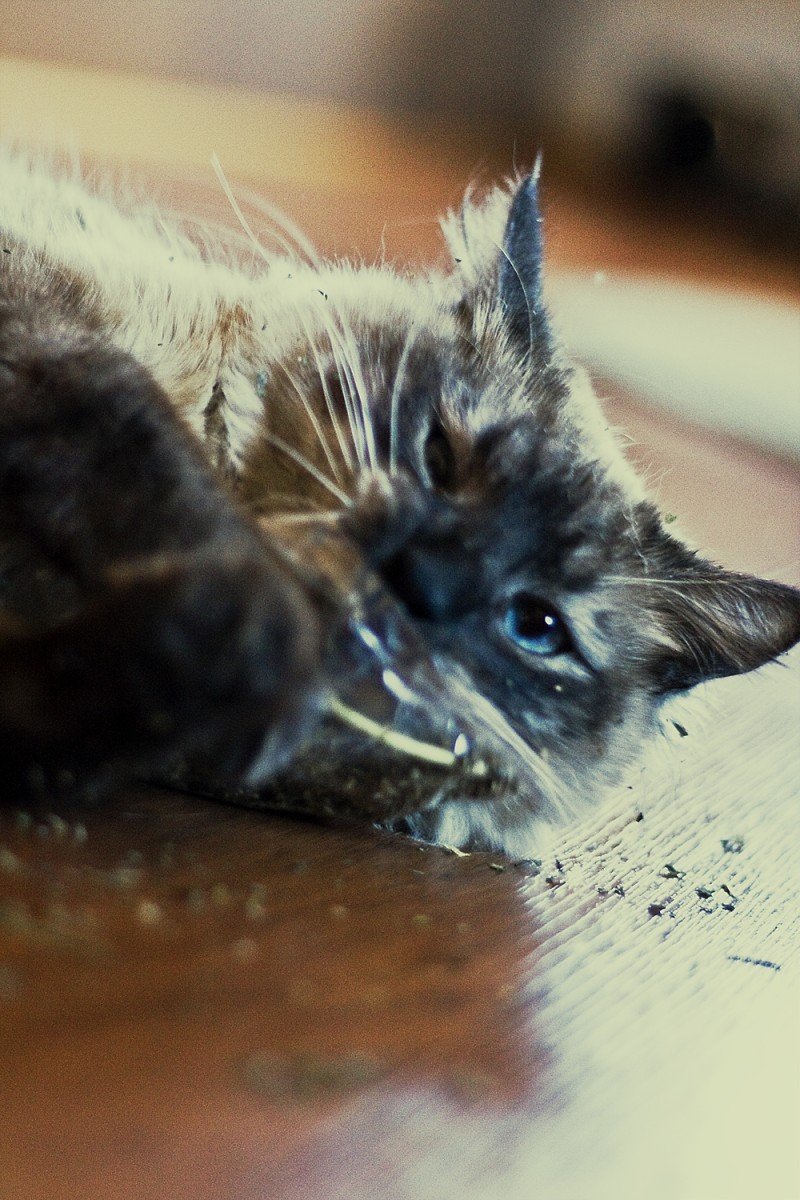 Catnip has been shown to be 10 TIMES more effective than DEET in keeping away mosquitoes. If I'd have had the time, I would have concocted more of an oily insect repellent. I was going to steep catnip in a soybean oil (which apparently bugs hate, too) for 2 weeks. Procrastination happened instead. In any case, you can find catnip essential oil in many places (including MRH and possibly Whole Foods) and apply a dab or two to your ankles and wrists while you're outside. You could also add it to the recipe above, for a more potent bug spray.
In India, many people rub juicy lemongrass stalks and leaves on their bodies – and mosquitoes hate it. Citronella actually smells a lot like lemongrass (they're in the same family), so this makes a lot of sense. If you want to go completely crunchy with your insect repelling, this is the way to do it. If you try it, let me know how it works!
Peppermint essential oil, alone, is another option for a quick and easy bug repellent. On my quest to do this the last two days, I ended up across the street at my favorite store ever – one that sells herbs, salves, and all things MEGA crunchy. I spoke to the woman running the store about her recommendations, and she swore by plain old peppermint oil, dabbed on the ankles, wrists, and under the chin. Said she hasn't been bit in years. Again, we live in a very mosquito-less part of Colorado. (Though she did look like the traveling type.)
If you're camping, try boiling a few lemons (or stalks of lemongrass) over the campfire. Word is, this keeps the insects far away from you. Cheaper than a citronella candle, I guess.
Neem, basil, and rosemary essential oils also have reputations in these parts. Neem, especially, is a great insect repellent. But basil and rosemary you can easily purchase fresh and rub a little on your pulse points.
Carry marigolds with you wherever you go. Okay. This may not be feasible, but I like to imagine all of you prancing about with marigolds. Nonetheless, mosquitoes don't like 'em. Even if you don't want to carry them, you can plant some in strategic, often-used places in your yard.
And that concludes this episode of Crunchy Kids.
Got any homemade insect repellent tips, ideas, or recipes?
You kids stay uneaten now, y'hear?
In love and squishy crunch!