Over the last year and a half, I've become a bit of a beauty book addict. Big surprise.
My favorites, though, are the vintage ones. The ones with words like "ye" and "olde" and "britches." The ones where you cured issues with green things in the meadow, and soaked your feet in piping hot root water to get rid of a cold.
By comparison, in many current books you find tips like: "Scrub your face with Kellogg's Cornflakes!" or "Stain your lips with Kool-Aid!" or "Condition your hair with Kraft Mayonnaise!"
The olden day books are so charming and pure.
ANYWAY, one of the most intriguing ideas I've gleaned from these is to use eggshells to powder your face.
Here's a gratuitous picture of eggshells: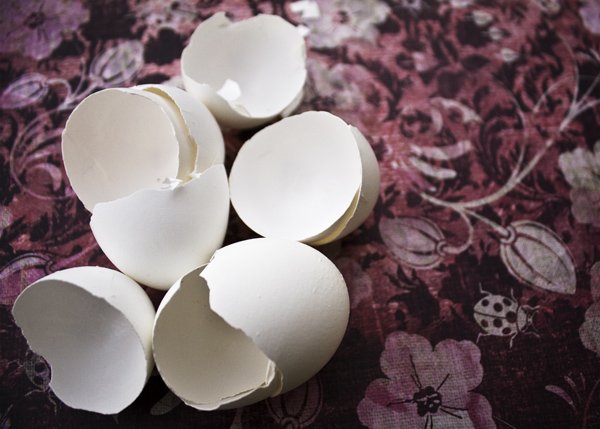 The gist is this: You grind eggshells into a very, very, very fine powder (like dust) and then use it as … face powder.
Before I tell you the issue, let me tell you this: It works incredibly well. I used some of the eggshell dust on my face this afternoon, and two hours later I was still not shiny (even in the face of 85-degree weather) and my skin had a nice even tone to it. Even though the eggshells didn't "color" my face at all. Very translucent.
I love this so much, and I want to do it all the time.
But here's where my problem comes in.
How the &$*# Do You Turn ALL Your Eggshells to Powder?
First, I know this: Wash your empty eggshells very, very well. After I did that, I set five them out in the sun to dry, brought them in at night, and set them out again this morning. All told, it was about 36 hours since I'd cracked them.
They were dry, I tell you. D-R-totheeffing-Y.
Here's what I did:
First, I put them in my big, good food processor. That produced about 1/8 tsp eggshell powder and 2 Tbsp tiny eggshell pieces that looked like confetti.
Then I put them in my small food processor. I don't know why. It doesn't work. On anything.
After that, I popped them into a little packet I made with foil and ran the rolling pin over it for what must've been the rolling distance between here and Rhode Island. That gave me about another 1/16 tsp powder and little pieces of egg that felt like sea salt. (Probably the kind of sea salt they have in Rhode Island.)
Then I poured them into a bowl and tried grinding them with the back of a spoon. I now have a scratched bowl and 1/8 tsp of powder.
Exasperated, I finally poured them onto a cutting board, washed off a hammer, took the whole shebang out to the backyard and just hammered the living crud out of them. A leaf blew in and I didn't care, because all I was doing was grinding another pinch of powder into the cutting board, while the rest of the eggshell pieces bopped up and down in time with the hammer.
So all told, I got maybe 1/2 tsp of powder. After all of that.
Here is what I didn't do:
Use a mortar and pestle. This is because I do not have one. *frowny ashamed face*
Affix a bag full of tiny eggshell pieces to the bottom of my car tires and drive to Rhode Island.
Will them into dust with the awesome powers of my mind.
So help me. Help ALL of us.
Because this is really good stuff.
Do you have any idea how to grind eggshells into powder in a way that doesn't a) send the powder shooting up into the stratosphere or b) require a permit from the city because your neighbors are sure you're building an underground bunker with all the banging?
I know there must be some really super simple way to do this, but I'm at a loss.
If they could do it in the 1700s, we sure as heck should be able to do it now. Right? Right? RIGHT?
Right now, I'm so exasperated with eggshells, I don't even want to look at them.
Unless they're on my face.
HOW DO WE MAKE THAT HAPPEN?