Have you ever been a tourist?
Have you ever been a tourist in a small town?
How about a tourist in a small town walking very slowly?
These people – these people in the crosswalk, they could be you: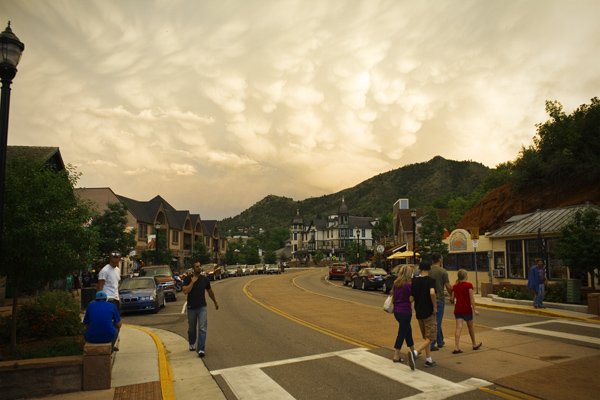 You people drive me insane, with your slow walking and your taking up the sidewalks and your labored, unpredictable weaving and bobbing. And that's just the lot of you that aren't drunk.
You do this, and the walk to the store that usually takes me 3 minutes ends up taking me 15. Just to walk three blocks.
Oh, I hear you. You say things like, "Hey, stop right here. Take a picture of me in front of this staircase." And you stop JUST as I'm sliding up behind you to pass. So instead of making a clean sweep around the outside of your hilarious "Pike's Peak: Getting This High Would Be Illegal In Most States" t-shirts, and I touch your boob.
And you think it's funny. Lady, I've touched three boobs just this week. It ain't funny.
You stand in the middle of the sidewalk – right smack dab in the middle – and you talk to each other. And then, when I go to pass on the inside, you poke up your arm to point at something, and you jab your finger in my nose.
You let your kids run willy-nilly all over the sidewalk, as they scream and throw pieces of funnel cake at each other. That funnel cake doesn't just magically disappear, people. It has to go somewhere. And that somewhere is usually the bottom of my shoe .
I get so frustrated. And it's all because I NEED TO GET TO THE STORE TO BUY CASHEWS BECAUSE I'M REALLY CRAVING THEM.
I need to get there. NOW. Fast.
I'm in a hurry and you guys are SO slow. So slow and so stoppy and oblivious to the other people around you.
You make me say things like, "This town is so annoying. Why do I live here?"
Until one day, when the clouds are roiling after a mid-summer storm and I'm in my usual hurry to get back home with a handful of fruit and a camera that's about to get wet. My head is down and I'm watching your feet.
I'm watching them, because sooner or later, they're going to stop.
And sooner or later, they do.
And one of you points and says, "Oh my gosh, Dad. Look at the sky! Look at the trees! Look at the mountains! This must be the most beautiful place in the world. I'm going to live here when I grow up. It's going to be killer. Everyone here is so happy."
You made me look.
And you were right.
Everyone here IS so happy. When they slow down. When they take the time to look at their town as if they were tourists falling in love with it for the first time.
So thank you for slowing me down. My pretend need to get to and from the store in a hurry isn't as important as the joy you're feeling.
Keep walking slowly. Keep taking your pictures. Keep pointing at things and exclaiming, so I can look at it with new eyes, too.
Just please keep your finger out of my nose.
Did You Know?
You can apply this whole story to your life, too. No matter where you live.
I'll betcha a dollar you get irritated sometimes when people in front of you drive slowly. I'll betcha you huff and puff a little under your breath.
I'll also bet that you forget to look around and see the beauty in the small things you're passing.
Years ago, I had a friend who fell in love with a guy. She was out visiting him one spring, and he was showing her his drive to work. The scenery was beautiful, and she commented on it repeatedly.
Finally, he said, "Before you showed them to me, I never noticed the trees."
Notice the trees. Especially when someone in front of you is slow. Or stopped.
But keep an eye out for the boobs. Those puppies come out of nowhere. Trust me.