Do I stink? Reek? Smell slightly like rotting fish?
That's the question you're asking yourself, right?
If you're new here, what you're reading at this moment is a conclusion to my homemade deodorant experiment. For details on how it came to be, the different recipe options, and how to do it yourself, go … go now, young ones … and read. I will wait.
If you've been around long enough to hold curiosity on the status of my pits, first of all, I'm aware this post is early. I was going to give homemade deodorant a full three-week trial before pooh-poohing it forever. It has been 15 days, and …
I am reporting early for a reason.
It works.
That's not to say there weren't a few issues at the beginning, but it's reached the point where I can confidently say that I will, forever, be a homemade deodorant convert.
This is the low-down on how it went – straight from my personal journal:
The Homemade Deodorant Experiment Timeline
Day 1: Love the smell of this stuff. I want to lick my armpit. Maybe later tonight, when Fiance's not around. It's been a little itchy, but nothing major. After all, my underarms itched with store-bought deodorant sometimes, too.
Day 2: Holy mother of cheese. I woke up at 3:00 a.m. last night and felt like someone lit a burrito on fire in my armpit. Fell back asleep after writhing in pain for 20 minutes. Pain is gone now. Maybe it has something to do with applying the deodorant right after shaving? I'd give up now, but there's been no sweating and no off-putting odors. Continue, I will.
Day 3: Smarter this time, waiting until an hour after the shower to apply the deodorant. Now I know it takes me at least an hour to start stinking. Good to know, if I'm ever stranded on an island with Jack and Sawyer. Wonder if anyone else has ever thought about how much those Lost people must've reeked. Please, Hurley, stop raising your arm. So far today no itch, no stink, but a little bit of extra moisture. Pretty proud of my pits.
Day 5: Haven't showered for 36 hours. Wish I could say it had something to do with the deodorant experiment, but I'm just lazy. Felt like I should reapply a few hours ago, even though it wasn't stinky. Just a bit of moisture, but nothing to change shirts about. Maybe I just won't shower anymore. Talk about going green.
Day 7: The slight itching has stopped completely, with no return of the first night's fiery pain of hell. Seems like maybe my body has adapted, as well, because I haven't felt sweaty at all for a day, either. And, of course, I smell like ylang-ylang and nothing more. At least, that's what I think. I'm going to ask some friends to smell-test me later, just in case I've gotten used to a funk.
Day 8: Friends reluctantly sniffed in the vicinity of my armpits. Promised they smelled nothing untoward and then kicked me out of the car for being weird. Guess I'm going to need new friends. Good news is, I'm done keeping this journal, because this stuff works. And I love it.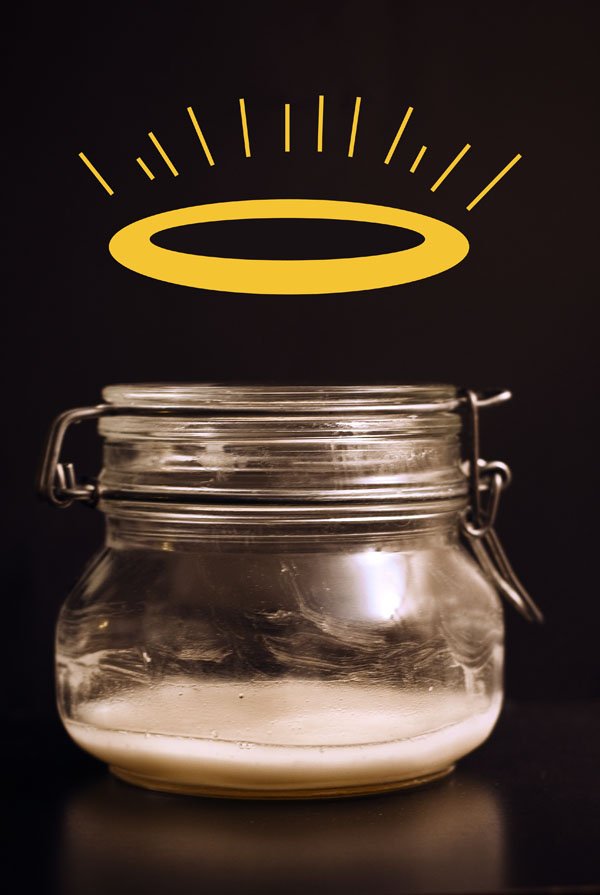 The Homemade Deodorant Surprise
This might be TMI, but it has to be said in order for me to get my point across. So. Sorry. Read it fast, like ripping off a band-aid.
I've never had the smoothest of armpits. Even after shaving, I always have those goosepimply follicles that stick out and are sort of dark (the hair still underneath). Back in the day, when I'd wear a sleeveless shirt, I'd be so self-conscious, I'd never, ever, ever raise my arms. (Imagine what it was like being a lifeguard in high school. Sorry you drowned*, people. My pits were embarrassing.) (*No one really drowned. Sorta.)
Since using homemade deodorant, the opposite is true. I feel like stopping strangers on the street to look at my underarms and ooh and ahh at their smooth sleekness. "Look, friend! My pit is a Corvette!"
This was unexpected.
I don't know if anyone else will experience this unexpected – good – side effect, but I did. And now my pits and I are much better friends, on a superficial level.
Don't Just Listen to Me
The first homemade deodorant post sparked a slew of really helpful, really insightful comments. Here are a few of them, to help you make your mind up whether or not you're interested in giving this a try:
I switched to homemade deodorant and moisturizer a couple weeks ago and am loving it. I was previously using the prescription-strength antiperspirants because I just felt like I was too sweaty. But now that I have been using the homemade formula, I find I hardly sweat at all! – Rebecca @ jerbecca.wordpress.com
Megan had a little issue with the rash, but an overall glowing review:
I have been using a version of your deodorant recipe for about 2 weeks now (found it somewhere else). I'm very pregnant and due in 4 days and it seems to be working for the stink. I used lavender and just a little tea tree oil in mine. The smell is divine! However, I do have a red rash under both arms. My guess is that the tea tree oil is too strong for the delicate underarm skin. My philosophy is that I'd rather have a rash from a pure oil than cancer from aluminum! Oh, and I do stink by morning, but then it's shower time anyway and that could have to do with pregnancy hormones. – Megan
Hi all! I've been using a version of this deodorant for three months. I am a convert and will not look back. It works better for me than commercial aluminum-based deodorants ever did.

My armpits got a little red and raw when I used equal parts coconut, cornstarch, and baking soda. This had to be due to the abrasive and caustic nature of baking soda, so I upped the amount of coconut oil to where now it's 3 parts coconut oil (or more!) to 1 part baking soda and 1 part cornstarch, and my pits are very happy. So play with the amounts; coconut oil by itself is supposed to have mild anti-bacterial properties. Some people even use it straight as a deodorant. I've used jojoba with a few drops of EOs, and it worked, too, although not as long as this concoction.

Re: essential oils: I use lemongrass and lavender. Never had any sensitivity. HTH! – Manatee
And it seems like the biggest issue for some people is the baking soda, so if you try this, be prepared for some itches. I just recommend you stick it out for at least a week or two before coming to any conclusions. Here's one last (both cautionary and positive) review:
I made this deodorant last year for myself and hubs. We both loved it and it worked better than any nasty commercial pit stick out there at repelling odors. Several of my friends asked if they could order it from me, and I thought I had the makings of a nice little business. Then, about six weeks in, my pits became covered in red, itchy, painful bumps. Then they became raw – all the skin came off my armpits! As they healed, I had dark, leathery patches for weeks and I couldn't wax or shave … (snip) … My husband and our friends still love the homemade stuff, so I make it for them, cursing bitterly all the while. – Mrs.D
What Say You?
Do you think you'd like to try your own homemade deodorant? Or are you married to the brand you use?
Or, conversely, do you USE your own homemade deodorant – and what do you think of it?
If there are enough people willing to give it an honest try, I'll write a post again in the next three weeks or so to chronicle your personal experience – featuring your comments here.
It's up to you.
What say you?
In vroom-vroom-armpit crunch!
BTW, if you want to switch to an all natural deodorant but don't want to make it yourself, this might be just the solution for you!