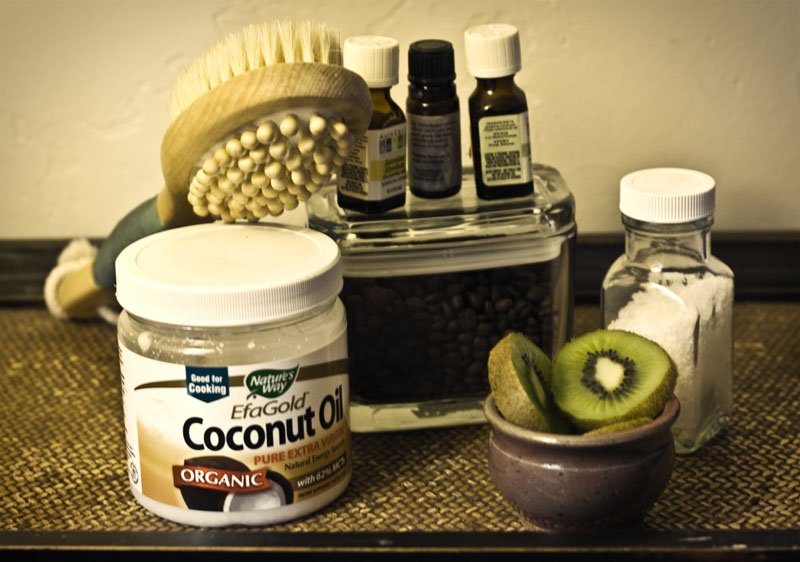 Have you ever scratched your upper arm in the filtered light of a window at dawn only to look down and see – fingers pressed into the skin – faint evidence of burgeoning cellulite?
HAVE YOU?
That would sure stink, wouldn't it?
Well, luckily for most people cellulite mostly magically appears on the gluteus maximus and thigh regions – much easier to cover up. That doesn't make it easy to live with, though.
While cellulite's not a real health risk (though it can indicate poor health habits), it's a telltale sign of aging. If you've ever read any articles or how-to-get-rid-of-cellulite exposes at all, you know that the A-number-1-Best-Selling Tip is to exercise. So I'm not going to tell you to do that.
I'm also not going to tell you that drinking more water will help tremendously.
I'm going to give you, right here, the easiest ways to get rid of cellulite without sweating, chugging, or otherwise changing your complete lifestyle.
I won't tell you that adding regular exercise and increased water consumption will take care of the bulk of your cellulite issues. Nope. I won't tell you that at all. (Ahem.)
Ways to Get Rid of Cellulite Without Breaking a Sweat
1. Coffee for Cellulite – On Your Body, Not In Your Mouth.
So here's a conundrum for you. Coffee in your mouth could be a cellulite culprit, but coffee on your body is definitely a cellulite buster. Doesn't seem fair, does it? Let's pretend I didn't say anything about how drinking coffee could cause cellulite, mkay? Because never, ever, no never would I ask you to give up your coffee. However, here are two things you can do with it that don't involve drinking.
Turn the Coffee into a Shower Scrub: After you've made your morning pot, place the grinds in a bowl and cover them with olive oil, sweet almond oil, grapeseed oil (or any kind of oil you'd like, really … just try to stick to cold-pressed and avoid ANYTHING that's partially-hydrogenated). Stir the mixture and let it sit for a few minutes to allow the coffee time to infuse into the oil. In the shower, scrub your body with this mixture, focusing on the tricky dimply parts. Rinse well.
Kick Your Lotion Up a Notch with Coffee: Take some dry coffee grounds and toss them back into the grinder or food processor. Let them grind into a fine powder. Add this powder to your favorite lotion and apply to troublesome areas. This is best used at night or anytime you're going to be home for a good block of time. Otherwise, the coffee might show on the fancy little white dress you chose to wear for date night. You're so hot.
2. Make Your Own Massage Oils
This is actually super easy, and all you need is an essential oil or two and a carrier oil (like jojoba, sweet almond, olive, or coconut oil). For every 1/4 c. of carrier oil, use 10-12 drops total of essential oil. Combine them well in a glass jar or bottle and massage into icky cellulite-y spots for 10 minutes a day.
Essential oils that treat cellulite most effectively (the top two are the absolute best):
Juniper
Fennel
Grapefruit
Sage
Lemon
Cypress
3. Dry Brush Your Body Daily
Invest in a good body brush. You'll be glad you did. Make it a daily habit to give yourself a good body brushing, starting at your toes and always moving upwards (you want to brush toward your heart to really help with revving up circulation).
This is, perhaps, the most helpful, healthful tip I've given. Ever.
Dry brushing detoxifies like nothing else, exfoliates all the bad stuff of a HUGE portion of your skin, gives you energy, aids in skin cell renewal, increases circulation and, of course, helps your body break up cellulite.
Just like any habit, it's one you have to consciously form, but doing this daily will seriously – and I mean this – change your life for the better.
I don't have a particular favorite. I bought a cheap body brush at Walgreens about two years ago. It seems to work fine, but I'm open to recommendations if anyone has any.
Bonus! Extra! More Ideas! Yay!
Does Kiwi Get Rid of Cellulite?
Or so the story goes, according to a Puerto Rican folk remedy. In my opinion, using kiwi to get rid of cellulite sounds messy (or is messy – I know, I tried it yesterday) and really expensive. You'd be better served using part of the kiwi as a facial mask and eating the rest. If, for some reason, you have limitless supply of kiwi at your doorstep, this is how to do it:
Mush the kiwi with a fork and rub onto cellulite areas. Circle it with plastic wrap and leave on for 20-30 minutes. Remove, and shower it off.
Is there ANYTHING Apple Cider Vinegar Doesn't Do?
ACV is good for so many things (treating heartburn, toning the skin, cleaning … everything), and it's also effective in treating cellulite. Probably the easiest way to use it is to take 2-3 tsp. of ACV in water – with a little honey, if you don't like the taste – each day.
But you can also apply it directly to the cellulite areas and leave it on. Be careful, though, as it can dry your skin out. Dilute it with some water if your skin starts to dry (and add a little vegetable glycerin to the mix for extra moisturizing).
Seaweed Isn't Just for Spas Anymore
There's a reason why so many people are covered in seaweed at spas. It's skin-nourishing and it's great for treating cellulite. These days, you don't have to go dredging up junk from the bottom of the ocean to use it. Just visit your local natural foods store, or MountainRoseHerbs.Com, and handily order yourself up some powdered seaweed.
Make a paste with water and spread onto the dimply areas. Leave on for 30 minutes (or more) and shower off.
—
When was the last time you freaked out about cellulite – or even the small, shadowy possibility that you might have it?
Would you rather try these ideas, or throw down big moolah for bottled treatments at the department store counter?
In smooth-and-sexy crunch!