I've been researching things that stain your teeth for a side project.
All weekend.
Surprisingly, there aren't as many things as you might think. But there were a few things I'd never thought of before – like white wine. Did you know that white wine "prepares" your teeth for staining? Crazy.
Because I love it when two worlds (dry and professional and … this) collide, I thought I'd share some of what I learned, as well as ways you can keep your teeth from growing dark and dingy (or even whiten them up a bit right now).
Below, you will note that I have compiled a very professional infographic for your viewing pleasure.
Skim over it briefly, and then continue scrolling until you reach the important tips at the bottom. It took me an hour and a half to make. By all means, just scroll past it. I mean, your lack of enthusiasm won't hurt my feelings. Really. Really.
After all, I just do this because I love you. Because I care about you. No, no. It doesn't hurt my feelings if you just ignore it.
Sigh.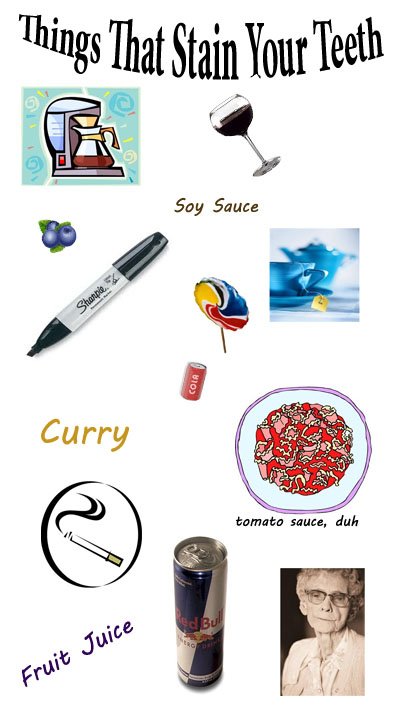 Please note that the bottom graphic is not suggesting that old people stain your teeth. Rather, aging does. However, if you ever see an old person with a Sharpie, be concerned.
Also, popsicles were supposed to be on the list, but I couldn't find popsicle clip-art in the dumb Microsoft free graphics gallery. Maybe if you people would pay me more, I could afford decent graphics. Just saying.
Oh, yeah. And that IS spaghetti sauce. Not brains. I wasn't trying to run one past you.
ANYWAY:
Crunchy Ways to Keep (or Make) Your Teeth White
Drink water after every meal. I won't lie–I have lots of fillings, and 99% of them went in my head before my 16th birthday. Even though my teeth are probably poised to all fall out before I turn 60, they're surprisingly white. My biggest credit for this accomplishment? Drinking lots and lots of water – and swishing.
Swish the water around in your mouth. This will clean off the yuckies that would otherwise adhere to your teeth and end up staining it. Try to make it a habit to swish while you're drinking water right after a meal (or snack of popsicles).
Eat a veggie first – broccoli and lettuce are best. Both broccoli and lettuce contain properties that protect your teeth from the acids found in a lot of foods (like tomato sauce). To save your teeth from future staining, eat your veggies before you eat your saucy grub.
Crunch on an apple a day – it keeps the yellow away. This crispy fruit ain't only delicious and healthy, it cleans your teeth like no other foodstuff can. Plus, the astringent properties in apples help whiten and brighten your smile. (Note: this rule does not apply to apple pie.)
Smother on the strawberries. I know I've covered this tip a million (or three) times, but it's my favorite, and I'm not going to leave it out. So there. Strawberries are amazing teeth whiteners, and all you have to do is rub the meat of one around your teeth and let it set for 5 minutes to see an instant effect. You could even make a fabulous mushy toothpaste with smooshed strawberries and baking soda, if you want to be thorough about it.
Squeeze lemon into your water. At least once a day, squeeze a bit of lemon into a glass of water (you can add 1/4 tsp salt to it too, for extra whitening power). See the tip about swishing. It works here, too. Lemon whitens and brightens (just like it does with the dark spots on your skin).
Don't toss the orange peel. Rub it on your teeth, instead. Just be sure to rinse your mouth out after 10 minutes, so the citric acid doesn't accidentally mess with your enamel.
Always drink dark beverages from a straw. This is especially important with regard to colas. I shouldn't have to explain to you why this helps keep you teeth white – but I will anyway. See, if you bypass the teeth all together while you're drinking, they can't stain. Right? Right.
Twice a week, scrub with baking soda and a tiny bit of hydrogen peroxide. Be careful, 'cause you don't want to swallow much peroxide, though the taste of this, I believe, will keep you from wanting to swallow anything for a while. Just sprinkle a heap of baking soda on your toothbrush and use 2 or 3 drops of hydrogen peroxide on top of that. Scrub away, and rinse your mouth thoroughly when you're done.
Make your own whitening device with toothpaste, baking soda, and aluminum foil. Just mix some of your regular toothpaste with baking soda, scrub on a thick layer with your toothbrush, and cover with a small piece of aluminum foil. Leave on for 15 minutes and then rinse well. Don't do this fancy little trick more than once a week. Or upgrade your current toothpaste to a better version like this.
Use olive oil after brushing. This is a very mild version of the oil-pulling method (where you clean your teeth by slowly and intensely swishing oil through them). Just rub a bit of extra-virgin olive oil on your teeth and gums after you've brushed your teeth. That's it! Olive oil can whiten your teeth, and it also helps prevent gingivitis and gum disease. Party on.
Brush your teeth, floss, and rinse every dang day. Blah blah blah, boring. I know. But it had to be said.
Now, for you grumps who are going to come barreling out of the dental work and rant and rave about citrus fruits, let me help you:
Some studies suggest that putting citrus fruits on your teeth causes them to erode. It's so dangerous! OMG! How dare you suggest anyone does that! THAT IS SO IRRESPONSIBLE.
There. Feel better?
Okay, here's what I have to say to that: Do you suggest we shouldn't eat oranges? Or lemons? Or strawberries? Because, I don't know if you've noticed this, but when you eat these things, they do touch your teeth. I am not suggesting, even remotely, that someone put lemon juice or orange peel on their teeth and leave it there for hours. In fact, I encourage everyone who does this to swish your mouth with plain water within 10 minutes of eating/drinking/treating your teeth with anything citrus.
Sigh. Being me is so dang hard.
Now, if none of the above works, here's a tutorial on how to whiten teeth in Photoshop.
Watch out, though. The guy in it looks like the type to carry a Sharpie. And I can't see his hands.
—
Do you have any secrets to teeth whitening?
—
Oh, PS – Things are really hairy around here these days (Fiance is leaving for a week to tend to his father, who's not looking like he'll make it through his second bout of cancer). And I'm picking up a lot of slack in his absence. Please forgive me if I can't get around as often to responding to comments or emails. I'll try my best, though, because I really do love you. Just be patient with me.