Nothing strikes fear in the heart of me quite like Christmas. I wish I could be less grinchy about it, but mandatory gift-giving doesn't do much to heal my soul, and I'm pretty sure two month a year of straight-up, white-hot stress over what people want and whether or not it will bankrupt me has resulted in a severely reduced life expectancy.
That is why last year I decided to go homemade bath and household products for everyone. Everyone except my teen (although I did make him several things). It took some time, and planning, but it all came from the heart (and it really inspired a lot of things for this blog – twofer!).
These little things – they went to everybody I could think of. They're easy, inexpensive, and a lot of fun to make. They also double as drawer sachets, or you could open them and put them in a pretty bowl for potpourri. It's a little something for everyone.
Since Christmas last year, I've whipped up several batches of these things (which I like to call human tea bags, but we'll just call them herbal bath sachets for now) and given them for birthdays, baby showers, and just for fun.
For someone spatially and artistically challenged such as me, they're the perfect way to give adorable gifts that don't look like a 3-year-old put them together.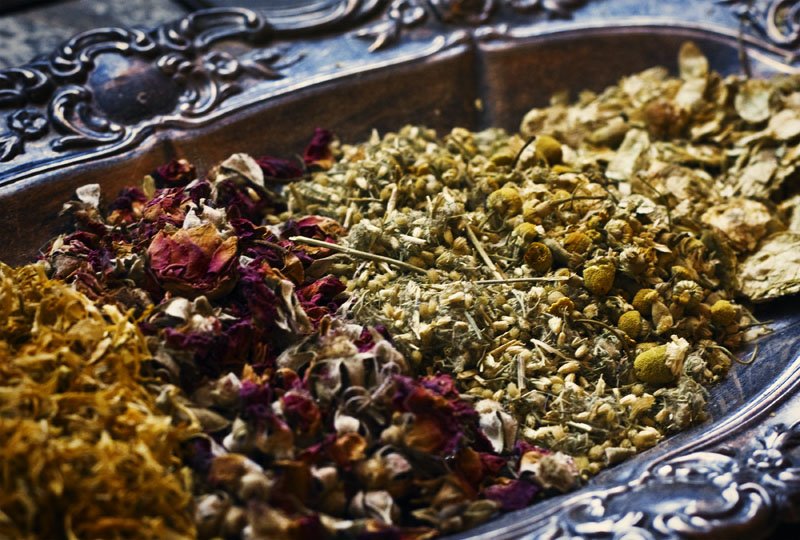 Women, Listen – This is Your Chance
Essential oils … dried herbs … dried flowers. It all sounds like, I don't know, excess, right? Like, if you were doing this for yourself, you'd never splurge on such things. Well, here's your chance – you're not doing it for yourself. You're doing it for other people, as gifts. And if you just so happen to get some use out of the excess, well then, that justifies it. Yeah? Am I right?
I know that is the ONLY reason why I ever ended up with as many essential oils as I have – I was buying them thinking other people would get some good out of them.
I'm offering you a golden opportunity to stock up on some of the things you've thought about maybe, possibly, some day wanting.
I've used dried herbs and essential oils around here a lot. And now you can try some of these things. Guilt-free. Happily. In inner peace.
(Note: I'm saying buy the heck out of all these things for YOURSELF. Do it because you deserve it. But, if you have guilt issues, like me, I'm giving you a grand, compassionate, caring justification for these purchases.)
Here are just some of the things I've done so far using essential oils and dried herbs (and there will be MANY more to come):
The Best Homemade Bathroom Cleaner Ever
Boost Your Shampoo with an Herbal Infusion
Rosemary and Lavender Softening Hair Rinse
7 Important Natural Skincare Ingredients (That You Probably Don't Have, But Might Want)
Homemade Herbal Bath Sachets
2 c. mixture of dried herbs and flowers (see below for ideas)
10-20 drops essential oils (see below)
Glass jar
Five 7 x 7 inch (approx) squares of unbleached cheesecloth
Ribbon
Mix your herbs together in a bowl. Add essential oils drop by drop, stirring after each drop. Place the mixture in a large jar, and store in a dark, dry place for 3 days to 2 weeks (the longer you store, the stronger and more vibrant the fragrance will be).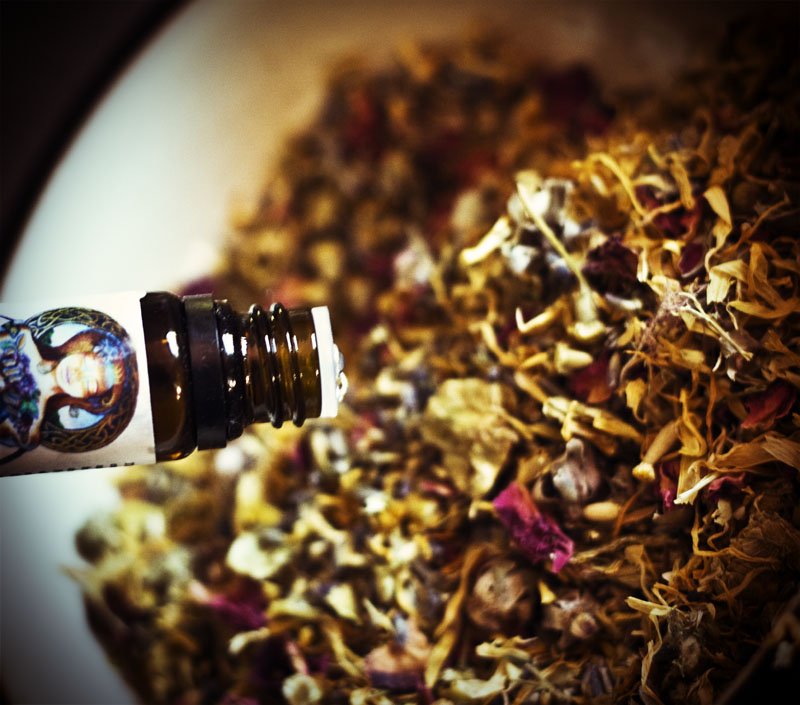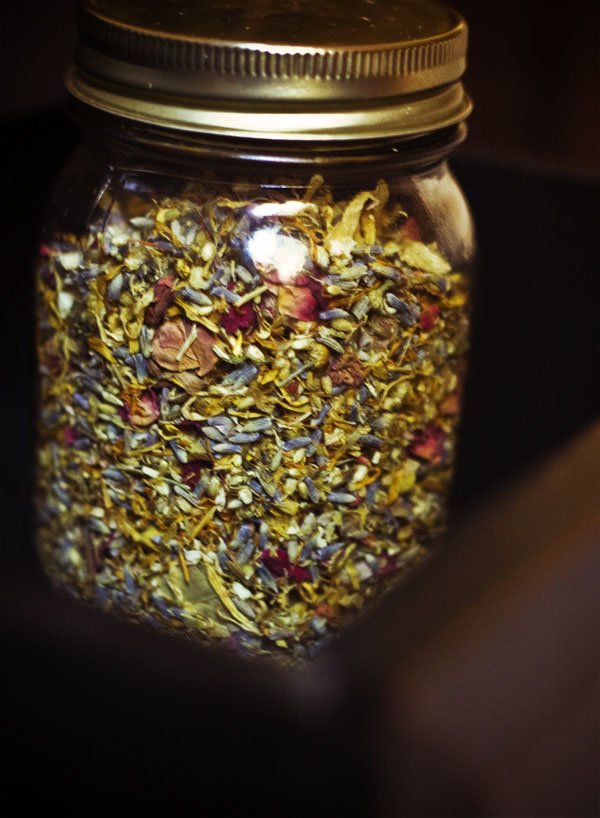 .
.
.
.

.

.
.
.
.
To Assemble: Cut your squares of cheesecloth, and put 3 Tbsp of the mixture in the center of each square.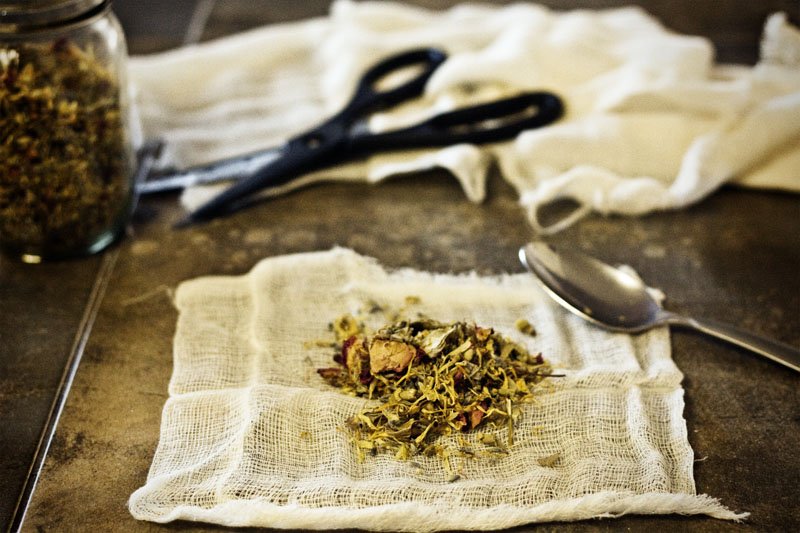 Cut the ribbon to a good bow-tying length (for the record, there are three things I don't do well – bow tying is one of them). Draw up each corner of the cheesecloth and give a small twist a the top – make sure to leave a little room for the herbs to steep in water. Tie the ribbon around the top to secure the herbs in the cheesecloth. Voila! Done!
I like to store these bags in a jar (and sometimes give them to their recipients in said jar), just to help all the herbs and flowers maintain their fragrance. Like this: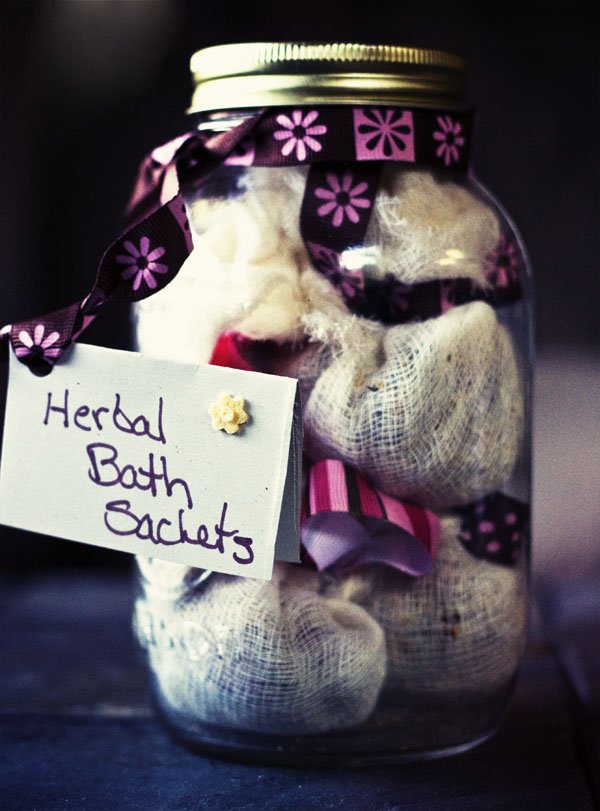 To Use: Simply drop a bag in your bathwater and swish it around a few times to "steep" in the water. If you're brave, you could open it up and bathe with the herbs (probably more potent, but a lot more messy, too). As a sachet, just tuck it in a drawer for lovely scented underthings (or overthings – your choice). Or, give your gift recipient the option to open theirs up and pour the contents into a small bowl for use as potpourri.
So many uses for such wonderful little things!
Herbs and Essential Oils for Bath Tea Bags
For this particular batch, I wanted to go floral and calming. So I used approximately 1/2 c. rosebuds, 1/2 c. calendula, 1/4 c. chamomile, 1/4 c. hops, 1/4 c. lavender, and 1/4 c. yarrow. These are all things that will either soothe the skin or provide a calming effect. The essential oils I used were rose geranium, roman chamomile, and vanilla. Again, calming and skin-nourishing.
Use any combination of herbs your heart, but here are some herbs and essential oils for ideas, along with their general effects.
Calming:
Chamomile (dried and/or essential oil)
Rose (buds, petals, or rose geranium or rose otto essential oils)
Hops (dried)
Vanilla (you could even break a bean into a few small pieces and add it to the mixture) essential oil
Calendula (dried)
Lavender (dried buds and/or essential oil)
Hyssop (dried or essential oil)
Valerian
Passionflower
Epsom salt
Energizing
Peppermint (dried and/or essential oil)
Spearmint
Lemon (essential oil)
Rosemary (dried and/or essential oil)
Ginger (dried and/or essential oil)
Grapefruit (essential oil)
Lavender (dried buds and/or essential oil)
Green tea
Nourishing
Oats (whole)
Chamomile (dried and/or essential oil)
Calendula
Yarrow (dried)
Lemon balm (dried)
Lavender (dried buds and/or essential oil)
Olive leaf (dried)
Comfrey (dried)
Epsom salt
Also, crunchy girls who blogged about putting food on their face – I need your addresses if you'd like a few of these (and some lip balm, coming later). The big weiner of the more copious box of homemade crunchiness will be announced soon!
In soothing bath time crunch!