Last day! Don't forget to add your farmers market recipe links at the bottom of the post! It doesn't have to be tomatoes – any fresh fruit and veggie recipes will do!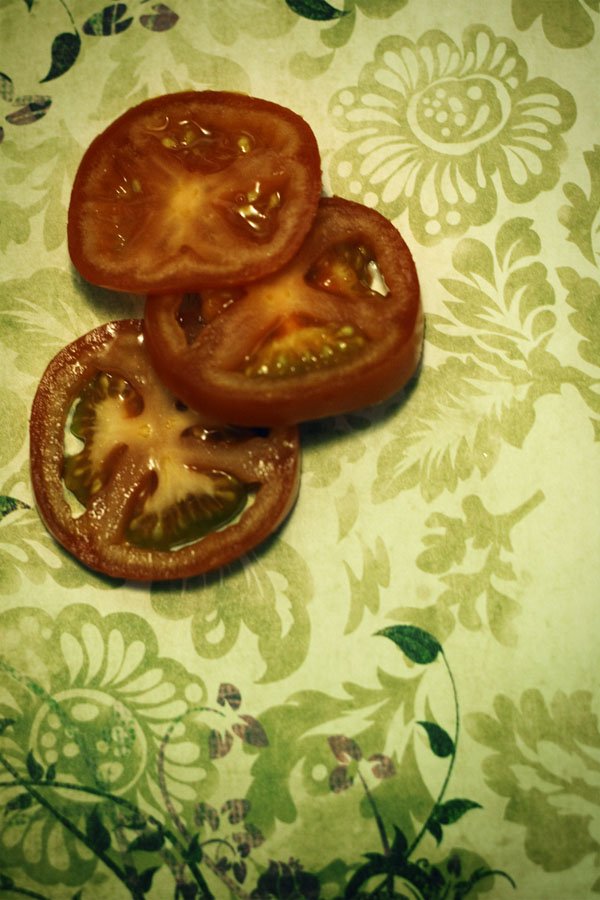 Woohoo! We made it through a whole week of facials based purely around produce you can buy at the farmers market. Now, granted, we could have done SO much more – but I'm exhausted. And out of produce. Those tomato slices you see there? The last thing left in my veggie drawer. Just in time for farmers market tomorrow.
And we're ending the week on the crunchiest note I can think of – tomatoes and a video of me making a mess of my face.
I have to warn you, the video gets a little graphic toward the end, and I questioned whether I should even leave it in there. But, like any person who's made 15298 facial masks in a week will do, I'm throwing caution to the wind and keeping all the gross peelies in there. Because I'm exhausted. I might have mentioned that already.
And the tutorial? The most nostalgically effective homemade peel-off mask I've ever made. It was also the first one I've ever made.
I used freshly, um, squeezed tomato juice and gelatin, and the results surprised even me.
But before we get to that, let's talk about tomatoes on your face.
Tomatoes in Skincare
While tomatoes can be used by any skin type, they're really best utilized by people with oily skin or acne (watch the tutorial, anyway, even if you have dry or normal skin – there's ideas for you there, too!). They contain all kinds of vitamin C, which will brighten and clarify dull skin. They're also very high in vitamin A, which we've learned is good for skin renewal. And they're incredibly astringent, which is what makes them perfect for acne-prone and oily skin.
Treating Acne with Tomatoes
If you suffer from acne or oily skin, try turning to tomatoes where conventional treatments have failed. Possibly the easiest way you can do this is to apply a facial pack of tomato pulp directly to a clean face. Leave it on for 10-15 minutes, and rinse off with water. Don't wash with soap after, as you'll be washing essential properties off that you want (along with beneficial oils and you'll leave a yucky soapy residue).
Alternatively, you could try rinsing your face with a mixture of water and tomato juice (squeeze your own – it's healthier!). Just mix equal parts tomato juice and water, splash on a clean face. Leave the juice on for a few minutes, and then rinse with plain water.
And, if you want a super-mega-ultra-fighting-acne-busting facial mask, try mixing 1 tsp lemon juice, 1 Tbsp tomato juice, and 2 Tbsp french green or kaolin clay together. Apply this mask to a clean face and allow to dry completely. Rinse off with warm water.
OR! Try the recipe below:
Homemade Peel-Off, Pore-Strip Mask Recipe
1/2 c. tomato juice (for oily and acne-prone skin), peach juice (for dry skin), milk or water (for normal skin)
1 packet (approx. 1 Tbsp) plain gelatin
Mix these two things together in a microwave-safe bowl or small pot. If you're microwaving – put the gelatin/juice mixture in the microwave for 15 seconds on high (just enough to dissolve the gelatin). If you're using the stovetop, heat on low just until the gelatin dissolves. Pour into a small bowl. Place the bowl in the refrigerator for 10-15 minutes, or until it just starts to barely set.
Now, there are two options (and you can watch the video for more information on those).
If you just want to "pore cleanse" your nasal area, lightly brush the mixture over your nose with a makeup brush (preferably one that you wouldn't mind messing up a little) or a small, clean paintbrush. Allow this to dry, and then peel away.
Or, if you want to use this whole mask on your entire face, allow the gelatin to set a little longer (stirring every 5 minutes to make sure it doesn't "jell-o" up), until it's almost the consistency of jell-o, but not quite. Rub this mixture all over your face (avoiding the eye area) and allow to dry completely. Peel off. Be amazed.
Here's the video, crunchy kids:
Homemade Peel-Off Mask Video Tutorial
Add Your Farmers Market Recipe Links
Post your recipes to it all week long – we'll just keep adding on every post as each day comes up.
You can post as many recipes as you want.
They should be recipes with a "farmers market" theme – or, at the very least, they should contain lotsa fresh fruits and veggies.
Fresh. Healthy. Yummy. That's what we want here.
Nowwwww, go!