Don't forget to add your farmers market recipe links at the bottom of the post! It doesn't have to be carrots – any fresh fruit and veggie recipes will do!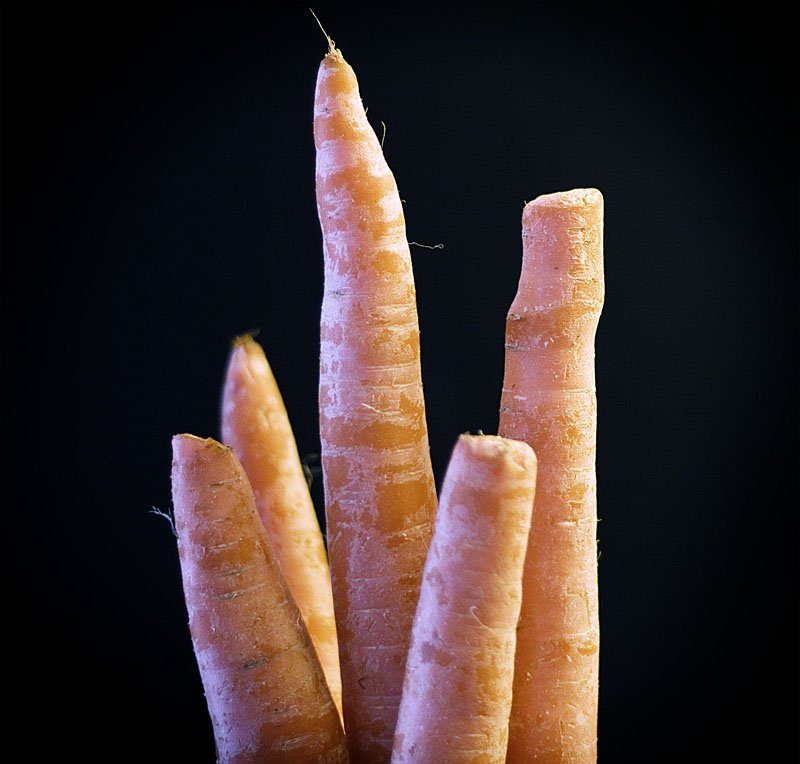 So I spent the day with carrots – cutting them, grating them, chopping them, and otherwise pulverizing the heck out of them to find some recipes that worked. My heart and soul I poured into this crunchy endeavor.
And after trying the hair clarifier and finding it inconvenient for my long hair (we'll get to this later), I decided to cajole Fiance into trying it. I mentioned it on Twitter, and someone said, "I hope it doesn't stain his hair."
Freaking out commenced.
I searched Google high and low for instances in which carrots stained someone's hair. And luckily, none came up. And it did not stain.
But before we get into the recipes, let me state this caveat right now: Carrots stained neither my hair (which is very dark) nor Fiance's hair (which is fine and a pretty light brown). However, I can't speak for blondes. Redheads, carrots probably have you covered.
In addition, the carrot mask did not stain my face. Nor did I find anyone say that a carrot mask HAD stained their face. But I can't speak for everyone.
Not how I wanted to start this post, but I figured I'd get it all out there in the open.
I just can't let go of carrots here, because they're so danged awesome for the skin. In fact, there's an entire line of products devoted to saying yes to carrots. (I use the Yes to Carrots conditioner frequently, and I love it with all my heart and soul. It's wonderful for straight hair – tons of silkiness and shininess abound.)
But I thought we could say yes to carrots in a crunchy way today – with a clarifying hair cleanse and a clarifying (and softening) mask. Here's what we got:
Clarifying Carrot and Banana Facial Mask
1/2 sliced, cooked (al dente) carrots
Four 1/2-inch slices of banana
2 Tbsp milk
4 drops carrot seed oil (optional)
Combine everything in your food processor or blender and let it run until the mask is smooth. Apply to a clean face and leave on for 20 minutes. Rinse well.
End Result: My face was clear, clean, and very soft. I actually did this the night before writing this, and before that I had a blemish that was early on its way to healing. As of now, the morning after, it's completely gone. That result, alone, was worth it.
You know how much I don't like to waste things around here, so after I was finished boiling the carrots, I saved a couple of cups of the water in the fridge, and will continue to rinse my face with that for the next few days. Just a little extra goodie for my skin. You're welcome, skin.
Carrots and Skincare
Reading through one of my favorite books, Ageless Natural Beauty by Sally Freeman, I found that Erno Laszlo, a famed Hungarian dermatologist, recommended heartily that we wash our faces twice during the day – once with carrot juice or tomato juice and once with milk. And women from Haiti consistently use a pack of grated raw carrots on the face.
Why?
Because carrots are, of course, ridiculously high in beta-carotene (which the body converts to vitamin A) , other carotenoids, and vitamin E – the vitamin that helps soften skin and reduce the appearance of wrinkles. Carrots are great for people with acne or blemishes, but they're also perfect for mature skin.
Most importantly, carrots clarify the skin with an efficiency not known to many veggies. After you use carrots on your skin (or hair), all traces of yucky stuff will be whisked away, and you'll be left with bright, shiny happiness forever after (or for a day or two, anyway).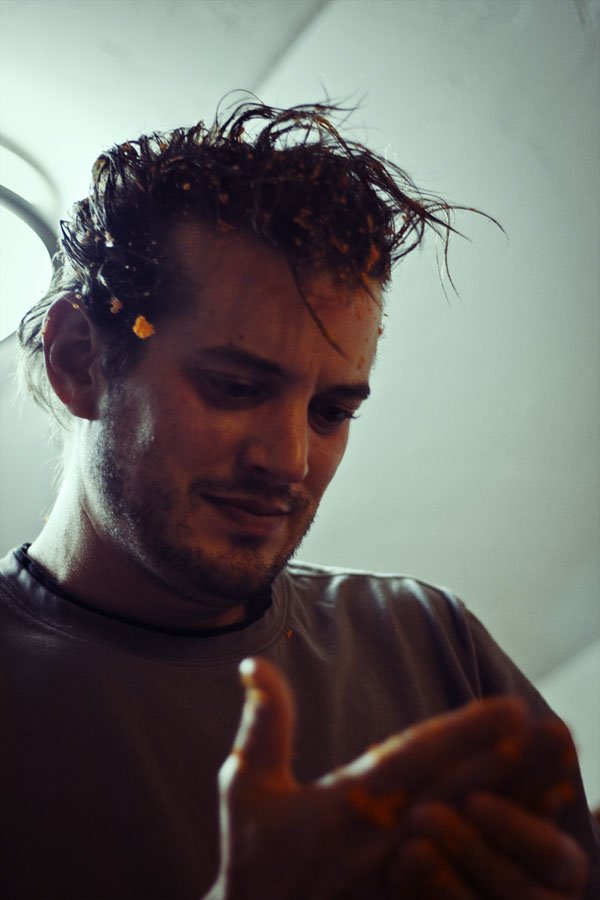 Clarifying Carrot Hair Cleanse Pack
1 medium-sized carrot, peeled, raw
1/2 banana
1 Tbsp (scant) coconut oil
Put everything in your blender or food processor and let it go until you have very, very finely grated carrots. The mush will look a little like orangey-porridge. Apply to hair, over the sink, scrubbing well. Wrap hair with a towel or cover with a shower cap and leave on for 20 minutes.
In the shower, wash lightly with shampoo – get all the carrot pieces out. Don't condition.
End Result for Me: This is a pretty tricky feat for those of us with longer, thicker hair. The carrots were really tough to get out, as my hair got pretty tangled in the application process. However, once it was all done, my hair was SUPER shiny. But, I haven't used product in my hair since, like, Lindsay Lohan did her first stint in rehab, so my hair really didn't need a lot of clarifying. But it seemed clarified, nonetheless.
End Result for Fiance: Now here's a guy who uses product in his hair, and really needed this. I'm so happy he actually tried it, because it worked VERY well for him. I really would recommend this for those of you who have short hair and use a good bit of product in it. His hair is bouncier and shinier, to be sure. He's trying to act all nonchalant about it, but I can tell he's really happy with the result. Boys.
So there you have it, folks. A couple of fun beauty recipes with carrots. Crunch away!
Add Your Farmers Market Recipe Links
Post your recipes to it all week long – we'll just keep adding on every post as each day comes up.
You can post as many recipes as you want.
They should be recipes with a "farmers market" theme – or, at the very least, they should contain lotsa fresh fruits and veggies.
Fresh. Healthy. Yummy. That's what we want here.
Nowwwww, go!