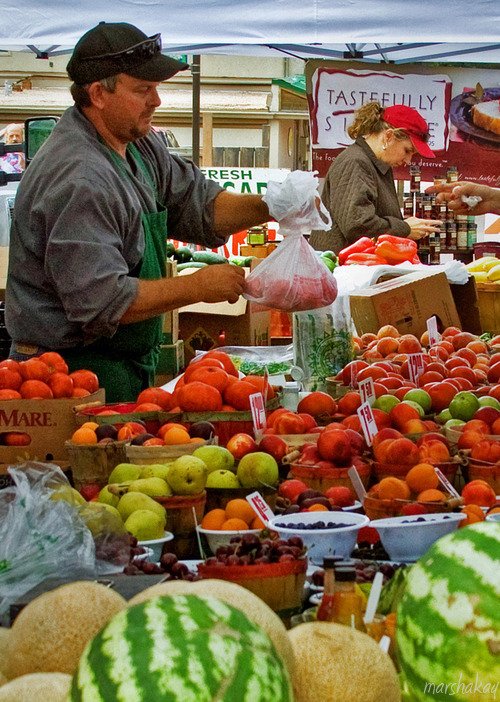 After a trip to the farmers market on Friday, and a ginormous bounty of fruit and veggies in its wake, we're going to do an entire week devoted to facials, skincare, and haircare that you can create just from a trip to your local farmers market. With August at its end, farmers markets will be closing soon – so get your stuff now and get ready to beautify with real, honest-to-goodness, local food on your face.
And, even better, I'm going to run a recipe linky party the ENTIRE WEEK. If you've blogged any (meal OR facial) recipes at all that feature farmers market produce (or meats), you can link up and be there all stinkin' week long – in every single post. Enter as many recipes as you like
Between the meals and the facials, not an ounce of our produce will go to waste. Not an ounce!
My favorite things about using produce from the farmers market:
It's local. And, as we know, local is just about the best way you can buy these days.
It's FRESH. (Because it's local.) And fresh means it's more potent. Thus, your skin is going to love it more – and so will your mouth!
It's easier, and less expensive to go organic. Now, mind you, you have to do some talking to the vendors to find out if they use organic growing practices. But 80% of the time, I've found the answer is yes.
You meet so many great people! I don't know how many times I've struck up a conversation with the person picking out potatoes next to me, or how many times I've heard fun-filled farming stories from a vendor. Farmers markets are about communities, and it's really easy to find a new one there.
Fresh freakin' air. For someone who spends 70% of their time indoors on the computer, it's nice to get out amongst the crisp, earthy smells and laughing people. Even if they do shove sometimes.
Llamas and geese. Weird, right? But at the Woodland Park, Colorado farmer's market, you'll see all kinds of weird things. Like lamas and geese just walking around, checking out the wares. And wolf-dog hybrids. And dog-dog hybrids. Lots and lots and lots of those. Woof.
What are your favorite things about farmer's markets?
Add Your Farmers Market Recipe Links
Okay, so let's get to it today, but again, you can post your recipes to it all week long – we'll just keep adding on every post as each day comes up.
You can post as many recipes as you want.
They should be recipes with a "farmers market" theme – or, at the very least, they should contain lotsa fresh fruits and veggies.
Fresh. Healthy. Yummy. That's what we want here.
Nowwwww, go!