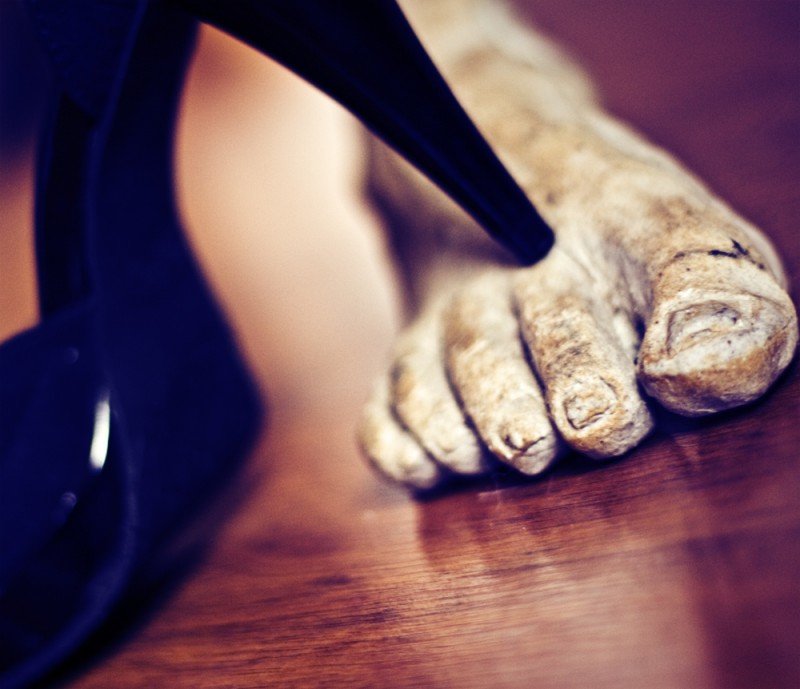 Summer in Manitou Springs is not always enjoyable. This might be surprising to hear, given it's a tourist destination for something like 1.4 kajillion people each July and August. They laugh, spill ice cream everywhere, and walk really slowly as a unified front right in front of me, when all I freaking want to do is get to the market and buy bananas. But it seems pretty fun. For them.
While I'm dodging tourists, I'm typically wearing flip-flops. This might compound the un-funness, as I have an oddly hard time keeping my feet in cardboard held together with twist-ties. I also go barefoot, at home, often.
My feet are … well … they feel like the foot in the picture.
I know I'm not the only one. I'm willing to bet one in three of you have calloused, cracked, and otherwise unfeminine feet right now. I don't judge. I sympathize. Empathize. Have the same danged problem.
So in order to reclaim the baby feet I once had, I put together a little "Extreme Toe Makeover" for our feet last night.
Let's break it down into some easy steps.
Exfoliate/Grate.
Soak.
Scrub.
Moisturize.
Massive Exfoliating with the Foot Grater
I always start my foot spa nights with the Ped-Egg (or equivalent, as mine is). If you don't know what a Ped-Egg is, it's a grater. For your feet. It's really gross, but insanely effective. It doesn't hurt at all, either, which comes as a huge surprise after you've seen the "grater" part.
So I always start with this. Grating my feet. Honestly, it might be more effective to use the Ped-Egg after an oil scrub, but I don't like the thought of grating them when they're moisturized and soft. This is probably hysterical and unfounded, but it feels like the difference between grating parmesan cheese and a raw steak. I don't want to grate steak.
Before I forget to mention, if you've never used one of these before, be prepared for hours of enchantment looking at the skin-powder that collects in the cup section of the Ped-Egg. It's trippy.
After you've grated (or exfoliated, if you feel more comfortable calling it that), use the little emery-board type attachment to file your skin down. And move on to soaking.
Soothing/Softening Foot Soaks
This is an optional step, but I feel like it really helps get my feet ready for the scrub. It softens the skin and pre-moistens it to some degree. Just fill your bathtub up a small bit with the hottest water your feet can comfortably stand for 10 minutes.
You can soak them in plain water, or you can spice it up with some other ingredients. Here are some ideas:
Epsom Salts
Sea Salt
Dried or Fresh Flowers (fresh rose petals would be divine)
Essential Oils (chamomile would relax and soften, but lavender, peppermint, or sweet orange are other great options)
Ground Oatmeal (for extra softening – make sure it's ground so you can get it down the drain)
Soak for 10 minutes and then use a salt or sugar scrub (ideas and recipes below).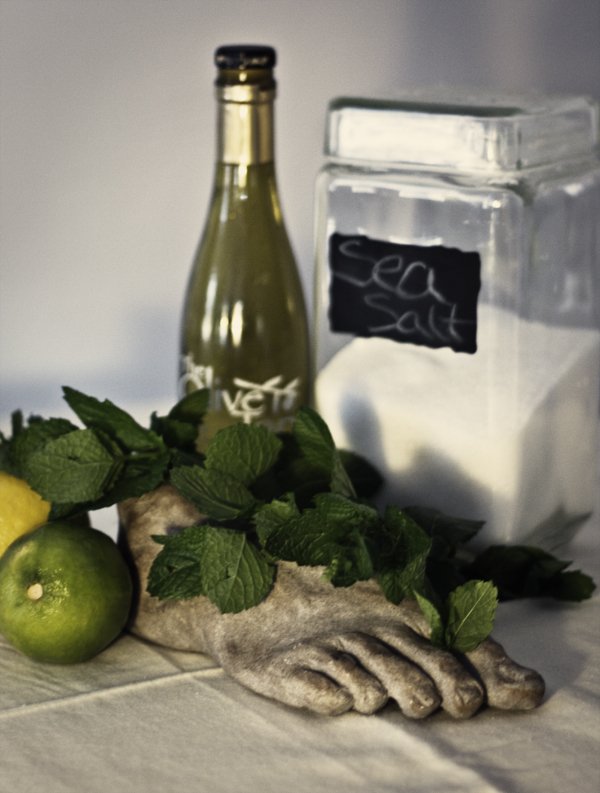 Soften Your Tootsies With a Homemade Foot Scrub
Foot scrubs are ridiculously easy to make, and super effective. You only NEED two things: Sugar or salt and an oil of some sort.
Olive oil and salt are my two favorites. Sugar isn't "harsh" enough for my rough feet. And olive oil is the hardest-working and least expensive option, but you can also use sweet almond oil, grapeseed oil, or jojoba oil, iff'n you'd like.
To this, you can add essential oils of any sort (but peppermint is my particular favorite – it's refreshing and cooling).
A good rule of thumb when it comes to foot scrubs: One application will equal about 1/2 c. salt or sugar and 1/4 c. oil.
That's all you really need. However, I cooked up this fun recipe that includes lime and fresh mint. Mint for cooling, and lime for extra exfoliating power.
Mint Moji-Toe Foot Scrub
1/2 c. salt
1/4 c. olive oil
Juice from 1/2 of a lime
5 or 6 fresh mint leaves, torn into very small pieces
Mix it all together. If you have any left over, you can store it in the fridge for up to a week.
How to Use a Foot Scrub
Set the scrub on the edge of the bathtub, and keep a small towel by your side. Sit on the edge of your bathtub with your feet near the faucet. One foot at a time, scrub well with the mixture, focusing on the roughest parts. Scrub each foot for at least five minutes. Rinse with water, but just well enough to get all the salt and other solid ingredients off. Don't try to rinse off the oil. You want to leave that on. It's the best part. Pat your feet dry gently.
Now Moisturize and Sockify
After you've gently dried your feet, they'll be oily, so be careful walking. If you want to plan ahead, bring a pair of socks and moisturizer into the bathroom before you use the oil scrub. If not, tread carefully to where your socks and moisturizer live.
As for moisturizer, here's what I love and recommend: Shea butter. Plain, pure shea butter. The brand I use (because they're right here in Manitou) is Common Sense. It contains 100% pure shea butter and vitamin E. That's it. Easy. And perfect.
I also love to use cocoa butter on my feet, or mango butter when I have it lying around. But any moisturizer will do. Just try to go as natural as possible.
I'm going to be an ecostickler here, and advise you not to use anything with petroleum in it. Not good for your skin, and not good for the environment.
Now throw socks on your feetsies and relax for a bit. Try to leave them on for a couple of hours at least, but overnight is best.
Now your feet are lovely. Dainty. Soft and smooshy, and ready for action.
Bonus for Beach-Goers!
The next time you're at the beach, bring along a small bit of olive oil and a cup. Scoop some sand up in your cup and add enough oil to make it … um … oily. Scrub and scrub and scrub your feet with this mixture. Annette's toes have got nothing on you, baby!
—
So which are you? Are you the one in three with the woeful feet? Or were you born with soft-heel genes? Lucky.
In fancy feet crunch!