I live under the Rocky mountains. Like, right under. If the mountains were a hat, I would be the old lady wearing them. Only I would paint them fuchsia. There's just something about an old lady in a pink hat.
Still, even though I see them every day, there's something magical about saying, "I'm going up to the mountains this weekend." Like it's a relaxation destination, a daring adventure. All in a 15-minute drive.
I went up to the mountains this weekend. It was neither particularly relaxing nor bravely daring. I went up to babysit my parents' dog.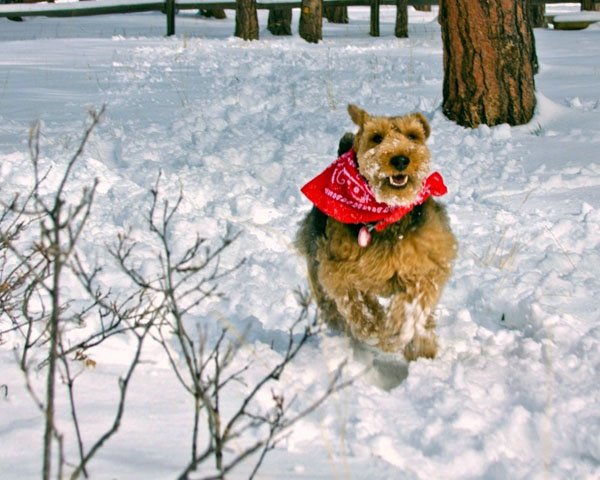 If you've never met Riley before, he's an extremely jovial (nearly 10-year-old) dog with what the psychiatrists would only call emotional wackiness. Namely, he obsesses over things. One time, he had a small toy that he loved and wouldn't stop squeaking, so my dad put it up in a cabinet. Riley spent 4 hours standing, staring at that cabinet longingly, before my dad gave in and got it for him.
Then the toy was mysteriously lost and Riley didn't know how to handle himself for days.
So my weekend, which started out with the intention of being productive and creative, really just ended up like this: Throwing the ball. Throwing the ball. Throwing the ball. Throwing the ball.
Eating.
Throwing the ball. Throwing the ball. Throwing the ball. Throwing the ball. Throwing the ball.
My right arm is a work of granite masterpiece now.
And you know how, when you go somewhere different and are greeted by new food, you kind of forget what you're doing nutrition-wise and just vacuum things into your digestive tract?
My menu for the weekend consisted of: Brie and crackers … and leftover Chinese food. Period. That was it. My body is a temple of dairy and water chestnuts. And my stomach was furious with me yesterday. Finally, it unleashed its wrath in the form of an enormous ball of stabby air that rolled around my stomach, causing me to roll around on the floor in pain.
WHY? I cried to the mercy of the universe. OH GOD WHY? MAKE IT STOP.
And the monstrous blob of dagger-covered air said, YOU SHALL NOT PASS!
And then I remembered I have fennel seeds in my cabinet.
Checkmate, gas.
Natural Remedies for Gas and Bloating
So the star of this post is fennel seeds, but there are several things you can do when you find yourself in an uncomfortable tummy situation.
Let's talk about the fennel first, though.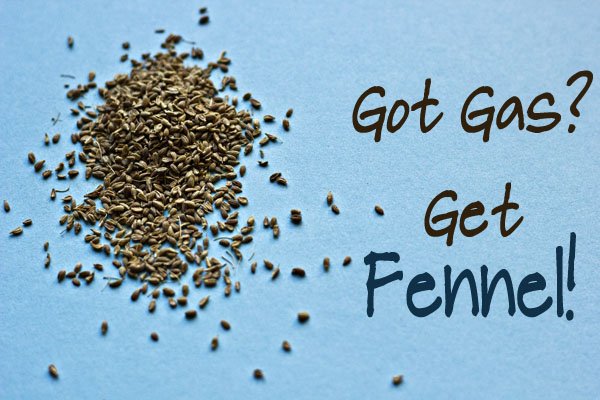 Fennel, if you don't know, is a green leafy plant that tastes an awful lot like black licorice. It's related to parsley and coriander. The plant itself is full of phytonutrients and it's delicious – if you like licorice-y things. I do. A lot. (Good 'N Plenty was my candy of choice, back in the day when I bought candy. I know some of you are wrinkling your nose. Whatevs.)
Fennel seeds have been used (especially in India) for thousands of years to help aid in digestion. My favorite Indian restaurant keeps a bowl of them by the checkout counter, for every Tom, Dick, and Penelope to dip their grimy hands in and eat after their monstrous buffet. Yes, I am sometimes Penelope.
As an aside, making a fennel infusion with witch hazel would be a most excellent facial tonic for those of you who have oily or acneic skin. But we're not talking about that right now.
If you don't have fennel seeds in your spice cabinet, I highly recommend getting them – if for no other reason than these uncomfortable moments.
SO, while I'm NOT a doctor and this should not constitute as health advice (I hate having to cover my butt, but it's necessary), here's how I – I – used fennel seeds to get rid of uncomfortable gas and bloating. Ready? This is complicated.
I ate a pinch of them. And then I ate another pinch of them, for good measure.
Within three minutes, the pain was gone. Poof. Eradicated. Amazing. I burped (quite delicately and ladylike, for those of you who like those details) three times and the whole episode was over. I was then free to resume my healthy eating habits in peace, friends again with my digestive tract.
Got gas? Try fennel. Don't like fennel? Try this:
Other Natural Remedies for Gas and Bloating
In an uncanny case of synchronicity, I also happened to watch the Dr. Oz show (all the way through for the first time!) while I was up in the mountains. It was all about supplements to help you lose weight, but one lady had issues with daily bloating.
His recommendation for her? Daily? Every morning and whenever she felt bloated? A pinch of caraway seeds. I don't own any caraway seeds, so I cannot attest to their efficacy, but there you go. Another option for when your stomach feels like it's going to burst forth, straight through your bellybutton.
Here are a few others:
Rest on your back with your legs up at a 90-degree angle (this did NOT work for me, and I ended up looking like an epileptic plant stand)
Turmeric! (There. Now you have another reason to keep turmeric around your house, as if cancer prevention and pain relief wasn't enough.)
Clove tea (just pour boiling water over about 3 heads of clove and let it steep for 5-10 minutes)
Ginger tea, chewing on a piece of ginger … or massaging your stomach with 5 drops of ginger essential oil in 2-3 Tbsp olive (or other carrier) oil
Peppermint and/or chamomile tea
Squeeze a bit of lemon in any of the teas for a little extra gas-busting action
I've seen some people recommend baking soda in water for bloating and gas, but I think that's an iffy idea. Baking soda will react with the acids in your stomach and just lead to more gas. Remember baking soda and vinegar volcanoes?
On one hand, you could build up so much gas that it HAS to come out (and quite unpleasantly). On the other hand, you could build up extra gas that just partners up and hangs out with the gas already there.
(Though, of note, baking soda water is my go-to antacid for heartburn … just not gas.)
If You Want to Discuss Gas …
We can do it here in the comments.
Have any of your own favorite remedies for bloating and gassy discomfort?
(And, of course, if if this is an ongoing issue or your tummy is outrageously painful, you should seek medical care from your healthcare practitioner or your naturopath.)
Enjoy your beans, and tell your stomach I said, "You're welcome."