The name should've tipped me off.
Xylitol.
It doesn't exactly roll off the tongue like "meadowlark" or "chamomile" or "cottonwood." Not particularly authentic-sounding, that xylitol.
But my box of xylitol sweetener said "natural" all over it. And each individual packet told me "safer than sugar." Not to mention, the brand I had is made right here in good old Colorado. Where even the car exhaust takes itself to be recycled.
So I pulled out a packet. One tiny packet. And I put it in my cup of coffee, completely oblivious to the nightmare that was about to ensue.
To save you the gory details, let me just give you a few key concepts and you can put it all together:
half a cup of coffee
crippling stomach cramps
an hour in the bathroom
severe dehydration
post traumatic sweetener disorder
It wasn't until later that I noticed a warning, tucked right at the very end of the paragraphs talking about how healthful and natural xylitol is, that said: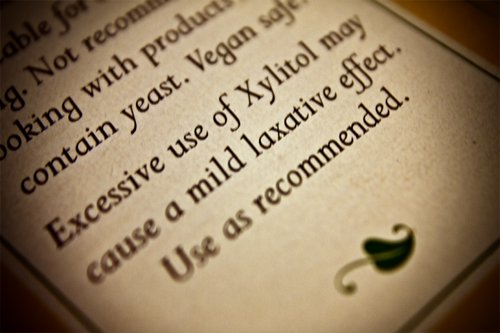 So, xylitol is known to cause stomach problems and diarrhea if used in large amounts. There are plenty of studies that confirm this, but it's always worded in ways that make it seem like you'd have to eat your weight in xylitol to be affected.
And, you know, even ingesting too much water can kill you. So just because I had a severe reaction after just a teensy tinesy bit doesn't mean it's not natural, really. Right?
And just because the FDA had to issue a warning stating that it can kill your dog (or ferret) … that doesn't mean it's not natural, either. (Remember chocolate and dogs?)
But, of course, I couldn't leave well enough alone. I had to research. I had to talk to chemists. I had to break the spell that xylitol is apparently putting over so much of the natural foods industry.
Here's what I found out.
Xylitol: Does This Sound Natural?
My initial Google search for "xylitol" and "safe" took me straight to this Natural News article that states:
Xylitol is a processed sugar. After being hydrogenated and having toxic chemicals added to xylan from corn or other plant material, and then removed, you get xylitol.
I love Natural News with all my heart, but sometimes they can be a little bit over the top. A little bit sensational. Kind of a drama queen.
Given the huge rash of xylitol ads I've seen recently, along with what I can only assume is a push by the Xylitol Overlords to "health bloggers" to promote their "all-natural, insulin-regulating, super-sweetener" by way of 5000 blog posts in a month, I had to look into it more.
Maybe, just this once, Natural News was wrong.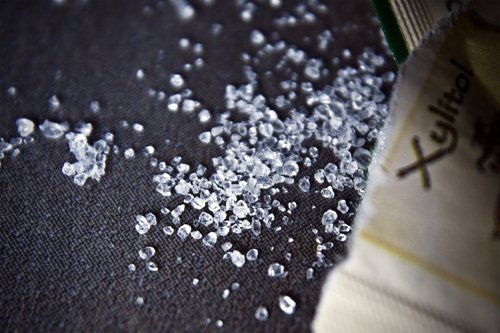 My Chat With The People's Chemist, Shane Ellison
So I reached out The People's Chemist Shane Ellison, author of Over-the-Counter Natural Cures. He also happens to have a master's degree in organic chemistry. He knows what he's talking about. Big words. Fatty acid chains. Things like that.
I trust him.
First question, "Can you tell me a little bit about how xylitol is produced?"
And Shane Ellison, Organic Chemist, replied: "Xylitol is a molecular cousin to sugar and is derived from the crushed fibers of sugar cane […birch wood or corn…] using a multi-step chemical reaction that involves the use of sulfuric acid, calcium oxide, phosphoric acid and active charcoal. The end product is a a bleached, powdery blend of sugar alcohols that taste sweet on the tongue but are not absorbed by the body."
Hmmmm, I thought. That sounds fishy. But maybe not so bad. After all, I haven't a clue just what sulfuric acid and phosphoric acid does to the molecular structure of this stuff.
(And then I felt really smart for thinking the words "molecular" and "structure" together.)
So I sent him another email, and asked: "Given all the chemical processes needed to turn natural xylitol into what we consume as a sweetener (or in gum), in your opinion, can it really be considered a natural product?"
Guess what he said?
Shane Ellison, Organic Chemist, replied: "I don't consider anything natural if it's processed with man-made chemicals."
He said, "Xylitol will rip up your insides, namely the digestive tract. It's being touted as a natural product, most likely so that it can bypass regulation. Thus, very little studies exist on its side effects."
To further this assertion, he pointed me to the Danisco site, a European company nearly wholly responsible for the creation and supply of xylitol, or what Shane called a "Franken-chemical." (From their website: "Danisco is the world's leading supplier of xylitol.")
Danisco actually happens to be a part of DuPont. DuPont, as you may remember, was sued several years ago by the EPA for covering up – FOR YEARS – the scientific evidence that PFOA, a substance in Teflon, is highly toxic, a carcinogen, and disrupts reproductive processes.
So pardon me if I don't have a lot of trust in a company who's manufacturing questionable sweeteners and has that kind of track record.
Echoes of HFCS
You may have noticed that I haven't included any of xylitol's purported health benefits, the claims that it's great for dental health, or regulating blood sugar, or anything of that kind.
At this point, I'm not debating those things. Frankly, I don't care. (I clearly can't consume it anyway, unless I enjoy long-lived trips to the bathroom.)
What bothers me – what ALWAYS bothers me – is when companies (or governmental regulatory bodies, even) tout something as natural, when its sole ability to exist in the way we consume it as a supplement is based on wholly unnatural, synthetic chemical processes.
It's very reminiscent of another industry recently begging and pleading us to believe their product is natural. High-fructose corn syrup, anyone?

Now for the kicker.
A great amount of the xylitol that's released for consumption (whether it be in gum, in food products, or in bulk that we buy to cook and sweeten with) is made from corn.
How far of a stretch is it to wonder if the Corn Refiners Association finally came to the realization that the public would never get on the high-fructose corn syrup bandwagon ever again? How in the world will they recoup those losses?
What's the logical next step for them?
Xylitol?
And if you think your xylitol made from birch (which is rare and expensive these days) is better, from a chemistry standpoint, it is structurally the same. Other than the fact that it's not genetically modified, like the corn might be. It does, however, contribute to deforestation.
Can Someone Else PLEASE Tell This Story?
Hello? Media?
I am not a hard-hitting journalist. I am a sometimes-humorous, sometimes-bossy, always-humble blogger who writes about putting food on your face.
Not that you shouldn't take me seriously. You can, but only if it makes you happy.
There is just SO little information out there that isn't sponsored by the xylitol companies and industry. SO little information out there that's purely investigative.
Can someone who IS a hard-hitting journalist please do something about xylitol? There's a juicy story just waiting to be told. Wouldn't you agree?
How Do YOU Feel About Xylitol?
Has this changed any feelings you may have about the wunder-sweetener?
What IS your sweetener of choice, if not xylitol?
(Also, one last thank you to Shane Ellison for all his help and encouragement, as well as the great work he puts into on his own site – The People's Chemist – where you can watch his PC Reality TV Clips and read his knowledge-packed blog.)
UPDATE – 6/10/13
Well, it's been TWO YEARS almost to the date since I wrote this post, and the comments just keep coming in.
If you stopped by to leave a negative comment, let's just get this out of the way: Yes, I know your thinking skills are so much more logicalistic criticaltastic than mine are. Yes, I know you think I'm an idiot. No, I don't want fries with that.
There is one redaction I'd like to make, and it's this: The title should have said "Xylitol: Can we stop calling the way we produce it and consume it natural."
Because, yes, I am aware (and I was when I wrote it) that our bodies (and many living things) contain "xylitol." Poor choice of title there, and I know it gets your knickers in a twist.
But just because our bodies produce something doesn't mean it's prudent to extract it en masse from living organisms (using questionable synthetic processes) and then ingest it willy nilly. At least, perhaps it's not prudent for many people. As you can tell, plenty of people have the same issue I had. And plenty of people will feel solace at knowing they're not alone, and exactly WHAT it was that caused it.
I can't say what's right for you. You get to choose. And good for you for thinking your decision through critically to come to a different conclusion than I did, but I can promise you I'm not stopping by your blogs to call you names.
Here's the deal: This is my blog. MY blog. My home. I pay hosting fees. I poured my heart and soul into this blog for years. What doesn't get to happen is for you to come in and call me names. That just doesn't fly. So if you leave a negative comment, dripping with sarcasm and self-righteous indignation, or call me names, it WILL disappear.
Again, let me restate this: It has been TWO YEARS since I wrote this post, and I am NOT some crazy "let's take xylitol off the market and I'm going to protest it and make everyone hate it" kind of person. In fact, I haven't said more than two words about xylitol in nearly two years. If anyone's propagating negativity at this point, it ain't me.
I have nothing further to say about xylitol – ever. I have nothing further to say about this post. What I said, two years ago, I said. I have zero interest in or passion for discussing this further.
If you're all riled up and want to talk about how stupid I am, or if you're a representative for a xylitol company who wants to defend your company's product (and yes, IP know you're out there), there are MANY other outlets on the internet just for that. I recommend starting with www.wordpress.com. Setting up your own blog is really super duper easy.
Thanks for understanding. 🙂