Mathematically, I'm not really sure what the title of this post means.
Mentally and emotionally, I know it means love.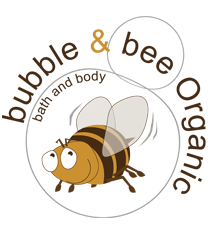 I know, deep down in my heart, that you guys are not only going to LOVE Bubble & Bee as much as I do, but you're going to appreciate and respect what Stephanie, the owner, has done.
"What has she done?" One might logically ask at this point.
Oh, just everything that most every other personal care company apparently cannot. She has created dozens upon dozens of fabulously crunchy, simply decadent, organically beautifying personal care products.
And she's done it with:
NO BAD STUFF! EVER!
Seriously.
Bubble & Bee's preservatives are things like rosemary essential oil. The shampoo is made with no sulfates, no icky preservatives, just gentle soaps made from olive oil, coconut oil, and jojoba.
As a matter of fact, Bubble & Bee's entire product line reads like a playbook straight from this blog. Or, rather, like a playbook straight from this blog if this blog was absolutely perfect. (Also, Stephanie keeps a blog explaining chemicals in our products in a very easy-to-understand way, called Chemical of the Day.)
The only reason I will never start my own personal care products company is because Bubble & Bee is already the company I would want to be.
(I swear on everything that's cheese, I'm being completely serious.)
I challenge you: If you have any commercially produced, store-bought personal care products left in your house, go get one right now. Go get a shampoo. Or a lotion. Grab your Vaseline Intensive Care or your Pantene.
Now go here to the Bubble and Bee store site, click on the corresponding comparable product and compare ingredients.
I will wait.
In the meantime, let me tell you about the two products Stephanie sent me.
Bubble & Bee's Jasmint Pit Putty and Sweet Jasmine Body Butter
These are the two products Bubble & Bee sent me to try out.
One is a deodorant – Jasmint Pit Putty.
The other, one of their brand-new products – Sweet Jasmine Body Butter.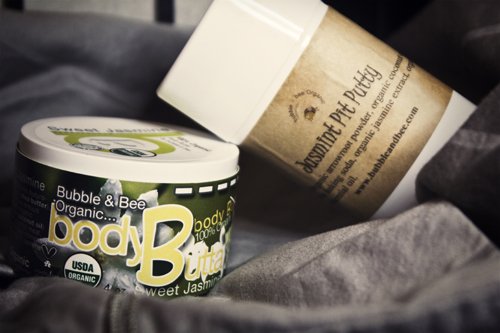 Bubble & Bee Sweet Jasmine Body Butter
Let's talk about the Sweet Jasmine Body Butter first. It smells like … summer. It feels like frosting, when you first dip your fingers into it. (Remember the frosting-like whipped shea butter we made a few weeks ago?) And it slides on so soft and smooth over your hands, you'd think you were putting on silken gloves.
All the ingredients are, of course, organic. All the ingredients are, precisely: Organic shea butter, organic coconut oil with retained coconut meat, organic jojoba oil, organic sunflower oil, organic jasmine extract.
That's it. No bad stuff.
The scent is a gentle jasmine/shea. On my skin, at least, it lingers for maybe 15 or 20 minutes, but is very subtle.
FYI, jasmine is known to be uplifting, an antidepressant, a great stress reliever (and it's also wonderful for the skin).
Bubble & Bee Jasmint Pit Putty
I have so many things to say about this stuff, I'm not sure where to start.
If you made this recipe for homemade deodorant, Bubble & Bee's deodorant is somewhat similar, though quite different in texture. Nearly the same ingredients (except with the use of arrowroot instead of cornstarch), but it's much thicker, chalkier … so presumably a much higher ratio of arrowroot to coconut oil.
This means it stays in the container much better (though I'm not sure it gives quite as good of coverage as the goopier stuff).
I used it the entire two weeks I was in Kansas City. And if you've ever been to Colorado Springs AND Kansas City, you know there's a vast difference in climate. Namely, humidity.
I went from dry-as-a-bone Colorado to wading-through-80%-humidity Missouri. I though there was no way in skittles I'd be able to use "natural" deodorant the whole time without having some issues.
I had none. No issues at all. The Jasmint Pit Putty performed as well as my homemade deodorant, under the toughest of conditions. The only time I had to reapply were on the off days when I didn't shower.
Bubble and Bee also makes several other Pit Putty scents: Geranium Lime, Rosemary Lemongrass, Spearmint Tea Tree, and "Regular" (which looks like clove and lemon).
What Makes Bubble & Bee So Awesome
You can make this stuff in your own home. You can. No crazy, wacky ingredients that're super hard to get a hold of and only a protective-geared chemist could mix.
BUT …
It's less expensive to order these things from Bubble & Bee than it would be to purchase all the ingredients you'd need to make them (if, say, you were just wanting to make one batch of whipped shea butter, you'd have to buy a whole bottle of essential oil, an entire thing of shea, along with a couple of oils … not to mention, everything's organic).
So it's, like, being able to go to the organic bakery down the street instead of baking your own bread, right? Same ingredients you'd use, someone else just has to buy them all and put them together.
And like my sister, the mother to three tiny children, said while I was visiting, "I hardly have time to tie my shoes in between taking care of the boys, let alone make my own personal care products. I just wish someone would come and make them homemade for me."
And someone does.
It's Bubble & Bee.
WIN A $35 Gift Certificate from Bubble And Bee
I kid you not. A $35 gift certificate to Bubble & Bee is what's up for grabs here.
You can go to their store and purchase anything you want. Anything up to $35 (or more, if you're paying for it).
Best of all, unlike almost every other giveaway we've done here on Crunchy Betty, anyone in the world, age 18 or over, is allowed to enter this one.
Given that this is such an awesome giveaway, and that anyone anywhere can enter, I'm going to open this one up to two entry possibilities:
Here's How You Enter:
Leave a comment here telling me the #1 product – in general – you'd rather buy than make at home.
For an extra bonus entry, post this giveaway to your Facebook page and leave a second comment telling me you've done so.
So you have two chances to enter. Yay!
Again, this giveaway is open to anyone anywhere in the world where you're allowed to enter giveaways. And to anyone over the age of 18. And also you must breathe air.
The last moment to enter will be 8:59 p.m. MST, Sunday, June 19th (with the drawing being closed at exactly 9 p.m. MST), after which time the winner will be chosen at random using random.org number generator. Winner will be announced via Crunchy Betty's Facebook and contacted via email Monday morning, June 20th.
Winner will be so very, very happy and excited, and also she/he will smell very good upon receiving his/her order.
Ready?
Set?
Go!