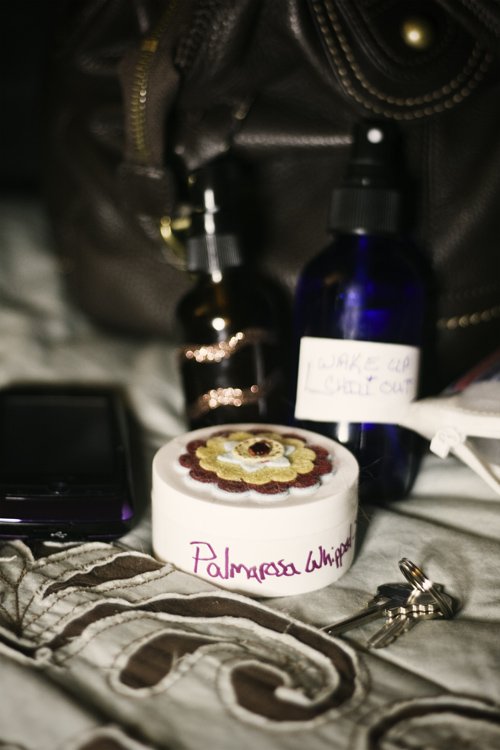 Clothes are clean.
Bags are packed.
Alarm is set for 6:00 a.m.
And three superbly convenient new things have been made for my all-day road trip with my mom tomorrow to go tend to my sister's two little boys while she's busy having her first baby girl. (There's also a brother-in-law somewhere in that run-on sentence, but I can't figure out where he goes yet.)
I highly recommend making these things.
One to help your mood, one to help your hygiene, and one to help your dry hands.
If you're taking a trip this summer, be sure to pack at least one of these crunchy things for your next road trip. My brother-in-law will thank you.
(SEE! I knew I'd fit him in somewhere.)
Okay, quickly, let's look at what I had to make for this road trip – because you'll most definitely want to make them for your next one.
Then at the end I'll tell you what you can expect around here while I'm out of town. Expect awesome.
Road-Trip Worthy #1: Homemade Hand Sanitizer
I actually posted a recipe way back in September of last year for Homemade Hand Sanitizer.
You can refer to that post, if you'd like, or I'll give you the exact recipe I used here today – in this bottle that looks like this (fancy, right?):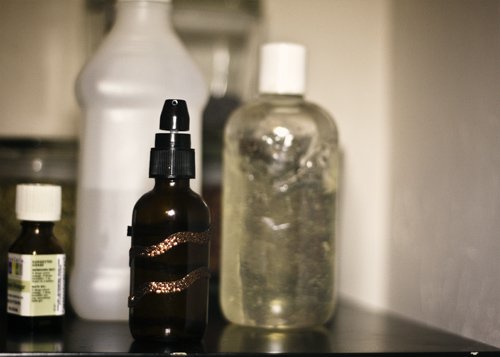 Inevitably, when you're traveling by car for hours at a time, you'll end up in a bathroom that makes you throw up in your mouth a little bit. And you'll probably get the willies. And wish you could take a boiling-hot bath.
But you can't. You can, however, use your own homemade hand sanitizer to help mitigate the yucky germs you might run into in bathrooms you're stuck with (you know, mom, when someone just can't hold it).
Here's the recipe again:
[print_this]
Homemade Hand Sanitizer Recipe
Pour everything into your food processor or blender and let it go on high for a minute or two. Bottle and use as you would any hand sanitizer. Keeps for 6 months or more.
[/print_this]
Road-Trip Worthy #2: Whipped Shea Butter
As you may have noticed, the hand sanitizer contains alcohol. Alcohol dries out your skin. Shea butter un-dries out the skin that alcohol dried in the first place.
Plus, there's just something super comforting about putting on moisturizer/lotion while you're in the car. No clue what it is. But am I right, or am I right?
Here's the whipped shea butter I made up today – PERFECT amount for a reused moisturizer jar (approximately 1/2 c.):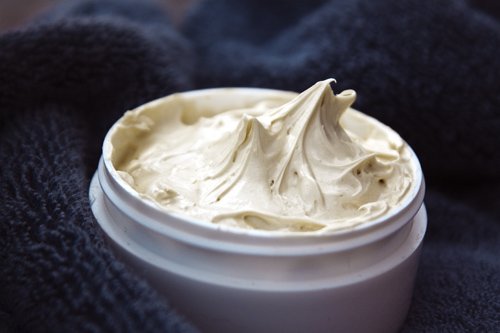 This may be the most enjoyable thing I've done all week (given that it's Tuesday and I had a weird stomach flu Sunday and Monday, I'm not sure what that says). But it really was incredibly fun. And easy.
E-A-S-Y.
There will be an entire post dedicated to whipped shea butter soon, that's how awesome this was. But until then, here's the recipe I kinda threw together, which yielded a very soft, frosting-like consistency.
[print_this]
Body Frosting Whipped Shea Butter
On a double boiler (I just used a Pyrex bowl placed in a bowl of really hot water), melt the shea butter together with the carrier oils, stirring well. Once the shea butter is completely melted (remember – do NOT heat shea butter on high heat, or it becomes gritty), place the bowl containing the butter/oils into an ice water bath and cool slightly. Stir in your vitamin E and essential oils (if you're using them). With a hand mixer, begin whipping the melted shea and oils together. It may take 5-10 minutes before you start seeing a whipped consistency, but it will happen. Once you have a consistency you like, transfer to a lidded container. Should keep 6 months (especially if you use the vitamin E to help preserve).
[/print_this]
Road-Trip Worthy #3: Aromatherapy Car Spray
Frazzled mothers, heed my call.
Make yourself some aromatherapy car spray. Nay, make your heathen children some aromatherapy car spray.
This tiny little addition to your next road trip may be the one small thing that saves your family from complete he-hit-me-first ruination.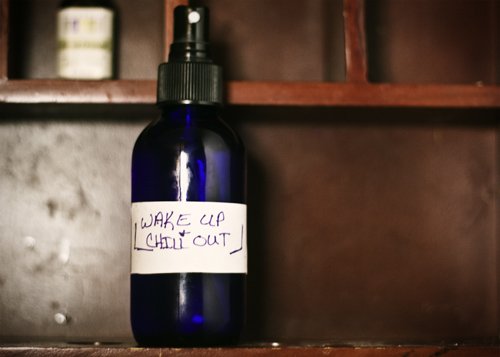 For our road trip, I knew we didn't have to worry about children hitting each other and screaming and singing annoying songs at the top of their voices. (Except for that last part, because I think it's maybe par for the course that I spend a few hours singing Don Gato as loudly as possible.)
So our aromatherapy car spray, I used a mixture of (and you're going to love this): homemade vanilla extract, distilled water, and peppermint essential oil. It's all to help us relax a little, while at the same time waking us up and kick-starting our brains. You can thank the vanilla for the relaxation, and the peppermint for the energy.
Here's a secret though: Want to soothe the seat-belted beast that is your child(ren)? The secret is sweet orange essential oil.
So instead of vanilla extract and peppermint, you'll use sweet orange essential oil. Just spray it lightly around the car whenever the kids start acting up.
Pure bliss. I promise.
[print_this]
Aromatherapy Car Spray Recipe
1/8 c. high-proof vodka or rubbing alcohol
1/8 c. distilled water
30-40 drops essential oil blend (sweet orange or lavender is great for calming kids)
Combine in a small spray bottle. Shake well before using. Don't spray directly at anyone, just toward the car ceiling, or the back of the car if no one is sitting there. 🙂
[/print_this]
Here's What's Coming Up on Crunchy Betty
Ultimately, I have no clue how long I'm going to be in Kansas City. None whatsoever. It depends on how long it takes my sister to birth a baby, and how long it takes my mother to separate herself from her new granddaughter.
My guess is 3 weeks. I will be gone for 3 weeks.
Things may be a little more sporadic around here, but I have so many exciting Crunchy Kids ideas planned for my two adorable nephews. So expect to see several Crunchy Kids ideas and posts in the next couple of weeks.
In addition, the quick and entertaining Brittney is going to fill in for a few posts while I'm gone as well.
You may remember her from such posts as The Awesome PR Rep Who Gave Us Two Giveaway Prizes.
She will be giving you guys all kinds of insider information (remember, she's in the beauty biz), as well as hosting an incredible giveaway that I'm blown away by. It will happen right here on Crunchy Betty.
Soon.
So stay tuned.
In the meantime, wish me luck on my trek across the boring part of Colorado and Kansas (which part is the boring part of Kansas again?) tomorrow.
It's going to be a long, long day.
(Thank goodness I have shea butter.)
See y'all soon!