Soap and water get your hands clean, but there are just some days where you need a little extra.
Like when you're driving across the state of Kansas and have no other option but the rest stop in the middle of nowhere, and best-case scenario what's on the wall is the remainder of a burrito from the road-side stand 10 miles back.
Yep. That's when you want some hand sanitizer.
If you're going to sanitize, why not make it work for you in three different ways? Kill the germs, soften your hands, and enjoy mood-enhancing aromatherapy.
And you know what? Hand sanitizer is ridiculously easy to make, and there are a lot of pros to doing it yourself as opposed to buying in the store. There are also a couple of cons.
So let's go over the reasons you'd want to make your own hand sanitizer first, the reasons you might not want to, and then we'll look at the recipe I think is best.
Pros and Cons to Making Your Own Hand Sanitizer
Pros:
You know exactly what's going into it and there are no nebulous ingredients like "fragrance" (which usually means "whatever other chemicals we feel like throwing in, plus some synthetic scents" on a product label)
You can turn it into aromatherapy, at the same time bumping the antibacterial action up a notch with essential oils
You can make it so much more moisturizing than the store-bought alternatives
You'll be able to use the excess ingredients for dozens of other homemade beauty and skincare treatments
After you make it, you might go on a walk and come home with a baby kitty (at least, that's what happened to me today – I assume it's related)
Cons:
It's a bit more expensive to make your own than to buy the cheap stuff like Purell or Germ-X
You have to get the alcohol/other stuff ratio just right in order to ensure proper germ-busting (at least 65% alcohol content is what you need to shoot for – recipe below is more than that)
So, for me, the pros outweigh the cons by a good bit (wait until you see the kitty – you'll agree). However, there is one more thing I need to mention:
Keep any hand sanitizer – homemade or store bought – out of the reach of children. While doing research for this, I was perplexed by the amount of "Warning – Danger" articles there were about children drinking hand sanitizer. I can't even begin to imagine why they'd ever, in their tiny right minds, want to drink that stuff. But I also don't understand why my son buys Japanese-language versions of Pokemon games and then cheats with online walk-throughs. Kids are weird.
Originally, my thought was that this was going to be a hand sanitizer for kids article (highlighting the fun idea to turn it into a bubble-gum scented concoction), but a) Because I'm not a fan of synthetic fragrance, I'm not going to promote synthetically fragranced recipes here and b) What kid wouldn't want to drink something that smelled like bubble gum? THAT, I understand.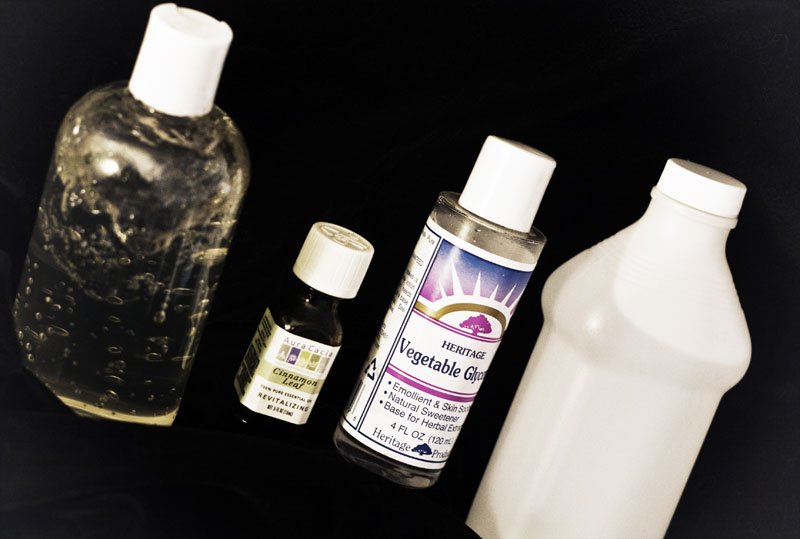 Homemade Hand Sanitizer Recipe
Pour everything into your food processor or blender and let it go on high for a minute or two. Bottle and use as you would any hand sanitizer. Keeps for 6 months or more.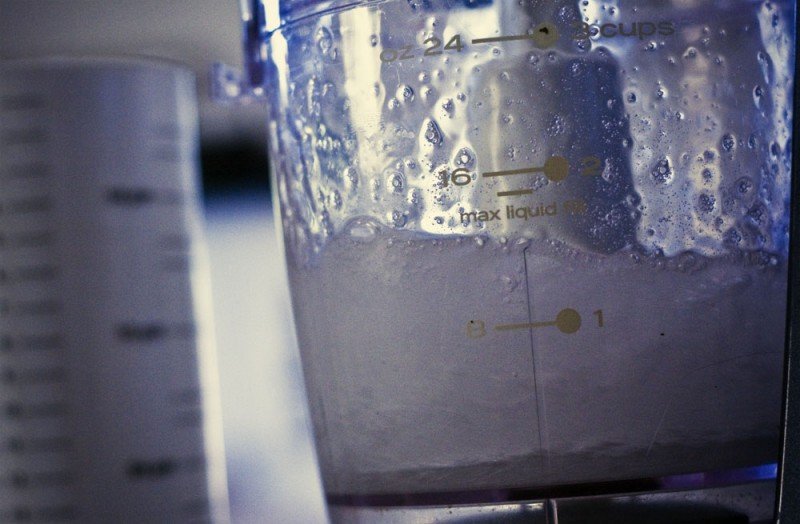 This recipe was enough to fill the bottle in the picture at the top of this post, plus another one exactly like it. Plenty enough for our family to get through the winter months, given that I don't condone the use of hand sanitizer more than once a day (if that, even).
What's up with the glycerin? I added glycerin to to mix to add extra softening. The original recipe I adapted this from used more glycerin, which left my hands sticky, so I fiddled around with the amounts and ended up with something that's both softening and effective – without leaving your fingers stuck together.
Aromatherapeutic Hand Sanitizer Options
So you can just use the aloe vera gel and the alcohol and have a perfectly good hand sanitizer. But why stop there, when you can make it work double duty? Here's a list of antibacterial and/or antiviral essential oils and how they can affect your mood/nerves with their wondrous fragrant action:
Cinnamon: Reduces drowsiness, enhances concentration, may decrease headache pain – one of the most antiseptic EOs out there
Lavender: Relaxes, rejuvenates, relieves headaches and migraine pains; a good choice if you're going to use it on kids (over the age of 2), as it induces calmness
Lemon: Rejuvenates, helps ease depression and sadness, energizes
Peppermint: Calms frazzled nerves, energizes, improves mental clarity
Tea Tree: Maybe not the best-smelling option, but it's VERY antiseptic and antibacterial – use this if you care less about the smell and more about nuking the germs – but tea tree oil does promote calmness and mental alertness
Rosemary: Extremely effective in helping with information retention, alertness, and memory (I can't live without this stuff)
Geranium: Milder, but the most floral of the bunch: Lifts moods, eases PMS, promotes relaxation
Those should get you started. If you want to combine any of the above with another essential oil, that's okay, too. Just be sure to keep it at 10 drops of EO or less, so you don't irritate your skin.
What's Her Name?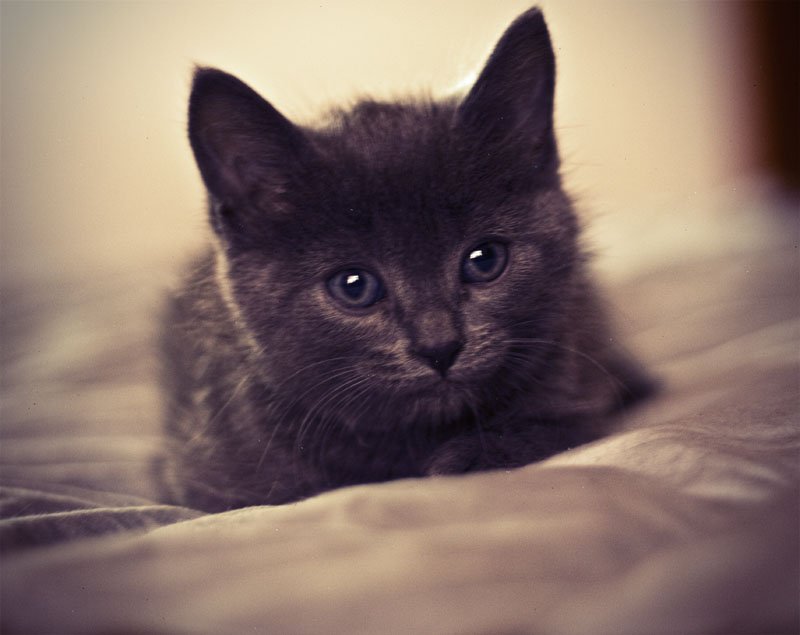 This is the baby that came home with me today, about 10 minutes after perfecting the hand sanitizer recipe.
She does not have a name yet.
I can't have another cat that goes by 8 different names (our other cat has been Mishy, Infinity, Ace, Bacon, Dirt, Chairman, Fatty, and Dummy so far).
Any suggestions on a name that should stick?
In kittens-licking-your-fingers-don't-count-as-sanitizers crunch!