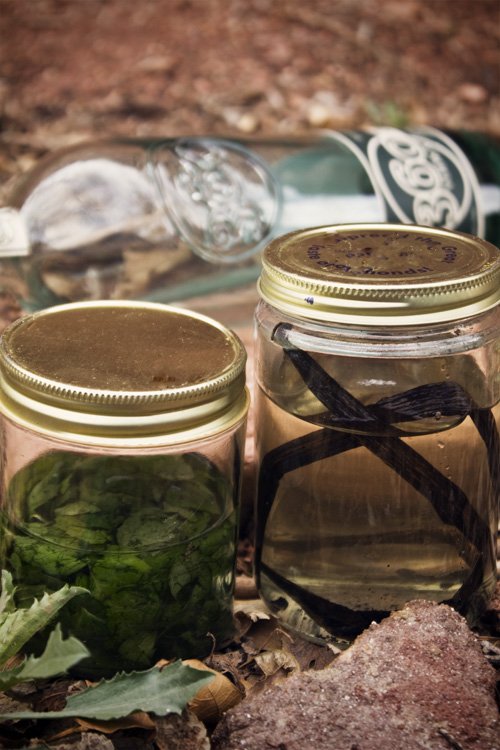 Simple vanilla
Spirited peppermint drenched
Extracts from heaven
Or maybe
Vodka-bathed nature
Peppermint and vanilla
Patience – don't drink yet
Yeah. I don't know what came over me while I was making these, but the haiku gremlin was all up in my head the entire time. Sadly, what I came up with in my head was FAR more clever than what my fingers wanted to type.
Anyway, vanilla extract and peppermint extract recipes. Two of the most simple things you'll ever do in your life. (Say, compared to having a baby or filing taxes.)
(Those seem similar in difficulty.)
My impetus for doing this was the peppermint that I will (proudly) say is taking over one of my EarthBoxes. It is, thus far, the crowning achievement in my foray to grow my own herbs this year.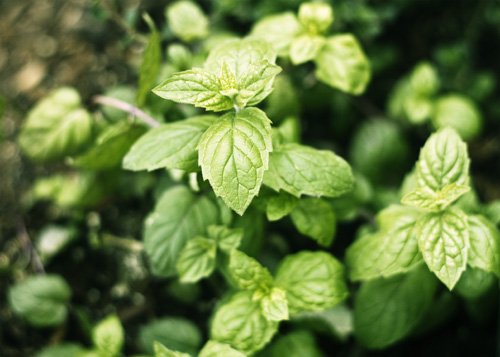 It would be nice, though, if all of you could refrain from pointing out that peppermint will grow like wildfire regardless of who's tending (or most of the time not-tending) it. Let me believe I have some special peppermint touch, mkay?
But, I figured as long as I was making peppermint extract, I'd bloody well better make some vanilla, too.
Vanilla – the most misrepresented of all spices (or orchids, as the case may be). When something's boring, we say it's vanilla. When, in actuality, vanilla is deep and complex, seductive and exotic. In fact, it's considered one of nature's most effective impotency cures (ask any 16th century German vanilla study participant, and he'll tell you just how cured he was).
It's also full of some pretty incredible antioxidant powers and has been scientifically shown to prevent cell mutations and repair DNA, meaning it may help stop cancer before it starts.
It's also very expensive.
Look at it.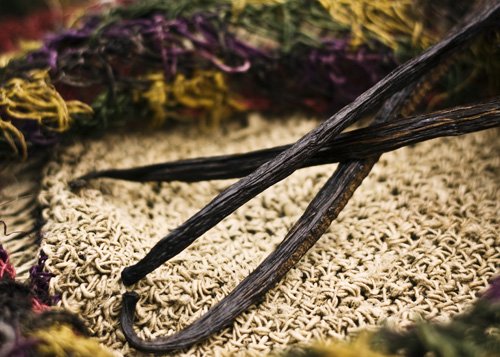 BUT!
Check out this little calculation I did comparing pure organic vanilla extract – a good brand on Amazon, so lowish prices – to the one I made today.
Frontier Fair Trade Organic Vanilla Extract = 8 oz for $18.89
3 organic vanilla beans from a local spice shop ($7.50) and 1 cup 360 (eco-conscious) Vodka (approx $7.24) = $14.74 for 16 oz 8 oz.
So, divide that by 2, and you get 8 oz of homemade vanilla extract for $7.37*. A savings of $11.52 $4.17.
While I didn't use organic vodka, I went with a very vocally ecofriendly and conscious brand, I did find some organic vodka at the liquor store for just about the same price ($23 for 750 mL).
If you want organic vanilla extract that contains ONLY things YOU know are in it, this is absolutely, without a doubt a very cost-effective option.
Aren't maths fun?
How to Make Vanilla Extract
Really, making these things is simple. You just put the vanilla or peppermint in a jar and cover it with alcohol.
The key is making sure you have at least 80-proof alcohol. Not only does alcohol preserve everything (for at 2 years to indefinitely, according to this website), but it's what pulls out the good tasting (and smelling) stuff from your beans and leaves.
Copycat Alert: For the vanilla extract here, I did what Joy the Baker told me to do. Because if Joy the Baker uses her own vanilla extract to bake with, you can be darned sure it's a worthwhile pursuit.
First, wash and sterilize (by boiling for 15 minutes) a smallish jar. (At least, that's how I roll.)
Then, cut 3 vanilla beans down the middle, leaving about an inch on one end uncut. I'm not sure why you have to leave it uncut, but that's what she said, so I did it.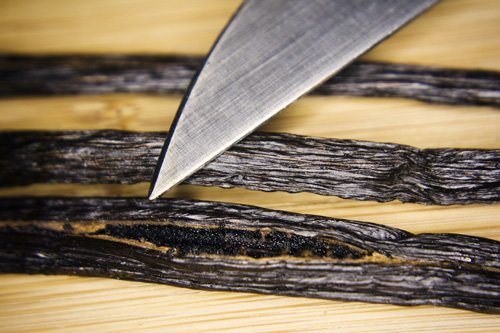 Next, place your vanilla beans in the jar and cover them with 1 cup of alcohol. Vodka is a vanilla choice (by that, I mean kinda plain), but you can also use bourbon or rum. Next time, I'm doing rum.
Also, in choosing a bean, I had to go with the only organic variety my spice shop offered, which was Madagascar bourbon, but if you really get into this extract making thing, try different beans with different liqueurs to see what you come up with. I'm sure the taste profiles are endless.
Ultimately, I want to use mine not only for cooking, but for skin preparations, so I stuck with vodka this time. Vodka's a good ingredient for things like toners, deodorants, and refreshing spritzers (when used sparingly).
Okay. So back to what we're doing.
Shove the beans in your jar and cover them with the vodka. Make sure they're completely covered. I had to stick mine down several times to make sure.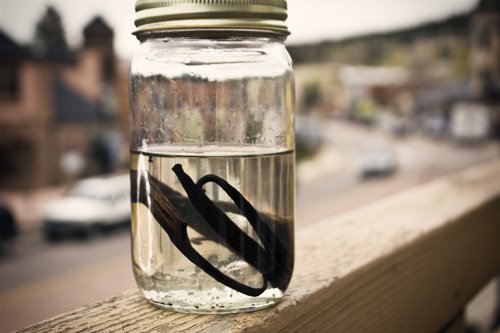 Store in a dark, cool place for 2 months, shaking weekly. Then, strain the beans from the alcohol and store the extract in an airtight container in a relatively cool, dark cabinet.
And then you have vanilla extract.
How to Make Peppermint Extract
This one I've done before. And I'll do again.
It's really just like making an herbal tincture, which we'll talk about in another post soon.
Take a handful of peppermint: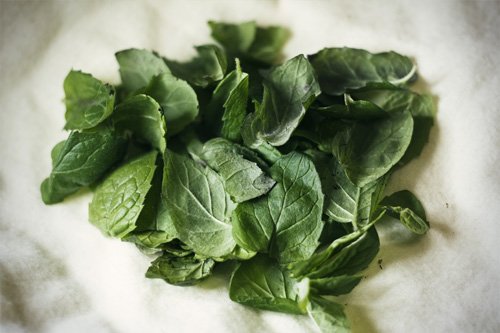 The amount of peppermint pictured was about 1/4 cup. You can adjust the recipe as you'd like, but ultimately this is going to make about 1/2 cup of peppermint extract.
After you've rinsed it off well, bruise it a little in your hands. You can even tear a bit, if you'd like.
Most importantly, get your nose up in there and take a deep whiff. It'll make your entire day.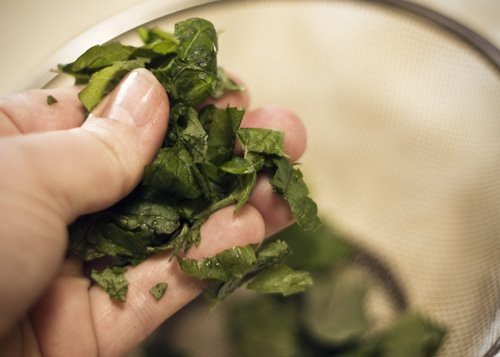 Then, put the fresh peppermint in your sterilized jar.
Pour the vodka over it until it's completely covered. I've found that usually doubling the vodka as compared to the peppermint is a good rule of thumb.
So, 1/4 c. peppermint and 1/2 c. vodka.
Make sure it's completely covered, or you could end up with grody peppermint at the top after a while. That being said, for an hour or two, you may find the peppermint floating on the surface. Just give it another shake.
Sooner or later, it'll bog itself down until it's completely covered.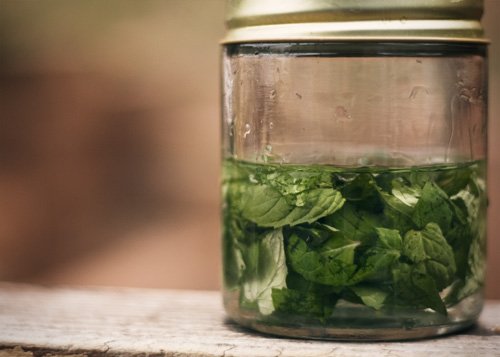 Store it in a cool, dry place for about a month. But, just like the vanilla, you want to shake it every week or few days.
You can even test a little tiny bit every once in a while, just to see if it's becoming the flavor/intensity you'd like.
After about a month, strain the leaves, pour into an air-tight container (bottle) and store in a cool, dark place. This should last at least a year, if not more.
What You Can Do With Your Peppermint and Vanilla Extracts
I don't have to tell you this, do I?
Vanilla extract, you make delicious things like Butterscotch Pudding with Caramelized Bananas and Cream. Peppermint extract, you put in a cup of coffee and Bailey's. Right?
On the homemade beauty front, though, I'm planning on using them both in recipes for toners and deodorant. Especially the peppermint extract.
I haven't quite decided yet what the vanilla's going to become. Have any ideas?
What are YOU going to do with your peppermint and/or vanilla extract?
If you start making them soon, you'll be ready when I post a recipe using one or both of them in the next few months.
WHAT ARE YOU WAITING FOR? GO! GO!
—
EDIT: Math is not my strong suit. One cup does, in fact, equal 8 oz. There's still a significant savings to making your own homemade vanilla extract – but, man, my math skills need work. 🙂