There aren't a lot of things you have to give up when you go crunchy and start making your own beauty and household products.
Very, very few, actually.
To almost everything you can buy on the store shelves, a comparable homemade alternative exists. Comparable, and sometimes … better (hello homemade glass cleaner).
Bubble bath is not one of those things.
I am sorry.
(Please take a moment of silence, if you need it.)
Over the weekend, I tried several different recipes for homemade bubble bath. These were the biggest bubbles yielded: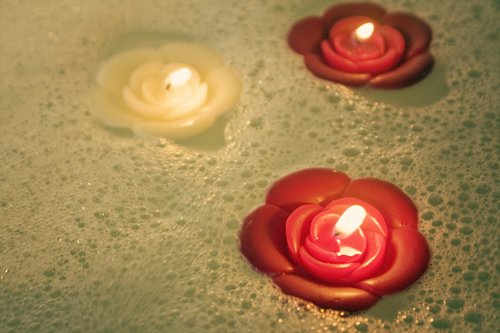 Yep.
Them're some big bubbles.
Ha.
Haha.
Why You'll Never Make Bubble Bath at Home as Good as the Stuff in Stores
Surfactants.
That is why.
Now, you COULD make bubble bath at home that's as good as the stuff in stores if you order some kind of surfactant (of the sulfate variety, most likely). But your skin is better off without sulfates touching it.
(Does sodium lauryl sulfate ring a bell?)
Anyway, surfactants – in general terms – are what create big lathery, foamy bubbles that don't disappear for the half hour it takes you to read a chapter of that trashy romance novel while you're in the tub. They're also notoriously bad for the environment, in many cases.
And when you think about it, there just aren't a lot of times in nature when big foamy bubbles surface and stick around. So it would stand to reason that finding ways to create those bubbles in a wholly natural manner might be difficult.
(There are several newly developed surfactants that seem to be a little more natural than their predecessors, but my jury's still out on them for now.)
Can You Live Without Huge Foamy Bubble Baths?
So the question becomes … is your life worth living without bubble baths?
I daresay it is.
Because, while you may never have those huge, all-enveloping, all-important bubbles to hide under in the tub, you can always add other, more skin-healthy ingredients to your bath than bubbles.
We'll talk about bubble bath alternatives tomorrow.
But for now, I will share this with you.
Even though all of the homemade bubble bath recipes I tried didn't yield the kind of bubbles one would expect from a bubble bath, they all did fantastic things to my skin (and Skip's skin, and the kid's skin, and my friend's skin … yes, I made a lot of bubble bath).
Not-Very-Bubbly Bubble Bath Recipes
So if you're willing to forgo the mountainous bubbles you're used to for something a little less dramatic, here are my two favorite recipes from the pack.
(And here's another shot of what you can expect from 'em.)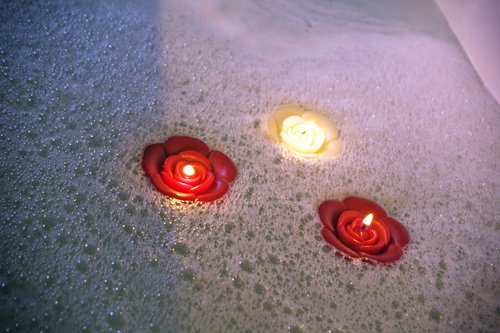 Again, both of these recipes contain really great things for your skin. The first, though, requires a thorough tub rinse once it's drained (due to the oil).
The first one is adapted from a site eakelp shared in the Crunchy Community from Natural Family Online. (FYI – I also used my homemade vanilla extract in this one, and it was heavenly. Go Crunchy Betty!)
[print_this]
Creamy Honey Bath
Combine everything in a small bowl and whisk until the honey is completely incorporated. Add to your bath water as it's running. Makes enough for 1 to 2 baths. Stores up to 3 months in a cool, dark cabinet.
[/print_this]
The second recipe (which was the most bubble producing recipe – and was actually the recipe the photos in this post came from) is adapted from Easy Aromatherapy Recipes. I didn't let it sit for an entire 24 hours (it was more like 18), so maybe that's why the bubbles weren't all that big, but I doubt it.
I really loved the way my skin felt after using this, though.
[print_this]
Light on the Froth Homemade Bubble Bath
Combine everything in a small bowl and stir well. Transfer to a container with lid. Let sit for 24-ish hours before using. Pour under running bathwater. This should keep for 2-3 months in a dark, cool place.
[/print_this]
How Often Do You Bubble Bath?
Frankly, I'm not much of a bath-taker.
It has something to do with my only bathtub choices being about 5 feet in length, while my body has decided to be 5'10" in height. I hate having to choose whether my feet, knees or upper torso is freezing.
One shouldn't have to make such dire choices like that in life.
So I'm curious.
Do you partake in bubble baths very often? Or in baths at all (of the non-bubble variety)?
If so, what are your favorite scents/ingredients? (If you share a favorite bubble bath alternative, it just might end up in tomorrow's post, too!)