Hello, fellow Betties! I'm Britt.
First off, I'd like to say that it's been a fun time just wandering around CB here. Betty is my favorite color crayon, and I type in awe of the knowledge and experience this website and community have amassed around her. I have a little bitty blog of my own that's just kicking off over at NiftyNaturals.net if you'd like to take a look. There isn't much there yet, but what is there are some in depth henna instructions should you be interested.
I work in the natural products biz, doing a little bit of this and that — mostly soaking up any information that I can and babbling about my favorite things ever. Blogging about it is about as natural an extension of myself as is possible.
Now that you've met me, I'd like to introduce you to Kelly Echelle. (…pronounced "Kelly E-Kelly". How fun is that?) He has the right ideals, a heart of gold, and an outstanding line of products. My current favorite is a lotion that sports an ingredients panel that would make any competitor jealous, and any DIY Diva ecstatic. This is one of those things that earns the title of "What to Buy When You Can't DIY".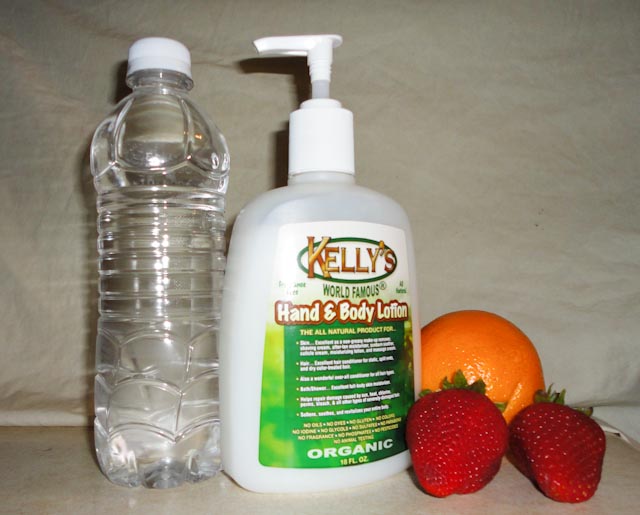 This is the one and only Kelly's World Famous Hand and Body Lotion.
Not only is it scrupulously clean, it's the best kind of practical – a multitasker after my own heart. Want to remove that makeup? Soothe a sunburn? Shave during winter? It does all that and more – without ANY oils (making it suitable for use for those on very strict diets, including hCG based), dyes, gluten, iodine, glycols, sulfates, parabens, fragrance, phosphates, pesticides, animal ingredients or animal testing.
I have a friend on the hCG diet, and for a good week she struggled with the same 2 or 3 pounds that just came and went daily. I handed over this lotion, and she's been back on track since. (I'm not here to debate the hCG diet… I know many people who have been successful with it, and they all need lotion – that's when I'm in!)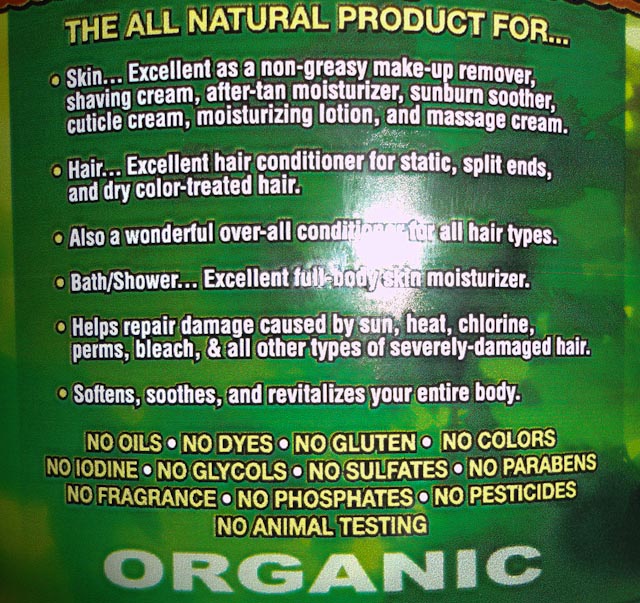 I happen to have psoriasis, and was thrilled to realized it quelled the itchiest of the itchies just about immediately. Then it proceeded to fully moisturize any sensitive spots, and actually make a small flareup slowly dissipate. If you've ever had this skin condition, you understand how amazing the statement I've just made is. I've waited a very long time to say such a thing about ANY product, and it's an absolute joy to be able to say it today.

The first thing I noticed about this lotion was that it seemed thinner than a lot of what you'd find on store shelves. I'm sure that this is due to the lack of oils and thickening agents, so I'm good with it — I understand that was the point. If you go into it with the expectation that this will be as luxurious as a whipped shea butter slathering, you might be a bit sad.
But if you're like me, you want something perfect for after washing your hands, at your desk at work (I type a lot and oils are not my friend there), have allergy/diet restrictions, or are just a big fan of soaking in more fruits and veggies than you probably ate this week … look no further.
This lotion has treated my skin beautifully, and I can feel the difference just as soon as it absorbs (pretty quickly). Even the backs of my hands feel like satin on silk. Who doesn't love that??
KELLY WANTS 10 OF YOU TO WIN!
After spending some time talking with Kelly about how much I worship his lotion, guess what he did?
He told me that I could offer TEN 5-oz bottles to you lovely readers for giveaway! TEN! Those are some pretty good odds!
This is your chance to support someone who (like many of us) decided that the quality of products on the shelves just wasn't cutting it, and he proved that he could do it better, without all the nasty chemicals and senseless additives.
Ready to try some super-softening, versatile, and chock full 'o goodness lotion? Truly, madly, and completely the only lotion of its kind?
Here's how you enter:
Close your eyes and imagine the softest, most touchable skin ever.
Then, enter into the comments section below your favorite ingredient from the ingredients list picture above. Is it strawberries? Rose? Chamomile? Pick the one that sounds the most interesting to you, and leave it in the comments below.
Tweet this giveaway on Twitter or share it on Facebook here for extra karma points (not mandatory, but much appreciated).
Only open to residents of the United States, and the entry period is over on May 25, 2011 at 8:00 p.m. Mountain Standard time. Ten winners will be chosen between May 25th and 26th using random.org's random number generator. You may only win once. Enter your correct email address where it's asked when leaving a comment. Without a correct email address, Betty won't be able to contact you to get your mailing address (so that Kelly can ship out your winnings).
The Catch: Technically, there isn't one. But Kelly has asked that you all start considering, if you're one of the lucky winners, giving him honest-to-goodness feedback on his lotion. He's in only a handful of stores in the middle of America; his real presence is on the internet. He could really use testimonials. They are his life blood.
So be prepared to state your opinion, should you win one of these. (Who doesn't like to tell people how it is?)
And be prepared to try out the most awesome skin-softener-makeup-remover-cuticle-fixer-sunburn-healer-hair-conditioner-shaving-lotion ever created by a human being.
What are you waiting for? WIN!