I do believe we have ourselves an established tradition around here: The Crunchy Betty Biannual Big Natural Basket Giveaway.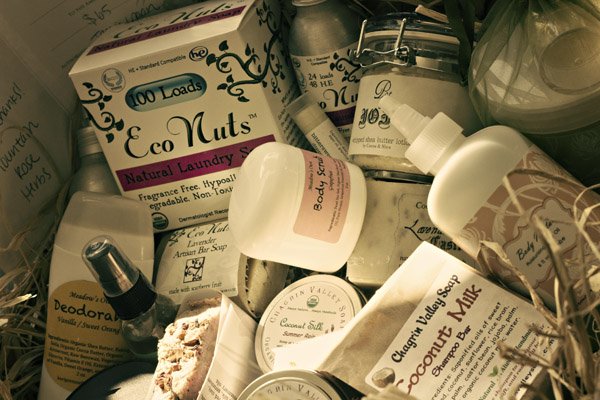 Almost six months ago, to the nose, we did one of these and it was very, very exciting. This time, it's even BIGGER and BETTER and NATURALER. (I have to let the cat out of the bag early … in addition to products from 5 fantabulous small natural businesses, there's also a gift certificate in this basket from a place that starts with an M, an R, and an H.)
You guys know I don't do a lot of giveaways around these parts, but I absolutely, positively love highlighting some of my favorite small natural sellers. People who don't have the unlimited ad budgets of huge companies and corporations. People who are putting their hearts and souls into the products they offer.
See, throughout the year, small companies like to send me their products to try out and give them feedback on (and hopefully be included in one of these giveaways). I sample the products (you really have to twist my arm for that … ha) and then choose a handful of my favorites to highlight on the giveaway post. In return, these masterful crafters of all things natural offer up full-size products for the giveaway, and then I assemble them all and send them to the WINNER WINNER CHICKEN DINNER.
As you browse through this post, I just kindly ask (not demand) that you do some of the following:
Visit the online stores and poke around!
Like the businesses on Facebook, Tweet about them, or chat them up over dinner with your kids or cat.
Order something if it catches your eye, or bookmark it for a great Christmas idea.
ENTER TO WIN THE BIG BASKET AT THE END! (Instructions and rules at the bottom)
I'll be announcing a winner on Monday morning, on August 27, 2012 on Facebook and I'll notify the winner via email. However, PLEASE check the Crunchy Betty Facebook on Monday to see if you've won. Last time, I had to go through THREE separate random drawings over the course of a month and a half before I actually found someone who responded to their winning email. If you're not careful, your notification could go to spam and you could lose your chance forever. It happens.
Enough chat. CHECK OUT THE GOODS!
Chagrin Valley Soap and Salve
I found out about Chagrin Valley Soap and Salve through Beth Terry at My Plastic Free Life, who just exudes love and praises for Chagrin Valley's shampoo bars.
I haven't tried one yet, but guess what? There's one in the basket, yo! Along with 2-oz containers of Lemon Lime shaving balm and Summer Rain cream deodorant.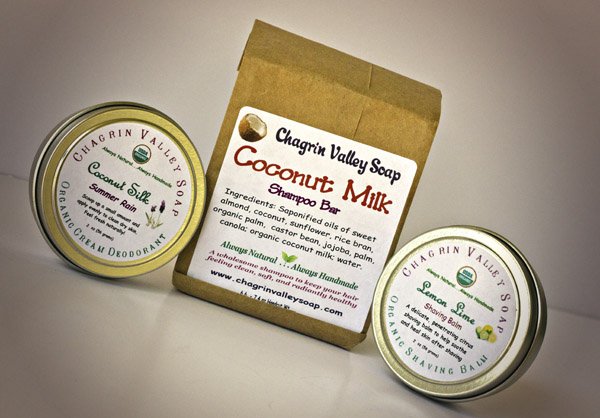 Even though they've reached heights of excellence with no-plastic, no-preservative shampoo (and conditioner) bars – and you HAVE to check out all their different types, it's crazy – they also carry a metric ton of other fabulous bath and body care products, along with, of course, some superbly healing salves.
They're truly a family company, and they don't do a lot of advertising (and never any giveaways, so this is VERY special), with a heart of gold and the most natural, organic ingredients any one of us could ask for. THIS is a company that deserves our support. Yessir.
Visit Chagrin Valley Soap HERE at their website, and you can like them on Facebook HERE where you can keep up with all their product updates and news (I just saw an update for an apple spice soap … YUM).
Eco Nuts!
Not only are there four incredible products in the Big Natural Basket Giveaway from Eco Nuts, but they're also the latest Crunchy Betty supporter (they love us!). When you're browsing the site, click on their button over there on the right hand side.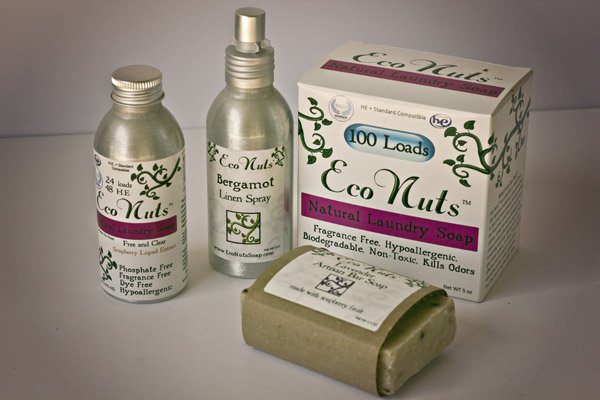 Eco Nuts carries a wide variety of products using soap nuts, but they also sell the soap nuts themselves! (Not sure what to do with soap nuts? Check out this post. They. Are. AWESOME for laundry, especially.)
Included in the Big Natural Basket Giveaway is a box full o' Eco Nuts soap nuts, good for 100 loads, a bar soap made with soap nuts, a sweet bergamot linen spray, and a 24-load bottle of their liquid laundry detergent. SERIOUS score here.
Visit the Eco Nuts website here  and check out all the unique products, and then pop over to the Eco Nuts Facebook page for more soap nutty tips, laughs, and goodness!
Cocoa and Shea
If you want rich, thick, and oh-so-natural, Cocoa and Shea is THE place to find it. (As an aside, I just noticed Amanda's selling a decidedly NOT bath and body product called Salted Caramel and Whiskey Truffles and words cannot explain … how … delicious … oh good grief and groan with pleasure.)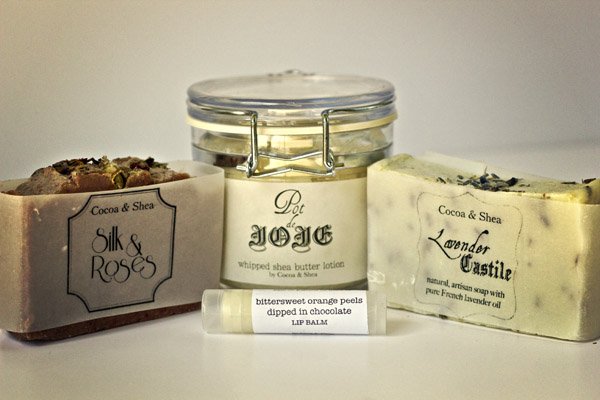 Cocoa and Shea sent me their whipped shea butter called Pot De Joie to try out, and I was SMITTEN. Immediately. It's rustic and rich and smells delightful, and I swear on everything that's mushy, my skin hasn't felt this soft since I was in diapers. Not that I remember. I'm just guessing.
In the basket is a container FULL of this rich Pot De Joie whipped shea butter, two bars of gorgeous handmade soap, and a tube of Bittersweet Orange Peels Dipped in Chocolate Lip Balm. Also, there is a little bit of heaven in there.
Cocoa and Shea has a little Etsy shop, but I truly believe the mother-daughter team has something special, something as-of-yet undiscovered. And we're all about to discover her.
You can visit the Cocoa and Shea store right here, which will take you to Etsy ordering pages when you're ready (and, oh yes, you will be ready). And here's the Cocoa and Shea Facebook page, full of wisdom and beauty.
Meadow's Own
Meadow's Own is another undiscovered gem, but Kori Pressnell, who owns it, specializes in custom skincare items.
Most of what you can buy in the Meadow's Own Etsy store is customizable and all of it is simple, good, natural skincare. I love how straightforward and real Kori is, and I think you will too as you browse through her nearly 215 product listings on Etsy (WOW!)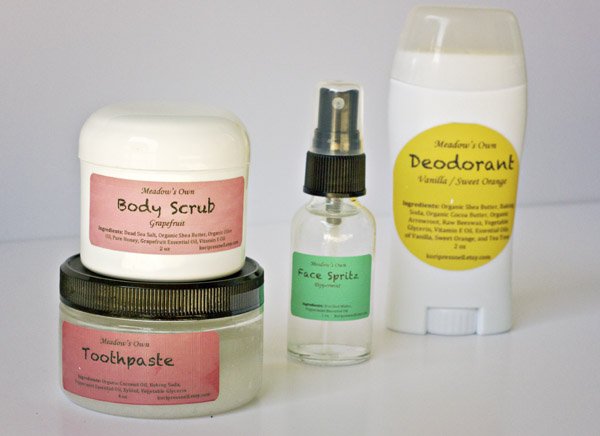 Included in the Big Natural Basket Giveaway from Meadow's Own are four simply perfect products! A Vanilla/Sweet Orange all-natural deodorant, natural toothpaste, Peppermint face spritz, and a Grapefruit body scrub.
Of all the Etsy stores I've frequented, Meadow's Own is one of the most impressive, and it's full of affordable options for ANY (and I mean ANY) skin type or need. You really do have to see it to believe it.
Visit the Meadow's Own store here!
Marmalade Hills
Marmalade Hills is all about elegance and beauty. Liana, who runs it, has a gift when it comes to blending ingredients and scents; she comes up with the most alluring products you can imagine. And while not everything on the Marmalade Hills site is preservative or synthetic fragrance free, much of it is.
Like what's in the basket!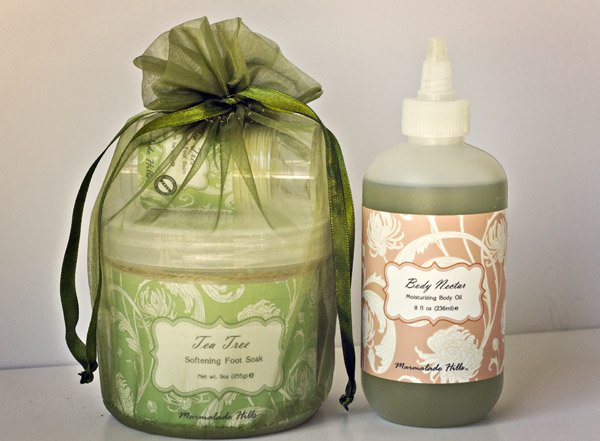 Included in the Big Natural Basket Giveaway is a gorgeous bottle of Body Nectar body oil, a 9-oz tub of Tea Tree  softening foot soak, and tube of Tea Tree foot balm. The Marmalade Hills packaging is so elegant – seriously perfect for a special gift (I can totally see bridal shower goodness here).
Visit the Marmalade Hills website to check out all her offerings, as well as the Marmalade Hills Facebook page to see what's new.
ENTER TO WIN the Big Natural Basket Giveaway
Before you enter, though, let's talk about some details. First, you need to know that the actual BASKET itself is not included. Only the products. They will be shipped in a box, which you can then call a basket if it makes you feel better.
And I want you to know that I have received zero dollars in order to host this giveaway (in fact, I'm incurring costs by shipping the huge thing), although I did receive a couple of products from most of the stores to try out ahead of time. (Just so you know this wasn't a bought-and-paid-for review. It's all just because I love these people and want to offer them exposure to other people who will love them, as well.)
Here's one more look at what's included in the basket (*basket not included!):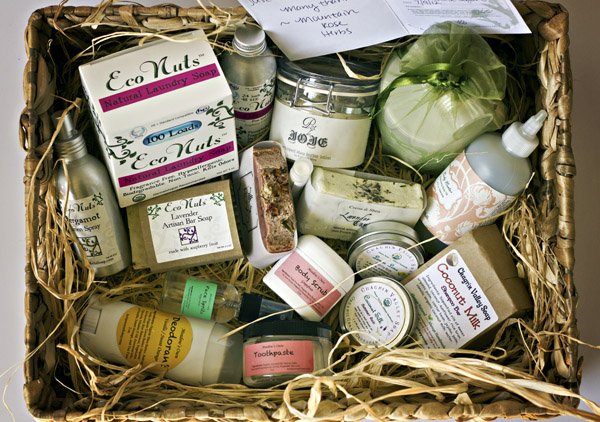 Now, let's cover exactly what's in the basket, in one big long list:
Chagrin Valley 7-oz Coconut Milk Shampoo Bar (ERV $7.25)
Chagrin Valley Lemon Lime Shaving Balm 2 oz (ERV $10.85)
Chagrin Valley Summer Rain Organic Cream Deodorant 2 oz (ERV $7.25)
Eco Nuts 100-load soap nuts (ERV $11.99)
Eco Nuts 24-load liquid laundry detergent (ERV $9.49)
Eco Nuts 4-oz Bergamot Linen Spray (ERV $10.32)
Eco Nuts Lavender Bar Soap (ERV $5.99)
Cocoa and Shea Pot De Joie 9 oz (ERV $18)
Cocoa and Shea Lavender Castile Soap (ERV $6) and Silk & Roses Soap (ERV $6)
Cocoa and Shea Bittersweet Orange Peels Dipped in Chocolate Lip Balm (ERV $3)
Meadow's Own Toothpaste (ERV $7.45)
Meadow's Own Grapefruit Body Scrub (ERV $7)
Meadow's Own Vanilla/Sweet Orange Deodorant 2 oz (ERV $8)
Meadow's Own Peppermint Face Spritz 1 oz (ERV $3.25)
Marmalade Hills Body Nectar 8 oz (ERV $22)
Marmalade Hills Tea Tree Foot Soak (ERV $20)
Marmalade Hills Tea Tree Foot Balm (ERV $10)
Total Big Natural Basket Giveaway Estimated Retail Value: $238.84
HERE ARE THE RULES:
You may only enter once. ONCE ONLY. (Please do not reply to other entries in the comments as an entry yourself, as it messes with the random drawing process.)
This is only open to people in the U.S. and Canada, due to shipping charges (sorry lovely people in other places of the world).
You must be 18 to enter.
The giveaway is over at 11:59 SHARP MST on 8/26/2012. I will draw the winner via a random number generator (and count every stinking comment to find the right person) on Monday, 8/27/2012. They will be notified via email, but I will also announce the winner on the Crunchy Betty Facebook page at that time, so check and see (just in case your email sends your winning notification to spam).
While there are no "extra bonus entries" for tweeting or liking on FB (I'm not a fan of those gimmicks), it is considered courteous that if you do enter the drawing, you at least visit the pages of the wonderful small businesses mentioned in the post and "like" the ones that sound great to you. Pop back up and do that now.
HAVE FUN!!!!!
TO ENTER:
Right down here, right below these rules, you'll find a comment box that says "Leave a Crunchy Comment." All you have to do right there is tell me which of these products you want the MOST, which gets you all giggly and excited.
All you have to do to enter is say what you want the most in this basket (and, yes, you're allowed to say "ALL OF IT")! That's it.
But be sure to leave your email address in the space that says "email," or else you'll never know if you're the winner!
(P.S. ONE of you that's reading this is the winner. And you? I am SO jealous of you. This. Is. Awesome.)
And THANK YOU to all of you small businesses who participated in the Big Natural Basket Giveaway. Crunchy Betty LOVES you!
Now GET TO WINNING!