Hey, baby. You have an amazing body.
Yes, you.
I don't care if it's fat or thin or missing a limb, your body is rollercoaster amazing. How do I know this? Because you're reading this right now. Because you're breathing. Because that bag of mostly water that carries "you" around is the vessel through which you experience everything. Everything.
Your body's with you all the time, so it's easy to take it for granted, or even hate it for not being what you think it should be. We're going to start telling our bodies thank you for a while. Today, we're going to start with the easiest part of our bodies to love.
Our lips.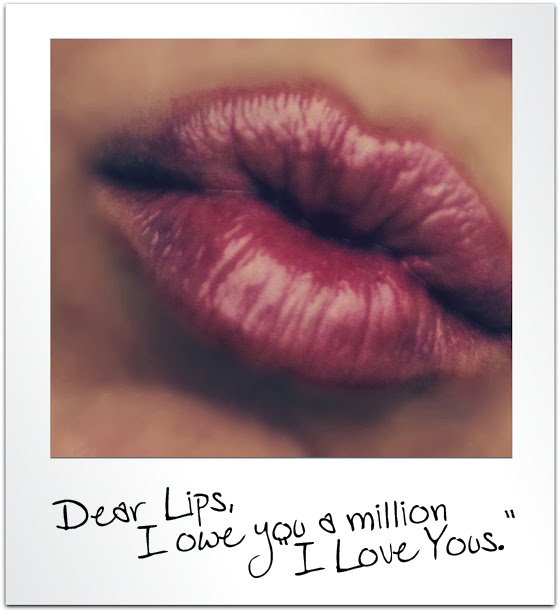 This whole concept is behind one of the many and various books that I'm working on, but I don't see this particular book coming to fruition any time in the very near future (unless some publisher out there wants to jab me with a hot poker in the motivation/organization center). So instead, we're going to explore this whole idea – these little gratitude moments – here in the blog. You will like this, if you have any tiny amount of desire to love your body as an extension of how you experience the world.
How are we going to start feeling deep, abiding gratitude for the bodies we live in, love in, and often take for granted?
With homemade beauty recipes, of course. Food on your face. On your elbows. On your stomach. Underneath your fingernails. (Yum.)
Now, let's talk about your lips.
You Owe Your Lips a Million "I Love Yous"
Today, just for a while, your task is to forget any negative feelings you have about your lips. Generally, maybe you think they're too thin? They're always dry. They're getting wrinkly around the corners. Or, even more likely, you just don't consider them at all.
The grand part about your lips is that they don't ask to be considered. They don't beg for gratitude. They're just there, ready to accept a piece of chocolate. Prepared to blurt out "I love you" at the whim of your heart. Always positioned for a smile, if you so choose to use them that way.
So, as you're doing this exercise, you will not even remotely consider how you're dissatisfied with your lips, because no matter what they look like, they have allowed you to do and experience some really incredible things. Like kissing. Like catching honey from a spoon. Like slurping an ice cream cone on a hot, humid evening.
Did you know that the average human being says "I love you" approximately 5,849 over a lifetime? Or that you smile nearly 1.7 million times in your life?
No, you probably did not know that, because I just made those numbers up. But they seem plausible.
And all of that – all of the marvelous ways you get to express yourself – is because of your lips. So let's show them some gratitude, yeah?
Meditate On The Miracle of Your Lips Using This Scrub
The point of doing this beauty treatment and small meditation is to really, really appreciate your body – and this one particular gorgeous part of your body – so that you have a better connection and appreciation for all that your lips do for you. (And, yes, they can do some pretty nasty things, too, if you choose to use them that way. Either way, they're at YOUR beck and call, so use them wisely.)
The nourishing, softening scrub uses three ingredients every single one of you has in your kitchen right now, so there's no need to delay. Here's what you need: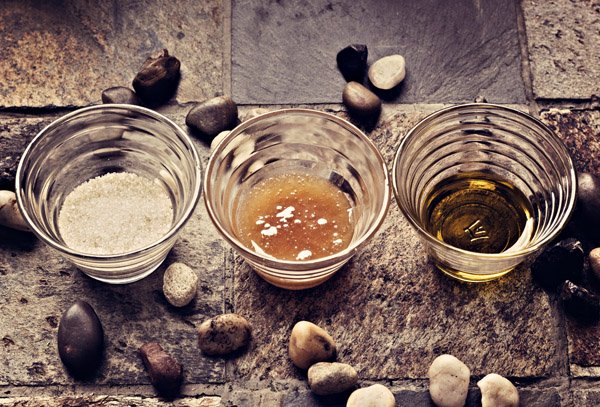 1 tsp of sugar, 1/2 tsp honey, and 1/2 tsp olive oil. This is easy.
While you assemble your ingredients, let yourself get lost in memories of ways that your lips have served you in glorious ways, such as:
The first time your lips cooperated with you in order to tell your significant other that you love them
The most magically overwhelming kiss your body has experienced
A time that a child told you something in concern, and you smiled reassuringly and made them feel better … and safe
When you delivered a speech, or had a heart-to-heart with a friend, and incredibly amazing words fell from your lips and onto others' ears, and you changed minds and hearts for the better
I'm sure you can think of several other instances in which your lips have served you, allowing you to experience some of the most incredible moments of your life. Think of them as you find your ingredients and mix them together.
And, above all else, SMILE as you consider these moments, while you mix your ingredients.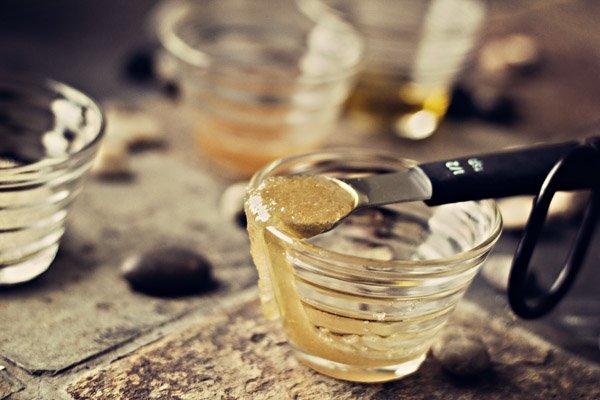 And that's all you have to do. Just mix the 1 tsp sugar (which is exfoliating), 1/2 tsp honey (which is nourishing and delicious), and 1/2 tsp of olive oil (which is oh-so moisturizing) together in a small bowl. And you're smiling as you do it.
Now that you've amassed great memories of what your lips have done for you over your lifetime …
Dip your finger in the scrub mixture and put a glob on those gorgeous puckers of yours.
Rub it around very lightly (you can use both of your middle fingers here, because it's easier that way).
As you rub, think of those moments you came up with earlier, but also:
Tell your lips "thank you"
Consider the nourishing, gentle ways you're giving back to your lips right now
Through your sticky, gooey lip scrub, mouth the words "I love you" – You don't have to say it to your lips; just remember that your lips are the reason you can say these three words out loud
Continue massaging gently for 3-4 minutes. You can leave it on after the massage for another few minutes, during which time you can take a picture for added lip-loving, messy-faced fun – something to remind you of how you CAN give back to your body, in gratitude: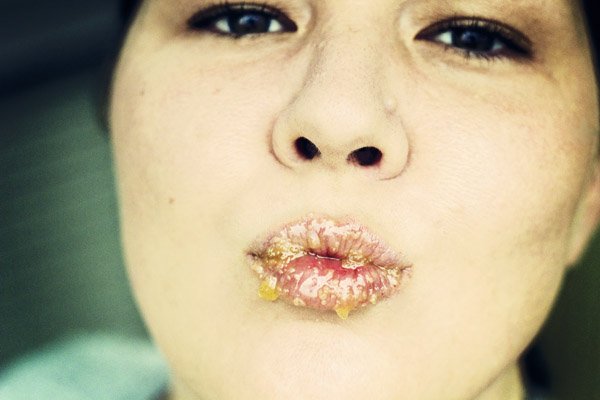 After you've paid homage to your incredible lips, after you've considered all the wonderful things they have done for you, rinse this scrub off with a little bit of tepid water.
And to finish your Lip-Loving, Gratitude Meditation Beauty Treatment, you must now consider some very important things:
How will you use your lips for the rest of the day?
How will you, in gratitude, use them for all the beautiful things they can do for you?
Vow, as you touch your soft, moisturized lips, to only say kind and gentle words – no matter how frustrated you get – at least for the rest of the day
Pick at least one person to say "I love you" to
Pick at least one person to kiss
Eat something incredibly yummy (and healthy) and thank your lips as you catch the food into your mouth (I'm feeling strawberries with chocolate here, aren't you?)
Do this lip scrub and meditation whenever you realize that you've either been taking your lips for granted or using them unwisely.
And each time, consider all of the breathtaking moments your body, and your lips, allow you to experience. Your body is not to be hated – it is to be cherished and nourished for the life-affirming vehicle that it is.
Now go scrub your lips!
Share Your Marvelous Lip Stories Here
There is NOTHING I (and so many other readers) love more than to browse through the incredible comments and stories y'all leave here. So share a story about your lips – the best moment you've had where your lips have served you well (keep it clean, people).
First kiss?
Something you've smiled at that touches you even to this day?
A memory of eating something – that moment – that sent you into spasms of bliss?
What moments do you have that you can use to consider all the gratitude that you have for owning a pair of luscious, working lips?