For the shower people out there, I have good news for you:
No longer will your bathing experience be dull and unfulfilling. There is now body oil in your life.
I'm not much of a bath person. When you're 5'10" and taking a bath in a normal-sized tub, somethings always cold and uncomfortable. So I do everything I can to squish the luxurious bath experience into a shower.
Body oils help exponentially.
So I'm encouraging you to make this for yourself, but I wanted to post it hot on the heels of the body powder recipes because of all the homemade beauty gifts I've given, matching body powder and oils have been the biggest hit EVER.
Let me reiterate: Give matching body powder and body oil for Christmas, and you'll be a hero.
Body oils aren't cheap, though. They're luxurious and delightful, but they're not dime-store moisturizers. They do, however, kick the holy living cheese out of store-bought lotions of any kind.
Like body powder, oils are super easy to make. All you need is a carrier oil or two, an essential oil or two, and maybe a decorative herb or spice to dress up your bottle.
Let's look at the carrier oils first.
Carrier Oils for Homemade Body Oil
Grapeseed Oil
This is one of the least expensive oils you can use, and it also happens to be one of my favorites. When I make a body oil, I'll typically use grapeseed oil as at least half of the "base" oil.
Sweet Almond Oil
Another giant favorite of mine, sweet almond oil is more inexpensive than most carrier oils, as well. It's super light and soaks into your skin rapidly, leaving behind a really silky smooth finish.
Olive Oil
Absolutely THE least expensive oil you can include in your homemade body oil recipes, olive oil is beautifying, detoxifying, and fantastic for your skin health. If I'm running low on other oils (or if I'm running low in the bank account), I'll beef up my oils with olive oil. Feel free to use it as your main body oil, though – just make sure it's cold pressed or expeller pressed (this is true for any oil you buy) and extra virgin.
Apricot Kernel Oil
I'll be honest, apricot kernel oil is kind of on my list of "eh" for body oil. It's better used in facial oils, because it's a little costly and very delicate. But if you see some at the store – and if it's on sale – it's still a good addition to whatever oil mixture you make. It sinks into your skin very quickly and is nicely softening.
Avocado Oil
Again, a little more costly here, but I do love me some avocado oil. Talk about nourishing! This stuff leaves behind the most silky skin you've ever seen. I don't use much avocado oil in my body oil recipes (maybe a few tablespoons at most), but I do use it constantly to remove eye makeup.
Jojoba Oil
The holy grail of body oils, jojoba's properties are extremely similar to the oils already present on your skin. This makes it an incredible base for body oil, because it just feels like your skin is ultra hydrated – not at all oily or slick. However, this comes at a price. Jojoba is one of the more expensive carrier oils on the market. However, if cost is no object, make a body oil using only jojoba, a little vitamin E, and some essential oils, and you've got yourself some otherworldly skin.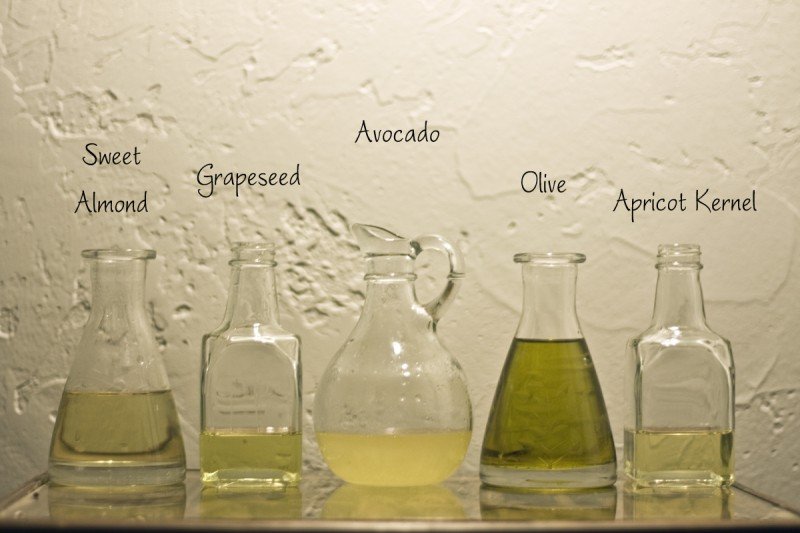 Essential Oils
The important thing to remember in making your body oils is that you don't want it to be overpowering. In fact, too much essential oil (depending on type), and you could irritate the skin.
In a 1-cup carrier oil recipe, I'll use somewhere in the range of 50 drops of essential oil. It sounds like a lot, but it's really not. In fact, I just measured it out, and 50 drops of essential oil equals 1/2 tsp almost exactly.
The best part about using essential oils is you're also offering the oil-user (whether it's you or the gift recipient) a hearty dose of aromatherapy. Here are some essential oils and what they can do for your mood.
Vanilla: Aphrodisiac, balances mood, reduces stress, relaxes
Ylang-ylang: Antidepressant, relaxant, aphrodisiac, reduces anger
Lavender: Reduces stress, invigorates, relaxes, eases tension
Rose: Elevates mood, aphrodisiac, calms, purifies
Sweet orange: Sedative, relaxant, relieves anxiety
Peppermint: Invigorates, energizes, stimulates, awakens the mind, eases nausea
Lemongrass: Stimulates, antidepressant, deodorant
Grapefruit: Calms the psyche, relaxes, energizes
Frankincense: Reduces anxiety and tension, encourages a meditative mind and inner peace
Bergamot: Eases depression, stimulates, encourages mental clarity
Cinnamon: Alertness, mental clarity, mood lifting (should be used sparingly, as it can irritate the skin in high doses)
You can mix and match fragrances to your liking, but my particular favorite combination at the moment is sweet orange and ylang-ylang. It's heady, rich, and VERY sexy.
Here's a nice primer from Aroma Web for blending your own essential oils to create a signature scent: Aromatic Blending of Essential Oils
Body Oil Recipes
Now remember, these are great jumping off points, and you can substitute the essential oils for any others (avoid using high concentrations of cinnamon or eucalyptus essential oils, as they can be irritating to the skin). I'm posting recipes that are complementary to the body powder recipes, as well, to help with your gift giving!
Each of these recipes will make 1 c. body oil – and that's actually a whole lot. The oil bottle in the top picture of this post? It holds 1/2 c., which I think is the perfect size for gift-giving.
Simply Lavender Body Oil
1 c. sweet almond oil
1/8 c. jojoba oil (optional)
40 drops lavender essential oil
20 drops vanilla essential oil (optional)
Sprig of lavender (optional)
Combine all oils in a small glass bottle. Shake well. Add the sprig, if you'd like, for decoration. In lieu of the vanilla essential oil, add a vanilla bean to the bottle instead. It's a beautiful touch, and it will infuse the vanilla into the oil over time!
Cinnamon Spice Body Oil
1/2 c. sweet almond oil
1/4 c. jojoba oil
1/4 c. olive oil
15 drops cinnamon essential oil
20 drops vanilla essential oil
5 drops clove essential oil
Cinnamon stick (for decoration) (optional)
Combine all oils in a small glass bottle and shake well. Insert the cinnamon stick into the bottle, cap, and you're done!
Refreshingly Minty Body Oil
1 c. grapeseed oil
35 drops peppermint essential oil
15 drops lemongrass essential oil
2 capsules vitamin E (or 1/4 tsp liquid vitamin E)
Fresh peppermint sprig (for decorative purposes) (optional)
Combine all oils in a small glass bottle. Poke a hole in the vitamin E capsules (or measure out the vitamin E) and pour it into the bottle. Shake well. Add the peppermint sprig, if desired. Alternatively, you could peel a small strip of rind off of a lemon and curl it decoratively, placing it in the bottle instead.
How Much Is this Going to Cost?
I decided to do a price break down on a simple oil recipe – so I would know how much this is costing me, and so you'll know, too.
The thing is, blending oils can sometimes seem extremely expensive at the beginning, especially when you throw in three bottles of carrier oils and two or three bottles of essential oil.
I felt like it broke down nicely, though. MUCH less expensive (and much cleaner) than a body oil you'd buy in the store.
And do remember, while the initial cost of essential oils may be a little pricey – they last for freakin' EVER. For example, I use vanilla essential oil in almost everything I do – and it's taken me a year to run out. So even though you might shell out $16 for a bottle of it, that $16 will give you all sorts of good use for years to come.
ANYWAY, here's how it worked out:
Sweet Almond Oil 16-oz bottle: $8.50
Grapeseed Oil 16-oz bottle: $7.50
Basic 1-cup Oil Recipe
1 oz jojoba = $1.5o
2 oz sweet almond oil = $1.06
5 oz grapeseed oil = $2.34
Approximate cost essential oils/decorative herbs: $0.10 to $1.75
Grand Total: $5.10 to $6.75 per 1-cup body oil
Not bad, right? Not NEARLY as bad as I thought it would be.
And, if you take into consideration that the perfect gift-giving size of body oil is 1/2 c. (for stocking stuffers, coworkers, etc. … you might want to give a whole cup to people you, um, really like), that brings the grand total to:
$2.55 per 1/2-c. homemade, thoughtful, personalized body oil.
Seriously?
Why wouldn't you give this as a gift?