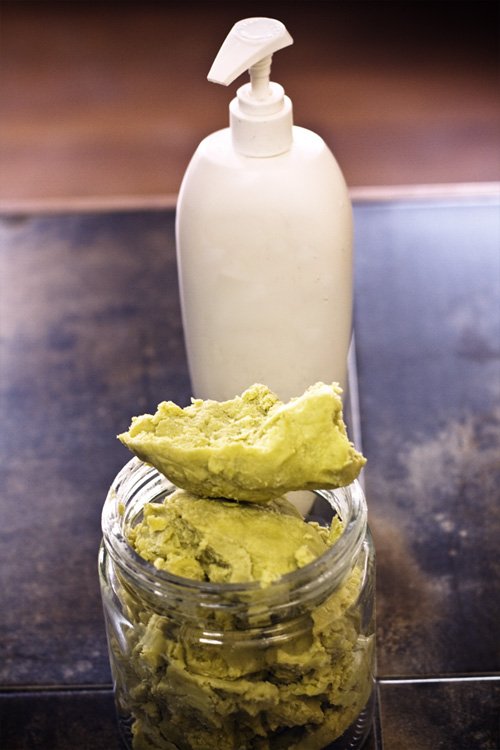 100 years ago, "body wash" would have consisted of sitting in a big metal tub and having someone scrub you down while they pour boiling water over you.
Look how far we've come. Look how good we smell. Look how dry our skin is.
I set out to make body wash at home mainly so I could add things in it that I knew would be good for my skin. Even those body washes that boast "shea butter" or "extra moisturizing" or "soothing," well, we have no idea how much "soothing" ingredients they actually consist of. Plus, they've got tons o' yucky preservatives and other unnecessary ingredients, too.
Let me take a quick moment, before we get to making this, to rant. Because the other day, while I was watching All My Children on Hulu and eating bon-bons steamed spinach popcorn, I saw an ad for some new Dove bodywash. And it was shameful.
I apologize for lack of real details on it, but I've searched and searched the web and can't find the commercial to show you guys.
But it went something like this: New natural Dove body wash, with the fresh scent of cucumber or pomegranate. The only natural body wash that freshens you naturally. Natural. Good for your skin. Natural fresh and moisturizing. Natural. NATURAL FRESH! WE MEAN THAT! NATURAL!
Would you like to know what's in the new "goFresh body wash" by Dove that's so natural? Sodium laureth sulfate, cocamidopropyl betaine (synthetic surfactant), DMDM hydantoin (formaldehyde-releaser), methylisothiazolinone (synthetic preservative), iodopropynyl butylcarbamate (another preservative, toxic if inhaled), BHT (another controversial preservative), and synthetic fragrance (hormone-disrupting).
They do use a few actual natural ingredients, so I'll give them credit for waving a wand of essential oil over the top of a large vat of body wash.
But I'm just saying. STOP LYING. WE'RE NOT STUPID.
Now. Let's make some semi-homemade body wash that's all-natural and exactly what your personal skin needs.
Semi-Homemade Body Wash/Shower Gel
I'm calling this semi-homemade, because the major ingredient can be used alone, as body wash, if you so choose.
It's liquid castille soap.
If you've ever dealt with liquid castille (like Dr. Bronner's), you know it's really thin, though. So we want to thicken it up just a bit, which will allow for other ingredients to mix well with it.
We thicken it with xanthan gum (available in the baking aisle, often in the shelf that contains all of the Bob's Red Mill flours).
And then we add other good stuff to it. It's actually a lot of fun to make – and it beat the heck out of the first bodywash I ever made. Two years ago. It looked like gray sludge. Ew.
Here are the ingredients in the body wash I made today: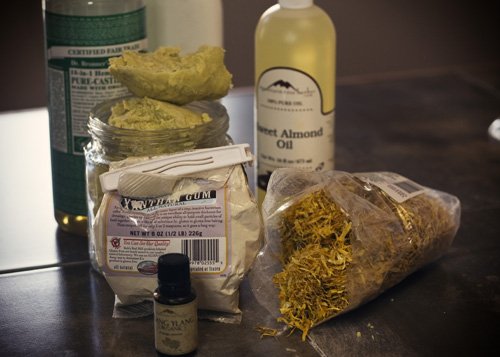 In this recipe, I went all out. I made a calendula infusion first, then added shea and sweet almond oil, then xanthan gum, castille, and ylang-ylang essential oil.
It's definitely a good recipe for someone who has dry skin. I do not have dry skin. I just like to pretend like I do, so I can use the most luxurious ingredients possible. It works.
You don't have to use an herbal or floral infusion if you don't want to, or don't have any to use. It would cut down on preparation time, if you didn't.
Calendula is extra soothing and great for your skin – it would be great for any type of skin, really.
So, first, I left 1/4 c. calendula petals and 1 c. of water on medium low for about 20 minutes: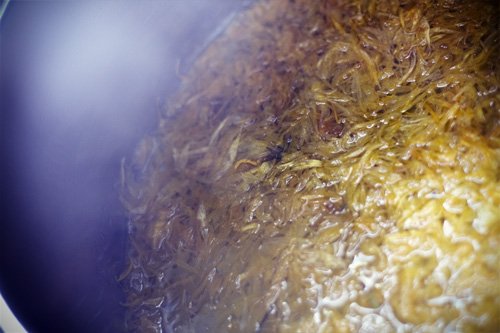 Then I strained the water/infusion from the petals and returned it to the cleaned pot. Then, I took 1 Tbsp. shea butter and 1 Tbsp. sweet almond oil, and melted it all into the infusion on low.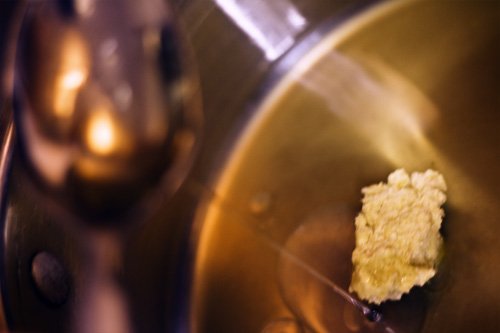 Stir well while the shea butter is melting.
Once you have an oily/watery mixture with no lumps, remove from heat and add 1 tsp xanthan gum whisking quickly. Immediately add in 1-1/2 c. liquid castille soap and continue whisking until everything's smooth.
DO NOT – UNDER ANY CIRCUMSTANCES – STOP AND TAKE PICTURES.
If you stop and take pictures in between adding the xanthan gum and the castille soap, you end up with this: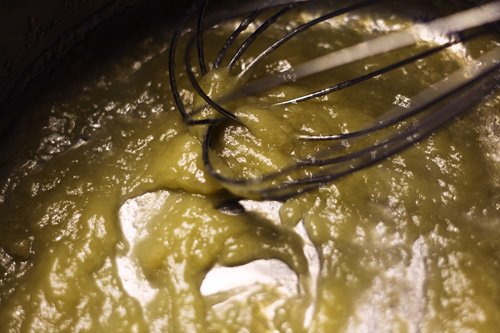 Alas, because I took pictures, I ended up with some goopy globs in my final body wash. Lesson learned.
It's still completely useable, though, so do not cry for me. Nay … I am fine.
Anyway, after you add the castille soap, stir in 15-20 drops of essential oil of your choice. I chose ylang-ylang, because it complemented the almond castille soap we had on hand.
It smells divine. And it feels even more divine. DIVINE. NATURAL. FRESH AND NATURAL DIVINE.
(And, yes, I really mean that.)
Here's what my final soap looked like. It yielded about 2 cups of body wash all together, and after I took this picture, I poured all of it into a recycled pump bottle (from a body wash long used up).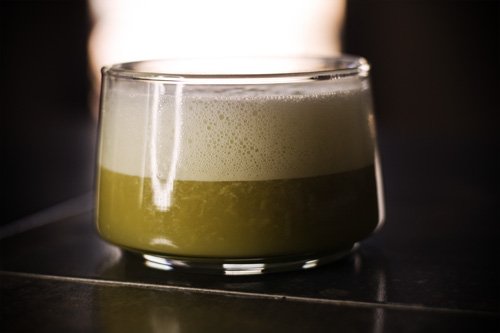 Here's the printable recipe for the one I made, as well as a bonus recipe that's suitable for normal/oily/acne prone skin.
Moisturizing Ylang-Ylang, Calendula, and Almond Body Wash
In a small pot, heat the calendula petals in the water for 20-30 minutes, stirring occasionally. Strain the petals from the water and rinse out the pot. Add the calendula water back into the pot, and melt the shea butter and sweet almond oil on low until smooth. Whisk in the xanthan gum, and immediately afterward whisk in the castille soap. When smooth, drop in your essential oil.
Pour the mixture into a bottle (opaque is best) and don't store in direct sunlight. Shake well before each use. Should keep for up to 6 months.
Soothing Lavender Body Wash for Oily or Acne-Prone Skin
1/4 c. dried lavender buds
1 c. water
1 Tbsp jojoba oil
1-1/2 c. liquid castille soap (tea tree oil or unscented)
1 tsp xanthan gum
15 drops lavender essential oil
10 drops tea tree essential oil
In a small pot, heat the lavender buds in the water for 20-30 minutes, stirring occasionally. Strain the buds from the water and rinse the pot. Add the lavender water back into the pot and stir in the jojoba oil. Whisk in the xanthan gum quickly, and immediately afterward whisk in the castille soap. When smooth, drop in your essential oils.
Pour the mixture into a bottle (opaque is best) and don't store in direct sunlight. Shake well before each use. Should keep for up to 6 months.
Think You're Ready to Make Your Own Bodywash?
I have to reiterate: This was really incredibly fun to make. I think it had something to do with the shea butter I received from Amazon today.
I mean, it's freakin' awesome. Look at it one more time: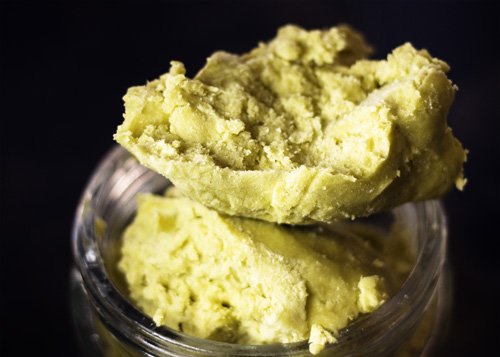 It came in this bag, right? I mean, just a 1-pound chunk of shea butter. In a bag. It's sooooooooooo soft and mushy and it made my hands feel like buttah.
If you're looking for some shea butter, I really highly recommend it (and, nope, I'm not affiliated with this company in any way): West African Shea Butter. At the time of this writing, it's a whopping $6. The best price I've ever seen on shea butter. Ever.
Okay, now that I've mushed on and on about my shea butter.
Are you going to try making your own body wash?
If not, do you have a favorite body wash you LOVE? Scent combinations? (Give me inspiration for the next time!)
In NATURAL-AND-FRESH-I-MEAN-IT crunch!