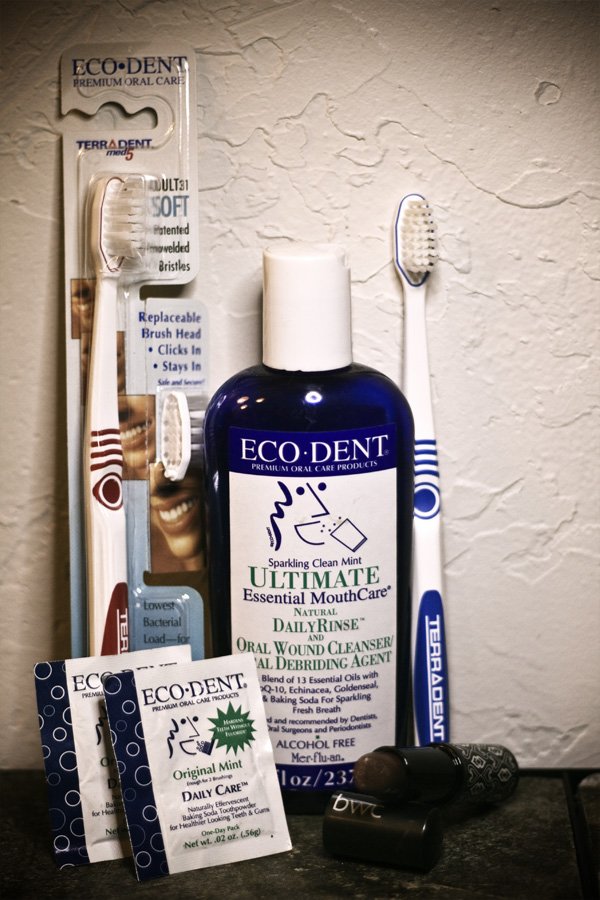 What better way to start the week than with a pretty mouth?
I know!
Let's give away a really great "pretty mouth" set from Eco-Dent and Beauty Without Cruelty, two companies who offer really thoughtful natural products (though you have to be careful and stick with the natural/organic line of BWC stuff, because some of the others have parabens in them).
After I talk about the products a little bit, you can enter to win at the bottom by picking out your favorite color of lipstick and letting me know which you'd like to win.
And guess what else? Your prize pack is even better than what's pictured over there.
Because, instead of samples, you get an entire bottle of tooth powder, which is just like toothpaste, only not pasty.
Before I talk about everything for a brief second, I just want to thank Eco-Dent and Beauty Without Cruelty for the samples they sent me (toothbrushes, mouthwash, and lipstick). And, especially, the wonderful, funny, delightful, real, witty representative I've been talking with. I have a bit of an inappropriate girl crush on her. If only all company representatives could be so sweet … sigh.
Okay. Enough.
Let me tell you what's up for grabs:
Two Terradent toothbrushes, which each come with an extra replaceable head
Eco-Dent Ultimate Essential Mouthcare Daily Rinse (your choice of peppermint or cinnamon)
A bottle of Eco-Dent tooth powder
A tube of Beauty Without Cruelty Natural Infusion Lipstick (a $22.95 value by itself)
All About Eco-Dent Products
(At least, the ones I've tried.)
Eco-Dent Tooth Powder
Okay. This stuff is the bomb. And even though you can make your own toothpaste, and tooth powder, easily enough, this has some extra good ingredients you might not have on hand. Namely: myrrh.
When I went to make my own toothpowder some time ago, I tried to grind up some myrrh resin I had on hand. My small food processor went to kitchen gadget heaven that day. It is sorely missed.
Myrrh is perfect for dental care: It's antiseptic, it helps prevent and treat gum disease, it's been used for toothaches and other oral afflictions for thousands of years, and it's really fun to say.
According to the Eco-Dent Website (which is chock full of great information about the products if you want to do your own research), the tooth powder is less abrasive than toothpaste and each bottle provides up to 200 brushings (that's, like, over 3 months if you brush twice a day).
My Personal Opinion: This stuff is really unique (especially if you're used to toothpaste) and it does a fantastic job of cleaning your mouth. You sprinkle a bit of powder over your toothbrush, start scrubbing, and it kind of fizzes and fills your mouth with cleansing goodness. I also love the fact that it's dry, so you can easily take it on an airplane without confiscation.
Haha! While researching more about the product, I found this video about how Oprah Winfrey's medicine cabinet revealed that she uses Eco-Dent. Too cute. Way to be crunchy, Oprah!
Eco-Dent Ultimate Essential Mouthcare Daily Rinse
One thing I've yet to master is making a homemade mouthwash that lasts more than two weeks.
So, I buy mouthwash. I will probably buy this mouthwash from now on. I am not joking.
The mint mouthwash is the one I received, and it's a tiny bit antiseptic tasting, but it also has a very strong anise flavor. Which is PERFECT for my black jellybean fetish. It also comes in a cinnamon flavor, which I haven't tried.
Here's some of the great ingredients in this mouthwash: castor oil, peppermint oil, echinacea, golden seal extract, tea tree oil, CoQ10, orange oil, lemon peel oil, fennel oil, bergamot oil, lavender oil, rosemary oil, basil oil, rose flower oil (and that's just to name a few).
There is absolutely nothing in the ingredients list that worries me, and many things I'd clamor to put in my own homemade mouthwash (if I had any idea how to make it so it doesn't spoil).
One last thought on this: It comes in a relatively small bottle (8 oz for a little under $10), and the directions say to use two capfuls each time. To me, that seems incredibly excessive. One capful is more than enough for me to feel like I'm getting a good, thorough mouth rinse. Point being: The small bottle is actually going to last me well over a month, because I'm using less than directed.
Terradent Replaceable Head Toothbrushes
What can I say? They're toothbrushes.
To be honest, I haven't tried mine. I had JUST opened a brand-new toothbrush the day before my package arrived, and it felt excessive to open another one already. However, Skip dug right into his. He's used it for the last week and a half.
I asked him if he'd write a couple of sentences about his opinion on it. He said, "No. Just remember what I tell you."
So, from memory, here is what he said: "I really, really like it. The bristles are soft and I feel like it reaches everything in my mouth perfectly. It gives a good clean brush. The only thing I kind of didn't like was that it wasn't very springy in my mouth. But that's a small, insignificant complaint. I want to buy more replacement heads when it's time. Okay? OKAY, LESLIE? WHO ARE YOU TEXTING YOU'RE NOT EVEN PAYING ATTENTION?"
(I was writing it all down. Jeez.)
Here's a little more product info on the Terradent toothbrushes:
They're the only toothbrush to receive the prestigious "RECOMMENDED" stamp of approval from Oko-Test, one of Europe's leading independent consumer product testing organizations.
They're eco-friendly, because you just buy replacement heads instead of entire toothbrushes.
They incorporate a unique thermoweld process of attaching bristles, so they boast the lowest bacteria load of any child or adult toothbrushes.
Beauty Without Cruelty Natural Infusion Lipstick
As most of you know, I've had a difficult time finding cosmetics that I really like and want to pass on to you guys (via recommendations or giveaways).
This lipstick is really worth it.
There are no ingredients that make me cringe, but they do include one of my most beloved ingredients ever: Jojoba oil.
I chose the Rich Bronze color, and it lasts a good four hours (even with drinking tea). It's also moisturizing and just … everything that's good in a lipstick. Plus, there are 30 colors to choose from, so even if you don't like a dark, dramatic brown (which is what you get with Rich Bronze), there are so many other options.
So: This lipstick can consider itself stamped with my picky, coveted, glorious seal of approval.
Now how about you win some?
You Have Such a Pretty Mouth Giveaway – WIN!
Again, what you're entering to win here is: Eco-Dent Mouthwash, Eco-Dent Toothpowder, Terradent toothbrushes (2), and a full-size tube of Beauty Without Cruelty Natural Infusion Lipstick. Total prize package is worth approximately $50.
Here's How to Enter:
Pop over to the Beauty Without Cruelty Natural Infusion Lipstick Link and pick a color of lipstick you'd like to have. Let me know in the comments section here what your preference is.
I'll choose a winner on Wednesday, April 6th, at 10:00 p.m. Mountain Standard Time via the random number generator at Random.org.
You must live in the United States to enter to win. (Sorry overseasers – I promise I'll do something for you, too, soon.)
Please don't enter if you live outside of the United States, 'cause it messes with the "numbers" in the random number drawing. (Love you.)
That's it.
Leave a comment telling me what you want
I'll pick a winner, notify them, and then they'll get to choose their flavor of mouth rinse, too
Someone will have a very pretty mouth very soon
And, as always, if you'd like to tweet this giveaway or talk about it on Facebook or write it on paper airplanes and throw it off your balcony, it's ever-so appreciated, but not mandatory.
SMILE!