It all started two years ago when my sister said, "You should really try the DivaCup," and I said, "Huh. Weird." And every month, I'd think about it, but then I'd look at the price of a DivaCup ($30) compared to a the price of a box of tampons ($7), and I'd say, "Next month. I'll get one next month when we have more money."
Clearly, I am not very good at understanding substantial long-term savings, because you don't throw the DivaCup away. Not for years.
And then the conversation happened in the Community, and I couldn't wait to try it. I couldn't wait another month. So I did. And now I get to share TMI about my experience with you. Aren't you lucky!
Let's take a look at what the DivaCup is, first:
Why Go Crunchy With a DivaCup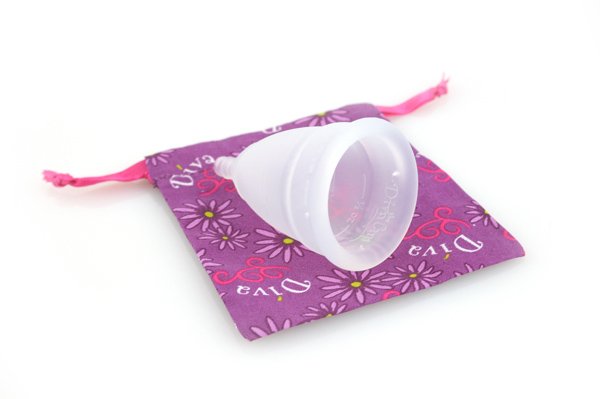 So this is a DivaCup. You use it in lieu of tampons.
You don't throw it away. You reuse it. This means it's exponentially more environmentally friendly than tampons.
At this point, I'm going to defer to some DivaCup text, because honestly people, sometimes I can be a little awkward and inappropriate, and you probably don't want to read that right now.
From the DivaCup description:
The DivaCup is a non-absorbent menstrual cup that simply collects menstrual flow. It is inserted in the vagina and sits at the lower base of the vaginal canal. It is worn internally, yet because it is soft and smooth, it cannot be felt nor will it leak when inserted properly …

The DivaCup can be worn for up to 12 hours before emptying, washing and reinserting for use for another 12 hours. It can be used for light or moderate flows and is emptied more often to accommodate heavy flows. Perfect for overnight use.
From my experience, this is all so completely true.
I was amazed at how non-weird this really was. Don't get me wrong. For the first day, I was kind of taken aback by actually seeing what had been really going on down there all these years.
But it took me a day to get used to it. And one period to fall in love with it.
With the DivaCup:
The length of period has decreased by about a day (which may not be biological, but as a result of not using "stuffing")
My cramps have eased exponentially
I feel more in touch with my body … and not in a weird hippy-dippy way; just, like I understand things a little more
I am relieved that I no longer walk past the tampon aisle and think, "Hmmm … do I need any of these?"
The bathroom trashcan sits oddly clean and empty for weeks at a time
That's really just a small sampling of how things've changed since the DivaCup came into my life. Now, those are just my experiences, and you may not have the same results. But you'll never know until you try.
Lest you think it's just me here, though, take some time and read the thousands of glowing reviews. You'll see how it changed SO many women's perception about their periods and saved them money! In fact, it seems that many women have a life changing experience when they switch to the DivaCup…
Why Women Love It….
Seriously? Why doesn't everyone know about this? It's like this weird secret — I mentioned it jokingly in a bar the other night, practically under my breath (while blushing), and three women SQUEEEED as we all came out of the Diva Cup Closet and talked about our Secret Love. And one woman mentioned that she couldn't wait for her next period, and I swear to god, I FEEL THE SAME WAY. It's crazypants, people.

Why is it a secret? Why aren't we telling EVERYONE?
and
I thought this product was going to be completely disgusting. But shooooot! It provided me wrong! Honestly, I think pads and tampons are extremely messy and smelly. ( Doesn't matter how often you can them out)
My absolutely two favorite things about the Diva cup:
1. NO ODOR
2. NO MESS/NO FUSS

If you haven't order Diva Cup, DO IT NOW. Trust me, girls, you won't regret it!
And so many more! Hey, if we can't all be in it together with our periods, then we shouldn't be allowed to have periods.
(You know what I mean. We're all sisters here.)
Important Note… Size Matters
As you may imagine, women may need different sizes of menstrual cups depending on age and if they've had kids or not. Or maybe you don't sit around thinking about these things… who am I to judge?
If you are considering trying the DivaCup, you'll jut need to pick the right size for you:
Model 1- If you haven't had children and are under 30 (this one)
Model 2- If you've had one or more kids or are over 30 (this one)
Just pick the right size for your state in life (or ladyparts, as the case may be). You'll be good to go for a healthier, happier and more eco-friendly period.
Now go! Have a better period!