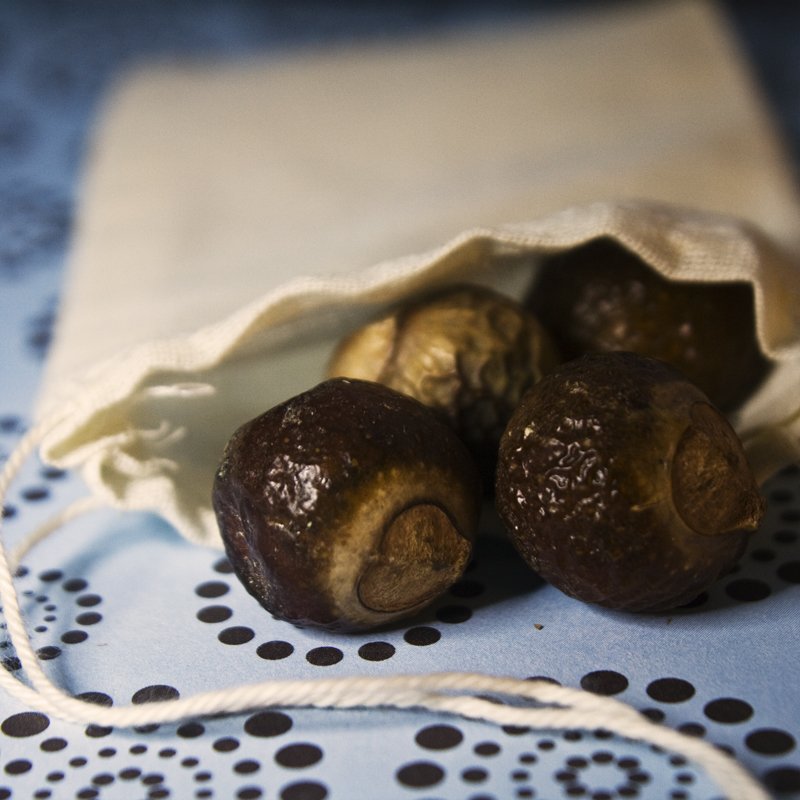 I've been futzing around with soapnuts for a few weeks now. They've gone straight into the wash, they've become liquid, they've washed my hair and my face.
Somehow, in all this nut jostling, Fiance (whose name is Skip and sounds better in the story than Fiance, so his cover is blown) must've started paying attention.
So we're going to learn how to use soapnuts, in their beautiful nutty form, to do laundry today. All courtesy Skip's surprising curiosity.
In fact, this entire week is dedicated to soap nuts and all the crunchy things they do.
The very best part? THE VERY BEST PART, PEOPLE?
Mountain Rose Herbs has agreed to give TWO crunchtastic readers 1-pound bags of soap nuts to try in your very own home. Say it with me: We love you, Mountain Rose Herbs!
(PS – the link is an affiliate link, so order away if you can't wait for the drawing!)

Entering is a little trickier – and more fun – than usual, though, so be sure to read through the bottom explanation of how to do it.
Now. Here's how Skip came to learn about how easy it is to do laundry with soap nuts.
Skip Learns How To Do Laundry With Soapnuts
"Betty?" a small voice piped up from the bedroom. "I have some questions for you."
Not to be distracted from my kitty snuggling, I yelled back, "It's not mine. I don't know anything about it. You can't blame me!"
"No!" Skip bellowed. "I'm doing laundry! I have laundry questions."
Never has a cat done so many flips while flying from the force of my throw. SKIP IS DOING LAUNDRY!
I mean, we share some household chores. Mainly, he cooks – because that's what he does for a living and anything I make is too salty and tastes like feet not gourmet. I clean. Including all the laundry. SO THIS … this was momentous.
It must be documented.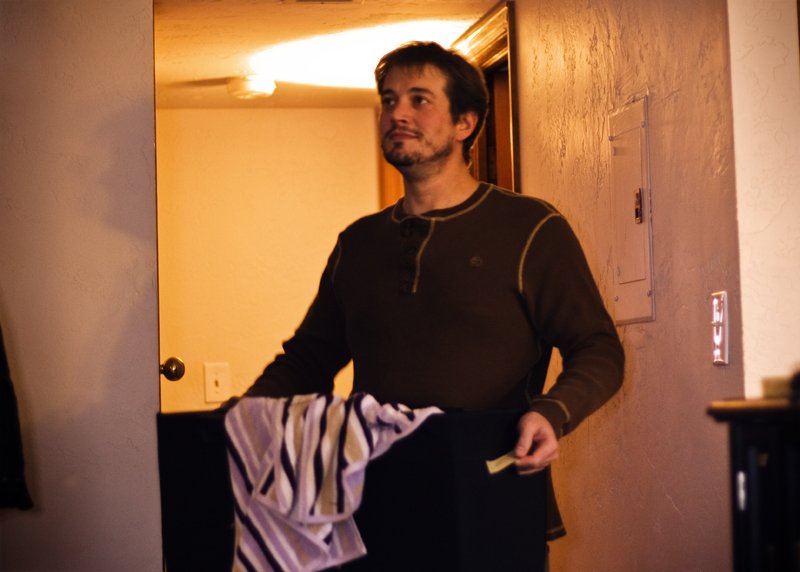 He came out with a basket of laundry, set it down, and looked at me pointedly.
"What are those things? The brown things you put in the laundry? I need some."
They're called soapnuts. They're over there in the bag. Move slowly, so you don't blur so much. This is going in the blog. Congratulations. You're going to be a star.
"Does my hair look okay? Should I do some push-ups first?"
…
"This bag?"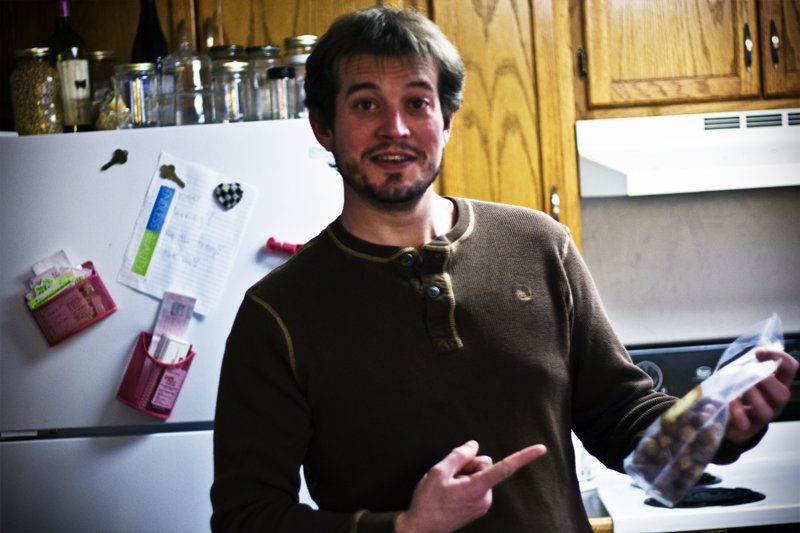 "So what? Like, they're really nuts? Look at 'em, all brown and hard and stuff. Do they come from a tree?"
Yeah. The sapindus tree. From India and Nepal and places like that. Those people have been using soapnuts to clean things for thousands of years.
"So we're just slow. What do I do with them? Just throw a handful in with the laundry, or what?"
No. I have a little spice bag to put them in. Just toss four nuts in the bag.
"But I just want to throw them in. Feels more manly."
Do it my way first, mkay? And we can try it your way the next time. Either way, honey, you're a man. I promise.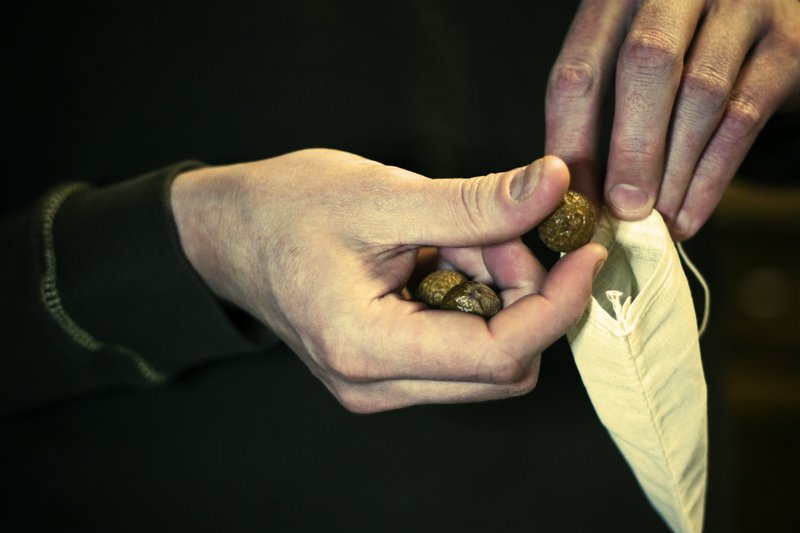 "Now what?"
Close the bag with the pull strings and tie it tight.
"Seriously? This works? I mean, I know you've been doing laundry with these things, and our clothes are clean, but this seems kinda weird."
The clothes are clean, right? That's proof. When the nuts start soaking in the water, the saponins come out and fill the washing machine with their clean, natural goodness. Dirt and grease are swooshed away by their almighty scrubby powers. It's like … it's like Link in that one game where he stabs the bad guys and they just disappear in a cloud of poof.
"Stop trying to relate to me on my level, Betty. What do I do next?"
But wait … Link … Call of Duty in the gamer lolz with the RPG Mario Kart. Right?
"Seriously. Stop." He says as he heads to the washing machine.
"Guess what I just realized? I'm holding a nutbag! HAHAHAHA!"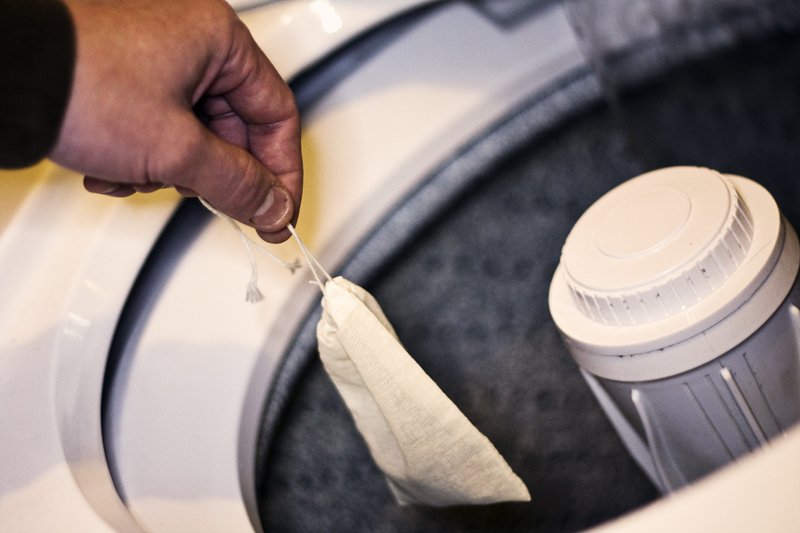 ha
Okay. Just toss the bag into the washing machine as the water's running. Swirl it around a little, iff'n you like. You don't have to. But it's fun. Makes me feel like I'm more in tune with the earth and the water.
"I'm just going to drop it in. If you don't mind."
Fine.
"Now just put the laundry in, right? Right there on top of the nutbag HAHAHAHAHAHA!"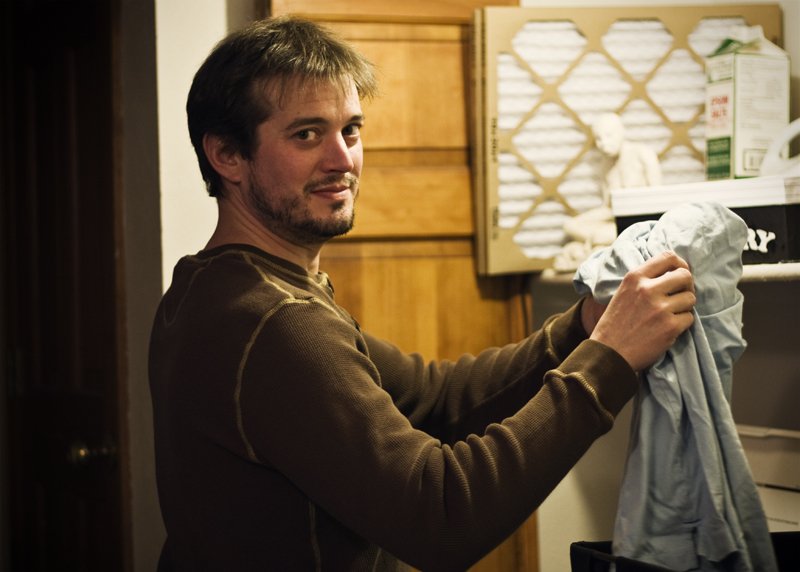 Yep. Just put the laundry in the washing machine, on top of the bag of soap nuts floating in the water.
And run the machine like normal.
That's it. Just like laundry soap, only it's natural, toxin-free, and leaves the clothes super soft. Without even needing to use our vinegar dryer sheets.
"Wait. Seriously? Just soap nuts. That's all we're using for our laundry now?"
Yep. Just soapnuts. And love.
When the wash is done, just toss the clothes in the dryer, mkay? And then, when they're dry, you'll see what I'm talking about. You'll understand the softness, and the immense inner gratification that happens from doing the laundry.
"I can't wait."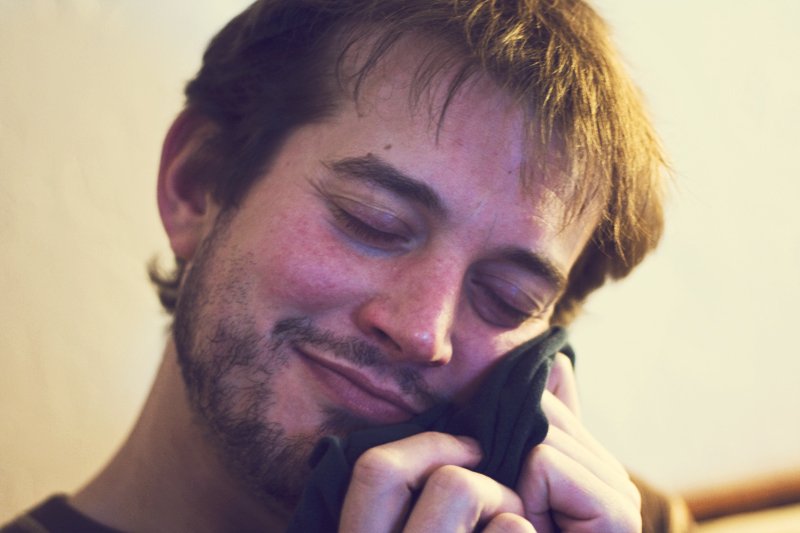 And so the young lad learned how to do laundry with soapnuts. And he was changed.
Below are the steps again, for you, in easy-to-follow bullet point.
And don't be surprised if your husband decides he loves doing laundry, once you have soapnuts in your household. (It's an added bonus. I won't lie.)
The best part? He even folded all the clothes. While I want to believe it's because he loved the soapnuts, I think it's more because one time a lady on a forum linked to one of my posts and said he was "hot."
Just to be sure, I kept snapping his picture while he folded and hung every last piece of clothing. Even the stuff I left sitting in the basket the night before. Vanity – it's a powerful motivator for a man.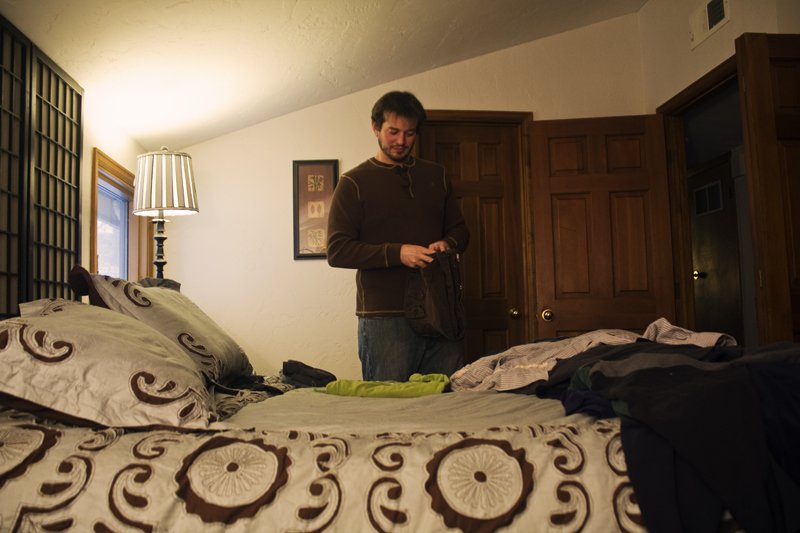 .
How to Do Laundry With Soap Nuts
Place four soapnuts in a small spice bag or other fabric container.
Toss the nuts in the washing machine as the water's running.
Swirl the nuts around, if you want to feel "connected" (feel free to skip this step).
Put the laundry in the washing machine, and allow it to wash as normal.
Pull the soap nuts bag out of the washing machine before transferring your clothes to the dryer.
You don't need to use fabric softener of any sort – the soap nuts soften the fabric (and quell the static electricity) all by themselves.
A bag of 4 nuts will last 4 to 5 separate loads of laundry.
You can also make a liquid out of the soap nuts and use that instead of the nuts themselves, but that's a story for another post.
Win Soap Nuts from Mountain Rose Herbs!
Laundry isn't all you can do with soap nuts. You can also make:
household cleaner
face wash
shampoo
dishwasher detergent
insect repellent
glass cleaner
pet shampoo
And that, my pretties, is why they're so gosh-darned handy.
So let's talk about how TWO of you can win a 1-pound bag straight from Mountain Rose Herbs.
Post a comment to this thread in the Crunchy Community.
That's all you have to do.
If you want to do more, you can refer people. I've outlined the deets over in the Community post.
See you there!