You know how holidays are supposed to be relaxing and fun, but in actuality they're pretty stressful and full of chaos and planning?
Well, here's some news for you: You can't wish it all away. Here's some better news for you: I give you permission to give yourself permission to nourish your own soul during this time, too.
I give you so much permission, because I (clearly) have given myself permission to slack in some blog areas and to take care of myself in other more needy places right about now. I trust you'll forgive me. Because there won't be another post here on Crunchy Betty until Monday. At that time, you'll get a whole homemade crunchy gift guide that you can use if you're still pounding your brain for gift ideas.
But until then, regrouping is in major order.
BUT!
Before I take another small reprieve and soak myself in gratitude and turkey gravy, here are a few things you should consider on Friday.
Keep Yer Butts Away From Black Friday
Black Friday is hectic, full of mass produced boredom, and tricky, headachy sales. Instead (if you're not making all your gifts), here are a few companies I dearly love – whether I discovered them by accident or they sent me products to try and they blew me away.
They're all small companies with ethical, truly crunchy values. And if your heart is telling you to give that loved one something truly unique, these things are it.
In absolutely random order, I give you Crunchy Betty's Better Friday Every Day.
Rowan Mist Herbals – Queen of Hungary Water
If you haven't noticed, the lovely Rowan Mist Herbals has supported Crunchy Betty in the most dearest of ways – by buying advertising over there on the right-hand side of the page. She also sent me a care package full of fabulous handmade skincare items, and I do have a favorite.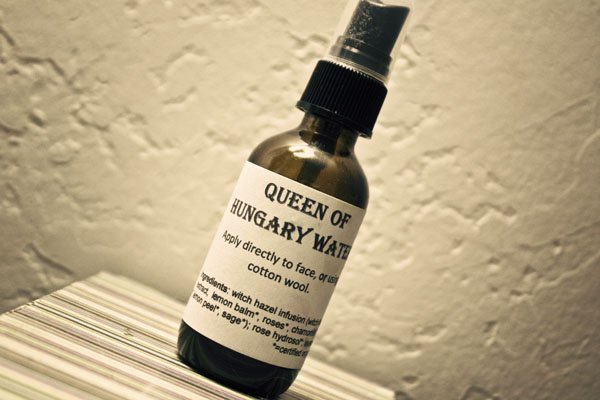 This is the Queen of Hungary Water. It's a decadent blend of herbs, hydrosols, and witch hazel – and quite frankly better than any toner I've made myself. It leaves my skin feeling downy soft and smooth, without being too drying.
If you know someone who enjoys herbal blends and unique facial care items, this is a most excellent gift.
Of note, I've also tried the fennel eye cream and love it to bits. It reduces puffiness and leaves your under-eye area fresh and moisturized. But! My favorite thing about Rowan Mist is that you can fill in all the info about your skin type, and they'll make fresh, customized products that will work – just for you (or someone you love if it's a gift).
Made On – Au Chocolat Lotion Bar
I've mentioned this baby before in the homemade lotion bar post, but it must be revisited. MadeOn (named that, because she writes right on the package the date your product was MADE ON) and the lotion bars of glory.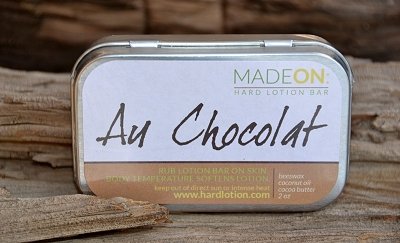 This stuff smells like heaven and feels like silk on your skin. And it lasts for-EVER. I've had mine for three months now, and it finally looks like a teeny, tiny nubbin of cocoa butter goodness.
Stocking stuffer? I think so.
Hip Wiggies – Lip Balm
Speaking of stocking stuffers.
This fantastic little company sent me a few lip balms to try, and they were ultra effective. But, best of all, they're SUCH a cute idea to slip into a kid or teenager's stocking. The packaging is just too quirky and fun.
Check it:

The price is SO right on these, too. Each tube is only $2.50 (with $1 shipping). Yay Hip Wiggies!
Wisely Made – Relax-Me Lavender Shower Gel
So my personal pick happens to be the Relax-Me Lavender Shower Gel, but Wisely Made also sent along the Empress Body Oil and Touch Me There Shea Butter Body Lotion, both of which are SUPERB.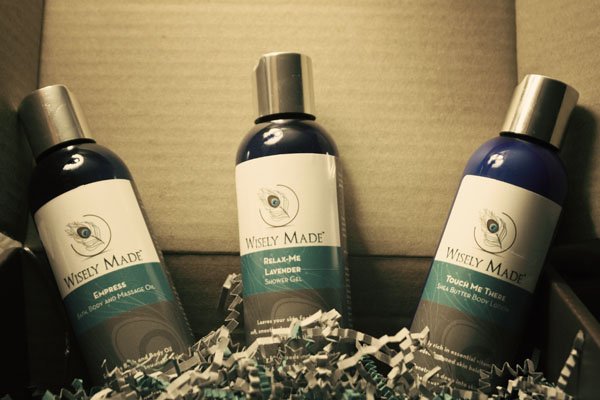 Wisely Made. The prices are a little higher here, but holy moly – if you check out the plethora of ingredients in each product, you'll see why.
Heartsy – Everything In the Whole Wide World
If you haven't heard of Heartsy yet, it's a deal site that's similar to LivingSocial, but with ONLY handmade and vintage items.
Often, you'll be able to pick up a $30 gift certificate for an incredible Etsy seller for $10 or less. Confession – most of the gifts I've given this Christmas have come straight from Heartsy deals.
Check it out. You'll look forward to the emails telling you what deals are happening and coming up, and I'll betcha twenty billion you'll salivate at least once. And then find tons of unique, handmade gifts to give someone else.
On Another Note – Who's Getting the V for Versatile/Crunchy Betty Bracelets?
The competition was steep (in a random drawing, no less), and let me remind you, if you want to buy your own Julia Ross/V for Versatile/Crunchy Betty bracelet, Julia's selling them over at her Etsy shop on a limited basis for $15. All you have to do is send her a quick little message via Etsy and let her know you want one.
HAPPY THANKSGIVING!