Sometimes, being crunchy can be lonely. You need a little love and support (which a few people commented on yesterday, even). A little something to remind you that there are MANY of us in this with you – right along beside you, sharing the occasional awkward conversations that sometimes happen when you reveal your lifestyle choices.
But most of the time (nay, ALL of the time), being crunchy is a reason to celebrate. To show the world just how proud you are to make the healthy choices you do.
And that, my dears, is why this moment is happening.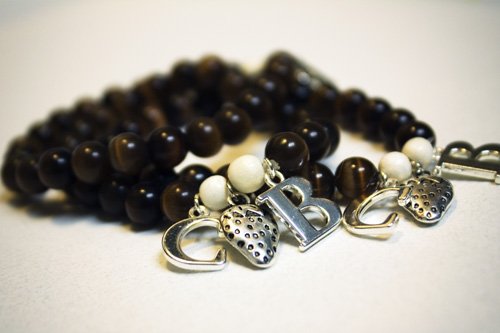 Today, I'm giving away 10 specially designed bracelets JUST for Crunchy Betties. A little symbol of the commitment to living as naturally, consciously, and authentically as you can.
Here's the story.
A couple of months ago, I received a succession of enthusiastic tweets from a newly crunchy girl who owned the most adorable Etsy jewelry shop. We gushed about how enjoyable it is to be crunchy, and especially to spread the word that beauty comes in all forms.
In one fateful moment, I thought, "I would really love to have this sweet, crazy girl design a bracelet just for Crunchy Betty that I can give away." And so … I asked her.
And she said yes.
And the V for Versatile Crunchy Betty bracelet was born. It's made of pretty dark brown glass beads, with two white ones flanking the C, strawberry, and B trinkets. I love it. It's genius, really.
I bought 10 of them from her, to give back to you guys. (But don't fret! If you want one, and you don't receive one, she's agreed to sell a few for $15 at her Etsy shop. Just pop over and send her a message letting her know you want one.)
I wish I would have bought more. I wish I had enough to give to every single person who comments on this blog.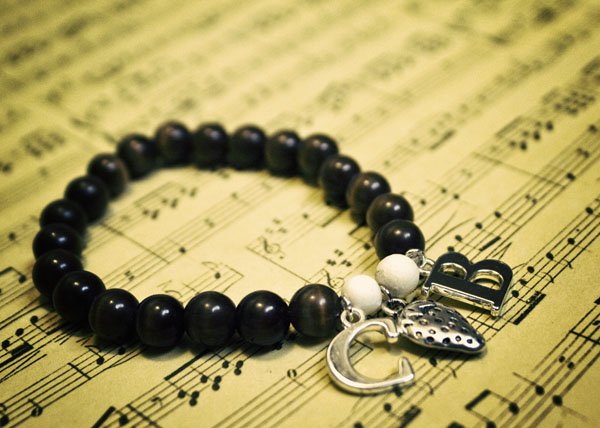 So, again, I have 10 of these that I'm ready to give as my gratitude gift to some of you. Although I FEEL gratitude for all of you. But before I do that, I thought you might want to know a little bit of the back story of the woman behind the Crunchy Betty bracelet.
Meet Julia Ross – V for Versatile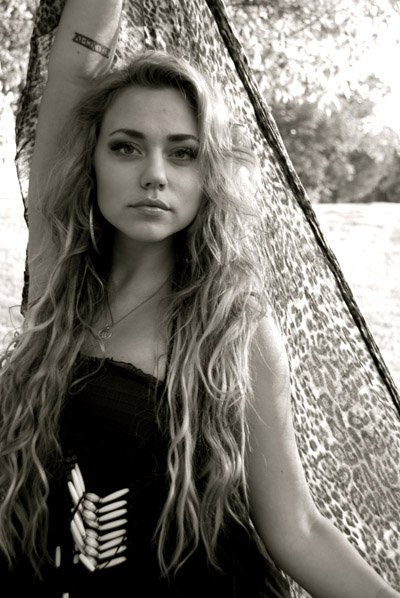 This is Julia Ross.
She is beautiful, isn't she?
Julia's not just beautiful, she's kind and real and authentic. Hands down, the sweetest person anyone could ask to "meet" online. In a weird random Twitter love fest.
But … she's not just all those things either. She's also a talented, accomplished musician. So accomplished, in fact, that she's the lead singer for the spunky-yet-thoughtful band Everlife. AND! As if that isn't enough, her two fabulous band-member sisters were the ones to introduce Julia to the crunchiness we provide around here. Love you ladies!
Here's something else: She recently toured with Miley Cyrus as her backup singer. But most importantly (and let's ALL cheer for a crunchy sister making huge steps): Julia is about to start recording her very first solo album.
Pretty awesome, yeah? And she designed and made this bracelet. I still cannot figure out how on earth she managed to find the time. But she does keep a sweet Etsy shop going, so please, please hop over there and check her out.
So that is Julia. The gorgeous designer of the Crunchy Betty bracelet 10 of you are about to receive.
(I'm not sure words can express how warm ALL of this makes my heart feel. You guys, Julia, giving, adorable bracelets … it's a little bit of heaven.)
Would You Like a Julia Ross/Crunchy Betty Original?
Because I'm just clueless as to how to go about this any other way, we're going to do this old-fashioned-like.
If you'd like one of these bracelets to wear your Crunchy Betty status in pride, just leave a comment down here below and let me know. One comment per person. On Monday, November 21st, at around 10 p.m., I will randomly draw (with the random number generator) 10 people to send one of these bracelets to.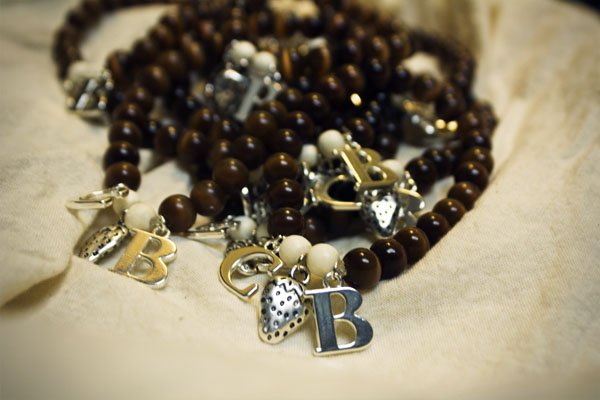 Unfortunately, I'm going to have to keep this within the United States and Canada (because we're talking about a LOT of shipping here). I'm so sorry, you overseas crunchistas.
Along with your comment, if you'd like, give Julia some crazy crunchy love and support. She's got so much ahead of her, and as a member of Crunchy Betty, let's all give her some down home lovin' here.
(Thank you again, Julia, for the beautiful bracelets! YOU rock. In so many different ways.)