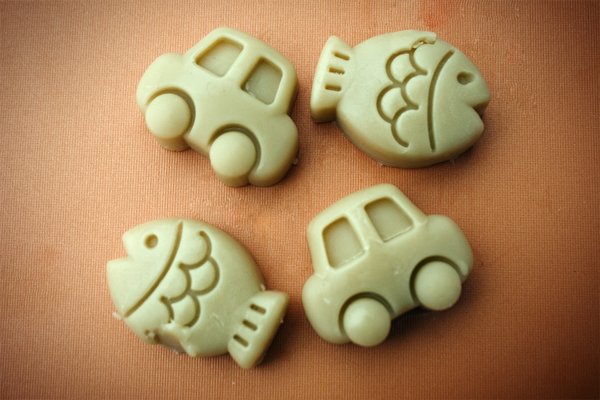 Yes. You heard me. FORTY gift ideas – and not just the best present ideas from Crunchy Betty, but from all over the internet. All spread out over this week.
Last year, as a gift to you, I offered the free printable recipe cards for household and beauty recipes. This year, I offer you an abundance that you can give away (or make for yourself … please don't be shy). We're talking women and children and – yes – even men here.
To start with, we're going to focus on the kids.
I'm your curator of crunchiness this week, so sit back, relax, and start making plans to go UBER natural and full of good old fashioned love this holiday season.
Remember, if you're looking for ingredients to use in any of these gifts, first check your local natural foods store, and then turn to Amazon, Mountain Rose Herbs, iHerb, and Vitacost or another reputable online store like From Nature With Love.
Crunchy Homemade Gifts for Kids
1. Bath Bombs and Cookies
There are SO many variations on this theme, and before I ever started Crunchy Betty, I made my nephews bath cookies for Christmas. It was using a recipe similar to this one, only I "dyed" coarsely ground sea salt with a cocoa powder paste and then smushed them on top so they looked like chocolate chips. They were SO much fun, but be careful – they look an awful lot like real cookies, so don't leave the younger kids alone with them. Nom.
Here are a few more bath bomb/cookie recipes:
Fizzy Bath Bomb Cupcakes (skip the sodium lauryl sulfate)
2. Candy Cane Bath Salts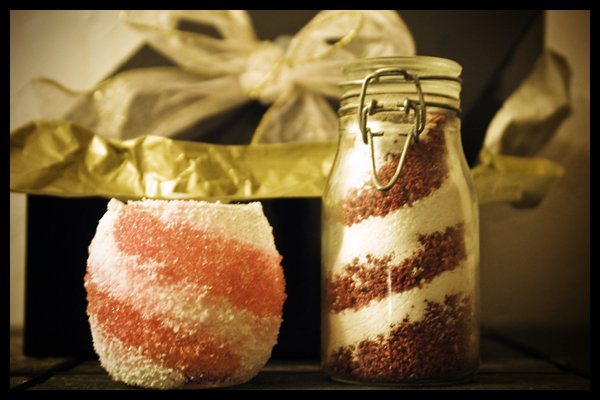 The recipe for these babies are down at the bottom of this post. Again, a gift I've done for my nephews, and they looked extra cute when they poured 'em in the bathtub and then splish-splashed around in the minty goodness.
3. Personalized Room Spray
Now, here me out here. This may not seem terribly exciting, but if you make an aromatherapy room spray for a kid with a certain "problem," it can work wonders. I made some for my son once using rosemary, clary sage, and peppermint – all designed to help him study and retain information (he loved it). And for a child who has issues getting comfortable and sleeping, making a room spray with a calming scent like lavender or sweet orange can help them relax and unwind.
Here's an easy-to-follow direction set on how to make a personalized room spray/air freshener (all you need is an essential oil or two, water, vodka, and a fine-mist sprayer bottle). Decorate that sprayer bottle just for the kiddo, and it makes it extra special.
4. Special Relaxing Massage Oil
One of my favorite childhood memories is of my mother coming in and giving me a "tickle back" before I went to sleep. You can take this to the next level by making your child a special relaxing massage oil to help them unwind and relax. To wit, though, this is definitely a better gift for the 10 and under crowd. Once they start growing up, the idea of their mom or dad rubbing their backs is … ew.
My favorite part about this gift: It helps you show extra love to your kids on a regular basis throughout the year. It'll be one they remember again … and again. Aw.
Wild Roots has a wonderfully light massage oil for babies (and kids!) recipe right here.
5. Easy Peasy Lip Balm
Don't underestimate the power of lip balm as a stocking stuffer gift. It's the perfect time to give it – and by gosh and all, wouldn't it be cute to personalize the lip balm tube or tin just for your kiddo?
I HIGHLY recommend making the Minty Chocolate lip balm for a kid. It smells delicious and , but it's not so sweet that they'll be licking their lips constantly.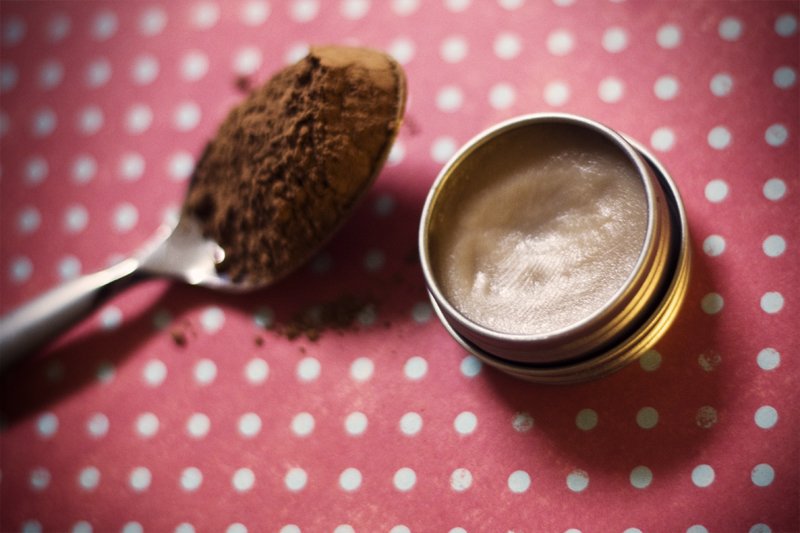 6. Soapsicles
Turning clear, pure glycerine soap into adorable "soapsicles" is just about as easy as it gets. However, instead of using "fragrance" oil (as the instructions state), try using only essential oil. You can get lime and orange essential oils, but other fun scents would be peppermint, lemon, and even grapefruit. Also, if you're going to color them, be sure to use plant-based food coloring.
7. Homemade Hot Chocolate Mix – OR! Hot Chocolate on a Stick
If you take this recipe here (which happens to be my favorite) and fine-tune it with something other than refined sugar – like stevia or sucanat – you'll have a delicious treat for your kiddos that's healthy, too.
Put the dry powder in a cute little jar, top it with homemade corn-syrup-free marshmallows, and it's another perfect and very inexpensive stocking stuffer. Also? You're allowed to snitch some.
But on that note, check out this "hot chocolate on a stick." And then make some. And send them to me. Thank you.
8. Lotion Bars!
Of course, this list wouldn't be complete without the super fun lotion bars we made here a few months ago. The key to making these super fun for kids is to find molds that make them giggle.
Here are links to some extra fun molds I found (including the ones pictured):
9. Homemade Bath Paint (or even Bath Crayons)
What I like best about the bath paint recipe is that you can use a nice, pure castile soap (like Dr. Bronner's Baby) instead of a harsher liquid soap. And if you find yourself some plant-based food coloring, you'll have a wonderfully nontoxic solution to expensive bath paints.
However, if you want to get solid with the situation, try this recipe for handmade bath crayons – though make sure you're melting down a bar of castile or pure glycerine soap to use as the crayons. (Remember when we played "What's In YOUR Soap?")
10. Scented "Rocks"
Yet another gift I've made for my son, these scented rocks are really quirky and enjoyable (but take a LONG time to dry … like three or four days). Here's a basic recipe for them, but I think it would be fun to press in cutouts of fun shapes over the top.
For the record, these rocks do not look like what's pictured in this recipe. And if you live in higher altitudes (like me), they'll have a tendency to crack a bit when they dry.
Are You Making Gifts for Your Kids?
Outside of these unique ideas, have you come up with a homemade gift to give to your kids?
I'd love to hear it – and I'm sure everyone else would, too (for more ideas, yay!).
What's your plan, Stan?