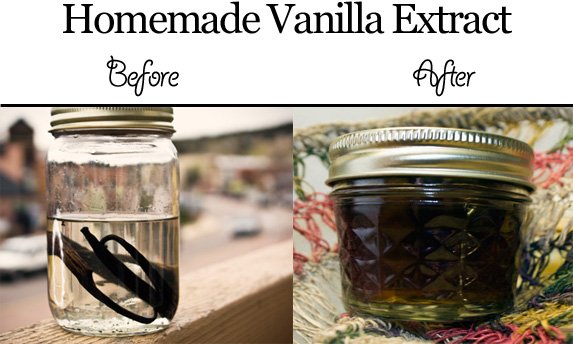 As the finale for the 40 (what's ended up to be much more than 40) homemade crunchy gift ideas, I give you a plethora of ideas for the ladies in your life.
Because this list is huge, I'm keeping my chit chat to a minimum. (You're welcome.)
But, if you've missed the first two lists for the kids and the men, here they are:
And, as mentioned in both posts, if you're looking for ingredients to use in any of these gifts, first check your local natural foods store, and then turn to iHerb (and use the code OZE706 to get $5 off your first order), or another reputable online store like From Nature With Love or even Vitacost (the latter especially for low-priced essential oils).
20+ Homemade Gift Ideas for the Ladies
1. Luxurious Homemade Body Oil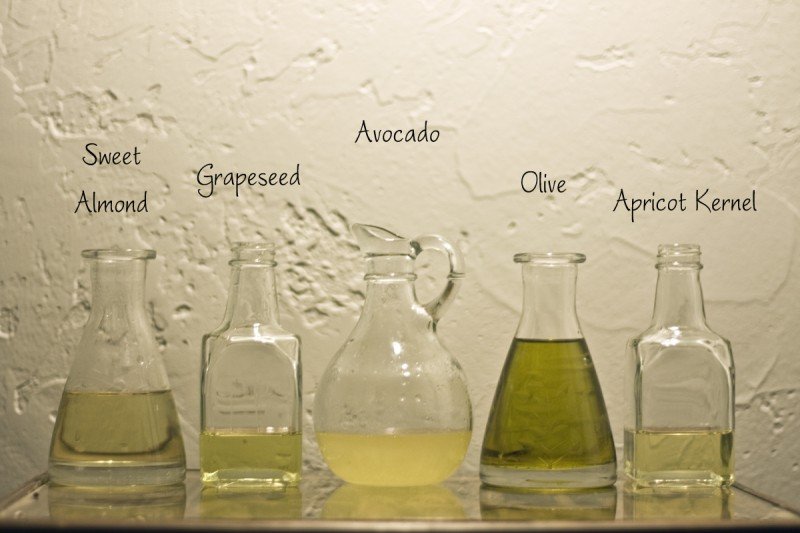 Nothing says luxury and self-pampering quite like a nourishing body oil. Here's a post from Crunchy Betty telling you the steps (and the great ingredients to include) when creating your own. And my favorite way to package these when giving them as a gift is in a decorative glass bottle with a cork stopper (very commonly on sale for VERY little money at Hobby Lobby – like this, only they have a plethora of colors in the store).
But a few more blends/ideas:
2. Nourishing Hot Oil Hair Treatment
This is a fab gift idea if you know a woman who's really into her hair. I do these frequently, and every goshdarned time, I fall in love with my hair just a little bit more.
Here's the recipe I typically use when I make a hot oil hair treatment (although I increased the ingredients so you could give a several-use bottle to your friend or loved one).
Crunchy Betty's Favorite Hot Oil Hair Treatment for Any Hair Type
1/4 c. jojoba oil
1/8 c. wheat germ oil
30 drops rose essential oil
10 drops rosemary essential oil (for brunettes and redheads)
or 10 drops chamomile essential oil (for blondes and grays)
Mix all ingredients in a small bottle and shake well. Should keep for at least a year. To use: In a small glass or bowl, pour 3-5 Tbsp of oil (depending on hair length and thickness). Fill a larger bowl with very hot water. Place the glass/bowl of oil on top of the hot water and allow to heat until nice and warm. Apply to dry hair. Wrap with a hot towel and allow the oils to sit on the hair for 30 minutes to an hour. Wash as usual (you probably won't need to condition).
A few more hot oil hair treatment recipes:
Hot Oil Treatment for Damaged Hair (there are actually quite a few fun recipes here, so poke around)
Herbal Infused Hair Oil (scroll down for lists of great herbs to use)
3. Picture Tiles (SO Inexpensive!)
You guys remember these, right?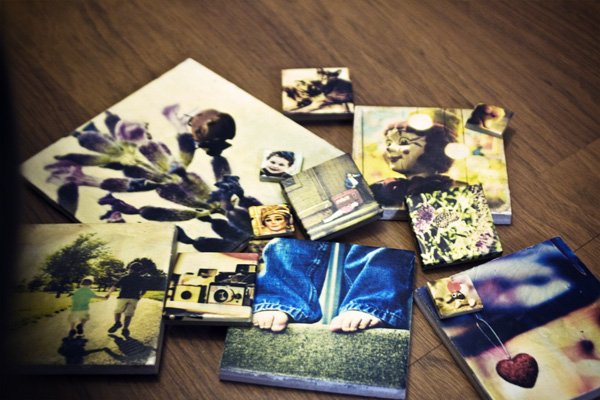 If you know a woman (or a man, even) who'd enjoy some pictures of their kids, or the local sights … or anything really, make them: PICTURE TILES!
Even better, if you take these and use a waterproof spray coating, they can easily turn into a set of coasters. Glue a few dots of thin cork material on the bottom for extra gripping power. But whether you're making picture tiles or coaster, you can expect the cost for each of these to be around 50 to 75 cents. But the thought that goes into them? Priceless.
4. Hand-Blended Herbal Tea
This particular blog post from Straight from the Farm is so overwhelmingly perfect, to-the-point, and full of inspiration for making/packaging herbal tea blends as gifts, I needn't say another word about it.
Just go there. You'll see why.
5. Homemade Vanilla (or Peppermint) Extract
If you have the goods on some extra special vanilla beans (like these that I get at a local spice shop called Savory Spice), make vanilla extract as a holiday gift. It's practical, yet full of luxury and warmth.
There are additional instructions on how to make peppermint extract, but I'd like to take this moment to suggest – instead of using fresh peppermint – you use dried peppermint for this. My peppermint extract didn't last more than a month, and I'm pretty sure it was because I used fresh (read: with high water content) peppermint.
6. Hand-Poured, Aromatherapeutic Candles
Like soap, I've never made my own candles. But, by gosh and all, if someone gave me handmade aromatherapeutic beeswax candles, I would jump for joy (and then probably light one and read a book nonstop for the next two days while it burned).
I've found a few tutorials that I, personally, plan to follow when the time comes. Because soy is so iffy when it comes to genetic modification, which doesn't really matter that much when you're burning candles, but I do so hate the idea of supporting ANY GMO crops, the first two ideas are for beeswax candles only. If you're not turned off by the soy issue, then I've included a couple of options for you, too (this might be a bit less expensive, as well).
Unfortunately, I couldn't find a supplier that offers non-GMO soy wax chips for candle making, but I do know you can buy soy wax in places like Hobby Lobby or on Amazon. 🙁 But beeswax is everywhere!
7. Fragrant Body Powder
This would make an excellent accompaniment gift to go with the body oil idea above, especially if you tie the two together with similar scents.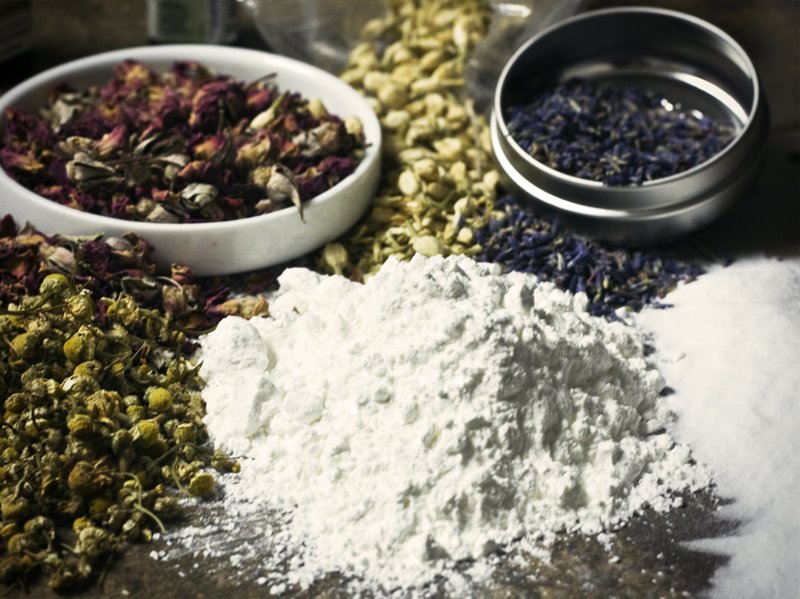 I LOVE to give this as a gift in martini shakers. It makes for a quirky and adorable way to present the gift, but it's also such a useful container – not only to use as an application tool, but also after the recipient has used all her powder. And now she can be James Bond.
How to Make Luxurious Dusting Powder.
8. Oil-Cleansing Method Facial Wash Blend and Gift Basket
If you're a fan of the oil cleansing method, here's the perfect way to share the love with someone you also think would benefit from the oil cleansing method's special cleansing power.
Simply combine a recipe of the oil cleansing method oils along with one or two essential oils that would be great for your friend or loved one's skin, and present it to them in: An oil-cleansing method gift basket – consisting of a bottle of the oil cleansing method oils and two fluffy washcloths. And don't forget to print off detailed instructions for them, too, or they'll have no idea how to use it!
If you want to take it a step further, you could create the Hot Cloth Cleanser that Amanda at Vintage Savoir Faire cooked up a couple of months ago.
9. Handmade Lip Balm
This one isn't just for stocking stuffers for kids – this would be a great little gift for several of your good friends, or in a whole beauty basket for someone extra special.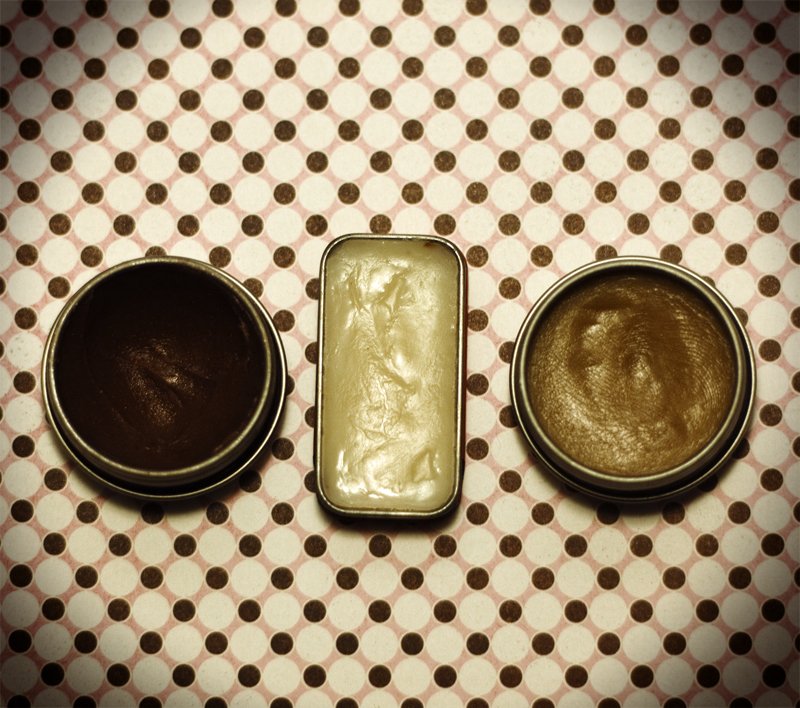 These are my three favorite lip balm recipes at the moment, but there are SO many excellent ones out there, you should check these places, too:
10. Spa Facial Mask Mixture
Talk about easy, simple, and a super thoughtful gift to make for a woman (and this could even go with a man who's wildly into personal care, as well). Make them a dry facial mask mixture, to which they only need to add water, witch hazel, milk, or a fruit juice.
You can make a small jar that'll be good for at least 10 applications and they'll LOVE it.
I recommend the dry mix of the Mocha Frappuccino mask I made here for the first community swap I attended, but here are some other dry mixes you can consider:
11. Sugar or Salt Scrubs – Yum!
Even though sugar and salt scrubs contain something wet, like oil, they still keep for months – making them excellent homemade crunchy gifts to give, especially during the winter months.
This post has a heavenly lavender-vanilla sugar scrub recipe at the bottom, but here are several other ideas:
Sugar Scrub (with jar-decorating tips!) recipe from Maybe Matilda
Sunshine Sugar Smoothing Scrub
Body Scrub Recipe from Martha Stewart (with awesome printable labels)
Mocha Spice Sugar Scrub (um, hello yumminess)
12. Handmade Aromatherapy Perfume
Yes, we JUST covered this here on the blog a few weeks ago, but it must be mentioned.
Especially if you can find an adorable locket with which to put the perfume in. Perfect for the vintage beauty in your life.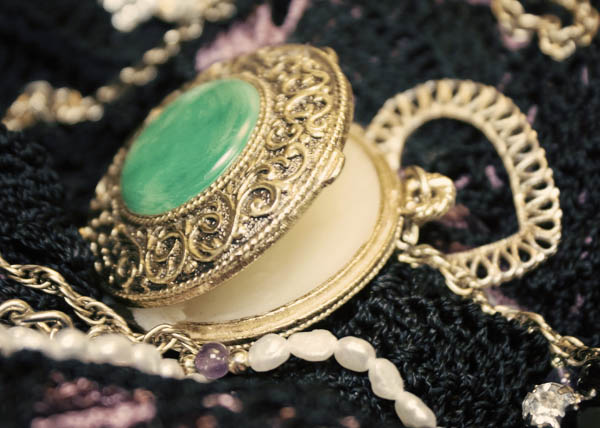 Instead of giving you more perfume ideas (because we covered so many in the post), I've found several suppliers of lockets. So if this idea catches your eye, after you've checked some local antique stores, check out these places:
13. A Homemade, Nontoxic Laundry Supply Kit
It may not sound very romantic, but imagine this: If YOU were the one to receive a laundry kit, you wouldn't have to worry about buying – or making – your own laundry supplies for a couple of months.
Worth it? YES. In fact, I gave one of these to my mother and sister one year, and they both loved it. You can package the detergent in myriad ways, but I picked up a couple of those decorative boxes at Ross (or Marshall's) on the cheap and filled it full of sunshiney homemade laundry detergent.
Here's the recipe on how to make your own laundry detergent (or you could even get soapnuts!) and if you throw in a bottle of "fabric softener" in the form of vinegar and essential oils, she'll be set for a long, long time.
Fantastic blends to use in the laundry detergent and fabric softener: Grapefruit-geranium, lavender-vanilla, peppermint-eucalyptus, or lemon-rose.
14. Infused Honey – For Facial Care or Delicious Eats
Much like the oil cleansing method gift set above, if you infuse honey and give it to a friend, you'll be encouraging her to embrace a new crunchy paradigm – of washing her face with honey – AND you'll be giving her a delicious treat that she can put into her teas.
Here's the post, again, on how to infuse honey with herbs.
I love the rosemary-lavender infusion for oily/troubled skin, but if your friend/family member/loved one has dry skin, I recommend infusing with chamomile and rose petals. (Oh. em. gee. Imagine THAT in tea.)
15. A Pampering Foot Scrub
Encouragement to pamper your feet? Yes, please.
Here are several great ideas for foot pampering (and here's a post from way, way back on taking care of your feet … if you need more ideas, and if you want to use the Moji-Toe recipe as a gift, use dried peppermint instead of fresh):
Lemon-Walnut foot scrub (which is a nice recipe, but a little pricey – you could skip some of the more exotic ingredients, but still use pumice powder, and have a wonderful foot scrub to give)
Orange-Ginger Foot Scrub
16. An "Emergency" Pimple-Busting Kit
THIS would be a most excellent gift idea for the teen in your life (or the close friend/loved one who's not overly sensitive about her occasional breakouts). Actually, if I ever thought about selling my own stuff, this would be the first type of product I'd offer.
Here's the idea: Put together a small kit with a cosmetic clay, lavender essential oil, witch hazel, and neem oil.
(And, of course, a gift of a digital copy of Crunchy Betty's Food on Your Face for Acne and Oily Skin.)
Then, leave them instructions saying something like this: "When you have a monster zit that's got you down, pour a tiny bit of cosmetic clay in your hand along with a drop of lavender essential oil. Wet it slightly with the witch hazel. Apply to the offending pimple and leave on overnight. In the morning, rinse it off and swipe with a cotton round with witch hazel. Then apply a tiny drop of neem oil … and watch that blemish disappear!"
How much do you love it?
17. Lotion Bars – Especially the Nutty Butt Butter
Yay! I've had several people tell me they've made the Nutty Butt Butter, and they are in mad, overwhelming love with them. This is good news.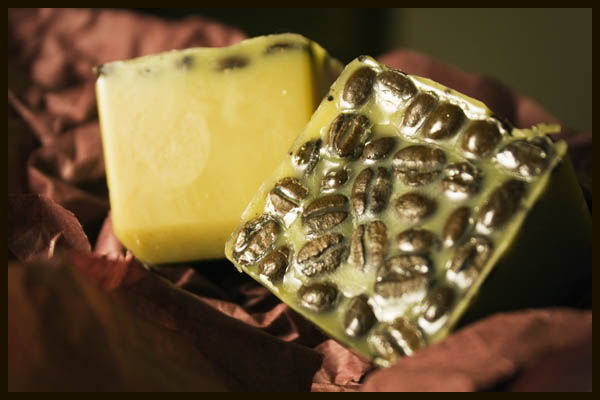 If you're not so keen on making lotion bars for your girlfriends and loved ones that are made especially for getting rid of cellulite and helping tighten stretch marks, I've found several other superb lotion bar recipes you might want to try:
18. Decorative Jar Full of Bath Salts
This one's for the bather in your life. If you know someone who lives to relax in the bathtub, nothing says, "I cherish you" like a big jar full of relaxing bath salts.
These are simple and easy to make, but if you do it right, they'll seem like one of the most decadent things you could give your friend or loved one.
Here's my favorite bath salt recipe:
Relax Your Mind Bath Salts
2 cups epsom salts
1 cup sea salt (Himalayan Pink is the most luxurious)
3-4 Tbsp rose petals
30 drops rose essential oil
20 drops vanilla essential oil
20 drops bergamot essential oil
Mix all ingredients together well and package in an airtight container. Should keep for at least a year (or much more).
And a few other bath salt ideas:
19. Handmade Coconut, Peanut, Almond, or Cashew Butter
All you need to make this incredible stuff is: Coconut, peanuts, almonds or cashews, a food processor, and a little finely ground sea salt.
Here's the coconut butter, for your tantalization: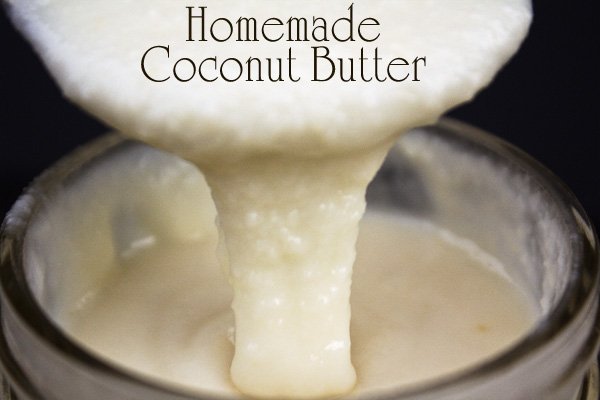 These things keep for months (though you might want to encourage the recipient to keep them in the fridge, just so they "keep" longer) and are SO much more delicious and nutritious than the stuff you buy in the store. Really, for any of them, you just need to follow the instructions for the coconut butter recipe here, but if you want to get crazy with it:
20. Lightly Fragrant Body Spray (Not Just Perfume, But Aromatherapy!)
I gave this to my mother for Mother's Day, and she tells me how much she loves it almost every time I see her. And I see her a. lot.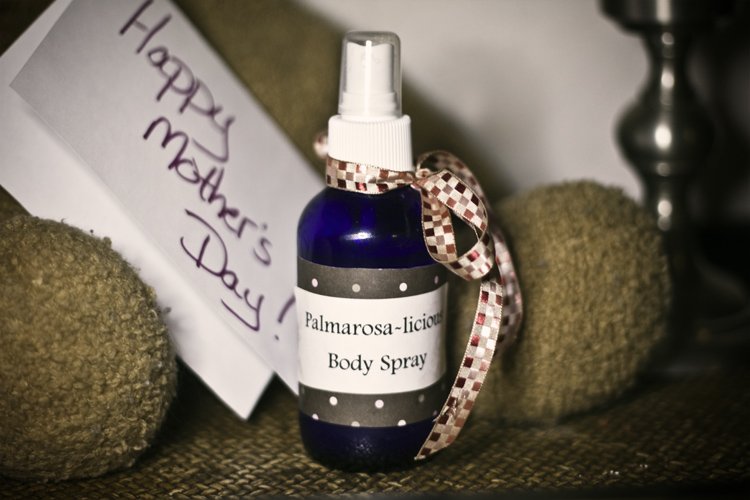 Go here to learn how you can make this.
There are several different fragrance blend recipes, but – bonus – there are also other gift ideas at the bottom of THAT post, too!
20+. Other Notable Homemade Gifts for Women Lists
Just like with the men, I've found SO many great lists of handmade gifts you can give to women – especially if you're crafty (craftier than me) and/or can sew like the dickens.
Here are my favorites:
69 Quirky, Unique, and Semi-Homemade Gifts from Planet Green
Do You Have Any Other Homemade Gift Ideas?
Men, women, or children – do you have any great handmade gift ideas that you're either going to act on, have been enamored with on, say, Pinterest, or otherwise want to share?
I know I must've missed a thousand different crunchy ideas.
BUT! If you've been inspired by one of them and plan to make it – OR if you've already made your gifts using a Crunchy Betty recipe (or other), let's chat about it now.
Happy holidays! Yay!