Sunday, I hit the crunchy motherload.
For the first time ever, I attended a community swap. And it was glorious.
Some of you may have a swap near you, by the way, so please check this website (scroll down a bit) and see. If not, I highly, highly encourage you to set up your own.
The one hear was run by the lovely Pike's Peak Community Cupboard, and it was community/crunchiness/friendliness all wrapped up into one 2-hour block of chewy caramel goodness.
I don't want to spend a lot of time this post talking about swaps in general, because I have plans to do several more posts on this in the future. It affected me that much.
However, here's a might tiny overview.
What's a Community Swap?
A community swap is where a whole bunch of resourceful, community-minded people come together once in a while and swap goods. Not just any goods. Oh no.
We're not talking things like unused bags of socks or Scrabble boards with the letter F missing or vintage Elvis records.
These goods are handmade: Grown from the soil lovingly tilled, goats graciously raised, and foods joyously prepared. They are true. And real. And full of personality and heart.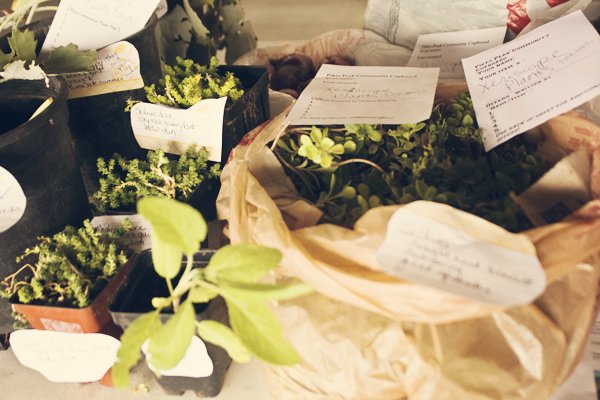 Money is forbidden to change hands at these swaps. You simply barter with the goods you've brought. There are so many amazing things to go around, no one leaves empty handed, and no one leaves brokenhearted.
You meet people. You laugh. And you learn more about the community and the individuals that make up a thriving, self-sufficient enclave you'd never even dreamed of.
It's really magical.
And we'll talk more about it again some day, because with all my heart, I want to create one in my little town … so you'll be coming with me on that journey. Yay!
Right now, let me show you how it went.
Crunchy Betty Does Community Swap
Since this was my first swap, I didn't want to get all whirling dervish crazy (as happens occasionally … ahem). So I only made a few things: A dry version of the mocha-frappuccio mask that I love so much, a super luxurious nightly facial oil, and a jar full of zingy homemade ginger coconut milk with homemade vanilla extract and local honey.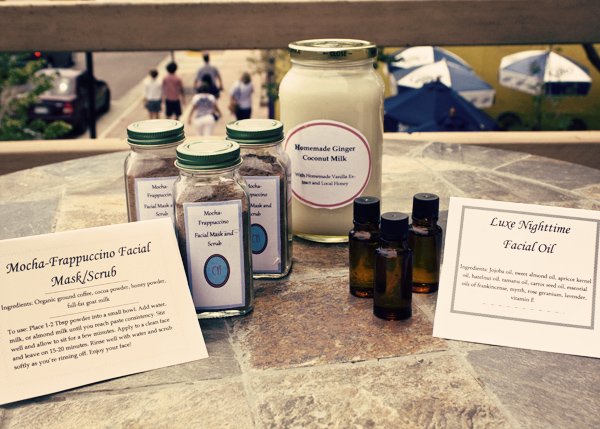 And when I returned home from the swap, I had things like this: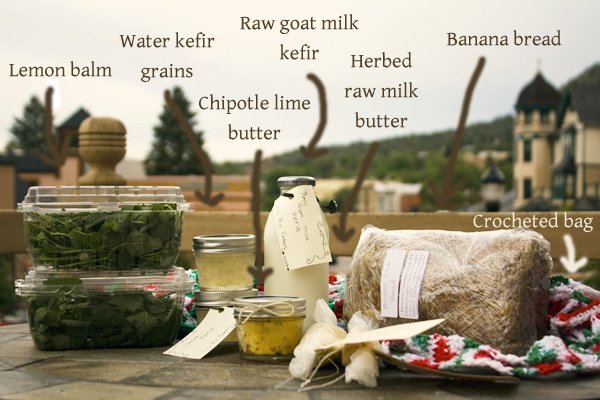 Pretty doggoned amazing, right? I mean, RIGHT?
(PS – KEFIR! I have kefir grains now. Don't you get a medal or something the first time you obtain kefir? Isn't there a secret club where we do a handshake of real foodiness? Maybe smear some raw milk butter on each other and dance around in cloaks made of bean skins or something? I'm in the club now, right?)
Cloaks of bean skins.
Lest you think this is just far more work than going to the store and getting something you want, let me tell you something.
The swap moment, when we all were given the green light to run around and make the swaps with the people and goods we chose? It was like Christmas. I was giddy. Silly. Exhilarated.
(My friend Ryan may or may not have threatened to sit me in the corner if I couldn't calm down.)
And having these things – these things that were made with joy by people I just met and will meet again – in my home, they mean so much more to me than "things" and "food." They're nourishment, both for my tummy and for my soul. Every time I open the fridge.
Want Some Mocha-Frap Mask and Facial Oil?
When I was getting ready for this, I had planned to make three of each item. Well, I overestimated BOTH times and I have leftover mocha-frappuccino dry mask and facial oil.
And I thought, "I want to swap with my Crunchy Betty friends!"
So I tried to figure out a way that we could all swap and have it not be crazy, confusing, and full of shipping costs for everyone, and there I got stuck.
So we're not going to do a real swap (however, if you guys want to use the Crunchy Community to swap things, be my ever lovin' guest. It's all yours.)
Instead, I'm going to give a little bottle of facial oil and dry mocha-frappuccino mask to one of you. How can you be the one?
Leave a comment telling me what you would swap me for these things. It doesn't have to be a real thing. It can be totally made up and pretend and funny and extravagant.
I'll pick my favorite thing that I'd pretend like to swap with on Friday some time around noon and let the person know (and I'll post ALL my favorites in the Crunchy Community). There are no restrictions on entry (you can be from anywhere in the world), except that you need to be 18 or older. HOWEVER, crunchy teens, please participate if you want! Just let me know that you're under the age of 18 in the comment.
In the meantime …
Here's the recipe for both (though the facial oil is a total estimate, because I didn't measure while making it).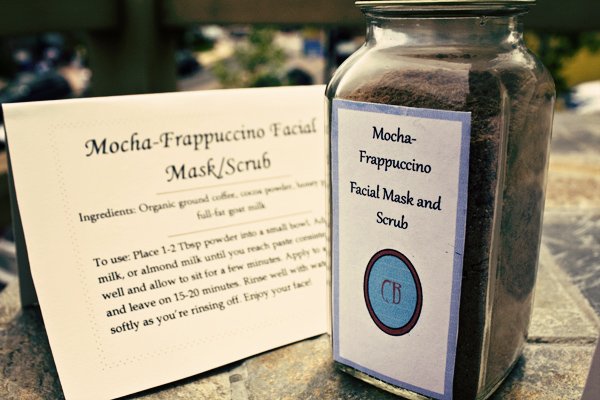 Mocha-Frappuccino Mask (Dry Version)
4 Tbsp organic ground coffee
3 Tbsp cocoa powder
1 Tbsp honey powder
1 Tbsp full-fat powdered organic goat's milk
Combine everything in a small container and shake well. When you're ready to apply it, hydrate 1-2 Tbsp of the mask with water, milk (almond or coconut) and allow it to form a paste. Apply to a clean face and leave on 15-20 minutes. Rinse with warm water, scrubbing lightly as you remove it. This mask is GREAT for: Firming, slimming, toning, exfoliating, and softening. (WONDERFUL to use right before you're about to have your picture taken.)
Luxe Nightly Facial Oil
Mix together in a small bottle. Use nightly right after cleansing.
Now what in the world do you want to pretend swap with me for this awesome stuff?
Ready? SWAP!