Aristotle postulated that the essence of life is to serve others and do good.
The Dalai Lama told us the purpose of life is to be happy.
Douglas Adams said the answer to life, the universe, and everything is 42.
I'm going to have to call shenanignas on all of it, because I have discovered the meaning, purpose, and answer to life. Today.
It is homemade coconut milk.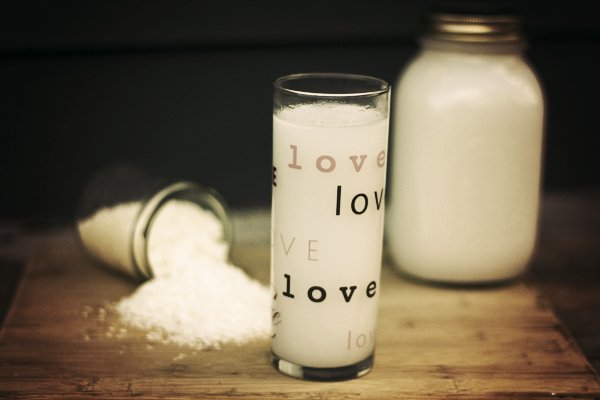 WAIT! Even if you've decided you hate coconut milk (for whatever ungodly reason), you're going to want to remember this post. This recipe. Because drinking it, eating it, and cooking with it isn't all you can do. In fact, tomorrow I have a super secret special surprise about what you CAN do with it that doesn't involve tasting it in any way. (Want to know what that is? Make shampoo with coconut milk and castille soap! Here are the instructions. Enjoy!)
So just chillax (that's right, I said it) and learn how to make homemade coconut milk in something like 5 minutes or less.
(Also, I'm sorry you don't like to drink the purpose of life.)
How to Make Homemade Coconut Milk
First, I have to say thanks to Pinterest for eventually taking me to several recipe sites that told me how to make my own coconut milk. Which I have now done a total of four times (in less than a week … that's how obsessed I am.)
Now, when I said it takes 5 minutes or less, I really meant it. It tastes better than the coconut milk I buy every week at the store, too.
You want to know how to do this, don't you?
Here's what you need: 1/2 c. coconut milk, 4 cups of really hot water, a blender/food processor, and something to store your coconut milk in. So, technically what you need is: Shredded, unsweetened, dried coconut. (Organic is best, so you're not getting any sulfites in it.) The other stuff is cake.
1. Measure Out 1/2 C. Shredded Coconut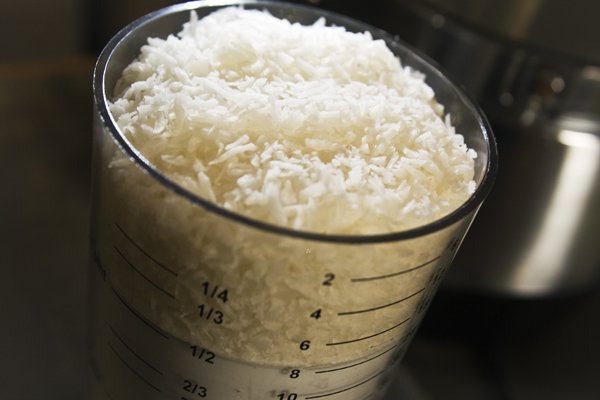 This is easy so far, right?
You don't have to be exact on the shredded coconut measurement for your homemade coconut milk. This is not an exact science, and it's kind of the opposite of baking.
Next, you want to …
2. Place Your Shredded Coconut in Your Blender and Add 1 c. Water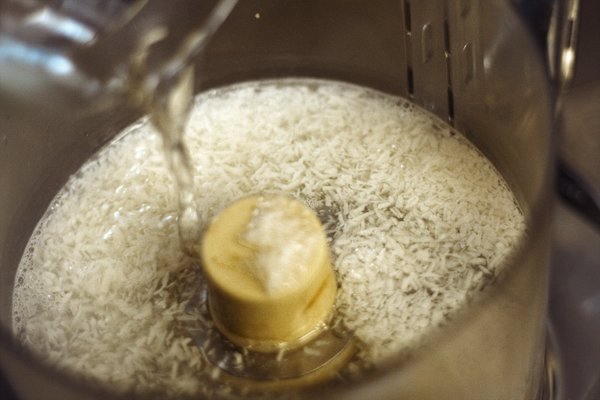 Again, the water should be very hot. Some of the recipes I read said to use boiling water, some said not to use boiling water. So use your discretion on whichever you choose. Me, I use water that was boiled and then cooled for a minute.
Blender or food processor, whatever. Just pour the water over the coconut and pop the lid on.
3. Take 10 Seconds to Pulse Your Mixture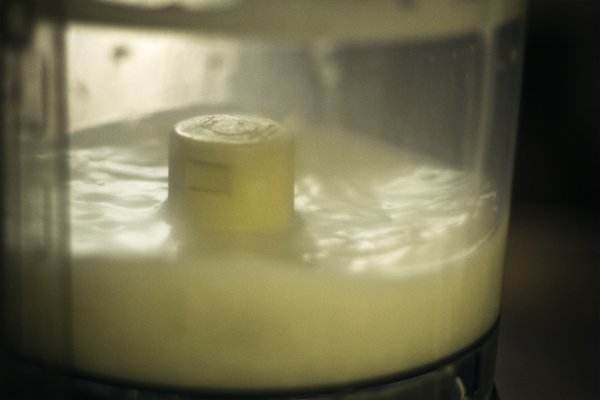 You don't want to run your blender or food processor on high. And you do NOT want to run it on high and then walk away. What you'll be left with, after about a minute, is a pulpy, gloppy mess.
Instead, what you want to do is pulse the coconut and water for about 30 seconds (or 20-ish times).
Then, I let it sit for about another minute and pulse it 5 or 6 more times. I do this because I think I'm letting it steep and making stronger coconut milk, but I may just be kidding myself.
When you're done pulsing, this is what you do:
3. Carefully Strain the "Milk" From the Shredded Coconut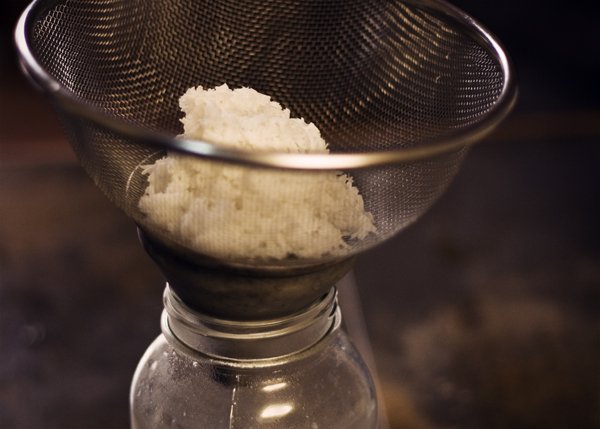 As you strain, be sure to press down on the coconut shreds to push out all the good stuff.
Here's where I differ from what all the other recipes said to do. They said to use cheesecloth. I laugh in the face of authority, so I use a fine mesh sieve.
And it gives you something I think the others don't get: A nice, thick chunk of coconut oil that rises to the top when you chill it.
If you strain through a cheesecloth (which you're more than welcome to do if you want), the fabric will catch the oils, so your coconut milk won't have nearly as many in it. I'll show you what the layer of solid coconut oil looks like in a minute, though, because you need to know the last step.
4. Repeat Steps 1-3 Three More Times, Reusing the Shredded Coconut
That's really all there is to it. You don't have to use 4 cups of water. You can stop at 3 if you only want 3 cups of coconut milk. Whatever floats your boat. I do feel like, after the fourth run through, the coconut is pretty sapped of all its goodness and you end up with a more watery product.
Here are a few more things to remember:
Keep a lid on your coconut milk, and store it in the fridge. It's good for up to 5 or so days, if kept tightly covered and refrigerated.
If you want to reuse the leftover shreds (after you've "milked" them), you can do what Tropical Traditions suggests and make macaroons but, of course, I think you should blend it up a little more with some plain, full-fat yogurt and honey and put it on your face. Bonus – you can eat that, too. YUM.
The coconut milk, all by itself, is super yummy and light, if you ask me. But you can dress it up a little, too, for an extra delicious drink. (Which I'll tell you more about in a minute.)
The Coconut Oil at the Top
So, as I mentioned, if you don't use a cheesecloth, you end up with a good bit of oil at the top of your milk (after you've refrigerated it for a while).
This is what it looks like: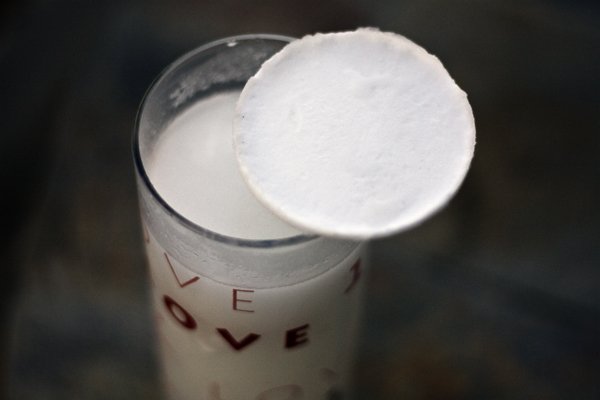 I bet there's a hundred-billion things you could do with that – things that are very, very yummy. Me? I put it on my legs. And they are baby-bottom soft now (except I need to shave).
The texture doesn't seem to be quite like that of store-bought coconut oil, so I'm not sure it's as effective as pure coconut oil. But one of these days, I'm going to get brave and try it as deodorant, anyway.
How to Drink Your Coconut Milk
I drink mine straight most of the time. I also put it on my cereal.
There are probably a hundred different things you could add to it, though, to make it swoon-worthy.
Here are the two things I've done: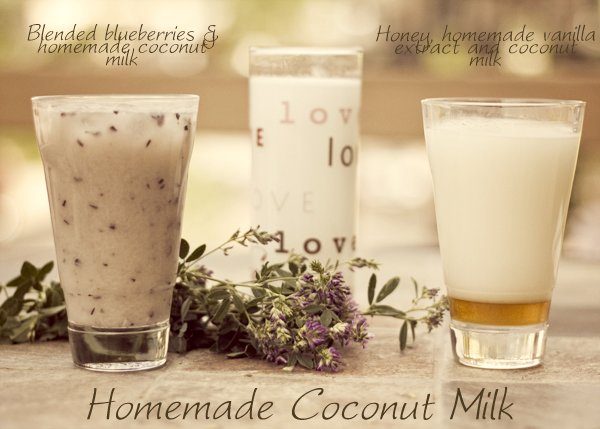 Add blueberries and blend: Just add a small handful of blueberries to 1 or 2 cups of homemade coconut milk and blend well. Deeelicious. For an added sweet treat, sprinkle in a touch of stevia leaf.
Honey and vanilla extract: This is … this is heaven in your mouth. Like a thousand small, rich, creamy angel ballerinas are pirouetting on your tongue. In it, I used 1 c. homemade coconut milk, 1/4 tsp homemade vanilla extract, and 1 tsp honey. If you like nutmeg, this would be the perfect thing to sprinkle a little bit on, too.
Tomorrow is Going to Be Fun
Tomorrow, I'll show you exactly WHY I got off my butt and made my own homemade coconut milk to begin with. You are going to love this.
Hint: Get your hair ready.
—
So, as a newly affirmed homemade coconut milk addict, I want to drink it all the time with lots of other stuff in it, with it, and around it.
What else do you guys think would be good in coconut milk, to make it fruitier or velvetier, or … what sounds delicious to you?