Forgive me, internet, for I have sinned.
Today I was going to talk about the merits of making your own dishwasher detergent. Instead, I did that. That up there. That stuff that looks like homemade coconut butter.
And it was pure, unadulterated, sinful bliss. So, dear internet, yea though I don't walk through the valley of dish racks, I believe you'll forgive me when I tell you how easy it was.
In fact, it's hard to even call this a coconut butter recipe, when it has one ingredient: Coconut.
3-Steps to the Coconut Butter Recipe of Your Dreams
Remember how easy homemade coconut milk was? Remember that? This is even easier.
First, you need dried, shredded (unbleached, unsweetened) coconut.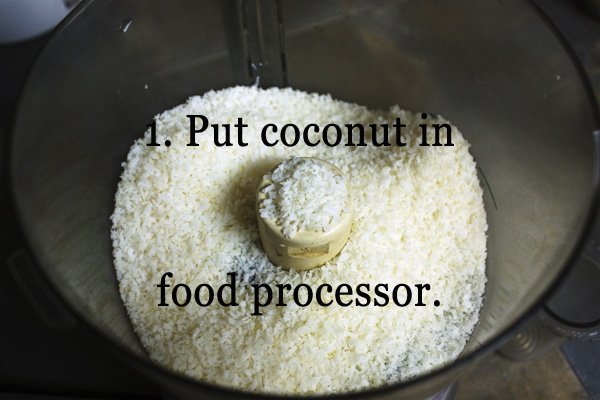 And then you put however much of it you want into your food processor.
Of note: Three-ish cups of shredded coconut yielded a little more than a cup of coconut butter for me.
Then, you turn the food processor on.
And leave it on.
And on.
(For about 15 minutes.)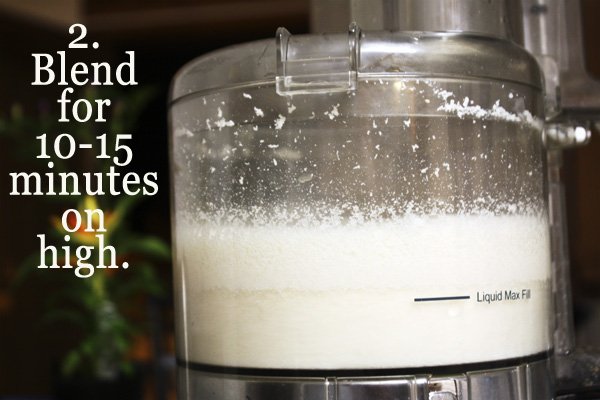 You can scrape it down if you want to/need to every so often (I did). Or not, if your food processor, or blender, seems to be doing a fair job of not letting it creep up the sides. It can be tricky like that.
So, anyway.
You've let it go. And first it becomes kinda this dry mush. Then, it liquifies.
Once it's started liquifying, you can turn it off if you want "chunky" coconut butter (more like grate-y). That's what my first batch was. It was good and a little chewy.
Or, you can let it go until it's smooth as silk.
And then: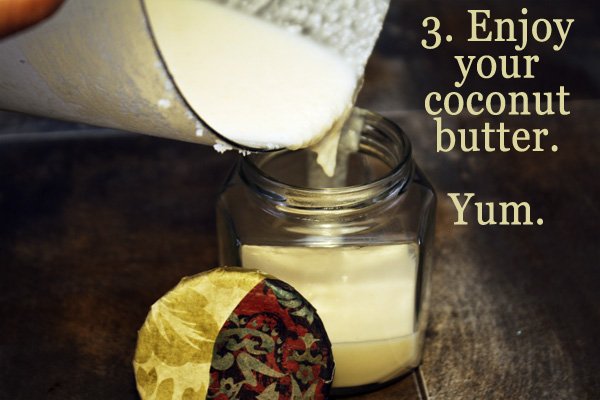 You are done.
And I challenge you to not eat spoonfuls of it immediately. It is so delicious. It. is. so. delicious. I can't even begin to put words to it.
It's thick and creamy and rich and a little sweet and nutty and better than peanutbutterohmygosh.
The word is, there's no refrigeration necessary (though I'd keep an eye on it after a couple of weeks, just in case). It does solidify pretty quickly in cold temperatures, though my first jar "softened up" in about two minutes when I sunk the jar into some hot water.
What Should You Do With Your Homemade Coconut Butter?
You should eat it.
By the spoonful.
If that sounds a little too decadent, here are some other ideas: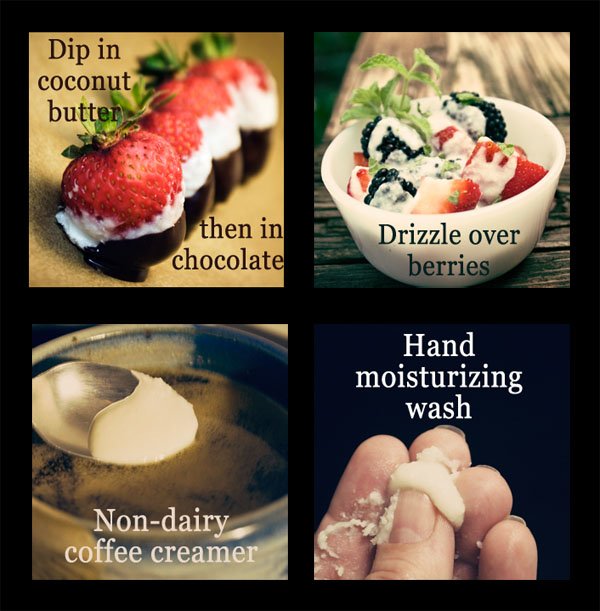 Not good enough for you?
Here's more!
Mix coconut butter together with cashew butter and chocolate.
Add a spoonful or two to your smoothies for an extra healthy kick.
Mix it together with yogurt for breakfast.
Put coconut butter on a slice of bread with honey and make a sandwich.
Slather it in your hair before you shampoo and leave it in for 5-10 minutes for a super luxurious pre-shampoo conditioner.
Mix a little water and coconut butter together and satay your Thai dish in it.
Blend it together with some cocoa powder and then add it to warm milk for an ultra-rich coconut hot chocolate.
Every once in a while, something comes along that makes me a little sad.
Sad to have not known it before this day. Sad to think of all the years past without it there.
This coconut butter recipe is one of those things.
But now it's here.
And my life is whole.
Your coconut and your butter; it comforts me.