That's it. I'm done. There are no more things on my bucket list.
HOMEMADE BUTTER? CHECK!
It was everything I dreamed it would be. And more. Creamy, delicious more.
Okay, the truth is, I don't have a bucket list. Or, rather, I have a retroactive bucket list. When I do something that blows my mind, I whip out a piece of paper, write it down, and then cross it off and say, "ONE MORE THING DONE ON MY BUCKET LIST!"
It's better this way. There's no guilt. I have enough lists hanging around my house, unchecked-off, to last me a lifetime. Thankyouverymuch, inspirational movies.
So back to butter. (It always comes back to butter, doesn't it?)
Holy swollen udders, people. You know how I often say, "This is the most amazing thing you could ever do in your very own home?" (I might not have ever said those exact words, but it's always implied.) Well, this is at the top of THAT particular list. In fact, I've had confirmation from several butter-making people who agree.
No matter what – no matter what I tell you right now – you will, I promise you, dance around in your socks and jammies when you start spinning some cream and butter appears. You feel like … Eve. Yes, that's right. Making butter leaves you feeling like the first woman who ever existed on the face of the earth. That is how empowering it is.
Homemade Butter: Raw or Not-So-Raw
I somehow managed to get my hands on cream-top raw milk while I was in Kansas City (thank you, sister), and that's been my personal rule for the last three years. I would NOT learn how to make homemade butter unless I had raw cream to do it with. I have to admit, it was a harsh and restrictive rule. And if I don't have access again, for years, to raw cream, I'll still make butter from now on.
Probably not exclusively. But I will be doing this again. And again. And again.
So when you make butter, the only thing you really need is cream. That, my friends, is ALL YOU NEED. But it can't just be any cream.
Do not buy ultra-pasteurized cream. It will not work, because the butter and the buttermilk will not separate properly. You need as lightly pasteurized cream as you can find (Organic Valley makes incredible heavy cream that's not ultra pasteurized.) Or, of course, you can use raw cream straight from the moo cow. This is the most sinfully rich butter you could dream of. I kid you not.
So, now that you know that you don't have to go running out into farms in search of raw milk dealers (and I know some of you can't even legally get raw milk in your states, which makes me feel very sad), just remember: Not ultra pasteurized heavy cream. Organic is best. Go get some.
How to Make Homemade Butter – It's So Easy, You'll Weep With Joy
For those of you who are in a rush, let me give you the Cliffs Notes:
Buy heavy cream.
Make whipped cream.
Keep whipping for 3-5 more minutes.
Butter.
Now, for those of you who are in it for the long haul, here's what you need: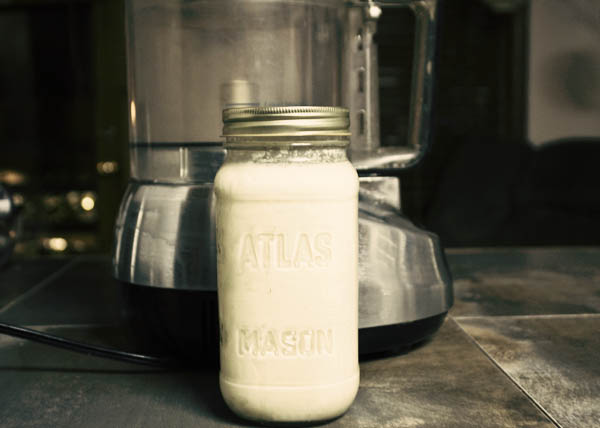 Cream. And something to whip it in. (If I can make it through this whole post without quoting Devo, we're in good shape.)
To make the butter, you can use any one of these things:
A food processor with either a plastic or whipper attachment, or just the standard food processor blade.
A blender.
A mixer – of any variety.
A jar with a marble or two in it.
As you can see, butter doesn't care how you make it. It just cares that you do make it.
Pour your cream into your desired container.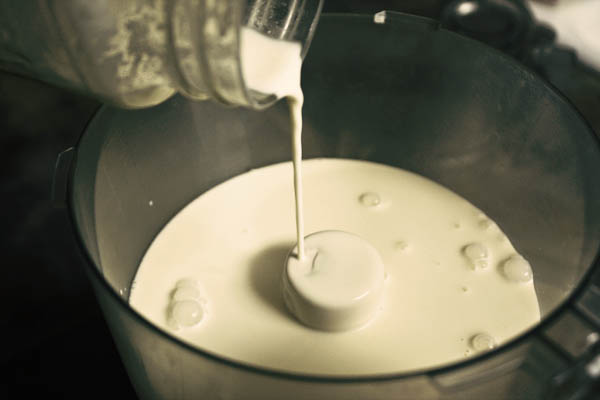 I used about 16 oz of cream and ended up with 1 full cup of butter. That appears (upon reading other tutorials) to be spot on of what you can expect your yield to be. Now, with that in mind, it's probably not quite as cost-effective to make your own butter, but you DO get buttermilk out of the deal, too. So … remember that.
After you've got your cream in your desired whipping apparatus, turn it on. (If you're using the marbles in a jar method, you start shaking … and this takes longer.)
This is what my butter looked like after 3 minutes. Just like frothy milk. I was pretty sure I was doing something wrong, so I started to cry and turned the food processor back on.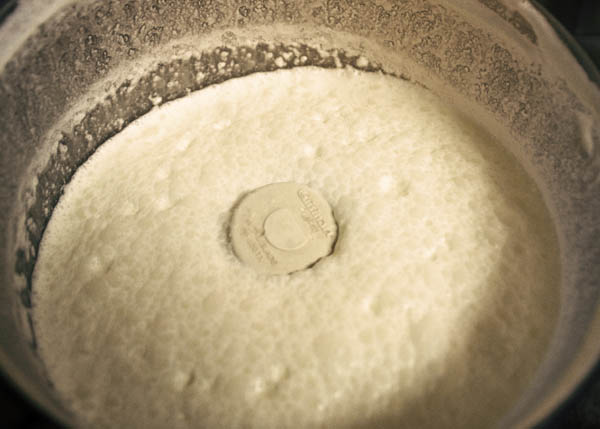 And this what it looked like after 5.5 minutes. Just like whipped cream. I figured, even if I was messing something up, at least I had whipped cream to show for it. But I turned the food processor on again: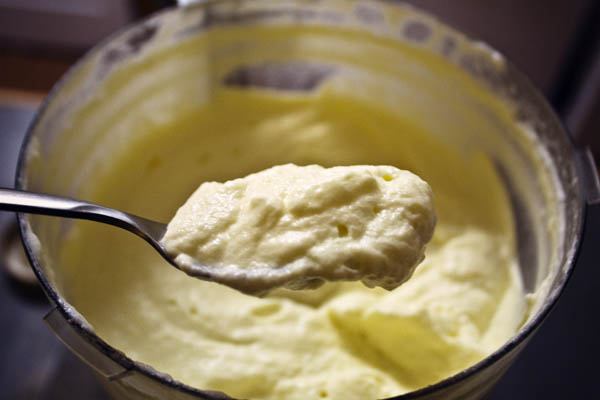 About 1 minute after this stage, I started hearing weird ka-chunk, ka-chunk sounds coming from my food processor. So I figured I probably had whipped cream and a broken processor at this point.
With bated breath, I opened the lid, and lo' and behold … THIS was making the ka-chunk sound: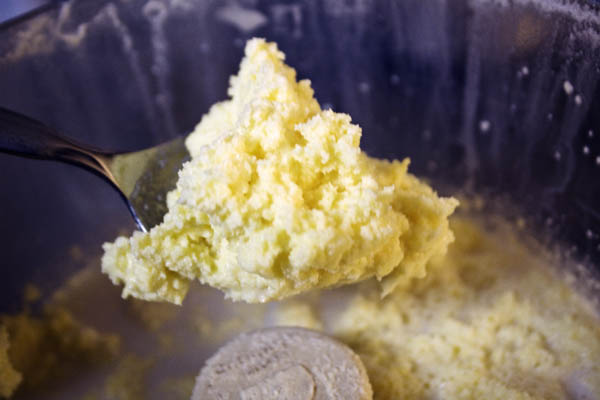 And that, my friends, is what you call butter. Technically, it's done. DONE.
But! You still need to do a couple more simple things at this point.
After you reach the butter stage, you need to drain the buttermilk from the butter. (And, from what I learned, once you reach the butter stage, you can stop. Letting it whip any longer won't bring you more butter.
Save this buttermilk and make biscuits or pancakes or scones (OR! There are even cultures you can by – from Cultures for Health – where you can turn your buttermilk, and butter, into extra tasty cultured treats.) I immediately made the yummiest whole grain buttermilk biscuits after finishing with my butter, upon which I put … homemade butter. Go figure.
To drain the buttermilk, just press the butter against the side of your container – effectively trapping it in – and just pour the buttermilk into a new container.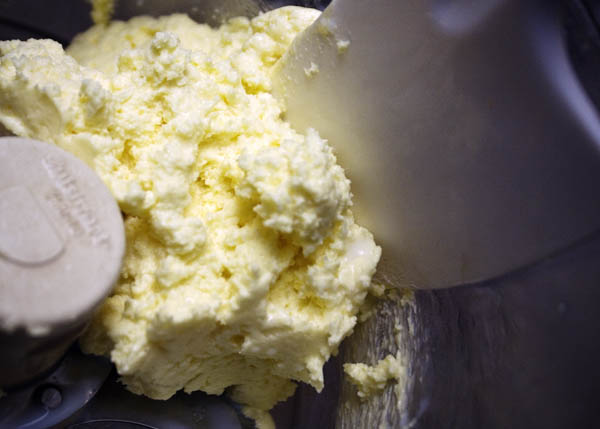 Now, you want to "rinse" your butter – getting off all the buttermilk. This step isn't necessary, but it will allow you to keep your butter for a much longer amount of time (a week or two as opposed to a day or two).
Fill a large bowl halfway with cold water and drop in a handful of ice cubes. You want this water to be as cold as your fingers can stand. Very, very cold.
Now place your butter in that bowl and knead it around, squishing out all of the remaining buttermilk. Your water will turn cloudy.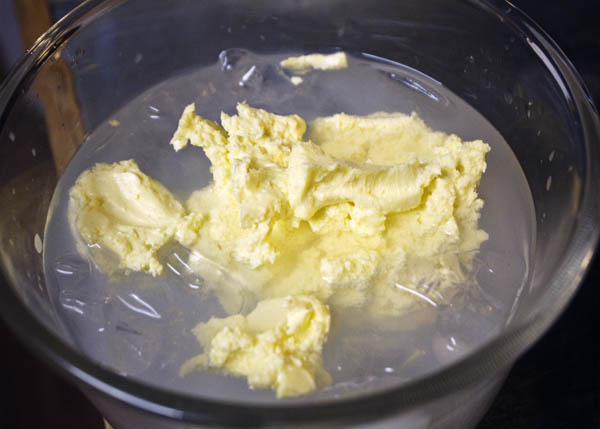 Repeat this step one or two more times (or until the water stays clear).
At this point, you can mush your butter together into a big ball or block – or add your desired herbs or flavorings and stir it all in together. (Here are some really yummy-sounding herbed, nut, and flavored butter recipes to get your taste buds firing.)
Of note, several of the tutorials I read said that if you want salted butter, you should add the salt as you're whipping it (whip it good …). It seemed to me that as soon as I started rinsing off my butter, the saltiness completely left it. Maybe it was just me.
But next time I do it, I'll add my touch of sea salt at the end, after I've rinsed the butter off in the water.
So here's my not-so-salted, completely-finished butter: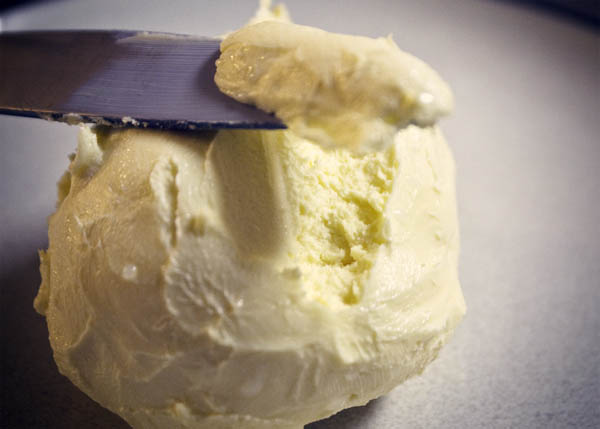 And what should you do next?
Make whole grain buttermilk biscuits with homemade butter on top: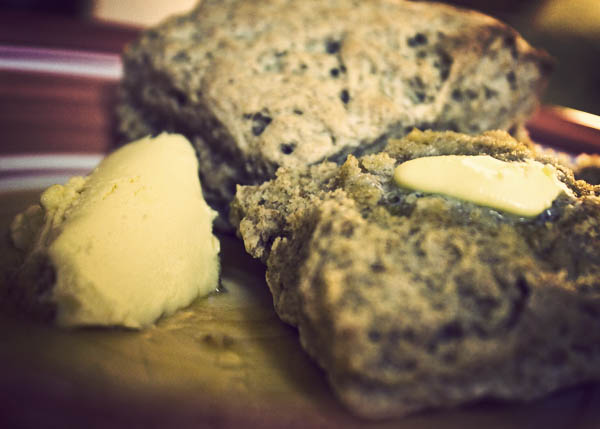 Have You Ever Made Butter?
If so, tell the rest of 'em how fun it is. Seriously.
And if you haven't … how many days until you try?