Life is what happens when you're busy making other plans.
I think you'll agree that quote is, perhaps, the most eye-crossingly, nose-whistlingly boring saying ever.
And … also … so annoyingly true.
Despite my kajillion ideas of things to do in Kansas City with my nephews, not a single thing has been seen through to completion yet. Until today, when my youngest nephew, Sully, decided it was time to get ill. And not Beastie Boys style.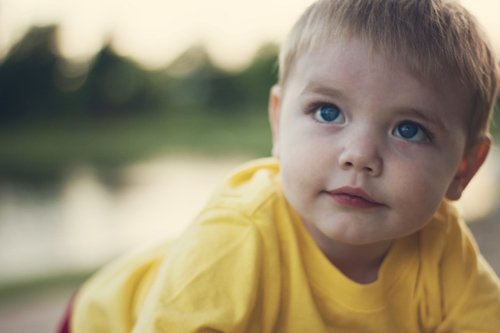 He woke up this morning with a bit of a cough and a runny nose.
By 6:30 this evening, my mother and I were crouched over his sad little sniffly body, plotting how we'd get him to keep his feet in garlic water while dripping hydrogen peroxide in his ears while pouring Umcka down his sad mouth. All before my sister could come home and stop us before we made his feet stinky and his ears bubble.
(My mother is VERY serious about her HUG cure.)
While we never really got around to garlic dipping or hydrogen peroxide curing, I did find a moment to make Sullivan some homemade vapor rub.
Here's how.
Homemade Vapor Rub Recipe
The first time I ever made homemade vapor rub, it was a bit of a disaster with menthol crystals. Menthol crystals are very, very, very potent. They will make you cry for a week, if you're not careful with them.
This time, I decided to go a gentler route and utilize a few essential oils that are perfect for relieving congestion.
Hands down, eucalyptus and peppermint mixed together and used on a small square of cloth or as a steam to inhale is the quickest way I know to clear out a stuffy nose.
Rosemary is antibacterial and antiviral, and it's well known as a great essential oil for respiratory and sinus health.
The way we create the "Vaporub" consistency is with beeswax and extra-virgin olive oil (EVOO).
I've seen about 10 different versions of this recipe, and not a single one agreed with the other on measurements of everything. (With one calling for 2 entire cups of olive oil … enough to keep your family in vapor rub until the kids are in the retirement home.)
So I just whipped one up on my own, using measurments that seemed like plenty enough to give my sister and her family homemade vapor rub for at least the rest of the year.
You can double or triple it if you think your family will need more.
First, in a double boiler or in a glass bowl sitting in hot water, melt 2 tsp beeswax with 1/4 c. olive oil. Stir well until the wax is completely melted together with the EVOO.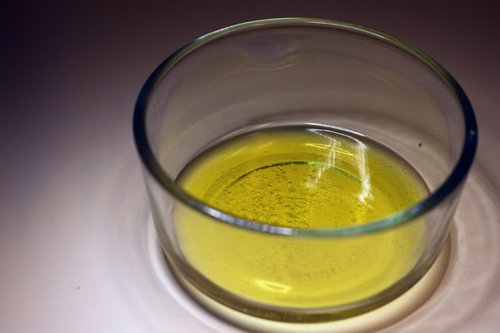 Then, whisk in 25-35 drops of peppermint essential oil, 15 drops eucalyptus essential oil, and 10-15 drops of rosemary essential oil.
Before the oil/beeswax begins to harden softly (i.e., while it's still pourable), transfer to a small lidded container.
At this point, you can either pop the vapor rub into the refrigerator to help it harden faster, or just allow it an hour or so on the counter to harden (softly).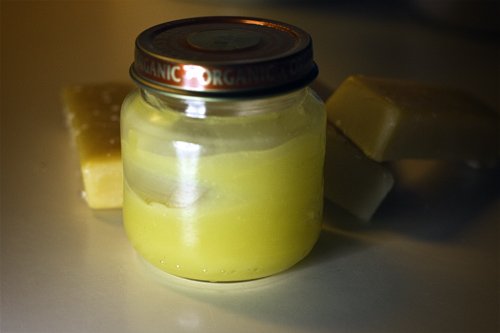 Use it just as you would any mentholatum chest rub (like, say, Vicks Vaporub).
This should keep in a cool dark place for 6 months to a year (or more, as its full of preservative essential oils).
[print_this]
Quick Homemade Vapor Rub
2 tsp beeswax (grated)
1/4 c. extra virgin olive oil
25-35 drops peppermint essential oil
15 drops eucalyptus essential oil
10-15 drops rosemary essential oil
Melt the beeswax and olive oil together until smooth on a doubler burner (or similar melting system). Stir well with a whisk. Continue whisking while adding the essential oils drop by drop. Transfer to a small lidded container. Store in a cool, dry place for up to a year (or more).
[/print_this]
The consistency of this recipe is awesome. Smooth, glides on easily, and it has just enough peppermint essential oil to give you the cool, tingling, slightly numbing feeling. And enough eucalyptus and rosemary oil to help open up the airways and loosen a cough.
Plus, Sullivan loved getting his chest and back rubbed with this stuff … even if he did fall asleep halfway through.
Do You Get Spring/Summer Colds?
It just dawned on me that I've done two "cold remedy" posts in the last month.
What's up with that?
I don't typically get cough/cold sick in the spring – though I do seem to be more prone to the stomach flu now. Oddly.
Do you or your family members get the spring/summer colds very often? If so, are they worse than the winter colds?
There's got to be a reason why the universe keeps making me write cold and cough remedy posts in MAY.
The universe is a curious bedfellow.
(I have no idea what that meant, but it should be quoted often and with great aplomb.)
(I'm also not really sure what aplomb means.)