Ahh! Will the honey madness ever stop? (Yes. Yes it will. After Friday. So bear with me.)
So washing your face with honey is pretty perfect already? But what about those of you who are still having little breakouts? Still feeling a bit dry?
Answer: Herbal infused honey.
And, people of the internets, herbal infused honey isn't just for your face. You can do this for your foods. And for your health.
SO HONEY ON, PEOPLE. Honey on.
Why You Want to Infuse Your Honey With Herbs (or Flowers)
As you know, honey is nutritious. Honey is also superb for your skin.
But if you infuse your honey with some herbs, it will do double duty for you, in new and fascinating ways. (Think I'm over exaggerating? Try it, sister.)
We'll talk about skincare last here, but here are other reasons you might want to infuse your honey with herbs.
Sage Honey Is an Effective Cough Syrup
Did you know, studies have shown that honey is more effective than over-the-counter cough syrup at reducing coughing? If you add the mighty lung-strengthening power and antibacterial properties of sage, you get a homemade cough syrup that's nearly unrivaled.
In fact, I make it a habit to infuse a cup of honey with sage every fall, just so I have some ready. (It keeps forever.)
You can take it just like you would cough syrup, or add it to hot teas for an extra immune-system boost.
Infused Honey Is Delicious In So Many Ways
How does vanilla ice cream topped with mint-vanilla infused honey sound? Or a vanilla-lavender infused honey over cream puffs? Or rosemary honey on toast with eggs? Rose honey in green tea? (Or even chili-infused honey … yowza.)
Your possibilities are literally endless. Be creative. Be daring.
Convinced yet?
Herbal Infused Honey for Skincare
Herbs and flowers. Your skin loves them. Add them to your honey to kick the whole honey wash thing up a beautiful notch.
With this basic list, you'll be able to pick and choose, customizing an infused honey that is perfect for your honey face wash and just for you.
Normal Skin:
Any desired combination of the above. And, frankly, that's just a small sampling of different herbs and flowers you can use in skincare, so if you have one you'd love to use, do some research. You'll probably be pleasantly surprised.
How to Make Herbal Infused Honey
Before, I would infuse my honey with sage over low, low heat (which, in retrospect, still might have damaged some of the honey's properties). From now on, I'm doing it this way!
Here's What You Need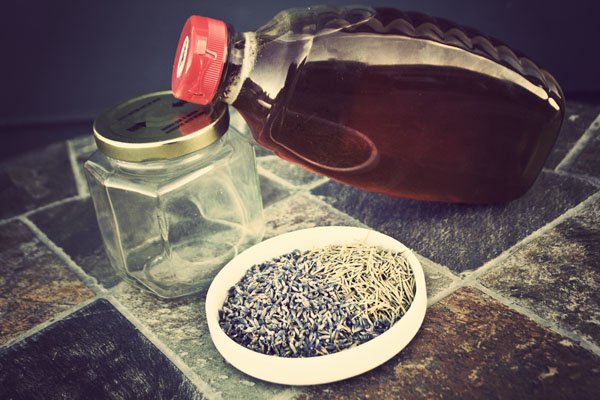 I'm making mine with lavender and rosemary, because it's summer and my skin is a tiny bit on the oily side. But remember, you can use whatever herb/flower combination you'd like!
Herb Infused Honey – Step 1 – Add Herbs to the Jar
First, you need to find a jar that holds about twice the amount of honey you'd like to infuse.
Thoroughly clean (and sterilize via boiling water) the glass jar or container and allow it to dry completely.
Then, fill it up about halfway with dried herbs.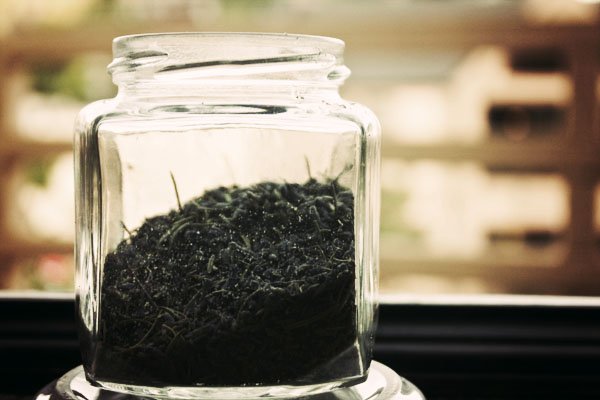 Herb Infused Honey – Step 2 – Cover the Herbs with Honey
Now you simply cover the herbs with the honey.
About a half-and-half mixture. (Unless you're using vanilla beans, in which case I'd recommend using 2 slit beans per 1/2 c. honey.)
Really, how many herbs you use in relation to how much honey you want is up to you – more herbs = stronger infusion.
So you pour, and pour, and pour your honey:

And then, once you have enough honey in your jar to fully submerse your herbs, you stir it up.
Herb Infused Honey – Step 3 – Put the Lid On and Let it Steep
And you put a lid on it.
Then, you turn it over every day for a week or two. (I found myself turning mine over several times a day.)
But mostly you leave it alone. Or stare at it longingly. Or sing it sweet, sweet songs that go, "Kiss me, honey, honey kiss me …"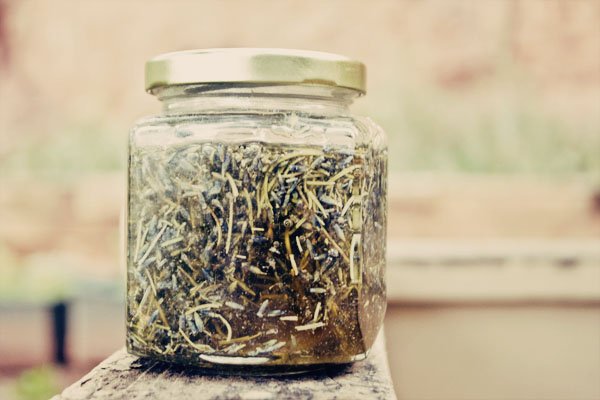 Herb Infused Honey – Step 4
After a week or two of letting your herbs/flowers steep in the honey, you're going to want to strain all of it out. I only let mine steep for 5 days, so I could write this post. But 5 days was PLENTY of time to make a really fragrant herbal honey.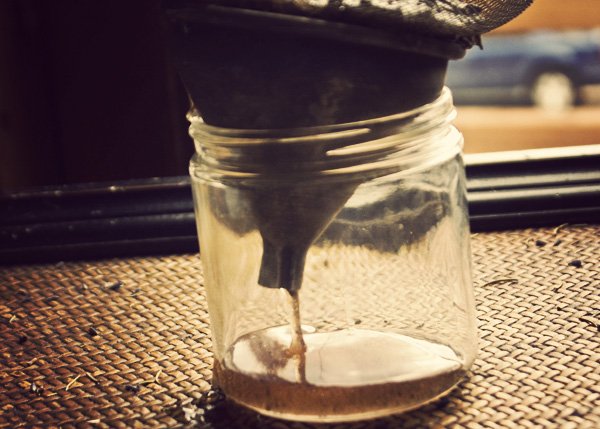 Make it easy on yourself: Warm your honey up for a minute by setting the jar in a bowl of warm water. This'll help it drip through faster.
As I'm using mine on my face, I didn't worry about straining out the smaller pieces, so I just used my mesh strainer. (Tiny lavender and rosemary pieces add extra scrubby power!)
If I were doing this for honey that I wanted to eat, I'd use a cheesecloth. Absolutely. Without a doubt. Cheesecloth for more clarified honey.
So all you do is strain it into another jar, pop the lid on, and keep it handy for whenever you need it.
And then you have … ta da …
Herbal infused honey, ladies and gents: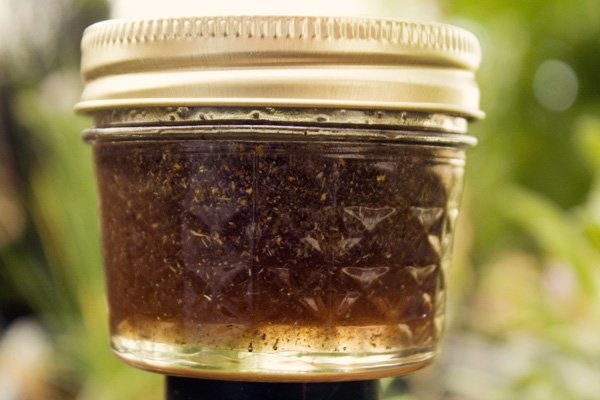 Store it in a tightly lidded jar, and your herb infused honey will keep indefinitely, but my guess is you'll use it all up before you know it.
And that … is that.
Last Call For the Honey Challenge
Tomorrow's post will have absolutely nothing to do with honey.
BUT TOMORROW IS THE LAST DAY TO MAKE THE CRUNCHY PLEDGE TO WASH YOUR FACE WITH HONEY FOR 2 WEEKS.
Do that over in the Honey Challenge Introduction post, if you haven't yet.
And bloggers – bloggy bloggersons – be sure to get your Honey Challenge post up on yer fancy schmancy blogs if you want to feature it in the linky party on Friday.
As if you need another reminder, here it is:
HONEY ON.