The Crunchy Betty Honey Challenge continues!
We're one week in (officially, though I know some of you just started), and as promised, I'm going to show you how to incorporate honey into removing your makeup.
Actually, I'm going to show you two ways.
And you oil-cleansing method gurus, you're going to love the first way.
The rest of you, I think you'll find the second way quick, easy, and oh-so effective.
Nary a moment to waste here. Let's get started so you can go clean your face!
Honey and the Oil Cleansing Method
Add a few drops of honey to your oil when you clean your face.
That's it.
That wasn't so hard, was it?
For those of you who are unfamiliar with the oil cleansing method, here's where you can become familiar with it. Many, many women swear by it (including, and newly, my mother … go mom!).
The addition of honey to your oil cleansing may also help those of you who still have breakouts with it (it will also add a little extra moisturizing boost). Try it out. See what you think!
Again, all you do is put a few drops of honey in with your oil before you rub it on your face and then finish as normal.
Moving on to the main attraction:
Instructions on How to Remove Your Makeup With Honey (and a few other things)
It stands to reason that the more stuff you put on your face, the more things you're going to need to take it off. So taking your makeup off is a little more involved than just slathering honey on and rinsing.
But all of these ingredients are effective and good for your skin in different ways. And, really, what I'm giving you here is a full-treatment facial cleansing. All your makeup, coming off. Your skin will be clean and your pH will be balanced and healthy.
Hey! People who still have oily skin/breakouts with the straight honey wash. Do this instead for a while. See if it helps!
Here's what you need for the whole shebang:
Water
Apple Cider Vinegar
Olive oil (or another carrier oil like avocado, apricot kernel, or sweet almond oil)
Washcloth, cotton rounds
And here's what we're going to do:
Cleanse
Tone and rebalance
Remove eye makeup
1. Remove Your Makeup with Honey and Baking Soda
Here is everything you need for the first phase of removing your makeup by washing your face with honey, baking soda, and apple cider vinegar (step 2).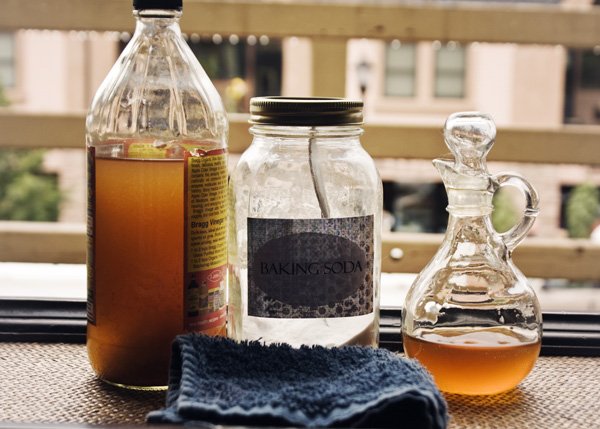 Forget the apple cider vinegar (ACV) for now.
Phase 1 involves only removing your makeup and washing with the honey and baking soda.
I've prepared an easy 4-step graphic for your viewing pleasure. Please view it and be pleased.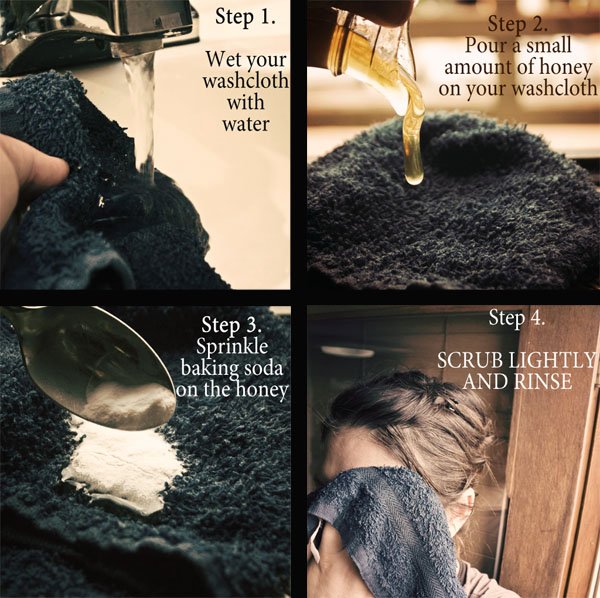 Step by step:
First, wet a washcloth with water. Then, pour 1/2-ish tsp honey on the wet washcloth. Sprinkle about 1/2 tsp baking soda on top of the honey. Splash a little water on your face, and then scrub everywhere very, very gently. The baking soda is slightly exfoliating, so we don't need to scrub hard at all.
Then, just splash water on your face a time or two. Your makeup (other than the eye makeup) should be nearly (if not completely) removed.
2. Tone and Rebalance with Apple Cider Vinegar
In my humble opinion, this step is crucial, so don't write it off.
With the baking soda, you're throwing your skin's pH balance out of whack just a little bit, leaving it vulnerable to dryness and/or potential pimples. The apple cider vinegar will help balance this out and put your skin back into a healthy state of being.
Plus, this is a perfect opportunity to make sure all traces of makeup are off your skin.
For this reason, I recommend (at least for the first few times you do it) using a cotton ball or cotton round. Only so you can see the results on the cotton. After that, you can use a crocheted pouf (like the one at the right of the picture below) or even just the edge of your washcloth.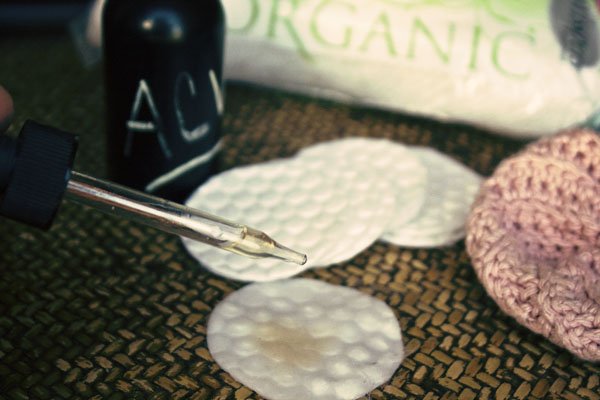 How to tone with ACV:
Wet your cotton round, cotton ball, or washcloth with water. Place 2-4 drops of apple cider vinegar on your round. If you're using ACV straight, you do not need more than this.
A tiny bit of apple cider vinegar goes a long, long, long way.
Swipe your face all over with the watered-down apple cider vinegar.
Check the cotton round to make sure there are no traces of makeup on it. If there are, use the back side of the round to remove the rest. This is not for your eyes, so avoid them.
Alternatively, you could fix up a batch of diluted apple cider vinegar. If you want to do that, I'd say about 3 tsp of ACV to 1/4 c. water is good. If you do this, though, you'll want to store your toner in the refrigerator.
Or, add about 5 drops of rosemary essential oil to the premade ACV toner (to preserve it, and this will also add some extraordinary antibacterial power).
I like just using the dropper to put small amounts on a wet cloth, simply because it's easier for me and I don't have to worry about preservation. But you should do what makes you happy. 🙂
3. Remove Your Eye Makeup With Oil
This step is so easy. Even a cavewoman could do it. No! Even a socialite cavewoman could do it.
You'll clean off all your eye makeup, and leave behind nourishing oils for the delicate skin around your eyes.
Simply pour a small amount of oil on the end of a clean washcloth or a soft cotton round, close your eyes, and swipe it around your ocular region a time or three.
Makeup is gone. Kaput. Period. That's it.
Oils you can use for this: Extra-virgin olive oil, apricot kernel oil, sweet almond oil, avocado oil, grapeseed oil, hazelnut oil. Really, just about any nourishing oil that is cold pressed will do.
Are You Ready to Start Removing Your Makeup Naturally Now?
Really, it's super easy, and it's a regimen that's easily incorporated into your routine – using things you probably already have in your cabinet.
I know a main question is going to be: What should I use to moisturize with?
I'm going to say again, even with this regimen, I don't feel the need to moisturize at all right now. It may be the summer air (we're having oddly high amounts of humidity), or it may be the newly incredible health of my skin. But my skin feels SO soft and supple, I don't have any desire to add something else to it right now.
If you feel like you need to moisturize, my favorite, favorite thing in the world is just straight jojoba oil. Or, if you have oily or pimply skin, jojoba oil mixed with a little bit of neem oil or tamanu oil (all of which you can buy at Mountain Rose Herbs).
That said, I have a couple of questions for you guys:
Have you felt the need to moisturize with your honey wash?
If so, what have you been using?
How much are you LOVING THIS? I cannot believe the awesome response you all have had – hundreds of fabulous results and only a few people with remaining issues (which hopefully will be helped with this post!)
In honey-loving crunch!