All day – all day – I spent trying to figure out how to tint lip gloss with food so it didn't contain water, so we wouldn't have to worry about preservatives. No go.
And, actually, Crunchy Amanda tried the original recipe out a couple of days ago and it failed (as the water from the cranberries/fruit separates in the oil). So … until a solution is found, just skip it.
However, eventually I was putting all kinds of things on my face, just for fun. A whole face full of food (and stuff) that LOOKS JUST LIKE MAKEUP.
Want to see the results?
First, for a baseline, you must see me without makeup. Brace yourself.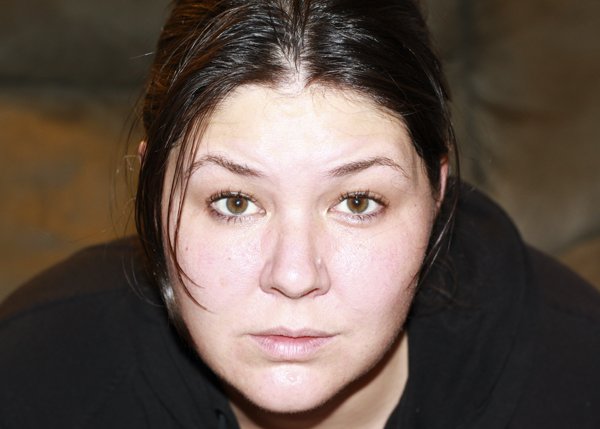 That is nothing on my face. Nada. In fact, I'd just washed with the honey face wash before I took this picture.
Now, here I am after raiding my kitchen and "crunchy corner":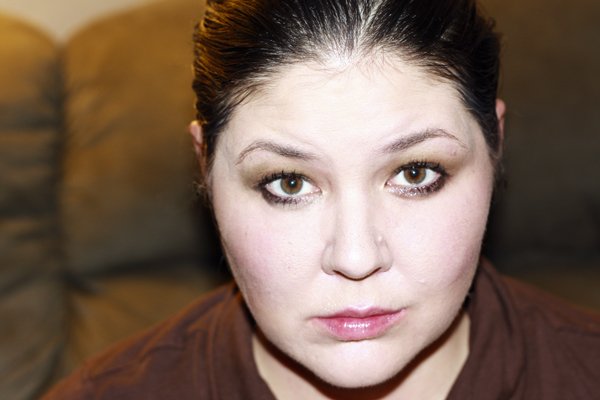 Guess what's on my face? GUESS!
On my face, in the second picture is:
Spirulina and cocoa powder for eyeshadow
Activated charcoal (powder) as eyeliner
Activated charcoal/vitamin E mascara
A hibiscus tea cheek stain
This homemade bronzer/contour powder (used as a contour powder)
Lip stained with cranberries and then coated with a light coat of castor oil/olive oil
Finishing "powder" to set the makeup and create a matte finish with a slice of potato
(A couple of notes: The only thing that's not explicitly crunchy (read: actual makeup) is that I used an all natural mineral powder as my foundation. Everything else came from the kitchen/crunchy corner. Secondly, I've done nothing to either of these photos in Photoshop except adjusting the levels, because my picture takes really red photos most of the time. So it's all … real. All the colors, everything. Real.)
Want to Do It Too? Here's How.
Spirulina/Cocoa Powder Eyeshadow
I've putzed around with spirulina as an eyeshadow a lot – with varying results. Finally, today I figured out that if you put spirulina in a jar and shake it up, the superfine powdered parts of it will stick to the lid. You want the superfine parts (or else you end up with gloppies all over your eyelid).
First, smear just a teeny tiny bit of jojoba, olive, or sweet almond oil over your eyelids.
Then, with your ring finger, dip into the spirulina and smudge it on your eyelid.
Next, go over the crease of your eyelid with cocoa powder (very lightly) to add depth.
That's it.
Hibiscus Cheek Stain
Pour 1/2 Tbsp boiling water over 2 tsp dried hibiscus. Stir and allow to steep until dark pink.
Take a cotton round or a small bit of paper towel and dip it into the tea.
Press onto your cheeks (do this before you put on your foundation for lighter color, after for darker)
Make sure you get equal coverage all over by blotting lightly about your cheeks
Activated Charcoal Eyeliner
This one is a cinch. Your eyes should have just a tiny amount of oil (as in the spirulina/cocoa powder eyeshadow) around them.
Just dip an eyeliner brush lightly into activated charcoal and apply as thick, dark, or lightly as you'd like.
Just like you would a powdered eyeliner.
Activated Charcoal/Vitamin E Mascara
If you have a clean mascara wand, this would be much more simple. I did not, so here's what I did.
Dip a clean index fingertip into activated charcoal (a teeny bit goes a LONG way)
Put a drop of vitamin E oil on top of the activated charcoal
Smush your index fingertip and the tip of your thumb together a few times to mix
Lightly stroke your eyelashes with the blackened vitamin E
Cranberry Lip Stain
Pour 1 Tbsp boiling water over 5-6 dried cranberries and smush around with the back of a spoon until the liquid turns red.
Blot the liquid on your lips and let it dry (if you do this multiple times, your lips will be much darker)
Cover with a 1:1 mixture of castor and olive oil (if you want shininess – this is optional)
Homemade Bronzer/Contour Powder
See this recipe here.
Potato Finishing "Powder"
Take a slice of raw potato and press it all over your face – this will set your makeup, keep you from being oily for quite some time, and offer awesome matte power.
This was SO Much Fun, But Some of It Might Not Translate
So, here are the "products" that have issues that might keep them from being viable options in the real world.
The spirulina and cocoa powder, after about an hour, crept into my eyelid creases. It was easy enough to "re-spread" it – and it looked just fine when I did – but you might not want to have to remember to re-spread your eyeshadow all day long. You have better things to do with your time. Like crosswords and mountain climbing.
The activated charcoal/vitamin E mascara is easily smudged – leaving black spots. It's especially unfortunate if you have long eyelashes that touch the tops of your eyes. (Eventually, my eye looked like this: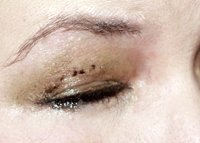 Here are the things that worked well, but you can't take with you in your purse (and they won't stay on your face all day):
Potato finishing powder, although this will give you matte coverage for several hours, you might not want to carry potato slices with you everywhere
Cranberry lip stain, again, will keep your lip nice and stained for an hour or so – and you COULD carry some of the "tea" with you in a small vial, but for no longer than a day (unless you refrigerate, and then it will last three or four days)
And the things that are fabulous just the way they are:
Hibiscus cheek stain
Activated charcoal eyeliner
Homemade bronzer/contour powder
You
Have You Ever Tried Raiding Your Kitchen for Cosmetics?
I know there are a few other "makeup hacks" you can try, like beets instead of hibiscus or cranberry to stain your lips and cheeks, and powdered lavender for a purple eyeshadow, and powdered black walnut hulls as eye shadow and brow contour, but have you ever tried or heard of anything else?
(This is addictive.)