Hello, lovelies.
If you have not written your letter to a loved one yet, I highly suggest you do so now. Before reading any further.
Because I'm about to reveal the purpose of this, and it will be far more meaningful to you if you write your letter first, and then understand.
Let me start with a quick story:
Over the last few weeks, I've been in a position – on several occasions – to offer my unwavering and unconditional support to several people I love and believe in very much. Through it all, the support I gave bordered on incredulity. How could these gorgeous people doubt their ability?
How could they want to stay silent, constricted in their self-made confines, because they were afraid? The delicious real potential sat glimmering on their surface, just waiting to explode. But they stopped. And hid.
Most of all, the love I felt was so pure and genuine … the belief so magnificent, that I cried several times. And then … then I thought …
"Wait. Wouldn't they say the same of me? Wouldn't they want ME to live the same way I want them to live?"
and
"If I can love them with this much unbelievable acceptance, why can I not love myself that way?"
and
"I am going to love myself – from now on – with complete acceptance. Unashamed. Unabashed. Unafraid."
That Letter You Wrote? It Was Mostly For You
Right now would be a great time to pull your letter back out and feel what you felt when you wrote it.
Only feel it about you.
Please give the letter to your loved one, if you'd like. But keep a copy for yourself.
Put it somewhere you will see, or somewhere you can easily access, so you can remember to accept and love yourself – and want the same things for yourself that you would want for someone you love – all the time.
Because here's the honest truth: Everyone who loves you wants you to shine your own special shine. Everyone who loves you wants you explode your goodness all over the world.
And if they love you like that (and you love them like that) then what is stopping you from being fully … you?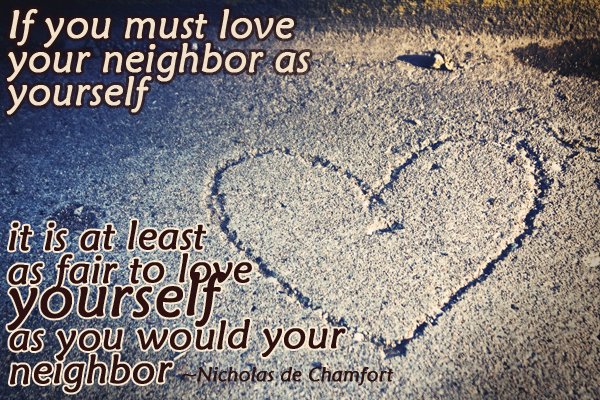 Loving Yourself Isn't a Crime
I think the idea that if we love ourselves before we love anyone else we're being selfish has been drilled into us from a billion different sources.
That's because "love" is a word that's ALMOST ALWAYS ill-defined.
Love is not selfish. Love is accepting. It's encouraging. It's expansive.
And please – dear heaven please – can we all just start to agree that until we love ourselves (with the definition above), we cannot give ourselves fully, honestly, and truly to anyone else. We're not doing the world a favor by silencing ourselves, or by huddling deep inside out of fear of overstepping.
As long as we proceed forward with radiating love, all is well and good in the world.
Turn inward. Now.
Look again at the note you wrote. Turn it inside. Make it for you, too.
Let that love heal you – and the person it was meant for.
And I want to finish with one of my favorite quotes from Marianne Williamson.
(If nothing else, print this off and read it daily.)
Our deepest fear is not that we are inadequate. Our deepest fear is that we are powerful beyond measure. It is our light, not our darkness that most frightens us. We ask ourselves, Who am I to be brilliant, gorgeous, talented, fabulous? Actually, who are you not to be? You are a child of God. Your playing small does not serve the world.

There is nothing enlightened about shrinking so that other people won't feel insecure around you. We are all meant to shine, as children do. We were born to make manifest the glory of God that is within us. It is not just in some of us; it is in everyone.

And as we let our own light shine, we unconsciously give other people permission to do the same. As we are liberated from our own fear, our presence automatically liberates others.
Now go.
Be beautiful.
Be loud.
Be unapologetic for who you are.
I will be here for you.