Today we're going to try something wholly different.
It's a two-parter, which is why I'm getting a jump on things. The second part of this exercise will happen Monday afternoon at some point. I want as many people to participate in part 1, before we move to part 2.
I know it's so very tempting to blow off these kinds of things when you see them online. It may seem fluffy and unecessary in your life right now. Please understand …
This is important.
Please participate. Not for me. For you. And if you can't participate for you, do it for me.
Please Prepare
Right now, find a pen and a piece of paper. Or open your text editor to a new document (from somewhere you can print). Whatever you need to do to prepare to write or type a small paragraph.
(The prettier the paper or font, the better, by the way.)
Now, clear your mind as much as you can while still reading. I want a blank slate. I want emptiness. Expansiveness. Openness.
Empty? Open? Good.
This is Happening to You Right Now
At this very moment, someone you love completely is walking up to you. This is someone in your life – past or present – who you think has the ability to do anything in the world they desire.
Someone full of light and love and all things you consider good. Someone you love with pure and unabashed unconditional acceptance. Maybe it's your child or your husband. Maybe it's a friend or a sister. Whoever it is, you love them. Fully. And all you want – the only thing you want in the world right now – is for them to be happy.
Who is it? Imagine them. Look at their face.
They are walking up to you with a forlorn expression. Their face is downcast and their eyes are misted with tears.
You feel concern. So you ask them, "What's wrong?"
Their eyes meet yours, and their mouth opens to say these things:
"I just finally realized how completely ineffective I am. All of my ideas are bad. I cannot do what I dream of doing, because I'm just not good at anything. No one will listen to me when I speak, so I am done speaking. I give up."
"But," you say, "I don't understand. What happened?"
They look down again and tell you, "I try so very hard to be perfect, but I never measure up to what I think other people expect of me. It's just that I know if I speak out, if I give my heart to something fully, I'm going to be disappointed. And it's easier to struggle in the weight of all that's wrong, than to break free and follow my heart into what is right."
You sit down together and take their hand, as they continue.
"Honestly, I'm just not good enough. Like I said, my ideas are worthless and no one will ever listen to me. I'm too busy trying to keep up with being accepted to accept myself, so I'm done. But if you want to try to convince me otherwise, I'm open to listening."
"I need a friend right now. I need your love. Please help me understand my worth."
And with that, this person – this beautiful, love-filled person – squeezes your hand and walks away.
So you take out your piece of paper.
(That's right, take it out.)
Write This Person a Short Letter
Please, with all of your heart, write the person you love – the one who just said all of these things to you – a letter now. Help them. Tell them what they're worth. Tell them how they can change the world with their smile.
Keep it general. No need to go into personal specifics. Just offer open, radiating love to them (that you truly feel).
If you need ideas/inspiration, here is mine: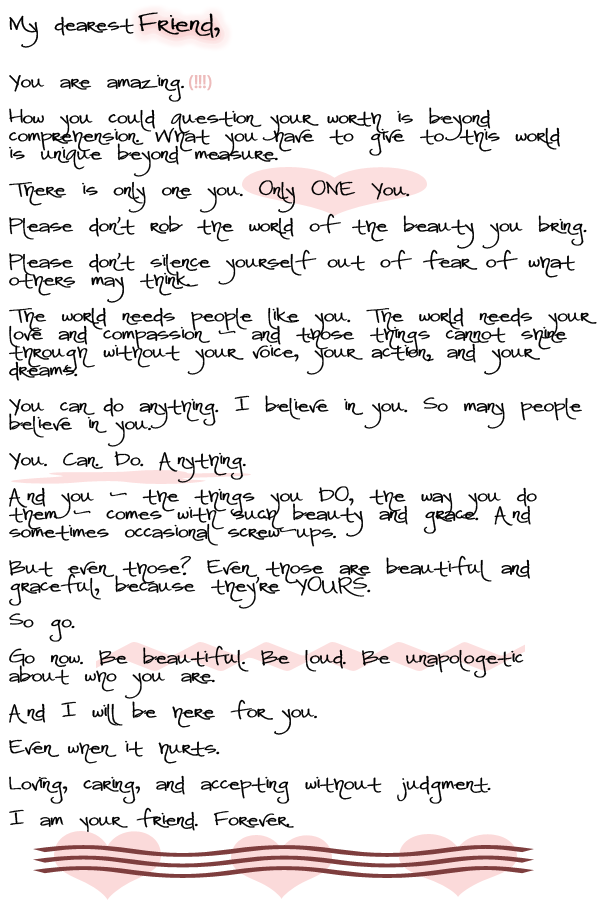 Write Your Letter – With Love
Please do this now.
Now.
Nothing in the world is more important than this. Right now.
Give your love to that person through a note. Keep it general. No need to dwell on specific personal points. Just give your heart to this person.
And when you're done, please share some or all of what you wrote here in the comments if you feel safe doing so. Then print it off (if you typed it) and keep it handy throughout the day. Read it a few times – whenever the urge strikes.
You'll be glad you did, when you see what the second part brings.
***And please, even if you don't share your letter here, let us know you wrote one … just so we see solidarity in numbers. : )