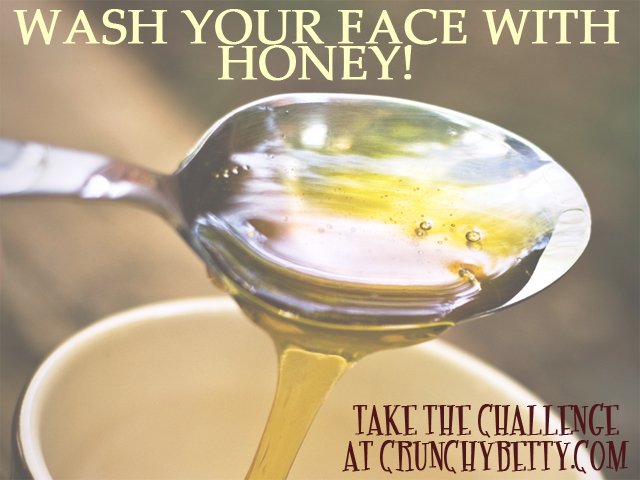 We did it! Two whole weeks of washing our faces with honey, and (with rare exceptions) the final result was bee-yootifully fantastic!
As those of you who received my email last weekend know, this challenge wasn't to do this only for two weeks. It was so you (and I) could commit, whole-heartedly, to giving it a long-term try.
Because, so very often when it comes to natural skincare, we abandon something within the first or second try – without allowing it time to work. (Nature's a miracle worker, but it works those miracles in its own time, not ours.)
Bottom line: If this works for you, do NOT STOP NOW! Keep doing this for a month, or a lifetime – as gosh-darned long you keep seeing beautiful benefits and a glowing face.
For those of you who didn't join in (or those of you who are seeing this page for the first time), do not be disheartened. You did not miss out – IF YOU DECIDE TO START RIGHT NOW. Right now, when you read this.
In fact, I'm leaving the linky party at the bottom of this post open indefinitely, so feel free, bloggers, to try this when it's right for you, blog your results, and leave the link to your post here for posterity and all the world to see.
Crunchy Betty Honey Challenge Recap
Here's a list of all the Honey Challenge related posts, so you can go back and learn, or you can relive the glory:
Good grief, that was a lot of information about honey face washing right there.
A lot.
(I go apiary over honey. Get it?)
Hands up, by the way, if at any point in the last two weeks, you've had the song Kiss Me, Honey Honey, Kiss Me stuck in your head. Sorry about that.
What Some of You Had to Say About the Face Wash
So, seriously – around 300 of you signed up for this challenge. 300! Pat yourselves on the back. You're an official crunchy hoard.
Needless to say, I've gotten TONS of comments on Facebook, via Twitter, and through email. And comments! Lawdy! The comments! (Especially at the Crunchy Community.)
But here are just a few random notes people sent me about their experience with the honey face wash:
The Honey Challenge is going amazingly well! I haven't missed a single day of washing and I've stopped wearing makeup daily in the hopes of washing with honey twice a day instead of only once. I absolutely love the way my skin feels after a honey wash, and EVEN BETTER NEWS! My sister is being influenced by my crunchiness and has been asking me about different things like the honey wash and no 'poo! I'm so excited about it I could almost cry! – Nina via email
I'm completely, undeniably, head over heals in love with honey. My skin (which was previously dull, shiny and plagued by the occasional blemish) is now clear, radiant and soft! I haven't even touched my makeup in about a week! – Sarah via email
Just had to say that since starting the honey challenge last week my skin has never looked or felt better with any commercial product I've ever used! I was breaking our like crazy before this, and it just suddenly stopped! Love! ♥ – Melissa on Facebook
I thought I had it made with the OCM. Then I really thought things were going well when said no to the 'poo. But I just love the honey challenge more than I can say. While my normally oily face had gotten more balanced with OCM, I honestly must echo everyone else to say that I feel that my face is more glowing. And is it just me, or are my pores shrinking? I love my soft, bright skin and have been telling everyone about it since starting it. – Allison via Facebook
And while the honey face wash worked for 98.5% of you (yes, I did the math … sort of), there were a few of you who still had issues with redness. If you're one of those people, please hop over to the Crunchy Community and start a thread about how you've been washing your face until now, and I promise we will all work our hardest to help you find a fantastic (honey-less) solution that works for you.
What You've All Been Waiting For – The Linky Party!
I know we've had dozens of bloggers blogging their honey challenge experience, and I can't wait to see all of the posts linked up at the party below.
But first, I just want to announce the two "winners" of the Colorado raw honey: KarinSDCA and Sarah, the Petit Gourmet.
Karin, you've been so incredibly supportive and helpful to everyone who's been asking questions in the community, I had to give you one. Had to. You deserve it, and so much more. Thank you from the bottom of my crunchy heart. And Sarah? You were the lucky winner of the random drawing! (But thank YOU, TOO, because you're also a breath of fresh air around here!)
Before we get to the linky party: Non-bloggers, PLEASE post your experiences with washing your face with honey down below in the comments section.
Did you love it? How did you notice a change in your skin? Did you find a trick to make it work better for you?
The first Honey Challenge post was to sign up and show your solidarity. THIS ONE is to tell the world about how great your skin feels (or not) – and to encourage curious people everywhere that this does work and that they shouldn't be frightened or weirded out by the thought of honey on their face.