THE question of the Crunchy Betty Honey Challenge so far has been:
"Why does it matter what honey I buy? What's the difference?"
It matters. And there is a big difference. So big that it will absolutely without a doubt affect the outcome of your honey-washing experience.
Buying honey has turned out to be one of the most confusing experiences I've had in my life. Until about a year ago, I always thought honey was … well … honey. But it's not.
And here's why.
Figuring Out Your Honey Labels
It appears as if there isn't really set standard for labeling honey. However, there are relatively loose guidelines honey manufacturers follow, and these will help you choose the right honey for you.
First, it's important to understand that a huge part of the healthful properties in honey comes from its enzymatic components. When you heat honey on high (or pasteurize it), you're killing almost all of those things. This leaves behind honey that takes a very, very long time to crystallize, but is lacking in quality nutrition.
Bottom line: Only buy honey that says "raw" on it, if you want to get the full benefit of a honey wash (or eating honey). Any bottle labeled "raw" honey is probably more likely to be pure, as well.
A breakdown of raw honey:
Completely Raw honey: Will likely be crystallized and crunchy when you buy it. It will also contain some of the larger "bits" procured when the honey was extracted from the comb. Things like wax, pollen, propolis, and other remnants. These will not hurt you; in fact, they will offer a boost to your honey wash.
Unfiltered Raw (or Strained): Will crystallize more quickly than the other types, as it either hasn't been heated or has been pressure "strained" to get out the larger bits of wax and pollen. This is the honey you'll most likely encounter when looking for raw designation. It is available in most big supermarkets, and every health food store you walk into. This is the type of honey I recommend for the honey wash.
Filtered raw honey: Filtered honey is heated slightly and then passed through a fine filter. This removes all pollen and propolis, leaving behind a much "cleaner" honey. Don't confuse "cleaner" with "better," because when you don't have the other bits, you don't have the full array of goodness honey has to offer. This is still better than pasteurized, though.
Pasteurized Honey
This is a little tougher, because often you won't see the word "pasteurized" on your honey container. You probably won't see any word at all.
Except the word pure, which actually means very little. According to Benefits of Honey, there's no set labeling standard for "pure" honey – and honey labeled pure may possibly also contain a filler (like corn syrup).
Pasteurized honey is more prevalent in mainstream grocery stores, because by heating the honey to a very high temperature and killing all of the bacterial enzymes, they're also insuring that the honey will not crystallize nearly as quickly. And that's what most people are led to believe is good honey.
Bottom line again: Stay away from honey that isn't labeled as "raw." If it's not raw, it's pasteurized past the point of being fabulously good for your face and your health.
Here's a buying guide I made (sorry it's so big), but maybe it'll help you next time you're shopping for honey.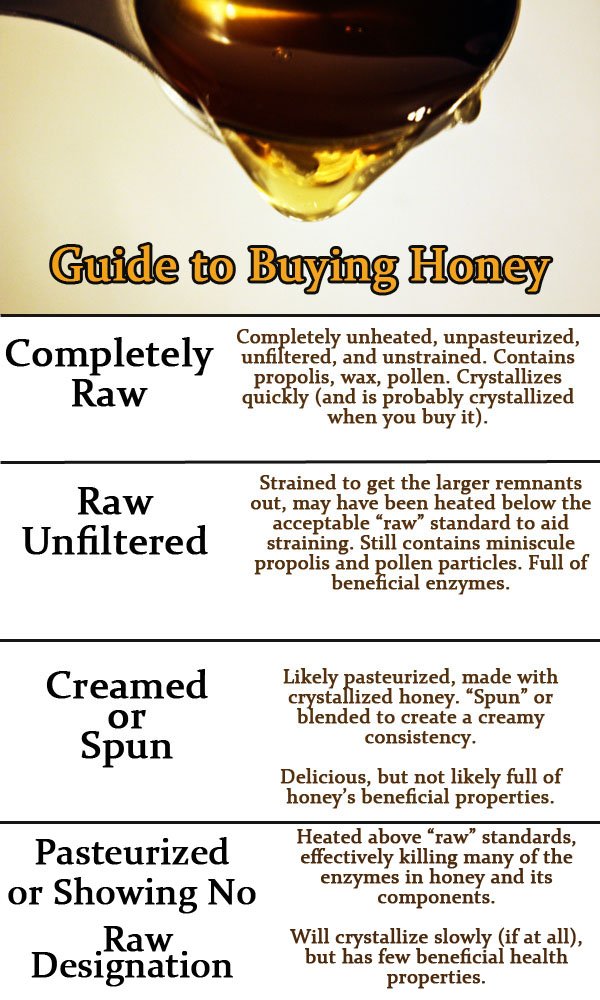 There's one exception to the labeling rules: Locally farmed honey that you buy from the farmer's market (the kind of honey I HIGHLY encourage you to buy). If you see some, ask the farmer about it. Ask how he/she filters it. How high they heat it. If they add anything to it. (You'll probably like the answers they give.)
Speaking of heat: Information is conflicting on how high honey can be heated before it loses its rawness, and there's no legal standard. Myriad online sources say different things, but the standard seems to be heating honey at a range from 120-140 degrees for 30 minutes to 160-170 degrees for 15.
So if you're asking a local farmer, use those temperatures as a base guide on whether or not you want to buy their honey. (Remember, no heat or low heat is best.)
Important Honey Reminders
As if I haven't just sprung enough information on you for the week, here's a little more that you'll want to remember when you're buying and using honey:
Do not give honey to babies under the age of 1. Honey contains a specific bacteria that (very, very rarely) may cause botulism in newly developing human beings.
Honey keeps forEVER. Especially when it's unpasteurized. There's no expiration date on honey. Use it until it's gone.
Honey that has crystallized is still good. Just because it is granular doesn't mean it's lost any of its goodness. If you don't like the granulation, put your honey container in a warm cup of water to soften it. (I've heard recommendations to microwave it … but, as we know, high heat kills what we want, so keep it away from the nuke-machine.)
Honey is wildly antibacterial. You know this already; I'm just reminding you. This is why it's great for your face, but it's also a good thing to put on small scrapes (or acne lesions).
Don't be confused by clover, wildflower, orange blossom, buckwheat, etc. labels. While there is a slightly discernible difference in the taste of these honeys, they haven't been flavored. When you see honey labeled as anything that sounds floral, it just means that these are the what the bees "fed on" before they produced the honey. Again – there's a difference in taste, which might be a fun thing to explore! (I see honey-tasting parties in your future.)
This will conclude the lesson for today's portion of the Crunchy Betty Honey Challenge.
You have learned a lot.
There is much to digest.
In the meantime …
How is Your Honey Washing Going?
HOLY MOLY!
So far, after two days, we have 200 people signed up for the very first Crunchy Betty Honey Challenge.
How is that even possible? How AWESOME is that?
Two-shiny-hundred new people walking around with gorgeous, glowing skin.
So how's it going for you so far?
Any insights? Any tips to share? Loving your face yet?