It seems like no 'poo comes and goes in waves. Suddenly, 20 women will show up out of nowhere saying they're about to try it. With every wave comes a small, but vocal, backlash.
"Backlash" may be a strong word. A better word may be "fear." There are always several people who say, "Never. I could never, ever try that."
It's scary to go no 'poo. Even more, it doesn't work for everyone. No matter how hard you try, how badly you wish to be a no 'poo goddess, your hair has other plans. I'm not sure the reason why it's so difficult for some people, but the fact remains … it is.
In one small, silly way, I was one of those people. I decided NOT to go back to no 'poo, simply because my hair looked annoyingly icky whenever I'd try to dry it with the blow dryer. And the longer it gets, the longer it takes to air dry.
For about three months, I've been using castille soap to wash my hair. It's not really no 'poo, but it's not really shampoo. It's sort of sorta 'poo.
The only downside was that it didn't lather, and there were occasions where my hair didn't feel completely clean.
Then … coconut milk happened.
Homemade coconut milk happened.
And the world of sorta 'poo was blown wide open into a thriving, gorgeous utopia.
How to Make Sorta 'Poo With Coconut Milk and Castille
You'll probably want to know why you should make your sorta 'poo with coconut milk and castille.
It's all about the lather, baby.
Coconut contains natural, extremely gentle surfactants that create lather when mixed with pure castille, just like we're all accustomed to in our shampoo. In fact, many cosmetic companies use a compound called cocamidopropyl betaine, which is derived from coconut, in their products for just this reason. (Whether or not it's truly natural or safe is questionable, so if you'd like to know more, read The Chemical of the Day entry on it.)
So when you mix the castille and the coconut milk together, you get amazing, breathtaking, bubbly magic that gets all up in your hairs and squeaks them clean. It is neither drying nor oily. It is like store-bought shampoo with benefits and without synthetics. (And, fyi, you don't need to condition afterwards, but you will probably want to use a very dilute apple cider vinegar rinse – we'll talk about that at the end.)
So here's how you do it, and it takes about 5 seconds total to mix each batch.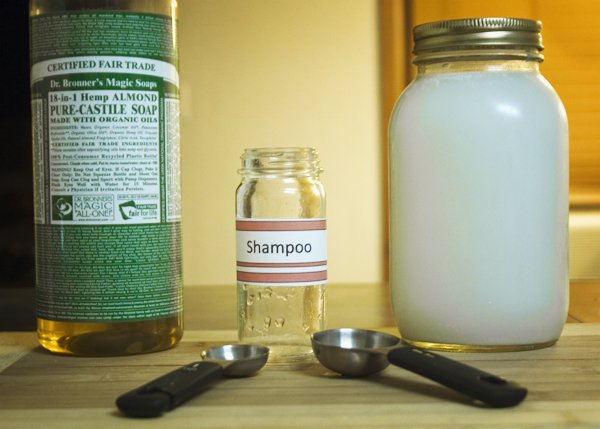 Ready? This is tough. Pay attention.
Mix together 1 tsp coconut milk and 1 Tbsp castille soap in a small jar.
(I like Dr. Bronner's or Mountain Rose Herbs castille soaps, personally.)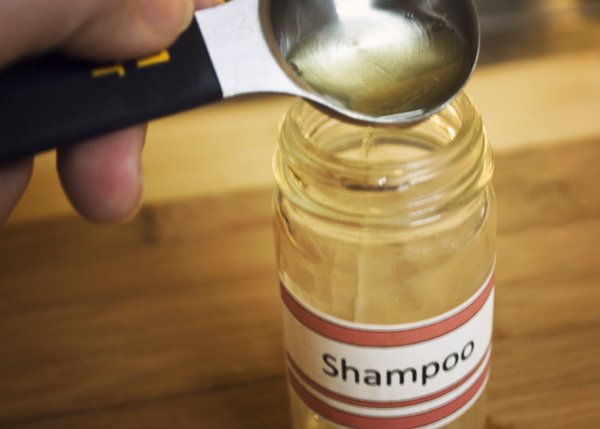 This is all a "single-serving" batch (although if you have short hair, it's a double serving batch). If you want to make it in larger batches, that's cool. Just store it in your refrigerator (should keep up to a week or so).
So after you've poured the castille and the coconut milk into a small container, just swish it around.
Very gently.
Or you'll have lots and lots of bubbles.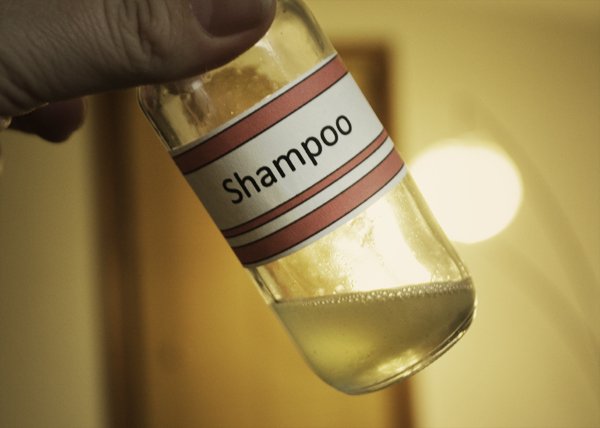 Again, see what a tiny amount that is? Using all of it at once produces TONS of cleaning, softening results.
And a multitude of lather.
Lather that looks like this: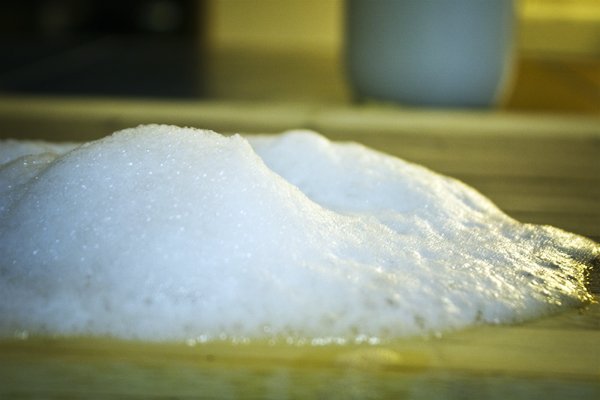 Try to keep it out of your eyes, though, 'cause it burns.
It may only burn, though, when you're keeping your eyes open for 15 minutes while suds are dripping down your face and you're trying to take a picture of lather on your head to show all your bloggy friends how awesome sorta 'poo is. That may be the only time it burns.
It's the only time it's burned me.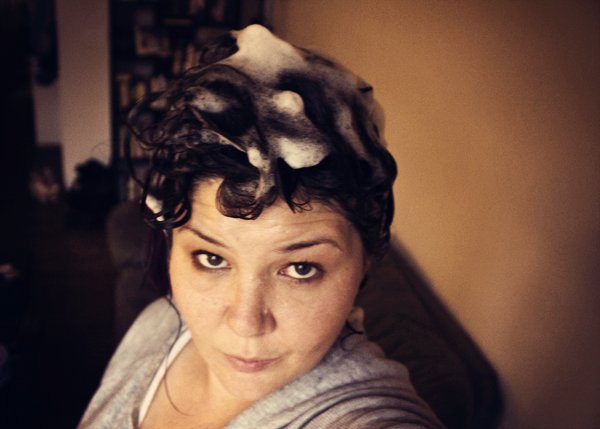 So there you have it.
How to go sorta 'poo, which is sorta awesome. It's lacking anything synthetic. It's lacking anything contaminated. It's lacking anything but castille and coconut milk.
Oh, and as for how to condition: For your conditioner, use a diluted mixture of 1/2 Tbsp apple cider vinegar to 3 cups of water. Rinse your hair with it, after rinsing out the shampoo (with water). Concentrate on the ends. Leave the ACV rinse in your hair or wash it out with water – whichever you prefer.
Your hair will (if it's anything like mine) be shiny, bouncy, and soft.
Just like you sashayed out of the salon.
I kid you not.
If you want to read more about going no 'poo, start with these posts and threads:
And I have to give a shout out to Jessica H. on Pinterest for this hair-saving idea. Jessica, you're a crunchy pioneer if there ever was one.