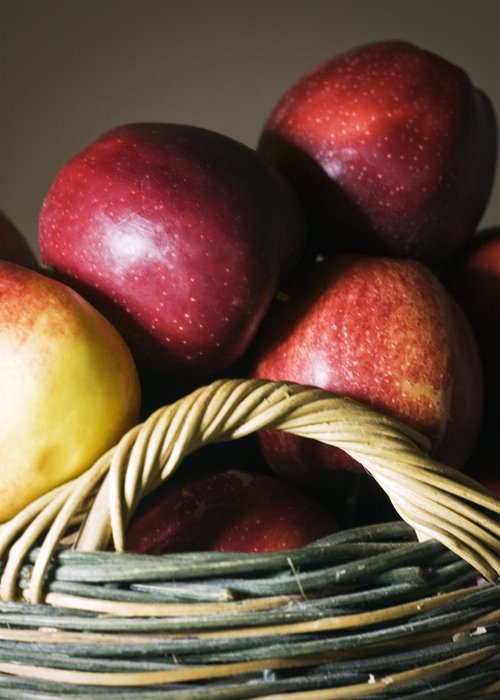 Tough week, peeps. My heart goes out to the Japanese, and I've been monitoring the situation with a bit of trepidation and occasionally overwhelming doomishness.
To top it off, I'm also in the midst of both packing my entire household and looking for a new place to live. The grand old lease is up next month, and we're being called to go somewhere a little more quiet and not so in the thick of the weirdness that is Manitou.
So I killed a million birds with one really big stone this week.
I made my favoritest yummy (and comfort food) applesauce, an applesauce hair mask, washed my hair with applesauce, and started my very first batch of homemade apple cider vinegar.
Want to see it all? (Except the ACV. That happens later.) I know you do.
Before we begin, let me just say: I admire all you goshdarned food bloggers out there. Your ability to photograph, cook, and share your recipes without kicking people out of frustration is incredible. It's a tough job.
One more thing: How you raise kids and take a million pictures and edit them and cook and clean and blog is beyond me. You're pretty special. (/end suck-up)
Now. Let us begin.
Detoxifying Applesauce-Honey Facial Mask
So I've had a big bag of activated charcoal (which you can purchase very inexpensively from More Than Alive) for about a month now. I ordered it for one reason (and now I'm SO glad I did): I tried a sample packet of face wash/mask/toner by Giovanni that used activated charcoal as a main ingredient.
Loved. It.
BUT – I figured I could do better all by myself.
And then I received the bag and did nothing with it – until a nuclear disaster happened. (Whatever it takes, I guess …)
In light of the situation, I wanted to make a detoxifying mask – and activated charcoal with apples is PERFECT for that. It'll help whisk away any toxins on your skin. This is also a great mask for people with oily or acne-prone skin.
You don't have to use activated charcoal – apples are detoxifying and oatmeal draws out impurities, as well.
Here's what you need: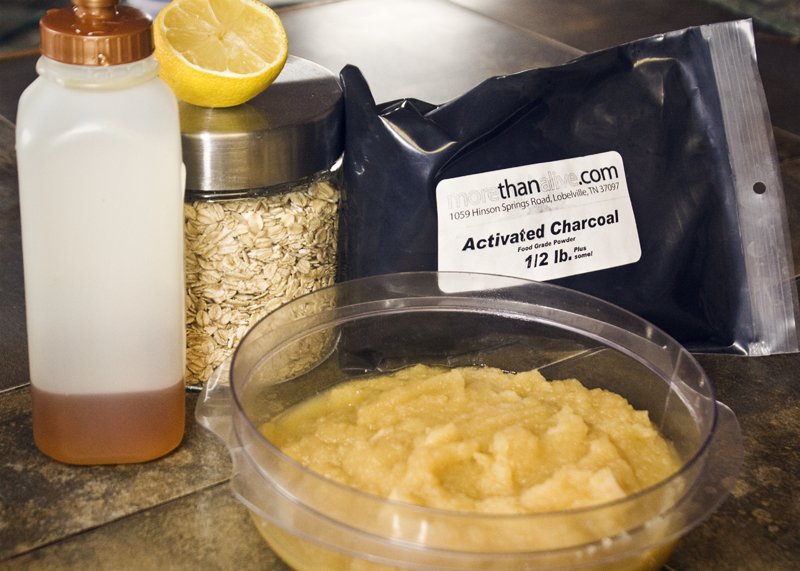 You can use store-bought applesauce, but because I was making homemade applesauce, I just popped a little extra apples in a pan and cooked them with a little water.
Here's how you cook the apples: Peel and core 2 apples (1 if you're just making a mask, 2 if you want to wash your hair with it, too). Place them in a small baking dish and pour 1/8 c. water over them. Pop them in a 350-degree oven and cook until they're mushy (easy to break open with a fork) – about 15 minutes. Toss them in your food processor and turn them into applesauce. Done!
The recipe follows, but here's what your finished mask will look like: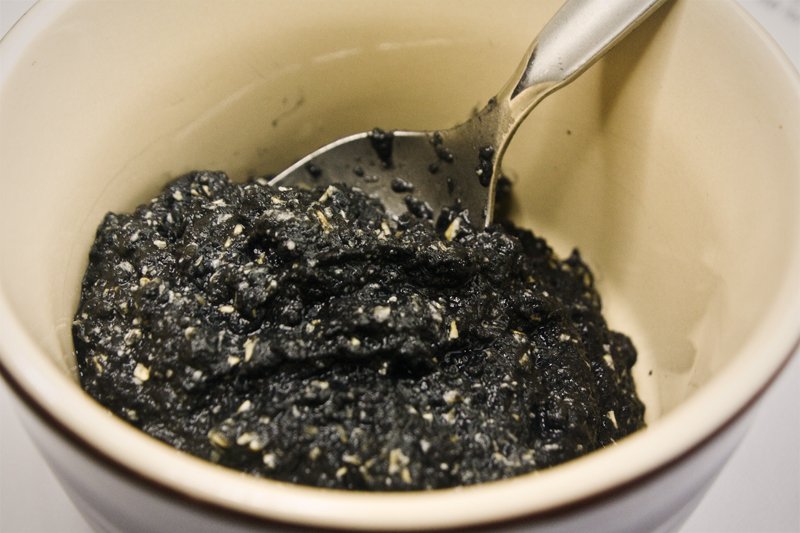 Detoxifying Applesauce-Honey Facial Mask
2 Tbsp preservative-free applesauce (homemade is best!)
1 Tbsp finely ground oats
1 tsp honey
2 tsp lemon juice
1 tsp activated charcoal (optional)
Mix all ingredients together well. Apply to a clean face. Leave on for 20 minutes. Rinse well and moisturize. This mask is a bit goopy, so put it on over the sink. Enjoy!
Notes: You can use this mask to good effect if you have dry skin (it's VERY good for acne and oily skins), just be sure to moisturize well when you're done. It leaves the face feeling very clean and soft, but just a little on the dry side.
Applesauce Shampoo
I first heard about applesauce shampoo when I was thinking about going no 'poo. SO, if you're no 'poo and tend to have waxy build-ups every once in a while, this one's for you.
However, if you're no 'poo and have waxy build-up, you can expect your scalp to flake a little the first day after using this (as the malic acid in the apples will loosen the build-up, but not wash it off completely immediately).
Confession: I haven't been no 'poo, strictly, since December (due to hectic circumstances). I've been shampooing once a week and conditioning the rest of the time.
I will say that washing my hair with applesauce made it FEEL as if I'd shampooed and conditioned. It's very soft and shiny.
Here's How You Do It: In the shower, scrub applesauce deeply into your hair, focusing on the scalp. Leave on for 10 minutes. Rinse very, very, very well. It took me maybe 5 minutes to get the applesauce all out of my hair. Don't forget to focus on your scalp!
No need to condition. Your hair's in great, clean, detoxed shape.
Deeelish Homemade Applesauce Recipe
Okay. Now for the yummy-in-your-tummy part. This is my very favorite way to make homemade applesauce. I stole it, mostly, from Ina Garten and Wellness Mama.
It's funny how Ina and Michael Chiarello are my only two beloved Food Network stars. They also happen to be the most pretentious (in a good way, but still, what does it mean?).
We're going to do it my way here, though. Click on the link above if you want to do it Ina's way. Here's how you start. Wash 6 apples (8 if you're making a facial mask and shampoo):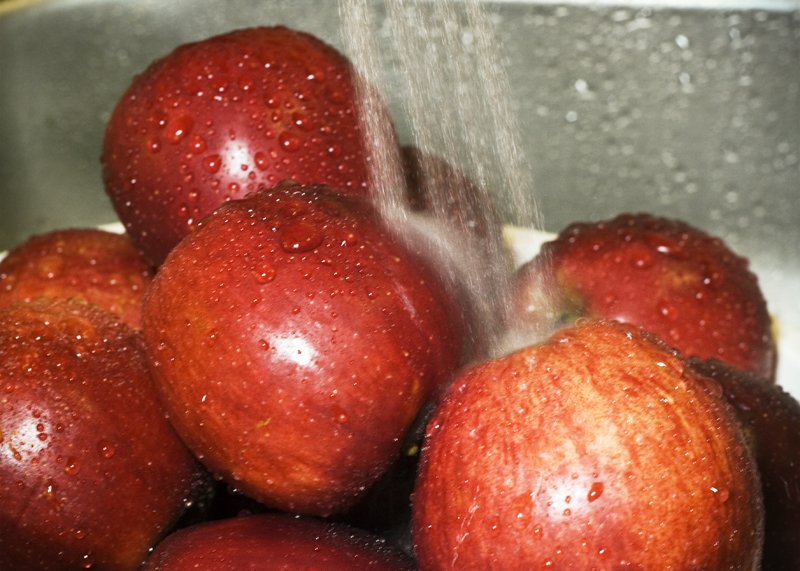 After you've washed and scrubbed your apples, you'll want to peel and core them. (Save the peels AND the cores if you want to make apple cider vinegar, covered another day soon.)
Chop them into quarters and then half the quarters, setting aside 2 apples' worth of chunks if you're making a facial mask and shampoo (then follow the directions in the mask section):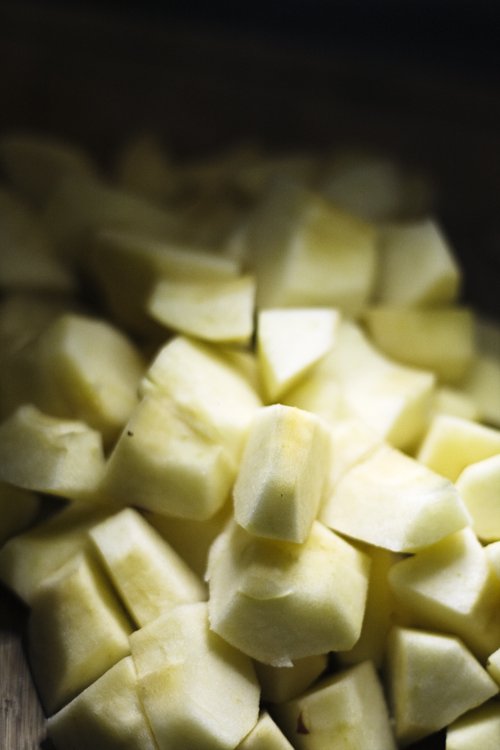 Now, pull out an orange and a lemon. Juice the entire orange and half of the lemon.
I was going to show you what the juice looked like, but it looked like orange juice.
So I put a lemon in there for your entertainment.
Like this: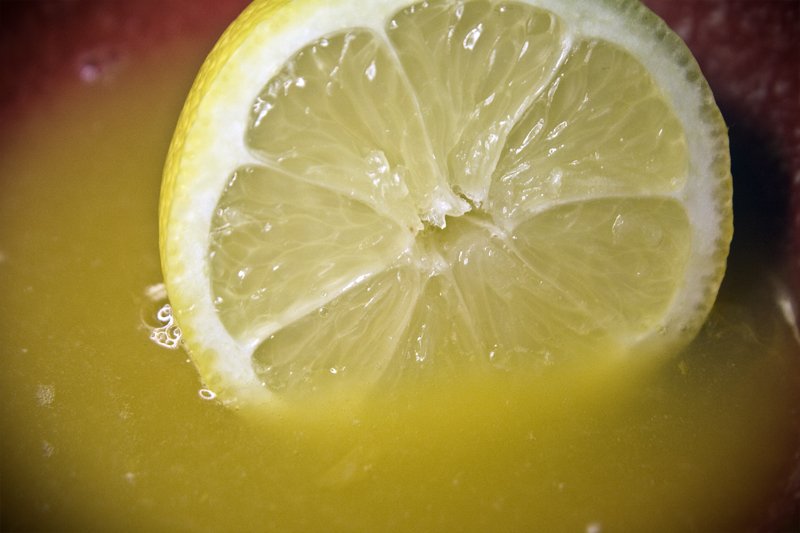 Now mix together the 6 chopped, peeled, cored apples with the citrus mixture and pour it all into a large baking dish.
Toss in 1/2 stick of chopped up butter – you can leave them in small pieces and dot them around your apples. Sprinkle with 1/2 c. brown sugar, 2 tsp cinnamon, 1 tsp nutmeg, and 1 tsp ground clove.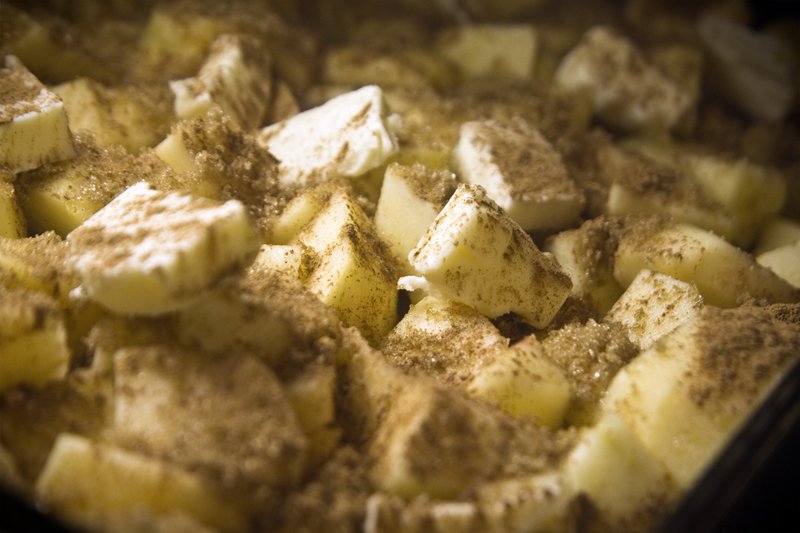 Cover your baking dish with tinfoil, and place it in a 350-degree oven. Stir occasionally (twice is usually good enough) and cook until the apples are slightly mushy and easily cut in half with a fork.
Your house, it will smell a heaven you've never known before. You will probably want to crawl in the oven with it. Please don't.
When the apples are tender, take them out of the oven and let them cool.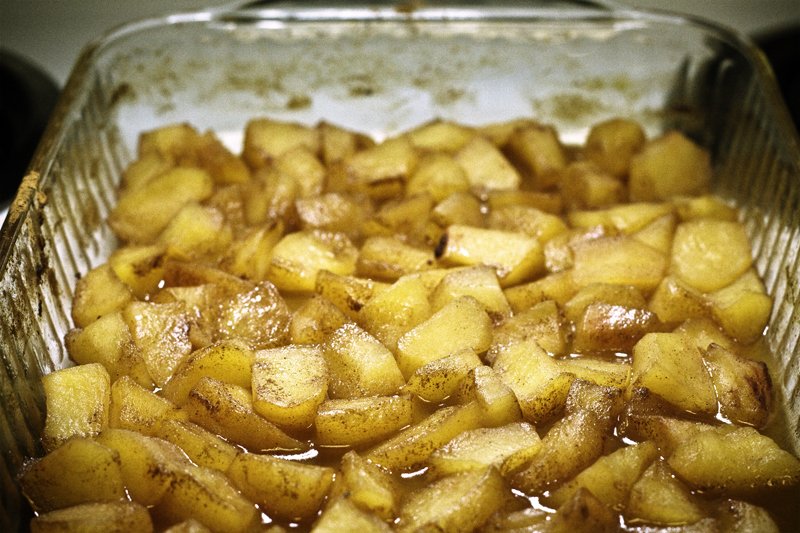 Now. You can stop right there if you want. You have delicious syrupy baked apples that would go wonderfully over some ice cream.
I was tempted to stop. But I forged on.
Next, you dump the cooled apples (with the sauce) into your food processor or into a large bowl, with which you'll use an immersion blender (whichever you have and want to use is fine).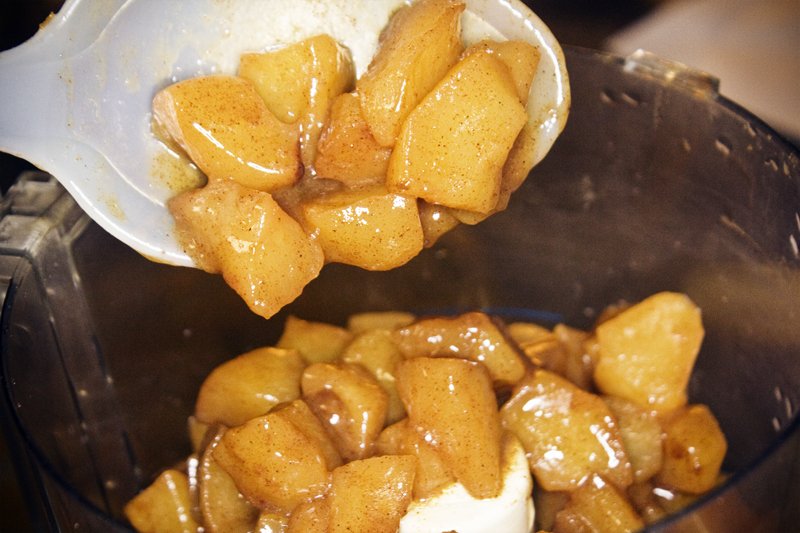 Run the food processor or immersion blender for about a minute – maybe a minute and a half – until all the apples are processed and you have what looks exactly like applesauce.
Put it in a covered container and then into the refrigerator until it's cold.
Serve with a little extra sprinkle of cinnamon on top.
MMMM … THIS: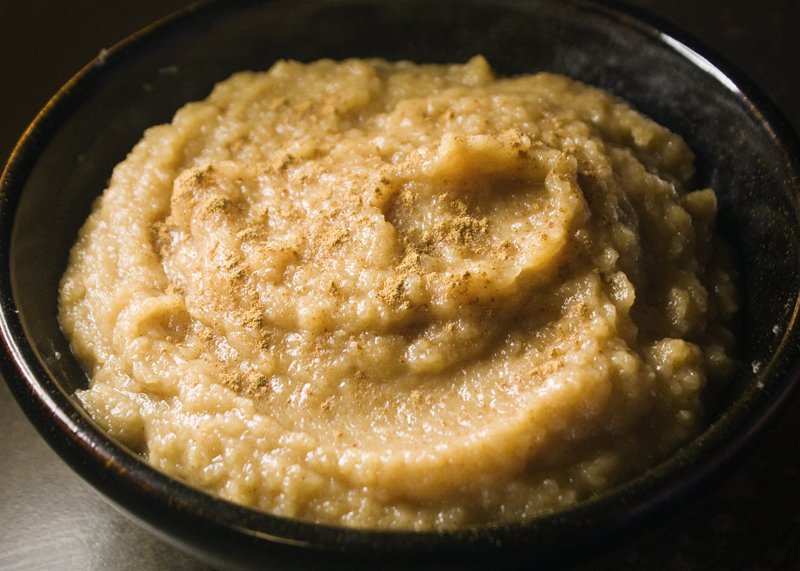 Here's the entire recipe, iff'n you want to print it off:
Deeelish Homemade Applesauce
6 cored, peeled, cut apples (any kind works, but a mixture of granny smith and fuji are my favorites)
1 orange, juiced
1/2 lemon, juiced
4 Tbsp butter
1/2 c. brown sugar
2 tsp cinnamon
1 tsp nutmeg
1 tsp cloves
Core and peel the apples, then cut them into chunks. Pour the juiced lemon and orange over the top of the apples in a baking dish. Dot butter over the top of the apple mixture and sprinkle with spices. Stir well. Cover the dish with foil and place in 350-degree oven for approximately an hour (or until the apples are easy to cut with a fork). Remove from the oven and let cool (doesn't have to be all the way, just not piping, bubbling hot). Pour apples and sauce into a food processor. Process on high for about a minute, until you have the consistency of applesauce. Keep in the refrigerator for up to a week (maybe a little more).
Okay. Whew.
Now that that's done, I'm going to get back to packing.
Whatever happened to living more simply? My closets are packed full and just … just shameful.
Oh well. At least I have applesauce. It doesn't judge.