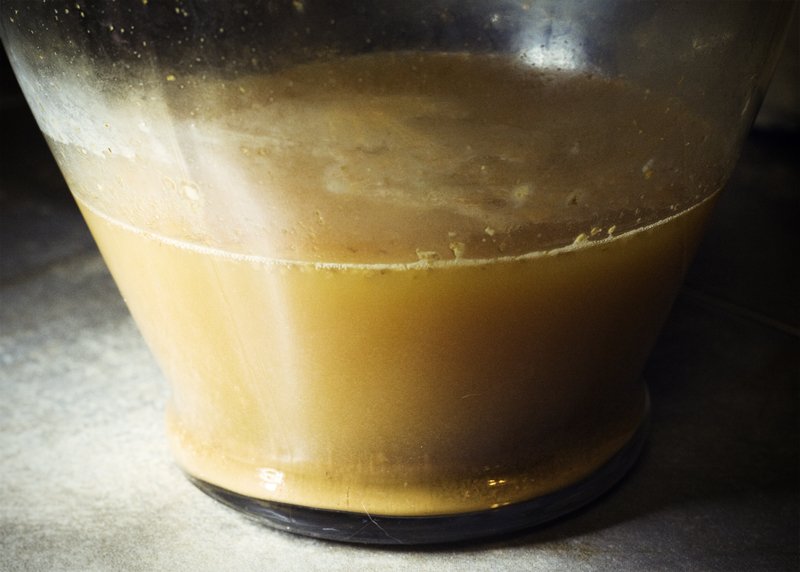 Look at that. Just look at it.
Looks, uh, appetizing, doesn't it?
There are moments when I question why I keep this blog. When I look at that picture, I have those moments.
I'm a decent writer. I love to write. I'm a decent experimenter. And I do so enjoy a messy kitchen.
But I'm really awful at following directions, and 70% of the time, I screw things up. Royally. This apple cider vinegar experiment – it's a tragedy waiting to happen. Or a monumental success. It clearly can't be anything in the middle.
It stands to reason that any time you have a jar full of rotting, stinking juice sitting on your kitchen counter, you might start to question why you're doing what you're doing.
If this experiment works, it won't just be worth it, it'll be worth its weight in golden delicious. The ability to home brew apple cider vinegar is something that'll come in handy … you know, when we're booted back to the dark ages. Or the tan ages. Or whatever color ages we may find ourselves in. (Personally, I'm rooting for the plaid ages.)
If you want to join me in this journey of stinking, scummy, but potentially glorious vinegar-making, here's how I'm doing it.
By no means am I saying it's the only way. I just chose the way that seemed the easiest and least offensive (believe it or not).
Homemade Apple Cider Vinegar – Hopefully
First, you start with a whole bunch of apples. You don't need the meat of the apples, per se. You just need the cores, skins, and maybe a little bit of extra apple chunks to give you extra vinegar. The amount above was approximately 10 apple cores and peels and 1 apple's worth of meat.
It's especially important to wash the apples very well and cut out any offensive dark spots. The quality of the apples will determine the quality of your vinegar. Or so I hear.
This is why it's also very important to use organic apples – you don't want pesticides and icky fertilizer chemicals in your vinegar.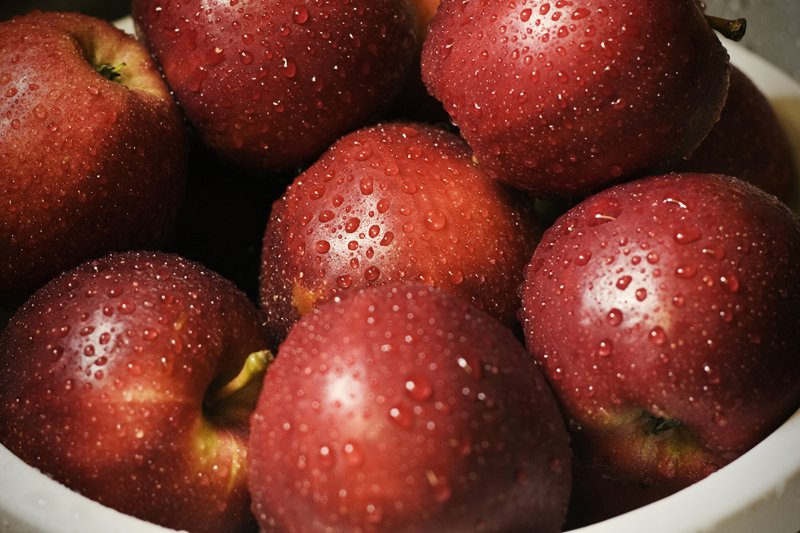 After you've washed and scrubbed your apples into shiny, pretty balls of red, you'll want to start the peeling/coring process.
What you do with the meat is up to you, but I recommend you refer to the post about homemade applesauce and face mask and shampoo for some ideas.
So you peel. And you core. And you take pictures, because you want to document this entire slightly insane extremely curious adventure for posterity.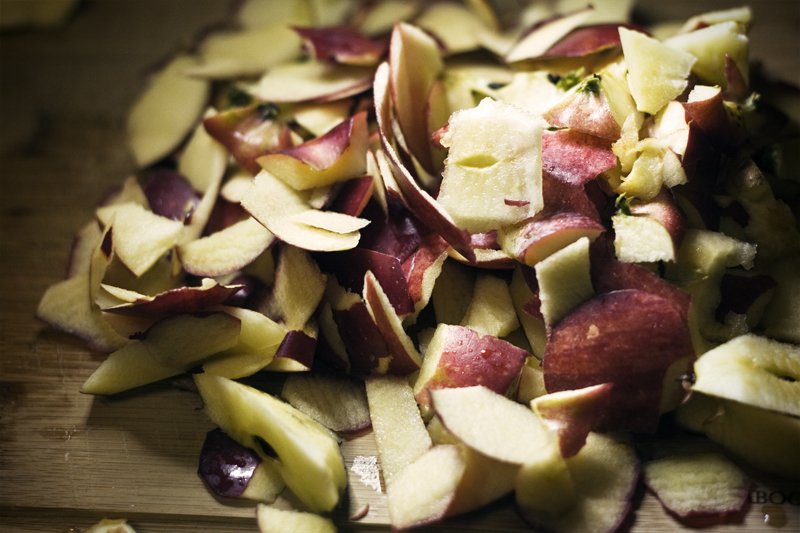 After you have a fair amount of scraps before you, you toss them in the food processor and let them turn into a big apple-y mush (about 3 minutes).
The juice/scraps will start to oxidize and turn brown very quickly. But that's okay! The whole point of this is to let the juice go so bad it becomes good.
The circle of life.
Right?
After you have your juicy scraps all mushed up, put them in a fine mesh sieve over a big bowl. Over that, place a heavier (and smaller bowl) on top of the scraps.
Push down. Juice, baby, juice.
I did that three or four times, and then got bored and put a towel over the top (to protect everything) and left it – bowl on top of scraps – to continue the overnight juicing process while I slept.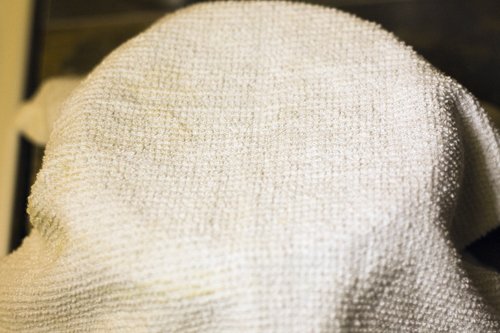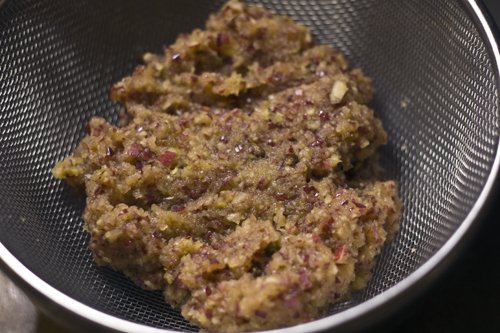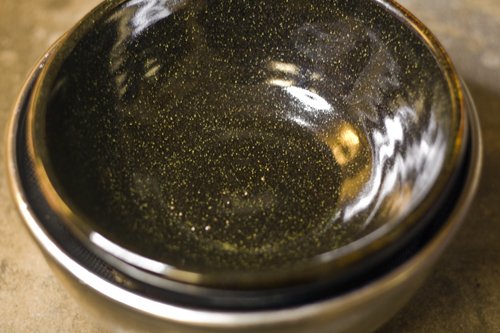 So when you wake up the next day, you should have a bowl full of apple juice (that's already gone quite brown). Hooray!
Now, for the next part. Put it in a jar and cover it with cheesecloth. And leave it alone.
Seriously. Leave. It. Alone.
But leave it alone somewhere slightly dark, but warm – you want it to stay in the 70- to 80-degree temperature range. That's the best temperature for fermenting to occur.
I've more or less left mine alone for a week now sitting toward the back of the kitchen counter (where it's darker) in a house that's usually about 70 degrees.
The only thing I'm missing are the fruit flies so many people say you WANT to have visit your vinegar while it's fermenting. They're like little vinegar fairies or something – sprinkling magic fly gunk on the rotting juice, turning it into something hopefully edible.
After a week of sitting (without fly fairies) here's what mine looks like from the top. Queasy stomach? Don't look.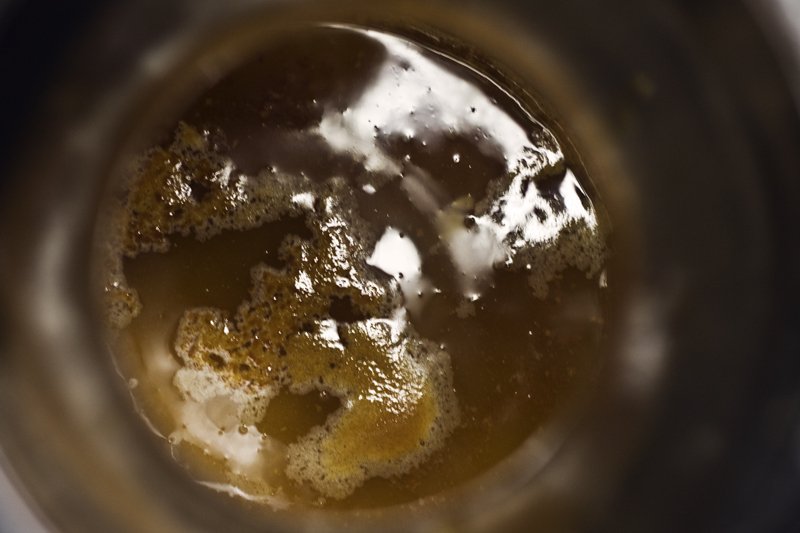 Confession. I put a half teaspoon of yeast in mine. It's supposed to make fermenting faster. You can't use regular bread yeast for this – you need wine or beer yeast.
I happen to have a good line on beer yeast, and I figured I might as well use it, given that I hardly have the patience to wait for a drink at the Sonic Drive-Thru, much less vinegar to ferment for 4 months.
From what I understand, the addition of yeast will cut the fermenting process down in about half. So I can expect real, delicious, natural, not disgusting apple cider vinegar in 2 months instead of 4.
Yay!
Lest you think I'm completely crazy, I wanted to show you the difference between Bragg's and the vinegar I'm making (that's not even remotely close to being done yet). It was wholly reassuring to see that they actually look very similar at this point.
Even if the homemade stuff smells like a college boy's wine-soaked socks at the moment, I have great hope.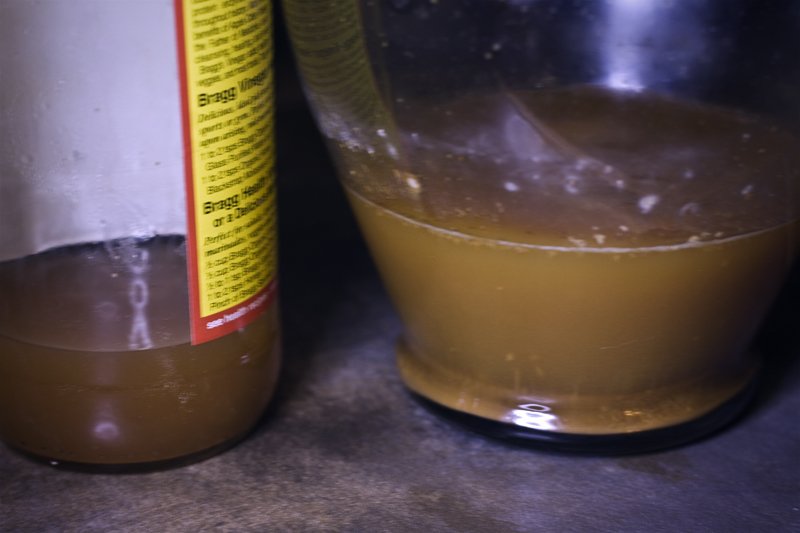 There. That should be good enough to get us all started for now.
I'll keep you updated on the level of success or utter failure, in about two months.
Everyone send good apple cider vinegar vibes this way, mkay?