Her 5-year-old butt sat firmly planted on the chair, not by will. By force.
Psychic mom-force.
Giant, wracking sobs shook her body, as she swallowed for air through the hands over her tortured mouth.
"Just ten," the apron-wearing fascist in the kitchen yelled. "Swallow! Ten! And you can get up!"
She was alone. The expanse of the empty dining room table loomed in front of her. Its glowering size only magnified the plate that sat between her elbows.
On which was … an entire serving of peas. From which … she had to eat ten. Ten would release her from this 5 o'clock prison.
("Just ten," she thought, sobbing even in her brain.)
Delicately, as if it were toxic waste, she pinched a pea between her tiny thumb and forefinger. She moved her glass of water precariously close to the edge of the table. She held the pea out in front of her, as far as her arm would go. With the other hand, she pinched her nose and squinched her reddened, tear-soaked face.
"One." She took a deep breath in.
"Two." She brought the pea closer to her mouth and closed her eyes tightly.
"Three." The pea shot between her teeth as she chased it furiously with a drink of water. "It's a vomit-filled pill. It's just a pill," she told herself and swallowed, hard, the pea sticking to the side of her throat. She gagged then. Loudly. Wretchedly. Gloriously.
Enough to save her, she hoped.
"Don't be so melodramatic! EAT TEN PEAS. NOW!"
The fascist in the kitchen would never relent. So she repeated the process nine more times.
Three days a week. For five straight years.
Until one day, she won.
Green Smoothies : Yum?
Yes. I hated vegetables. I still mostly do. Please don't tell anyone.
So for the longest time, I was really hesitant to try this green smoothie (or green monster, depending on which part of the internet you're on) thing, because … sometimes I'm still that little girl, pinching her nose and gagging.
This has not happened with a single green smoothie I've ever made. Ever.
And, over the past two months, I've made approximately 30 of them.
Why? Why would I do this? What's the big deal with green smoothies? Why was I such a brat when I was a kid?
The Story of Green Smoothies
Green smoothies (also, as mentioned, green monsters – this name will be explained shortly) aren't really all that mysterious, weird, or otherwise distasteful. Really, you're just tossing something green and leafy into a smoothie, which turns it green.
It's a fantastic way to get your much-needed veggie servings in one quick, jam-packed, glass-sized helping. You can drink it in minutes, or savor it, but either way, you're getting tons of goodies at once.
I was first turned on to the idea while writing my book on Crunchy Recipes for Acne. This was 6 months ago. It took me 4 months to try the green smoothie, so I'll give it another 2 before the book's actually done.
It appears that there are hoards of people all over the world reporting that green smoothies helped:
smooth and clear skin exponentially
decrease acne
increase energy levels
speed up hair and nail growth
encourage shinier, healthier hair
improve overall feelings of health
After drinking them for a couple of weeks, I half expected to be handed a magic lasso and the keys to an invisible airplane.
I did not become Wonder Woman, but I did notice: Softer, more supple, less breakout-prone skin. In fact, after about a week or two of drinking these every day, I touched my skin and said to Skip, "What have I been DOING to my skin? It feels better than it has since I was YOUR age." He's 4 years younger than me. It's a joke.
Anyway, then I remembered that I'd been drinking the green monster smoothies, and everything became crystal clear. I also, very subjectively, experience increased energy levels when I drink these earlier in the day.
How to Make a Green Smoothie
I have a few things that are imperative in my smoothie making. They're ingredients I put in, no matter what, all the time.
Things I Always Use in a Green Smoothie:
Full-Fat, Plain Yogurt (3 Tbsp): For the creaminess, the lactobacillus, and the protein
Coconut Oil (1-1/2 Tbsp): For the heart-healthy, metabolism-boosting, skin-softening fats
Spirulina (1 Tbsp): For the detoxing vitamins and minerals, protein, and also because it helps with hay fever (I have annoying seasonal allergies)
Spinach or Kale (1-2 handfuls): It just wouldn't be a raw, fresh, green smoothie without one of these two ingredients – I find spinach has a much lighter taste than kale
Banana (1 whole, peeled, frozen banana): To add body, potassium, and creaminess to the smoothie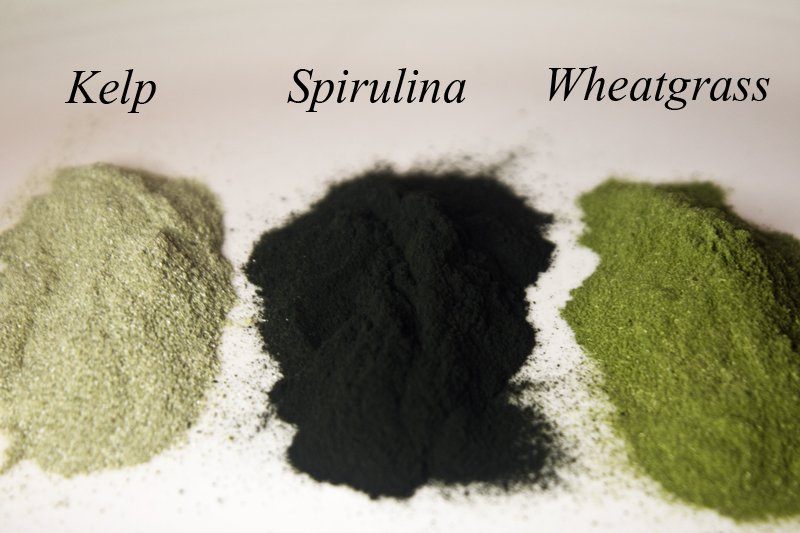 Other Things You Can Use in a Green Smoothie:
Fruits of any shape, taste or size (I'm partial to berries)
Peanut butter
Honey, agave, stevia, or other sweeteners
Wheatgrass, Kale, or any other type of healthy green powdered veggie/grass
Ground flax seeds, hemp hearts, maca powder, chia seeds
Milk (cow, almond, coconut, rice, almond, etc.)
Veggies of any shape, taste, or size
Flavorings like vanilla extract, orange extract, molasses (VERY healthy), and more
Coffee or tea
The kitchen sink
There are no fast and hard rules to making green monster smoothies. It's whatever you want, whenever you want, for healthier skin, hair and nails, and overall radiant improvement in health.
Here are just a few of the ingredients I'll throw into a smoothie at any given time: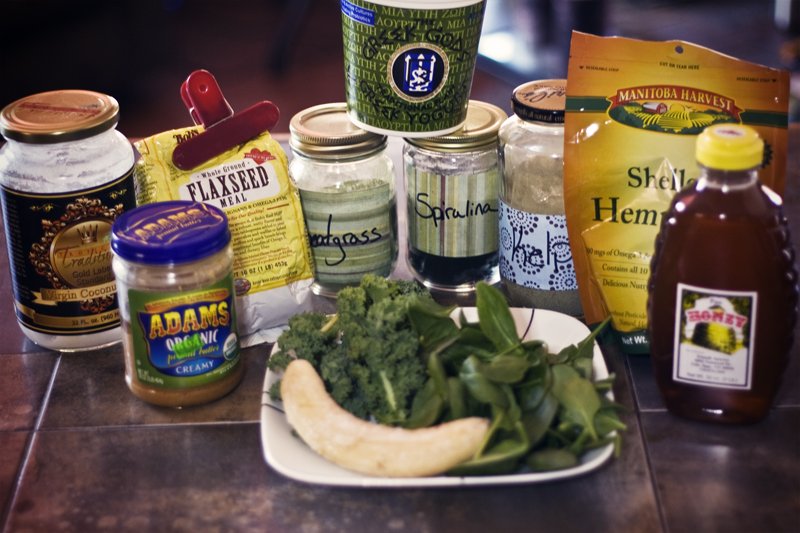 I like open-ended things like this, and I love having no rules. Especially ones that require me to sit at the dinner table until my plate is clean.
Here's the smoothie I've been making for the past couple of weeks. When berries are more in season, there will be many more berries in my smoothies. But until then, I'm stuck on peanut butter.
The Protein-Packed PB&Green
3 Tbsp full fat, plain yogurt
1-1/2 Tbsp coconut oil
1 handful organic spinach (plus 2 kale leaves if you have 'em)
2-3 Tbsp peanut butter
1-1/2 Tbsp honey
1 banana
1 Tbsp spirulina
1/4 c. coconut milk (or almond, rice, cow, etc.) (more depending on desired consistency)
1/2 Tbsp kelp (optional)
1/2 Tbsp wheatgrass (optional)
1 Tbsp hemp hearts (optional)
1 Tbsp ground flaxseed (optional)
Put everything into a food processor, blender, or large cup with an immersion blender. Blend on high until completely combined. Add more milk if you'd like it more liquid. This makes a good-sized smoothie, so you could freeze half of it to thaw and enjoy the next day.
Here's My Favorite Part: I gave this to my 14-year-old, who's pretty amiable, but difficult to convince to like new (and green) things. He drank it up without even flinching and continuously, through the entire smoothie, said how delicious it is. I did, however, leave out the flax and hemp hearts in his, because I didn't want to push his teenage eye-rolling limits. I'm still afraid they'll stick that way.
What I'm saying is: I think this is an awesomely tricky and conveniently successful way to get your kids to drink their greens. Yay!
More Green Smoothie Recipes
I know, mine's a little tricky, and calls for some ingredients you might not have (or want). Don't forget, though, that you can buy things like spirulina, wheatgrass, and kelp powder from Mountain Rose Herbs, although it appears that – at the moment – they're out of kelp. My guess is it has something to do with Japan (which begs me to mention, again, that there are alternatives and additions to iodine and kelp … and spirulina is one of them).
NOW:
Great Links to More Green Smoothies
The Green Monster Movement: This is by far my FAVORITE place to get green smoothie ideas, as well it should be. This lovely lady pioneered the green monster movement that swept the internet not too long ago. There's a link to recipes on the side of the page, but there are also scads of reader submitted favorites at this page.
Green Smoothies from Raw Family
A Few Green Smoothie Recipes from AllRecipes
Even More Recipes from SmoothieWeb
Do You Have a Favorite Smoothie?
Have you tried making green smoothies at all? Give them to your kids?
How did you feel about it – is it something you still do?
Or, if you haven't ever tried them, think it's worth a shot?
Seriously – if you can keep your children from the serious melodrama of sitting alone at the table, choking down little pea pills – that may be just as good as any other reason to give 'em a try.